1960: Whatever McGill Can Do I Will Do Better – Chapter 4
Posted: January 26, 2018
Filed under: Subnautica, Whatever McGill Can Do I Will Do Better
| Tags: Adventure, Ghostcat, Romance, Video Game
65 Comments
Title: Whatever McGill Can Do I Will Do Better
Author: Beowulf the Novelborn
Media: Video Game
Topic: Subnautica
Genre: Adventure/"Romance"
URL Chapter 4
Critiqued by Ghostcat
Hello, dear Patrons, and welcome to another updated fic!
This is the Subnautica fic of asteroid-punching ship defenses fame, the previous chapters can be found here. The timing is quite appropriate, considering that the game finally fully launched on Tuesday after years in beta and having the launch date constantly pushed back due to technical problems. (EDIT: And in a nicely ironic turn of events, the launch livestream ended up being delayed due to technical difficulties.)
When last we left the "trouble-sought son" he was playing around with the fabricator and scanner, and there was an unknown person trapped in a PRAWN suit who managed to blast themselves out of some sand.
On to the fic!
It was black again, but this time around I was surrounded by the cosmic mix of the stars. I was floating freely in the vacuum of space, seemingly inside a pressurized suit.
I seem to recall this exact same imagery being used prior to this.
'Below' me was the hull of the Aurora, undamaged and pristine as though it was fresh from the shipyard.
Nero must be using console commands or something, because the Aurora is trashed.
We were too far away from any star to have any outstanding sunlight, but it was perfectly far away for the ship to be illuminated by that gorgeous glowing cosmic soup that was our galaxy.
…Oh-kay. Is there going to be a point to this any time soon?
I was orbiting around the hull, thanks to the selective graviton sphere locking on to me from the ship's core.
That's a weirdly specific thing to have. Why does the ship's core have this sphere, and why is it being used to let Nero fly around like Peter Pan? That is a waste of resources. Doesn't he usually use those stupid dive reels for this? (They've actually taken those out of the game now, so I have no idea what he's going to use instead.)
"You gonna keep floating there, Gil?" a familiar voice said on the radio. Below me on the outside of the hull, was Jane, piloting her Prawn.
…I am very confused right now.
Chances are she didn't want to let go of the ship after the asteroid incident.
That was mostly your fault, I'd like to point out. If you hadn't been showboating around where you shouldn't have been then she wouldn't have needed rescuing in the first place.
"As long as I feel like it", I replied without a care in the universe,
That's … That's not how an extra-vehicular trip would work. It takes resources to send someone outside of the ship, so there has to be a reason. You can't just go out and dick around whenever you feel like it.
"You should be asleep right now. I thought I was supposed to be the night owl of this crew."
So Nero is the only person in the entire crew who works third shift?
"I couldn't sleep again. Another nightmare", she groaned, probably nursing a headache.
So she decided to suit up in a PRAWN suit and go through the airlock procedures to leave the ship? How is that going to help her headache? If anything, it would make it worse because now she has to deal with the flying dumbass.
"Just go back to sleep", I replied, "Funny thing about nightmares, they're not scary when you face them a second time, if you ever do. It's a little something my father always used to say."
That would be assuming that she's going to have the same nightmare again. While it is possible to have reoccurring nightmares, that doesn't always happen.
"Easy for him to say", she sighed, "Nothing scares him."
I'm sure there are plenty of things that scare him; he's an adventurer, not suicidal.
"You'd be wrong", I said, followed by a rather long pause, "Every time he finds himself stranded on some alien world, he's scared out of his mind on the inside.
Wait a second … So all those instances where Craig McGill was being heroic, those were all instances where he was unexpectedly stranded? How many times can one person get shipwrecked in space?
Every time he always says that he doesn't know what the hell to expect.
After the first few times I imagine that he's just exasperated by everything; "Ugh. Not this again."
Every trip puts mankind back on the bottom of the food chain again because we're always clinging to what's familiar.
Yeah, those familiar things like food, water, shelter, and not-dying. Humans love that shit.
Deep down, humans are still scared by the dark and the unknown. We always will be."
Not everyone sleeps with a nightlight, you know. I mean, I do – but that's so I can find the bathroom in the middle of the night without stepping on a hairball.
"And all of that is supposed to calm my nightmares how?" she asked, no down with a smile.
I have no idea. It wasn't really all that comforting.
"Well, nightmares are just another unknown for us to conquer, right?" I said looking to her over my shoulder, only to see that both she and the Aurora were gone.
Dammit! Did Nero lose the ship?
Instantly I panicked, not remembering this at all.
Was this supposed to be a memory? I'm really confused now.
And in those last few moments, I felt a deep rumble from somewhere, and caught a brief glimpse of four sea green orbs in the distance amongst the stars. Those eyes again.
Hey, it's the Sea Emperor again! What's she doing to say this time?
So much for my advice.
And it was so insightful and not at all vague or trite. I'd rather hear from the Sea Emperor.
.
That's either a stray period or a chapter break. It could be both.
(Lifepod, Day 2, 4:00 PM)
Great, a time, location, and a date stamp – all together in one.
Turns out that rumbling wasn't some external force, but rather a very much internal one.
Is your drive core rupturing?
It was my stomach growling and that was what woke me up so early from another nightmare.
Oh, so that was a dream sequence and not a memory?
Once I realized I could move again,
Weren't you flying around in space a moment ago?
I bolted upright and opened the hatch to dunk my head into the water and snap me out of it.
Since the lifepod hatch is on the floor, you would have to kneel down to dunk your head. Bolting upright isn't going to help matters since you're probably sleeping on the floor.
Beats the hell out of coffee any day.
Unless you stimulate the vagus nerve in your nose and pass out, fall into the water, and drown. But I guess drowning could be a memorable experience as well.
My sheer shock of the wakeup call was the only thing keeping me from mourning a certain someone.
You're trapped on a hostile alien planet with no hope of rescue and everyone else on the ship is dead and there isn't another human for light years around, but sure – let's mourn the dead girlfriend.
"Good morning, Nero", a familiar voice chirped, not quite as monotone anymore, "Your heartrate is elevated. Adding neurological data to log."
How does an elevated heart rate correlate to neurological data? His brain isn't beating faster.
"Good to see you too", I groaned, realizing that everything that transpired wasn't a dream.
It wasn't? I thought that was a nightmare, or a dream sequence, but you're telling me it's a memory of some sort?
I was still on 4546-B, undergoing precisely what was being discussed in my dream.
You're experiencing vague generalities about humanity's fear of nature while drifting around doing nothing in the vastness of space?
I still felt drained from that eventful day before.
Yeah, all that farming for blueprints and resources can be really grinding.
By the end of the previous cycle, I had constructed an oxygen tank, and found the final ingredient to my repair tool: salt.
Salt is used to cure fish and create bleach for Sterilized Water; it's not used in making the repair tool. I'm not even sure how salt would be used for that.
Exactly why I needed that in the mix was unknown to me,
Exactly!
and I still wasn't quite sure how I managed to even find so much in a crystal state, but I wasn't complaining.
Finding large crystals of salt in the water would probably mean that the water was over-saturated with salt and some of it precipitated out.  I'm not sure exactly how high the salt levels would have to be for that to happen, but I'm guessing that it would be hella high – typical ocean water contains around two pounds of salt per cubic foot of water, so it would have to be higher than that. (Or, since levels of salt that high would likely be toxic, it's just a convenient gameplay mechanic to give the player access to needed resources.) You can also harvest salt from water filtration machines, which makes more sense but would be difficult to do early in the game when you need the salt but you don't have the blueprints or materials for the water filtration system.
I had spent my last moments using the tool to piece together the main circuit board and the communications relay, and had fallen asleep directly after finishing.
The animations for the repair tool are possibly the least plausible things ever – the wires literally straighten themselves and the broken panels reattach themselves – and it all happens incredibly quickly. The way this is worded makes it sound like it was actual work, which is good because in a realistic scenario it would be.
Grrrrooooaaan.
:looks around frantically:
WAS THAT A REAPER?!?
Unfortunately, the item at the top of my list should have been obvious: food and filtered water.
Or food and pretty much any source of clean, potable water. Distilled, sterilized, filtered – it all good.
So my first item on the docket was find edible plant life before I tried hunting down fish.
Statistically speaking, plants are far more likely to contain dangerous poisons than animals. Even rattlesnakes, which are venomous, are quite tasty when cooked properly. There are some animals that are poisonous, such as pufferfish and certain species of toads, but the species of poisonous plants far outnumber them.
Essentially just scan everything.
That would hopefully solve the problem of figuring out if a plant was poisonous or not. It's not really going to make it more likely that you will find these edible plants, though.
My loadout of equipment this time was a scanner, a single dive reel, and my metal salvage "shield" from yesterday.
Why does Nero have to carry dive reels with him everywhere? They're like a security blanket or a favorite teddy bear.
I'd taken some time to clean it up after that run-in with a crashfish, and now it had a rather satisfying shine on it.
You do realize that some animals are more attracted to shiny objects, right? And that being a shiny object in dark water will make you far more visible?
Once I had taken a moment to think of anything else to bring, I dove down into the reef.
How about a knife? A knife would be useful.
To my surprise, the reef wasn't nearly as dark at this early in the morning.
Almost as if a giant ball of incandescent hydrogen became visible in the sky.
Almost all of the fish and most plants were actual bioluminescent, meaning that they glowed in the dark.
Since this is first-person narration, is Nero explaining to himself what the word means?
Not much of a defensive mechanism.
It's not always a defense mechanism; sometimes it is a warning that the plant or animal is toxic, or the bioluminescence is used to attract mates or communicate with other members of the same species.
Hell, it made spotting the creatures even easier.
See the above-mentioned warning of an organism's toxicity.
But I took just a moment to admire the spectacular display of colors that again, you couldn't see in earth's reefs at night.
But it isn't night, it's morning. Weren't you just saying that there was more light around?
So with a surprisingly adequate amount of light to go by, I set off to the first familiar plant I saw.
Why would any of the plants on an alien world look familiar? I mean, I guess they would have similar structures based on their purpose, but that doesn't mean they will be analogous to their terrestrial counterpart.
Well, "plant" wasn't the right word. It was a fungus. A mushroom even!
Technically fungi aren't plants, they are a separate taxonomic group, but I've had trouble finding any aquatic species that would resemble the growths in the game. Most aquatic fungi that I found were low-growing like lichen or fungal infections of aquatic life.
I found it odd that it could evolve to something so similar to earth's fungi, but I wasn't complaining.
Just because something looks like a mushroom doesn't mean it is similar in any way to a mushroom. It could just be a coincidence.
But I knew that many of earth's mushrooms were deathly poisonous, or even hallucinogenic, so obviously I scanned it first.
Even with the scanner, I would be highly suspicious of any sort of fungus. They aren't going to be a very reliable source of food and I doubt they can really be farmed in a great enough quantity by someone who has neither the knowledge or equipment necessary to do so.
"So, is it on the menu?" I asked my AI and the data appeared on my hud.
Let the machine do its thing, dude.
"Strongly discouraged", she replied, and a name, 'acid mushrooms', appeared on top. It appeared that science and dark sense of drug humor were aligned.
The Acid Mushrooms are highly acidic and resemble mushrooms. It's not really a drug reference or any kind of dark humor.
But it seemed that while safe to touch, these mushrooms on the inside were incredibly acidic, pH of 1.7 I might add. To put it in perspective, that was stronger than stomach acid, so while I might end up eating it, it would eat me up from the inside out.
Not really; human stomach acid varies in pH from 1.5 to 3.5 depending on a variety of factors. People actually use chemical peels with a similar pH value as those Acid Mushrooms to treat hyper-pigmentation and other skin conditions.
However, I saw that blueprints for battaries had just been added. So apparently the insides of these things could be used to construct working battery acid! Sure that meant I wasn't going to eat them, but that was just as big of a plus!
I think this is more gameplay mechanics. In the game, finding certain resources unlocks certain building blueprints – but that would make no sense in a real scenario. How would finding acidic plantlife suddenly give the fabricator the ability to know how to make batteries? Where were the blueprints? It's not as if they were inside the Acid Mushrooms. A battery is a fairly basic thing, so there would be no reason for the fabricator not to already have the blueprints and be able to adapt them to local resources.
Speaking of eating, it made me wonder what on earth could have made these things evolve to such an extreme. What sort of predator…..
Very good question, and one of the main reasons that there are more poisonous plants than there are poisonous animals.
Well, I didn't have to wonder for very long to know. As I got in closer to look, I bumped my head into a soft leathery form and found myself looking directly into a pair of beady eyes. I scrambled back as the form let out a sound that resembled gargling mixed with a cow's moo. A form that looked something like a manatee with a bulbous glowing tail crossed into the light of the mushroom's glow and it gradually began to suck up the tinier fungi with its snout.
Hey, it's a gasopod!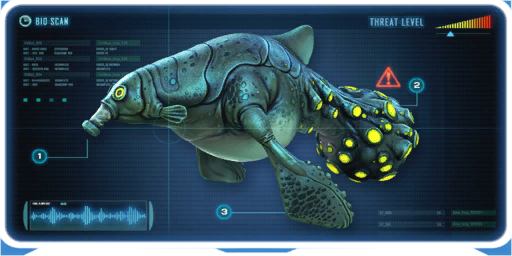 That's actually a good description of a gasopod – except Nero failed to give a size reference and didn't mention the glowing orbs in the gasopod's tail. They are acidic pods that are used as a defense mechanism; the gasopod releases them when it feels threatened. Presumably it eats the acid mushrooms specifically because of their high pH value in the time-tested survival technique of prey species of consuming mildly toxic materials and concentrating the toxins in the prey species' bodies to discourage or repel predators.
I sighed with relief as I saw it was clearly herbivorous.
They kind of remind me of those big rumbly aliens from the beginning of The Fifth Element.
Finally! A large creature that was passive at least!
Is it large? You haven't given any sort of size comparison to indicate as such. Gastropods are fairly large, probably bigger than a terrestrial cow.
There was actually a herd of them, like seven others hanging close by, grazing on small plants and the smaller mushrooms. They really were sea cows.
Clearly Nero isn't familiar with stampedes, or the fierce territoriality of bulls. Just because they don't eat meat doesn't mean they are harmless.
But just to be safe…
Since when do you care about being safe?
I scanned these too, and low and behold, they weren't quite so harmless. Turns out that acid they eat in the mushrooms is turned into an even stronger acid by bacteria in the tail. A pH of 1 to 0.6!
Hey, I was right! And that would be really bad, but only if you were really close to the orb when it burst due to the dilution effects of the water around you. And according to the wiki they use a bioluminescent algae, not bacteria, to create the orbs.
That would melt through my shield like xenomorph blood!
Are xenomorphs a real thing in this universe? Or is Nero familiar with the popular media from a century prior to his birth?
To make matters worse, they spray the stuff everywhere when spooked, so a note to self: keep a distance and make no sudden movements. I also affectionately named these cows for caution Gassopods, and left them at that.
That's actually pretty spot-on; the gasopods are only dangerous if you get too close. Because, y'know, there's a lot of water so the acid wouldn't be very effective for very long.
Next candidate: what looked like a stingray with tiny buck teeth, a very colorful and quick creature to be sure, but the sight of it too feeding on the acid mushrooms, biting whole chunks out of larger ones, gave me the sense that this one was very similar, and the scanner certainly agreed. The newly named "rabbit rays" played true to both parts of its name, skiddish and harmless, but poisonous and henceforth inedible. But at least that thing seemed friendly.
I don't recall ever seeing the Rabbit Rays grazing on the Acid Mushrooms, but the are brightly colored in the manner of poisonous creatures so they could be concentrating the acid from the Acid Mushrooms for defense. Again, that's a pretty good description – except the failure to use a size comparison.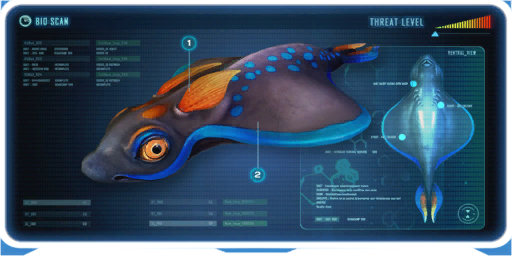 Rabbit Rays are cute, and make nice pets, but they are almost the size of a human. One of the things about Subnautica is that everything on the planet is alien so there are no common size references available so things can be much bigger than you would think they are.
After an extended period, I had scouted and scoped every plant and even the coral in this reef, but there was nothing to eat.
Please tell me you aren't going to describe each and every thing you find.
So my last resort was the fish.
Wait, did you not scan the fish? How did you not scan the fish? They are all over the place! If you've been scanning everything, then just by random chance at least one of them should have swam in front of you while you were scanning something.
I'll be honest, I really didn't want to kill these, I was even squeamish from killing fish we caught back home.
Some survivalist you are. I love animals, but if it was a choice between dying slowly of starvation or eating a fish I'm going to eat the fish.
Plus, they looked so damn cool at night, but I was desperate. First scan: something that Iris designated as a bladderfish, and based on the appearance, I found that rather appropriate.
That would be these things;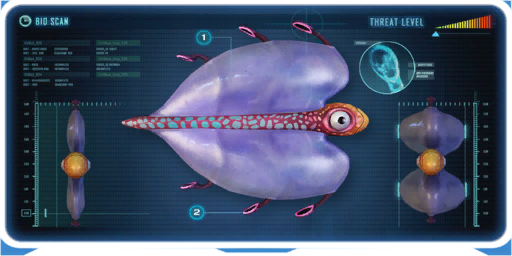 Again, no size reference is given. You can catch a Bladderfish and hold it by its 'neck' in your hand; the central body is roughly the size of a human's forearm.
It was edible, but with little meat, so moving on for now.
They don't have a lot of food, but they are excellent sources of water. You need water more than you need food.
The next one was a creature with a long tail and a strange pair of eyes. Still, those eyes seemed reminiscent of an old cartoon character from several centuries ago. Very reminiscent.

"Let's call that one a garyfish", I said, happy to see that this one was edible.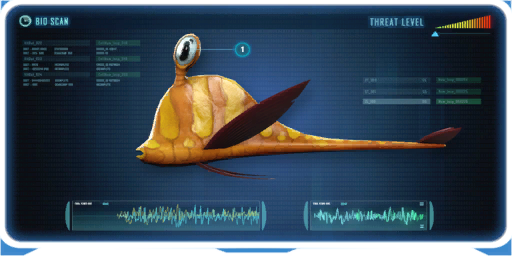 Yes, it is a SpongeBob reference; the name was just a placeholder at first but people liked it so much that the devs kept it in.
I almost fired my reel to snag it,
That is not how a dive reel works. Stop trying to pretend that you are Spider-Man.
but a yellow glowing blur zipped past my face, easily the fastest fish I'd seen so far.
:snorts:
I know you're not talking about the Garryfish. Those things are slow as molasses in January. They don't give you a lot of food, but they are super-easy to catch so they are very useful in the first part of the game when you don't have anything.
Those big eyes and muscular form was screaming dinner time, and according to the brief scan, it was the best option. The "peeper" was my target.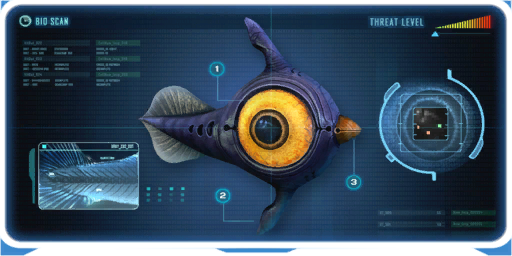 Who goes after a fast-moving target when there's stationary prey right in front of them?  Peepers are fast, agile, and actively evade the player, while Garryfish are slow and just sort of swim aimlessly around ignoring everything as if they are just waiting to be caught and eaten.
This one did seem to be the most cautious and aware (and with eyes like those, how could you not be aware?) so I tried to stay behind the rocks and behind my shield to catch it by surprise. But it was much harder without a pair of flippers. And the way it chirped just sounded like laughter at some point.
:facepalms:
Seriously, you are the worse at this. Go back and get the Garryfish! It's probably still in the same place! It might not be the optimal food item, but it is food.
I chased it for what seemed like an eternity until it eventually led me to what looked like a kelp forest. Not quite as many glowing fish here, but the light was coming from a massive clump of yellow seeds at the bottom of the leaf spreadings. The water here was much deeper, about 30-70 meters, and it seemed to be a new biome altogether.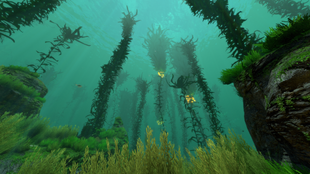 It is; that's the Kelp Forest, right on the edge of the Safe Shallows. It's very easy to spot when swimming around.
And quick scan of these plants revealed that these plants were actually edible raw in small quantities, so I wasted no time in tearing off a leaf, opening up my helmet, and taking several bites.
He couldn't have gone to the surface to do that? He just filled his helmet with water!
I don't think the author fully understands how water works.
It tasted exactly like earth's seaweed, if not a little saltier, which was to say it tasted very good indeed.
Meh. I'm not a big fan of eating raw seaweed. That stuff is slimy. I don't know if there are any kinds of seaweed that are eaten raw; I've only seen it dried or cooked.
:Google break:
There are some kinds of seaweed that are eaten raw, but they are high in iodine so it can be dangerous. Boiling or otherwise heating it up can eliminate most of the iodine.
Though it seemed that these tough vines and even the seed pods themselves had properties that could be used in construction. Perfect!
That's good, and all, but you still need a source of water. I suggest taking another look at the Bladderfish.
Almost made me glad that peeper had taunted me like that, but it wasn't enough to make me change my mind in catching it.
Wait a second … that almost makes it sound like Nero didn't know the Kelp Forest was there. He spent a long time dicking around scanning things and looking for food – he was specifically looking for plants! Creepvines are giant columns that reach up to the water's surface in places and have prominent glowing seed clusters. How did he not see them? What exactly was he scanning that whole time?
So, I reached out to aim my dive reel at the fish from inside of the leaves.
Still not how a dive reel works. They are tools used to find your way out of a cave, not to be used as a harpoon gun.
It was just outside of arm's reach now, but I instantly regretted ever showing myself. Right before I could ever pull the trigger, a loud hiss filled the air
You mean 'water', right?
and a long reptilian from shot out of the darkness to snatch up the fish in a dreadful crocodilian smile.
Oh, shit. It's a Stalker.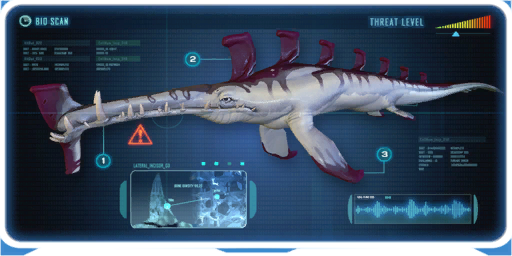 They're pretty aggressive but you can actually tame them by feeding them and they will start bringing you scrap metal, which is a time-saver.
And just like that, I regretted ever coming out here in the dead of night.
But it isn't the middle of the night; you left the lifepod in the early morning so it should still be daytime.
I ducked back in
Back in where? The lifepod? If you're in the Kelp Forest then you are some distance from your lifepod.
and even though my glimpse of the creature lasted a mere split second, the image of the full creature was perfectly burned into my head, every detail in the light of those glowing seeds on the vine. A crocodile's snout and teeth, and the body like a shark or eel, complete with beady eyes. And nearly 7 feet long.
:looks at picture:
That's a pretty good description, and it even has a size reference! Gold star for you, author.
But even as it passed, those eyes followed me.

It could see me.
Literally every creature you've found has had very large prominent eyes, the Stalker's eyes are actually much smaller than a Peeper's or even the Gasopod's. Why are they so memorable?
How many more of those creatures were there?
Quite a few; they even have a tendency to group together and hide out in the creepvines.
How close was I to the safer shallows?
Nani? If you're in your lifepod then you are floating above the Safe Shallows. Also, it's weird that you call it the Safe Shallows without knowing if there are any predators besides the stalkers around.
Why did it pass me up despite knowing I was there? My mind raced for answers as my first long lasting threat (cause let's be honest, those Crash fish lasted mere moments) revealed itself. What did I know about them now, without a proper scan?
They are large aggressive predators that you should avoid unless you have some way to defend yourself?
They ate peepers. They appear to be able to see in the dark much better than any human or peeper could.
It's daytime so you don't really know that.
But there was one feature, similar to a preexisting species, that I figure might carry over here, something I could exploit if it ever came to such a situation. And with that in mind I Carefully tugged away a short but thick split of this vine, yes that's what I chose to call it.
What the hell are you talking about? What feature? You just got finished saying that you didn't know much about it. And why are you still in the Kelp Forest? I thought you went back to the lifepod. And how have you not run out of oxygen yet?
First step to getting away: get out of deep waters.
Oh, honey. The Kelp Forest isn't deep. It's less than two hundred meters at its deepest. The Lost River down in the caves is nearly a thousand meters deep in places, and the lava zones beneath it are much deeper.
Less light from the seeds, the better. Though I did pick a batch of those seeds to put in my bag before I slowly swam up through the increasingly dense leaves until I had reached the surface. My small reserve tanks refilled themselves, and for just a second I thought I had escaped their immediate reach.
I was beginning to wonder if you really had gills.
I was wrong. Evidently a single creature had spotted me on the way up, and the instant I ducked back down, I was greeted by an open maw that was illuminated only by the light of this planet's moon.
Wait, it really is night? Where did the day go? Did Nero really spend an entire day scanning the handful of plants found in the Safe Shallows? He must be slow as hell.
"Fuck!" I screamed and placed my scrap shield between us. The creature's mouth opened wide enough to lock it's needlelike teeth around the corners of the metal and it took an extra tight hold, shaking it around and hissing all the while. It was driven I'll give it that, but I noticed something in the way it attacked now verses the way it did before. Back when it killed that fish its eyes briefly rolled back, like a shark on earth, but here, I could see its eyes locked on target, but not necessarily on food.

Was it just the metal it wanted?
…It's after the metal? Really? I'm a little glad I was right about being a shiny thing makes him more visible to predators, but that really wasn't what I had in mind. I know the Stalkers gather metal, but there is plenty of salvage laying around from the crash so it wouldn't have to go after the piece Nero has. It is far more likely that the stalker would be going after Nero to eat him, not for the shield.
Well, I certainly didn't want to give up my second most valuable tool here,
Dude, you only have three tools.
and the moment I thought of that was the moment my good luck kicked in one more time. Amidst the lights of the seeds I saw a single peeper glowing in the darkness and with a litteral shot in the dark, my dive reel snagged it and brought it back in.
Still not how that works.
But as hungry as I still was, this one wasn't for me. So I reached out to the side and waved the fish around in my hand for the creature to see. An eye caught the fish and its instincts clearly screamed out FOOD. And it let go briefly to snatch up its snack.
:headdesk:
Make up your mind! If it's attacking you for the metal then it wouldn't be distracted by food, but if it's attacking you because it's hungry then the Peeper might be a useful distraction.
I pulled my hand away to leave the fish, but the moment it snapped its jaws shut, they didn't open again. My hands reachedright around its snout and clamped tight enough to keep it closed while I held its body with my legs. It was just like a crocodile. It's muscles were designed for biting instead of a focus on opening. And just like it's unrelated counterparts on earth, they were weak enough to keep closed with nothing but your bare hands! My other hand grabbed the severed vine and tied it tight around the creature's snout, keeping it closed while it desperately tried to finish off its meal and free itself at once. With that being said, I held on tight as it thrashed around and used a free hand to properly scan it.
This is just so very unnecessary. Why is it that important to scan the Stalker? Is it a source of food? You do remember that you are looking for food and/or water sources right now, right?
Geez, no wonder it took him so long to scan everything.
With a muffled roar, it finally bucked me off and darted back into the vine clusters below and I didn't see it again that morning. I had gotten away with all my tools, a scan, the seeds, and even a large tooth that had fallen into my hand while I tied it up.
Now the tooth is useful, you need those for enameled glass. It's also harmless once removed from the Stalker, so it can't hurt you. Scan that.
And silently I celebrated, even though the only meal I had been left with in the end was a seaweed salad.
You ate ONE piece of seaweed. That is not a salad. It's not even really a meal. And I don't remember you ever closing your helmet after eating the leaf.
I viewed the scans on my HUD as I quietly swam home and the sun just started to climb into the morning sky.
And just like that it is no longer the middle of the night anymore.
Turns out I was right. Those creatures were after the metal and not me. Seems that they had a knack and habit for collecting shiny things, but they loved peepers even more.
Which really doesn't make much sense.
But something else caught my attention more than that. See when I pulled these up, Iris labeled these as previously catalogued entries: stalkers and creepvines.
Did he scan them before and forget? Wouldn't the scanner have alerted him during the scan? Then he wouldn't have had to wrestle the stalker.
Someone had actually scanned these creatures first and stored them on the Altera's shared network! My first assumption was that someone survived the crash, but the date that one of these entries was logged was listed as 8 years ago…
Eight years ago? How did that happen?
"Iris….has Altera been to this planet before?" I asked when I had finally returned to the pod. And my question was followed by a very long pause and….
No, it hasn't. There has been another crash on the planet, but that ship – the Degasi wasn't an Alterra vessel. Anything that the survivors scanned wouldn't have gone into the Alterra databanks.
"Data restricted to lower crew."

Not even close to anything I was expecting. Why the fuck was this restricted?! It might as well have been a yes at this point, but why reserve this information to the higher crew members…..
No, Iris said the information was restricted to the lower crew – that means only the lower crew had access to it. I'm not really sure how that would work, but that's what she said.
Like Jane.
I almost forgot she was a lieutenant.
I remembered that before the ship began to crash, Jane told me that she had to come clean about why they were really coming by this planet.
Except this planet wasn't your destination but was just going to be used as a gravity slingshot to get to the actual location.
Something about this entire flyby left her a trembling mess. She knew the details, no question.
The Aurora did have a secondary mission; to scan 4546B for any signs of the Degasi survivors as it passed by.  It's not exactly the secrets of the cosmos.
And looking at the ship, I saw that the officer's deck near the top of the ship itself was nearly untouched by the crash itself. If I could find their PDA's and gain access to the logs, I could find he details and maybe even details of what stranded us in the first place.
Details that you would need your AI to access for you, which she probably won't do if you're not allowed to access them since she just refused to give you any information about something as simple as a prior scan of an organism. If you can't access information in what is essentially an open encyclopedia, there's no way you could get access to classified documents.
"Fine. Then I'll find the higher crew", I said rushing to the fabricator to process the raw materials I found.
You mean those creepvine seeds and that one tooth you picked up? That's all you picked up in over a day of searching.
"Strongly unadvised", Iris replied before saying, "Continued degradation of the Aurora's drive core poses a rising possibility of a quantum detonation. I will continue to monitor."
I'm kind of hoping Nero goes to the ship before the cores fail and the ship explodes, but that's just because I want him to explode.
"If I do nothing, I'll never know what happened, and we won't be able to finishe whatever job we had here!" I barked at her in reply, "If you want to ensure the survival of this crew and any future crew, you will help me with this!"
Nero is making a huge leap here; how did he go from "You're not allowed to know where this scan came from." to "There's a top secret mission that we have to complete on this planet!"?
There was a pause.

"Very well. Your assessment appears logical and potentially beneficial.
The hell it does.
I will continue to monitor."
You do that and let me know how it turns out.
"Glad to see you understand", I sighed, "If there's radiation, I'll need a suit. Is the blueprint for that still in your database?"

"Affirmative. Lead and creepvine strands for fiber mesh are required."
Oh, so there were plans for a full radiation suit but not for a simple battery? The hell, dude? And Iris didn't say there was any radiation, just that there was a chance of a quantum detonation. You don't really need the suit until after the drive fails and explodes.
"Good", I then placed my shield on the table, "Now I need you to remove the dents, craft a set of grips, and sharpen the edge of the bottom."
And the magic sentient crafting table will do just that despite having no materials or even a solid blueprint as guidance for what Nero wants it to do.
"If you plan to go exploring", she said spitting out a pair of flippers which I immediately put on,
That's damn near all he's done. He hasn't even gotten any water yet!
"I just pieced together a message, received when the relay was still down. Lifepod 3's automatic log listed survivors but a damaged seaglide."
Ooh, a Seaglide! Those are really useful.
That caught my attention. And after a brief silence, I dove out of the pod and in the direction indicated on my HUD. To quote my father and a whack-job show from the 21st century that he loved to watch, "Always answer a distress call. 9 out of 10 times it means the crew is dead and you get free materials", as dark as that sounds.
Dark, but completely accurate. Nero already knows there are no other survivors, so he knows there isn't anyone at the lifepod. Scavenging the dead for useful materials is morbid but they're dead so realistically they aren't going to need their stuff anymore.
But if there was still someone, it meant a helping hand. The other 1 out of 10 involved it being a trap of any sort, but I was willing to roll those dice.
Dude, you know there isn't anyone there! Iris told you there were no other human life-signs on the planet. Stop trying to sound all noble.
But as I came closer, my hopes were dashed again as I saw it leading into yet another creepvine forest.
Or possibly another section of the same forest, since you didn't fully explore the Kelp Forest while you were playing tag with the Stalkers.
The entire reef seemed to be surrounded in the stuff.
Making it all one forest, if that is in fact true. And that would be a big assumption on Nero's part since he's only ventured out into two areas outside the Safe Shallows thus far.
Closer to the bottom was a sunken lifepod.
Unlike all those sunken lifepods floating in the center of the creepvines?
I looked around and set my suit to let out a loud sonar beep through the water, a beacon that any surviving crew members would be able to trace….but no one came. But there was a responding beacon from down in the pod.
That is not a thing, but it is pretty clever. He doesn't really need a response from the pod, though, since it is already broadcasting its location.
"Nero's log", I said into my helmet, because why not document my findings or broadcast it to the survivors, "Approaching Lifepod 3 in response to automatic distress call, creepvine forrest south of my landing site in the safe shallows. No human life signs detected.
Anywhere on the entire planet. But you should already know that.
I advise caution as this entire forest is swarming with stalkers and a bunch of tiny little creatures that look like leeches. Coordinates attached."
Wait, you ran across some bleeders, which do suck blood but don't really resemble leeches?

When was this?
Oh, did I forget to mention those little leech things?
Yeah, yeah you did.
I saw one of them latch onto a fish last night and suck it dry of blood in mere seconds. No scan necessary, I knew they were bad news.
But you could have mentioned the encounter at that time instead of having to shove the exposition into the narration now.
The hatch was open,
Which isn't really necessary considering there's a gaping hole in the side.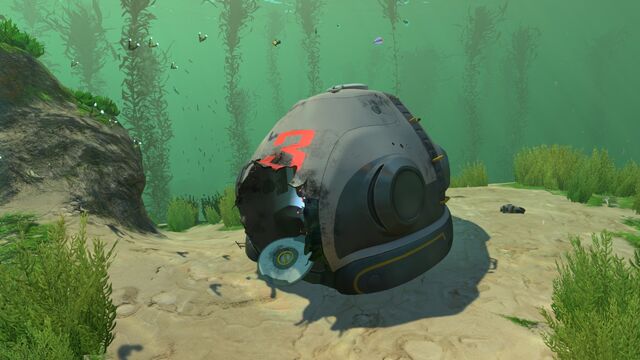 It's kind of noticeable.
and only a PDA and a seaglide remained. I'd look at the logs from that, a quick scan showed that the seaglide's CPU was busted. I'd have to repair that. I think I remembered seeing computer chips and wiring kits in the blueprints on the fabricator.
But for some reason it didn't have the ability to make batteries until you found an acid mushroom.
I might have to replace the entire electrical system just in case to conserve other resources.
I seem to remember you putting your broken dive reel on the fabricator, deconstructing it, and then remaking it. That's not a thing in the game, but if you've done it before then why can't you do it again? Or you could scan the Seaglide for its blueprint then recycle the materials to make another one.
"Lifepod 3 is empty. No sign of the crew, and I'm presuming that they were KIA", I said to the log, "I'm returning to…."
I think you have to be active duty military to be considered killed in action; the Aurora wasn't actually engaged in any sort of military activity. The Aurora was a private corporate vessel.
GROOAAAAAAN!

For once, that one wasn't my stomach.
:dives under desk:
REAPER!
:peeks out:
Sorry, it's a reflex.
"Scratch that", I said into the log as I popped out of the pod to look to the east towards the ship…and into an open void. There was a sudden drop off.
…Did Nero just teleport to the edge of the map?
So, I activated my ping one more time. The sound resonated through the water and then came back as an echo.
The hell are you doing now? It was clever to use sonar pings to potentially locate other survivors but now you're stretching it.
So if sound traveled twice as fast underwater and given the time taken, that meant…..90 meters at the minimum.
:headdesk:
You are most definitely stretching it.
The speed of sound in dry air is three hundred and forty-three meters per second; Nero is doubling that to six hundred and eighty-six for his calculations. This is incorrect as sound actually travels at fifteen hundred and thirty-one meters a second in room-temperature seawater, but even using his ridiculously low number he would still be mentally calculating an echo that is happening at a tiny fraction of a second. The echo would be so fast that it would be barely perceptible, so that's not going to happen.
What I'd like to know is, why is he doing the calculations? His suit can produce sonar pings; is it not capable of interpreting them? There isn't a suit-based sonar in the game, but if Nero has one why is it so selective in its use?
An entire football field's length or more separated me from the ocean floor down there.
:points to Safe Shallows:
It's literally only ten meters deeper than where you just were; the Safe Shallows go down to around eighty meters.
I think I had cheated death enough before the sun had risen.
It's already morning! You JUST SAW the sun rising!
"Log and broadcast. If anyone can hear this, I'm returning to the shallows.
Why is he doing this? He knows there's no one around.
Marking the position of Lifepod 5 now. Please be safe out there." I said,
Lifepod 5 is the player's lifepod; it should be generating a distress beacon just like all the other lifepods. The player never accesses this distress beacon, because there is no point, but if all the other pods are broadcasting then Lifepod 5 should as well. Even if it doesn't wouldn't broadcasting your location be the very first thing on your to-do list?
then cutting away some creepvine for another snack and for further tool crafting before I swam back to the pod with my morning's haul.
Didn't you already take your haul to the pod and use the fabricator to render it into usable materials? You haven't picked up anything else except the broken Seaglide and now some Creepvine to snack on.
I'd get back to my little mission as soon as the sun was up.
Your mission to get food and water so you don't die? You still haven't found a source of water despite attempting to do so for over twenty-four hours. You also haven't slept in all that time. And the sun should be up; it's already morning again. I guess all that dehydration is messing with you now.
But it occurred to me….so much of the surrounding area was deep just like this.
Actually it gets much, much deeper. You even call it the shallows; that implies that you knew it wasn't the deepest area around.
The pods couldn't have landed far from the ship itself, so…..how many of them had landed out there, out of the shallows?
That would have depended on when they ejected from the main ship. If pods ejected well before the Aurora hit the water, they could travel pretty far from the crash site. Most of the lifepods found in-game are relatively close to the shipwreck, but that doesn't mean there aren't any pods located outside of radar or sonar range. There are ten lifepods in-game, including the player's, and they are all numbered – but there are several gaps in the sequence and according to the Aurora's black box, twenty-five lifepods were safely launched.
And what were the odds of my pod and mine alone somehow managing to land right there in the only (relatively) safe zone around? Equally unlikely.
Gee, it's almost as if you were placed in a relatively safe area so that you could figure out how everything works and gather useful materials before progressing further.
But hey, that's just my luck. Right?
Or it's a gameplay mechanic.
(End of Chapter 4)
But why are there more words after this?
Luck or plot armor indeed.
Or game design, it could be game design.
But hey, if anyone else was surviving the planet, wouldn't we be seeing them instead?
Exactly. The scans have all been negative, so there should be no one else within scanning distance. There probably is, because of the power of space boners, but there shouldn't be. The scanning distance is just two hundred and fifty kilometers, though, so there could be someone outside the area. It's unlikely, but possible.
Greetings earthlings! Beowulf back not but maybe two hours after ending the longest hiatus I've ever had in WOR.
You were on hiatus from the World Ocean Review?
Looks to me like he's still being watched, and a little someone seems to finally be catching on to what's really going on down on 4546-B.
Is that little someone Nero? Because I don't know if he's fully realized how bad his situation is. He's gone without water for over a day, and part of that was because he got distracted going after a wrecked lifepod, and he prefers nibbling on seaweed because he's skittish about killing fish for food. For someone who is supposed to be well-trained in survival techniques, he really sucks at it.
I would say best of luck but we all know what he'd say back.
Something vague and pretentious, no doubt.
Anyways, thank you all so much for joining in, and if you like what you see, leave a review and TOSS A CRASHFISH INTO THAT LIKE BUTTON! (Extra special thanks to TheDunkBro for giving me that outro in his review btw).
:headdesk:
Why do fanfic authors do this? Fanfics are not YouTube videos and thus they do not have Like buttons! And they don't need an intro or an outro.
Until next time. Signing off. Now if you can excuse me, I got reapers to hunt.

*SPLASH*
You're deliberately going after a reaper?
Good luck with that.
---