1586: My Inner Life – Chapters 18 & 19
Posted: November 8, 2016
Filed under: Legend of Zelda, My Inner Life
| Tags: Erttheking, Legend of Zelda, Link's Queen, My Inner Life, Romance
73 Comments
Title: My Inner Life
Author: Link's Queen
Media: Video Game
Topic: Legend of Zelda
Genre: None
URL: Whole Story
Critiqued by Erttheking
Ert: So, when we last left off, the worse case scenario happened. Link and Jenna successfully reproduced and cursed the world with more of their ilk. Like a virus, they will no doubt infect others and continue to multiply while they tear those around them apart.
Goeth: *Holds up knife* Castration?
Ert: You're a bad influence on me.
Down the Road

As winter arrived early (earlier then normal)
Ert: Uh. Fuck you. As I have established, winter should have come several months ago. Are you telling me that it hasn't come yet? In that case, winter isn't early, it's LATE! VERY FUCKING LATE! Or does this story take place in fucking Westeros and no one has told me yet? Because only in Westeros do the seasons take this long to change!
Nora: Here's hoping that the White Walkers/Others will show up soon…oh who am I kidding, it'll be another five years before they get anywhere.
the cold winds became too much for the crops to handle. I had to go harvest what we had before the snow started to fall.
Nora: So Jenna is waiting until winter to harvest her crops. Instead of…you know…fall. I hope she likes them wilting and rotting, because there's no way that it got that cold out of nowhere.
Since we had a storage room bellow the house,
Ert: OF COURSE! WHY NOT! THAT'S FEASIBLE!
Goeth: So apparently Link dug that entire storage area out. Something I'd say is around a thousand square feet. On his own.
Link and I harvested what crops we had and stored them in the food cellar.
Ert: That piece of shit garden is their food supply for the winter? Well I hope they like being able to eat for a couple of weeks before they run out and have to start foraging.
Nora: It doesn't help that I'm fairly certain she didn't grow food that will keep particularly well. I mean yeah, you can store a fair bit in a cold cellar, she got that much right, but she's also need to salt and pickle a fair bit of her food.
Then we moved all of the animals into the barn to keep them from getting sick. After the preparations were made, we waited for the winter snow.
Ert: We just kinda sat around and did nothing. We lived very fulfilling lives like that.
A few days later the snow begun to fall. It got real cold in the house so I had to stay by the fire with our small son. Link Jr was now four months old. And getting cuter with each passing day. He was now crawling, and when he gets on the floor he crawls everywhere.
Goeth: Crawling does not typically start until six months. Another basic fact about babies that this story gets wrong.
I was starting to teach our son at his early age. While Link went to the castle to work with his men I stayed home to teach and care for our son.
Nora: Making the long, day long trek from the forrest to the castle. Every day. In winter. I'm sure Epona appreciates that.
Even though I provided most of the teaching, Link did his part as well. I watched when there were a many a day when Link would stay home just to be with our son.
Ert: I suppose those men of his could do without him for a day or two. Making me wonder what exactly he does that's so important he has to go in every day, but not important enough that he doesn't actually live at the castle.
I knew how much our son meant to him.
Nora: I'm glad someone does. We haven't actually seen either of you two acting like parents. There's more to being a parent than fawning over your kid.
Goeth: Something, something, something, "but he's a miracle."
Next to me Link Jr was his pride and joy. Since the snow was bad this year, I stayed by the fire most of the day,
Ert: Where are they getting all of this wood? They would've had to cut up most of it beforehand, as wood covered in snow does not make for very good kindling.
each day I would read to him. I wanted him to grow up smart at an early age.
Nora: She wanted him to grow up at an early age. What?
Goeth: Lady, biology will take its natural course when it gets around to it. It will not go faster because you want it to.
Link and I agreed that with each child we had we would start teaching them as soon as possible.

One night I was sitting by the fire with Link and our son teaching him to read. Link had a children's book that taught kids how to count. As Link pointed to the pictures that showed how to add our son did something amazing. "See my son, if you take two apples and add them to the one you already have." "You get three apples." Link said as he pointed to the pictures. "See, one plus two is three." Link smiled as our son pointed to the pictures. Then the next thing he did was shocking. "So my son what do you get when you add one and two?" "Three." Link answered. Just then our son pointed to the single apple, then to the two apples then he held up three fingers before looking at his father and giggling.
Ert: Ah yes. Teaching a four month old child to read and count. That's a perfectly reasonable thing to do. *Leans forward* IF HIS MOTHER WAS A REVEREND MOTHER THAT HAD DRUNKEN THE FUCKING WATER OF LIFE! What's that Jenna? You don't know what that is?
Ert: READ A BOOK! Because I wasn't the biggest fan of Dune, but it did things pretty damn well. Alia Atreides was done a Hell of a lot better than the spawn of Link's ballsack. So tell me Jenna. Are you a fucking Bene Gesserit and you never told me? No? THEN THIS DOES NOT! FUCKING! HAPPEN!
Goeth: Do we need a "How does I baby?" counter?
A shocked look crossed my face as I exchanged glances with my husband. "Oh my….Did you see that honey?" "He added one plus two and answered three!" My eyes seemed to glow as I looked at Link. The same shock showed on his face. "He is going to grow up to be one smart kid, Link my love." "So far we've done a good job with him." I watched as a smile crossed Link's face. "Yes we have my darling, I know he will be the smartest kid in Hyrule"
Ert: He's the fucking brother of Paul Atreides, known to the public as Muad'Dib, known in private as Usul, and he's just as much of a special snowflake as his big brother was, with NONE OF THE FUCKING SLEF AWARENESS!
Goeth: I suppose we should start checking the baby's food. I'm interested exactly how much Spice they've been feeding the kid. His eyes must be solid blue by this point.
Nora: While you're at it, see how far he's getting flashes of the future. And if he can see into the past. God help us if we have another Kwisatz Haderach on our hands.
Link responded. He then leaned over and kissed me. "I love you my wife."
Nora: Romantic.
I watched as our son pointed to the pictures in the book before I cuddled into Link's arms. We sat for awhile before I went to put our son to bed. "It's time for bed sweetie." I said as Link leaned over and kissed our son on the head before I took him upstairs. Right before I ascended the stairs, I took little Link's hand and gently waved it at his father. "Say good night to daddy." Then he giggled as I walked up the stairs.
Ert: I was honestly expecting the kid to start talking at this point. He's that much of an unnatural abomination.
Nora: I suppose he could always be the Anti-Christ.
After I put him in his cradle and waited for him to go to sleep, I went back down stairs and spent the rest of the night with Link by the fire. "He is a sleep." I said as I snuggled into Link's arms.
Goeth: Either that baby fell asleep awfully quickly, or Jenna was up there for an extended period of time.
I laid there, against Link's chest watching the crackling of the fire. While he massaged my body I let my thoughts drift. As Link massaged me it felt soo good.
Ert: I'm sure it did.
(Like Totally Counter: 23)
His hands moved across my body as if they were gliding. His grip was firm but good against my sore muscles. I had spent that entire day cleaning. So I welcomed the gentle grip of his big broad hands.
Nora: For the record, Cornelia has been doing "research" into Yaoi. Apparently a lot of the people who draw it have never seen an actual human being. Either that or this is a really specific fetish I've never heard of.
Ert:…Goeth?
Goeth: I had nothing to do with that! The Horde was nowhere near that terrifying!
Ert: Got me there.
My thoughts drifted away and the void opened up around me.
Ert: Damn it, I should've saved the divide by zero joke.
Nora: Do we have anything left in the Lovecraft file?
Ert: One second…no. Man, this is what happens when a story is stuck on repeat. We run out of material to work with.
Then I begun to hear Link's voice inside my mind, his thoughts, his passions.
Goeth: Including the parts with the mayonnaise and the monkey.
The connection between us became full.
Goeth: Telepathy apparently comes with a bandwidth cap now. Boy have things regressed from when I was younger.
Ert: I didn't even know that was a thing.
Goeth: Neither did I. Reality finds a new way to disappoint you every day.
Ert: Could you please not say that in the rift that's going live on the 2016 election day?
I let my thoughts drift into his mind. Told him how I felt, told him how much I loved him. As the sound of the fire crackling ringed through my ears, Link filled into my soul.
Ert: Bit of a joke that tells itself, but whatever.
We began to feel each other, feel each other inside.
Ert: See above.
I rolled over and looked into Link's deep blue eyes, and I saw the desire burning in them. For a moment, his eyes seemed to glow against the red glow of the fire, and I was mesmerized by them.
Nora: Damn it. Goeth! Link's been possessed by a demon again!
Goeth: I'll call a friend I have in the occult department at Mad Scientist University, but she's getting tired of covering for him.
Then I leaned forward, pressed my lips against his and kissed him deeply. As we kissed I got lost in time, lost in his kiss, and my body got lost to his touch. I felt the hot desire growing between us, our passions growing stronger.
Ert: So, are you feeling this with the body that you lost to his touch? And got lost in the space time continuum?
Goeth: Make sure you don't run into the Hounds of Tindalos! They like to eat time travelers!
Then I let myself get taken away,
Goeth: Eh, if she didn't want to listen to me, it's her choice.
as I slowly laid down and opened myself to him. I eagerly started to remove his clothes so his awaiting manhood would be restricted no more. First his belt, his tunic, then I undid the lace that held his white undergarment together and pulled it off exposing his heavenly naked body.
Nora: So far this new sex scene just seems like an instruction manual. Cross the red wire with the blue fire, turn the power back on, give him head. Also.
(Snu-Snu Counter: 6)
Then I threw my arms around him and pulled him down on top of me. I whispered in his ear that I wanted him to take me. That I wanted him to fill me up with his love.
Ert:…Is that what we're calling it now?
I listened to the crackling of the fire as Link caressed my naked body with his hands and lips.
Ert: As opposed to his feet.
Goeth: Actually some people-
Ert: I know-I KNOW!
We both let ourselves get lost in time, lost to each other's touch. Only the sound of our two hearts beating together was heard. As we moved against each other the red glow of the fire reflected against our skin.
Ert: I hope the house burns down because they weren't keeping an eye on the fire. I have a fire in my late 20th century house and it still requires people to watch it.
Its warmth gave us comfort as we made love. Long into the night we fulfilled each other's desires, each other's fantasies. I let myself slip into time, and get taken away on the wings of love. The love that came to me from the heavens. When I was with Link I was in heaven.
Nora: Despite the fact that Heaven has filed multiple restraining orders, as well as a cease and desist.
The winter snow became worse a few days later. One day we had a snowstorm so we had to stay inside by the fire to keep warm. This was the worst winter Hyrule had seen in twenty years.
Ert: Oh good god, this really is Westeros. Goeth, call George R.R. Martin and tell him that someone is ripping off Game of Thrones/A Song of and Fire. Then get as much obsidian as possible and convert it into bullet form. Then get incendiary bullets. White Walkers are coming.
Goeth: The bullets are in the back, I've had them for some time now. The intern is making the phone call.
I worried that the cold would get to our son. I did not want him to get sick, so for the next few days Link and I slept by the fire with our son to keep him warm.
Nora: Sleeping + full fire = No.
I hoped it would all end quickly since our anniversary was only a week away. I wanted to get him something special, but if the snow did not stop soon I would not be able to get to the Market to get him a gift.
Nora: If winter has been going on for so long that you seem to be in the middle of a multi-day long blizzard a week before Spring is supposed to start, I think you have bigger problems than not being able to get an anniversary present.
Ert: Plus, factoring in the fact that this was an early winter, in a world where seasons seem to be several months longer than they are IRL, on top of the fact that you were late when it came to planting crops, combined with the fact that, as a merchant, you probably would make a lot of rookie mistakes, on top of the fact that you put off the harvest until it started snowing, I have to conclude that YOU SHOULD BE DEAD!
Last fall after we got married the winter was a calm and mild one. There was hardly any snow and a mild cold. The autumn last year was even warm.

But for some reason this year the snows came early and heavy.
Ert: Wait, it's been two years since this story started? I just…oh I fucking give up on trying to figure out the fucking timeline of this thing.
I even got concerned about the Zora and Goron races since each was not very adaptable to the extreme cold. Link and I worried that those races would have survival problems. Since the Zoras were an aquatic people, the water where they live remains warm. And if their water gets too cold, they might freeze to death.
Nora: They managed to all survive being frozen in solid blocks of ice, I think that they'll manage. What's more, I think it's safe to say that they've dealt with this before, otherwise they would've frozen to death every winter.
The Gorons live high up on Death Mountain, but they need warm climates to live in. If the cold gets too extreme, they might not survive.
Ert: One, Gorons are rock people so I think they would be not affected by the cold. Two, even if they were, Death Mountain is a FUCKING VOLCANO! I THINK THEY'LL BE ALL RIGHT!
Goeth: Gorons do eat rocks themselves, so I think it's safe to conclude their biology is radically different from ours.
We especially worried about Princess Ruto. She was the kind to go out, and spend the day finding ways to improve Hyrule's water source or Zora's Domain itself. Usually being cooped up was not her style, and she seems to get wiry if she remains in one place for to long. We though she might try to go outside to get away from being cooped up all day long. She never listens to her father, always sneaking around. So we thought she might try and sneak out, and that could be bad news.
Ert: And they're talking about Ruto is impulsive and stupid and will try and get herself killed in the cold. I am seriously glad that LQ never claimed that this story was trying to be feminist, because I would have a field day ripping that concept apart.
Nora: We already know it isn't. Women in this story are wives or princesses that do feminine supporting roles or are impulsive and stupid. Nothing else.
With that in mind, we decided that we should keep an eye out on her. One day in particular, it got extremely cold. It was the coldest Hyrule had gotten in twenty years.
Goeth: You said that already.
Nora: But the audience might forget if they're not reminded every three seconds.
Link and I were sitting in front of the fire with our son. We had wrapped ourselves with heavy wool blankets and huddled together to stay warm. The house had gotten cold, so cold that even Lilly, Navi and Aria had to go to the little huts that we built upstairs for them to sleep in, so their wings would not get numb, preventing them from flying.
Ert: Oh God, I'm getting flashbacks to My Little Unicorn. What is the point of building a house within a house? And why hasn't this been mentioned before if it was so important for them to have little houses?
While Link and I were huddled together under the blankets, a knock came at the door.

Since it was snowing and the cold was so intense, we thought that someone would be crazy to venture outside in that terrible weather. Link and I exchanged worried glances. "Who could that be out in this awful weather?" I said as I gave Link a worried look. "I'll go see who it is." Link said as he got up dragging the heavy blanket behind him.
Ert: Oh gee, I wonder if it's word that Ruto did something stupid. After all, you were so SUBTLE about the possibility of that happening.
Nora: To all budding writings, some advice. Thing might happen, followed by thing happening five seconds later, is lazy writing. Pure and simple.
I got up, wrapped my blanket around me, wrapped one around our son, then followed Link to the door. Undoing the latches, Link slowly opened the door. What we saw on the other side shocked us. There in the doorway stood the figure of a female Zora. Princess Ruto, wrapped in a heavy deep blue cloak, stood there ankle deep in the snow half frozen.
Ert: Word of Ruto doing something stupid, Ruto doing something stupid, it's the same thing from a narrative perspective. If anything, I'd say that this is even lazier considering it's directly smacking them in the face the problem five seconds after it was mentioned.
"Oh my god, what are you doing out in this ungodly weather?!" I said with pure shock in my voice. Dazed, she looked at us then staggered to the door. Link reached out and grabbed Ruto by the arm and pulled her inside. Removing the cloak, I led Ruto to sit by the fire. With haste I grabbed a heavy wool blanket and wrapped it around the half frozen Zora.
Goeth: She keeps bringing up half frozen as if she means it literally. That half of the fluids in her body from or are in the process of freezing. Needless to say, she would not be moving if that was the case.
Nora: Again, Zoras survived being frozen, but we're entertaining LQ's attempts to make this "realistic."
Then I went into the kitchen and made a cup of hot coco to give to her.
Ert: Despite the fact that cocoa beans were not wildly available in Europe until the Spanish discovered it, and it became popular in the 17th century. Which, needless to say, is not the time period Legend of Zelda is based on.
Goeth: Particularly considering the 17th century is considered to be the point in time where the movement from the Medieval Ages to the Enlightenment began.
After I handed her the cup, Link and I looked at her with unblinking eyes, "So tell me again why you were out in that awful storm." I said with doubt in my voice.
Nora: She'd have to tell you a first time before she could tell you "again."
The adult Zora looked from me to Link, then answered in a muffled tone. "I was out examining ways to improve water flow from Lake Hylia, when the storm broke catching me in it." Reading over her statement again in my mind, it didn't make much sense. There had to be more to the story then what she was telling us.
Ert: Well of course it doesn't make sense. Mainly because she's not Hercules and can't just redirect the flow of a river, but also because the water from Lake Hylia doesn't flow into Zora's Domain. In fact, water flows OUT of Zora's domain.
Goeth: We don't know for certain that she's trying to get water into Zora's domain, but that's because she isn't telling us where she was trying to get it to flow.
Ert: Also LQ continues to treat all of Hyrule like it's one square mile, and that everywhere is just a short walk from everywhere else.
I looked at her squarely, as she looked down into her cup. "C'mon Ruto, there has to be a real reason why you were out there." "I just find it hard to believe that you were actually out there to check on the water source. " "Tell me the real reason. " Ruto looked back up at me, then her face faltered.
Nora: With all the logical reasons why this makes no sense, Jenna's genius reasoning is that she just knows it isn't the truth.
"Well…..I…..ummm….I can't really say why. " Link and I exchanged looks then we looked back to Ruto. "Ruto you cannot really expect us to believe that you cannot explain why you were really out there." A glint of anger appeared in Link's jeweled eyes as he spoke.
Ert: Jeweled? Why the hell are his eyes studded?
Goeth: Primitive cultures have interesting customs at times.
When she saw that Link was getting impatient, she finally decided to tell us the real reason why she was out in the storm. "Well…..I was in Zora's Domain and I was starting to feel cooped up so I decided to go to lake Hylia for a swim."
Nora: Nice healthy relationship. Tell the truth because the one man in the room got mad at you. And all because she didn't want to admit that her dumb woman brain made a dumb
Ert: And for some reason she couldn't go swimming in Zora's Domain, despite there being several bodies of water in there, she went to the lake that no doubt was much colder than the one that was insulated in a cave.
"As I came near the Water Temple, I decided to check inside to make sure everything was ok."
Nora: You know. While I was in the neighborhood.
"As I wandered the corridors, I saw what seemed like a shadow that moved. " "I walked further down the corridor I was in, until something knocked me down. " "When I turned and looked up, I saw a shadowy figure looming over me that looked remarkably like Link." "Its red eyes, pierced me like daggers, and as I looked at the figure, I could tell it was evil."
Ert: Oh hai there Dark Link. Arguably one of the most interesting aspects of Ocarina of Time, and easily a fan favorite despite minimal screen time. I look forward to seeing this story utterly destroy you.
"I barely got out alive." "That thing….almost had me." "When I got outside, the storm broke." "Being a Zora, I knew I wasn't going to last long out in the cold, and Zora's Domain was too far away, so that's why I came here."
Nora: There is an underwater passage that directly connects the lake and Zora's domain! Don't feed us this garbage about it somehow being faster to march halfway across Hyrule plain.
Ert: And she didn't want to tell anyone about Dark Link because…reasons. Oh right, dumb woman being dumb woman.
Ruto said in a scratchy voice, her hand shaking the cup she held. I looked at her with unblinking eyes and all I could think about was what Ruto had said.

"A shadowy figure that looked like Link?" I thought to myself. I glanced over at Link, who looked white as a sheet. "Link my love whats wrong?!" Link turned to face me, his voice raspy from shock. "Oh my Goddesses…..I thought he was dead!" "How can he still be alive!" "I destroyed him myself!"
Goeth: Lazy writing good sir. The dead are commonly brought back to life through the power of bad writing. Although good writing can bring back the dead too. SOMETHING THAT SOME PEOPLE SHOULD REALIZE!
Ert: You're dead and you're staying that way! You only exist in these non-canon rifts. And in hallucinations from my more unhinged characters.
"Who Link……what are you talking about?!" I watched as Link's eyes lowered. "When I was in the Water Temple, about halfway through it, I entered this strange room." "The room was strange, like it was straight out of a bad dream." "As I continued to explore the room, I felt a strange presence." "As I walked towards the lone tree in the center of the room, a shadowy figure turned from behind it." "When I got close enough, I could tell that the figure looked like…….me." Link's eyes faltered as he remembered that day when he met his mirror self.
Ert: Yeah, it was honestly one of the best parts of the game. A bizarre room that didn't fit in with the rest of the temple. There was no ceiling, no walls, just the exit door, a couple pieces of rubble, ankle deep water, a wilted tree in the center, and an endless white void the stretched on without end. Both the entrance and exit are sealed with no visible way out, no obvious solution for what you're supposed to do. You wander around, trying to look for a way out. There was nothing special about the tree the first time around…then you take another look at it. You swear you can see something there. As you go over to check it, you think you might have found the exit. Only to find one of the toughest mini-bosses of the game.
Nora: He appears after you walk on the island the tree is on, walk off again, then walk back. Funny thing a lot of people don't notice. Link's reflection in the water disappears after he walks off the island.
"Oh Goddesses, you're kidding right?" I said with pure shock in my voice. "No, he's telling the truth." Ruto added. "I saw it with my own eyes when I was in there last." I could not believe what I was hearing. All I could think about was that there was another that looked like Link. Was this other, evil, was he good, or was he Link's twin that he does not know about? These questions raced threw my mind as the thought of this mirror image with the face of my husband was possibly running around.
Nora: No Jenna, you cannot have a three way! Dark Link is…well he doesn't really have much in the way of personality, seeing as how he only shows up for one fight and doesn't say anything. But it's safe to say he wants to murder your husband and is probably on Gannodorf's payroll. I mean I assume he has a payroll, his minions don't work for free, do they?
Goeth: They most likely get paid with gold, land or food.
"Link my love tell me what happened." I looked directly into Link's eternal blue eyes as a look of pure depression shone in his face. "When I tried to fight the mirror image, I could not land a mark on him." "It seemed that he was anticipating my every move." "It was a long and grueling fight, one I almost did not win."
Ert: So I'm guessing that you eventually managed to land a mark on him, considering you won. Or did you not land a mark on him the entire fight? Because if that's the case, you have no right to be surprised that he's still kicking.
Nora: It's frustrating because it is hard to get a hit in on Dark Link, but this overly simplistic writing is doing a terrible job of getting that across.
"Oh my Goddesses…Link you never told me about that!" I walked over and embraced the now shivering Link. "It was terrible, I will never forget those blood red eyes." "And now with possibility that he is still running around, makes me even more nervous."
Goeth: Your doppelgänger makes you "nervous." Just nervous?
Ert: God, if the emotions in this story were any more dulled, they'd be a perfectly flat surface.
I could tell now that Link was upset. Even with all the stories that Link had told me, he never told me about his encounter inside the Water Temple. "I must go to the Water Temple and check it out." "If I don't, I will never be able to rest." Link said as he got up and buckled on the Master Sword over his back.

Then he put on his deep green cloak as he prepared to venture outside. "Link my love you cannot venture out in that dangerous storm." I said as I grabbed his arm.
Nora: The dumbass has a point. Riding anywhere in the middle of a blizzard is a dangerous thing to do. Particularly if you're hustling it and pushing your horse, which can lead to you living off of horse steaks for the next couple of weeks.
Ert: Speaking of horses, did Epona ever have that kid? Or did the author just forget that that happened?
Goeth: Do you need to ask?
"Jenna my dear wife, I must go." "If that mirror image of me is still on the loose, that could mean serious trouble." Link's jeweled blue eyes pierced me deep into my soul.
Ert: If this keeps up, I'm taking the sapphires Link seems to have for eyes as compensation.
As I stared into them, I begun to understand that he had to go find out if the evil in the shape of his image was still inside the Water Temple. I wondered how Gannondorf could create such an atrocity.
Nora: The guy that made a duplicate of himself too?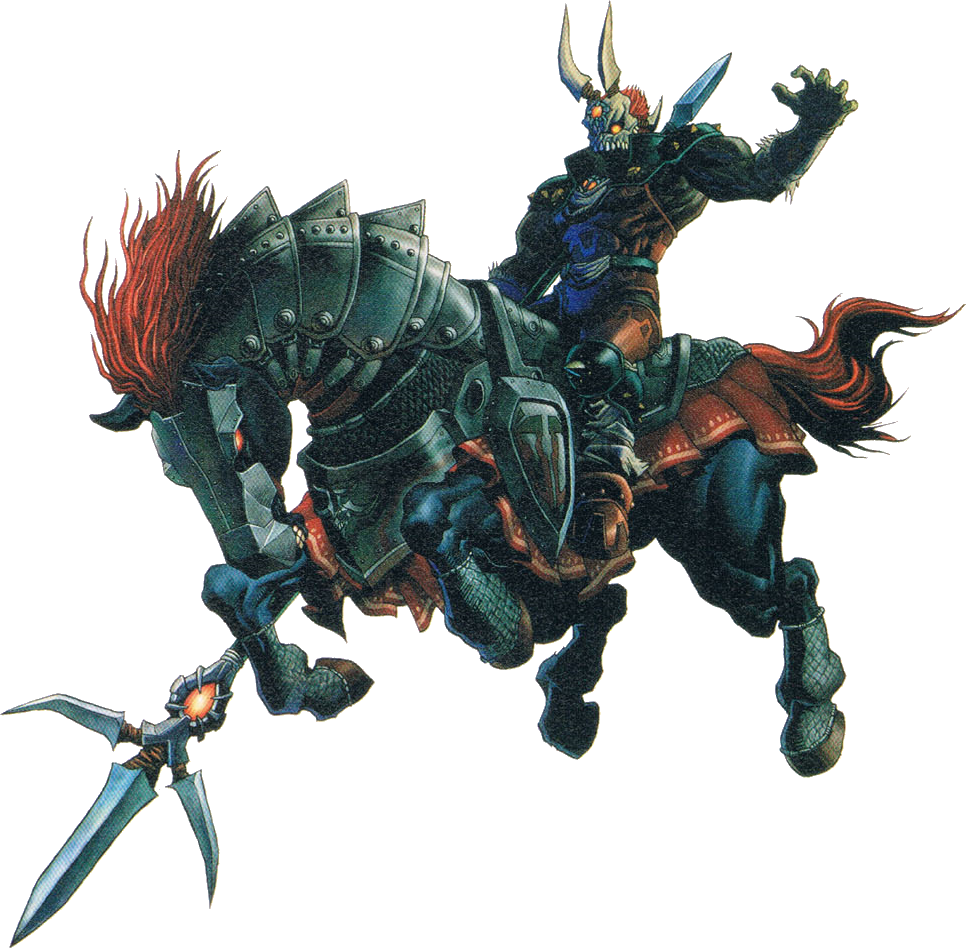 Nora: Do you not know the first thing about this guy? You've been married to Link for who knows how long, did he not bring up anything?
"Well I understand that you must go to the Temple and see if it is true that this copy is wandering its corridors, but you are not going without me." I said as I grabbed my deep blue cloak and put it on, lifting the hood over my head. "Jenna my love, you cannot come." "Its too dangerous and some one needs to stay here and care for our son."
Goeth: Radical idea. They can both just wait. Dark Link is simply wandering around the Water Temple, an uninhabited structure. Unless he's corrupting it, the way it was corrupted in the game, and draining the lake, I doubt he'll cause any noteworthy damage.
Ert: It could be interesting if Dark Link was trying to weaken the seal keeping Ganondorf imprisoned, but I don't think we're getting that.
Link said as he lifted my head up until our eyes met. Pushing his hand away a hint of irritation appeared in my voice.

"First off, I cannot just let you venture out in that storm alone,
Nora: You going with him doesn't make going into the storm more safe or less stupid. I'd argue it would actually make it more dangerous and even more stupid.
second Ruto as well as Lilly and Navi are here so they can care for our son while we're away." "Ruto is still not able to go back to Zora's Domain yet so she should stay here anyway." I said as I headed towards the door. Link grabbed my arm and pulled me back.
Goeth: The amphibian will know how to take care of the mammal, yes.
"Jenna my love, you do not understand." "I don't want to loose you, the Temple is dangerous and so is my mirror self."
Ert: The Water Temple was more annoying than dangerous, although Dark Link is a pain in the ass if you don't know what you're doing. Which link SHOULD!
Link looked at me with concern in his eyes. And all I could think about was that I didn't want to loose him either. "I'm still going, I don't want to loose either."
Nora: That sentence doesn't make a lick of sense in any context this story has provided.
"I love you, and I want to protect you." "Who knows what this mirror self might be planning." I said as I threw my arms around Link. "Sigh" "That is one of the reasons why I married you my dear Jenna." Link said as he pressed his lips on mine.
Ert: So, can Jenna actually fight? She chased off some bandits at the start of the story, but that's about it.
Goeth: You're not gonna like this. I haven't read forward at all, and I know for a fact you're not gonna like this
The Encounter

Grabbling my bow and my (9)Phoenix circles
Ert: *Sigh* Ok, what are they?
(9) The Phoenix Circles are one form of a Charkam. A Charkam is a round weapon kind of like a sword only in the form of a circle (exe Zena Warrior Princess's weapon). The Charkam has a blade curvature in the shape of a crescent moon with a round hilt on one side. The Phoenix Circles in this story, its blade is lined with all different kinds of valuable gems and the symbol of the Phoenix.
Ert: *Smacks self in face* So she's ripping of Xena (Oh I'm sorry, ZENA) in terms of weapon choice, something she flat out admits, only she's making them much dumber. A Chakram (NOT A CHARKAM) is a THROWING weapon! Throwing weapons have to be very finely balanced, and I have a sneaking feeling that gems would do a wonderful job of throwing that expertly tuned balance off.
and Link equipped with the Master Sword, I kissed little Link, said a few words to Ruto
Nora: It's just a shame that they were random gibberish.
then Link and I headed for Lake Hylia and the Water Temple. We went to the stable to grab our horses, since Epona was carrying,
Ert: STILL!? I thought you said that she would give birth at the same time as you. Granted that was bad science, but now you're spitting on your own internal logic?
Goeth: Or at least the internal logic you were pretending to have.
I saddled Star Dancer and Link saddled Midnight Star. Mounting our horses, we left the sanctuary of our house, and made our way through the blinding snow. The storm had kicked up again. It was very cold and the snow knee deep. The wind whipped our cloaks around as we pushed onward. Visibility was next to nothing, I could barely see Link in front of me.
Nora: Yup, this was a horrible idea.
"Jenna are you ok?!" Link yelled over the howling wind. "So far I'm ok, but I can barely see anything in front of me!" I yelled back. "Just follow the sound of my voice my love, I will help guide you!"
Ert: Just listen to his voice over the howling winds. And the billowing of your clothes.
Listing to Link's voice, I was able to follow him. We kept a steady pace, pushing through the deep wet snow. I wrapped my now damp cloak around me trying to stay warm.
Goeth: Wet in the midst of winter? They're dead. They should be dead.
Nora: Also I'm getting really mixed signals on this winter. If the snow is wet, then the temperature should be hovering around the freezing/melting point of water. Which isn't exactly warm and toasty, but it's not exactly brutally cold either. LQ's descriptions of weather and seasons just gets more and more confusion as time goes by.
After some time we finally came to the fences leading to Lake Hylia. By this time the storm had died down some so visibility was much better.
Ert: Ok, give me a fucking answer on this. How fucking long is "Some time." Because an hour and five days could both be described as "some time" because "some" is a fucking vague and unhelpful term. SO IT FITS IN NICELY WITH THE REST OF THE SENTENCE, BUT IT STILL PISSES ME OFF!
Link made Midnight Star come to a complete stop, causing snow to kick up behind the stallion's powerful hooves. Pulling back on the reins Star Dancer came to a complete stop just a few feet behind Link.
Nora: Star Dancer pulled back on her own reigns? Goeth?
Goeth: Some less respected students of mine did try to rewrite the DNA of horses. Needless to say, they didn't exactly get a passing grade. I had to flunk them as a matter of fact. I'm somewhat glad they're still apparently getting work, but at the same time they're dragging our university's reputation down.
"Why did we stop?" I questioned. "We need to jump these fences, but with the snow as deep as it is I know that Midnight Star can make the jump but, do you think your mare can handle the jump?" Looking down at my mare, I patted her on the head and stroked her mane. "I have full confidence in her Link, she can make the jump." "Then lets go!" Link yelled.
Ert: Hoping a fence. Oh, what fucking high drama. And why is that fence there? In game it doesn't really make any sense other than a "Come back when you get Epona" barrier. Speaking of which, why is Epona being shoved to the side for Star Douche and Midnight Shit?
Backing up his horse, Link prepared for the jump. When he had enough distance, he booted the horse in the legs and ran towards the fences guarding the lake. With a kicking up of snow, the black stallion flew gracefully over the fences, leaving a trail of mist behind him. Bringing the horse to a stop on the other side of the fences he looked at me. "Now you make the jump." Nodding, I backed up my mare and prepared for the jump. When I had enough distance between the fences and I, I booted my horse in the legs
Ert: Whereupon she promptly bucked you off because she is tired of that shit.
and bolted towards the fences. Just before I reached the fences, a cloud of snow kicked up behind my horse's powerful hooves as she made the rough jump over the fences. Link then took off in front of me and called for me to follow.
Nora: A hundred and thirty words dedicated to Jenna jumping over a fence. I look back at everything else that got the bare bones treatment and wonder why this one was considered so much better.
Goeth: Bad stories have a tendency to have infrequent prose. The ratios on this one in particular are a nightmare.
I watched as the lake slowly became visible. When we reached the bank of Lake Hylia, we were shocked at what we saw. Pulling our horses to a complete stop I exchanged glances with Link. "The lake is frozen over!" "How are we supposed to get inside now?"
Ert: I doubt it. And even if it was frozen, it would've been a layer on the top. That-
I said as we dismounted. Pulling out his bow, Link nocked an arrow of fire and shot it at the lake. Steam rose up as the fire melted the ice beneath its fiery rage. "Well well, Link your full of surprises." I said with envoy.
Ert: Ok, a fence and an easily meltable layer of ice. Can we get to some actual fucking drama if you're not too busy? Or were those the daunting obstacles Link and his fuck buddy had to overcome to reach their happy ending?
Nora: And now there's some poor envoy from a distant land stuck with these two idiots. Hyrule must be a diplomatic train wreck.
Goeth: And going back to temperature. If the snow is wet, the lake is not frozen, unless there was a very recent spike in temperature, and even then it would be in the middle of thawing.
Link smiled, then nocked a few more arrows and shot them one by one into the ice, creating a hole in the ice. "Now we can get inside." Link inquired. "Wait a second Link, isn't the door to the Temple under the water?" Link nodded. "How do you suppose we are going to get in there?"
Ert: You did absolutely nothing to think this through, did you?
Nora: I am astounded at how many recurring moments of idiocy there is in all of the fan fiction that gets review on this website.
Walking back over to his horse, Link reached into his saddlebags and pulled something out of it. Turning back to me he threw a blue looking tunic at me. "Put that on."
"That's the Zora tunic, it allows its wearer to breath under the water." I looked down at the tunic in my hands, wondering if it would really work. "Are you sure its going to fit me?"
Looking back at me his eyes seemed to glow. "Don't worry my love it will."
Nora: Because you two are totally the same size. You can swap all of your clothes around
Looking back down at it one more time, I took it and slipped it on over my dress. Then I walked over to Link just as he finished putting his on.
"Now the entrance is at the bottom." "The only way to get down there is with the Iron Boots." "Iron what?" I asked with curiosity in my voice. "The Iron Boots are boots made of Iron
Ert: *Sigh* And I already used the people die when they are killed joke.
to help the wearer to be heavy enough to walk on lake bottoms. "Oh that's amazing, you never cease to surprise me Link my love."
Ert: Only because you apparently don't know the first thing about him. This being one of those relationships where you just fuck all day and never talk.
I said with a little giggle. "Now since there is only one pair, you'll have to hang onto me or you will just float back to the surface." Nodding, I watched as Link equipped the Iron Boots.
Nora: So he brought a second tunic but he couldn't weigh down a pair of boots with horseshoes?
When he was ready, I grabbed onto his arm as we made our way into the lake. The boots made a loud clopping sound as we descended to the lake's bottom. Walking on the bottom of the lake made me feel a little uneasy, but I had confidence in my husband's abilities. When we reached the Temple's gate, I looked up at the blood red jewel sitting above the entrance. A slight shiver went down my spine as I stared at the ghoulish looking thing.
Goeth: This story is trying to make too many things scary. Dark Link's eyes were one thing, but that was just a mundane switch. A low ended thing.
Hugging onto Link, we descended into the Temple. As we walked further into the eerie Temple, a wash of uneasiness ran over me. "Where do we go from here?" I said as I held onto Link tightly. "I'm not sure, but my best guess is that we should head for that strange room."
Ert: First we need to drain the water, then raise it, then drain it, then raise it again and AAAAAAGGGGGHHHHHHH-(Throws Nintendo 64 against the wall)
As we descended deeper into the Water Temple, I started to feel as if someone was watching us. "Link do you feel as if we are being watched?" "Yeah I feel it, I also feel a presence as well." "He's here I can feel it." Feeling my cat like instincts kick in,
Nora: Oh great. The record's skipping AND we're back to the Cat crap.
(Cat Counter: 6)
I raised my head up and sniffed the air. "You're right, I smell something fowl."
Nora: Apparently Dark Link is raising chickens. For the protein probably.
"He's close." I said lowering my head. "Closer then you think." A sneering voice called from within the Temple. I jumped at the sound of the eerie voice echoing threw the corridors.
Goeth: Probably a lot of feedback. If he's a chicken farmer that's living underneath a lake, there's no way he can afford a decent intercom system. Let alone get a professional to install it for him.
"Come out and show yourself, I know you're here!" Link yelled as he unfastened his sword in its sheath. "Ha ha so…the "Hero of Time" has returned to challenge me." The sneering voice called again. "Your more of a fool then I thought." I begun to shake as the sneering voice continued to vibrate threw the Temple's corridors. "FOOL!?" "You're the fool!"
Ert: Nice elementary-school playground comeback Link.
"Why won't you show yourself?!" Link screamed as he unsheathed the Master Sword. Just then we heard a shuffling sound behind us. Then the next thing I knew, I was struck from behind and then all went black.
Nora: Careful what you wish for pal. Also for some reason he goes after the self insert instead of the freaking hero of time.
Goeth: Maybe he understands how Mary Sues can warp reality to their will.
Nora: Certainly would make things more interesting.
When I awoke, I noticed I was lying on the floor bound hand and foot with rope. Looking around the room, I saw Link sitting next to me bound as well.
Ert: And he captured them instead of killing them both. I can already tell that Dark Link is so idiotic that James Bond is probably in the next room over.
I tried to tug at my bonds, but it seemed no matter how hard I tried the bonds seemed to tighten. "Its no use Jenna, I've already tried." Link said in a faltering tone. "It seems that we are prisoner of my mirror self." "You are so right." Called the sneering voice again. Just then a figure appeared in the doorway to the room. "So…the "Hero of Time" is now my prisoner." "How long I awaited this day, the day when I would get revenge on my counter part."
Nora: The time that I would get revenge for…something. Can't exactly be for dying now can it? Due to the fact that I'm still alive. Revenge for not letting me kill you? Yeah let's go with that. How dare you not let me kill you!
Goeth: Should I call up the prop department and tell them to get Dark Link a mustache and top hat?
Ert: *Face buried in hands* Please do.
I watched as the shadowy figure moved forward revealing an exact copy of Link. Although the "copy" was darker, wearing a black tunic and hat, and those blood red eyes shone with pure evil. As he approached Link, the look of him made me shiver in fear. "What are you going to do with us?" Link said with hatred in his voice. "Hmmm….I haven't decided what I'm going to do with you yet."
Nora: I'm really stupid like that. I apparently want revenge on you, but I don't know the first thing about what I want that revenge to be.
Then he glanced over at me, his blood red eyes piercing into my soul. "But I think I have plans for that beautiful wife of yours." The mirror image said with amusement in his voice. "Oh by the way…call me Dark Link."
Nora: And he's a rapist. Because of course he is. Even in really well written stories, bad guys being rapists can come off as really freaking forced.
Goeth: So I'm assuming he named himself. And just gave up halfway through, because it'd be interesting if someone else called him that, not so much if he named himself that. Just taking someone else's name and sticking an adjective on the front?
Just then Dark Link strode over and bend down beside me, "Such a beautiful creature."
Ert: *Flips open book* Whatever you say pal.
He said as he put his hand under my chin, lifting my head up to face him. I shot him a look of hate. "I have plans for you sweet thing." Dark Link said as he ran his hands seductively down the side of my face. "What the hell are you talking about!?" I looked up at him, his red eyes seemed to glow with an evil desire. "Oh…I have special plans for you." "You will soon find out."
Nora: Yeah, because the first time he said that he had plans was too freaking subtle. We had to really hammer it in that the one dimensional bad-guy is a one dimensional rapist. If this kept going on, we would've been told how he's pitching a tent.
He begun to laugh, a laugh so hideous that it made my skin crawl. Realizing what he meant, my eyes grew as big as saucers. "I want nothing to do with YOU in that manor!"
Goeth: Apparently she wants to be raped in his summer home and not his main manor.
Ert: *Turns page* Sounds about right.
I cried as I spat in his face. "You Bitch, you'll pay for that!" Whipping the spit from his face, he backhanded me, leaving a stinging sensation on my cheek. "How dare you hit my wife!" Link screamed.
Ert: It would've been ok if it was someone else hm? *Turns page* Real champion of the people, Link.
"Well it seems you're in no condition do anything about it." Dark Link said with humor. Then the dark being faced me again. "I will be back for you real soon." Running his hand down the side of my face again, he smiled then got up and strode to the door. "Now don't think of trying to escape." He said with a smirk then walked out.
Ert: *Slams book shut* OH! MY! FUCKING! GOD! Tell me, did he leave the door unlocked and put a knife down in front of them? Before going to masturbate over how evil he is, evil being a term that he unironically uses to describe himself? Before murdering a puppy?
Nora: That kind of villain, huh?
Goeth: Makes me feel Shakespearean. *Sips baby seal blood* By the way, we're out of Kool-Aid
I looked over at Link. "What are we going to do?" "I dunno, he took my sword and I cannot break the bonds." "It seems were at Dark Link's mercy."
Ert: Link, we already have a narrator. Stop bloating the chapter so I can finish more quickly.
Link said as his face faltered. "I will not concede to defeat!" I cried as I twisted forward. "I don't want to either my love, but I'm at a loss on what to do." I was beginning to grow concerned. The thought of what hideous things Dark Link might do to me, sent shivers up my spine. I tried to tug at my bonds again, but to no avail.
Nora: If they were this easy to be beaten then to be frank they both deserved to be killed. Raped? No. Killed? Yes.
I was beginning to think that all hope was lost, when a glint of something shiny caught my eye. I peered deeper into the darkness on the other side of the room, as I pushed my self away from the wall and slinked across the floor. When I got close enough to the shining object, I realized that the glints were coming off the gems on my Phoenix Circles. It seemed that in his hast to remove our weapons, Dark Link seemingly forgot to take my Phoenix Circles with the rest of the weapons.
Ert: *Smashes face into desk* I don't know why I make jokes. None of the authors I review can tell the difference between sarcasm and reality.
"Link look, over on that table across the room." "Its my Phoenix Circles. "I said as I leaned forward. "How do you suppose we are going to get to it?" "We're still bound." Link reminded. Looking back down at my bonds, the feeling of my cat instincts washed over me again.
Ert: Uh, ok. Now go back and rephrase that sentence so that it feels less like you're trying to be pretentious and more like you're trying to convey information. Because I fail to see how your cat porn is relevant.
(Cat Counter: 7)
Gracefully, I leaned forward until my mouth met the bonds around my ankles. Slowly I took part of the rope into my mouth and begun to gnaw at it. Quickly I chewed my way threw the rope, knowing I had to make hast. I had to break my bonds before Dark Link returned.
Nora: Uh-yeah. Chewing your way through it. That's totally cat like. Not actually rat like in anyway.
Ert: But she did it gracefully. Or something.
After some work, I managed to chew through the bonds around my ankles. I got up and staggered over to the table where my Phoenix Circles where sitting. Turning around, I took one of them into my hands and worked it around until the blade was resting against the bonds around my wrists. Taking it, I slowly managed to cut threw my bonds. Putting my weapon down, I rubbed my wrists to soothe the pain from the slight wounds that came from when I tried to break the bonds. "Link I'm free."
Ert: Ok, word cap. You get a thousand words a day. Every word that goes after that, you get punched in the face. Maybe that will teach you not to open your mouth every other second just so that you can hear the sound of your own voice.
Grabbing my weapon I walked over to him. "How did you manage to break your bonds?" Link asked with shock. "Well I owe it all to the training I had while I was traveling."
Nora: That specialized rope chewing training. I also drank piss a lot.
(Mary Sue Counter: 18)
"Now its time to break your bonds." Reaching down I placed the blade of my Phoenix Circle against the bonds on Link's ankles. Snapping the ropes off, I motioned for Link to turn around. Placing the blade against the rope, I sliced it off in one swift swipe. Rubbing his wrists he looked up at me with a smile on his face.
"You're amazing my love." He said with a smile. I walked into Link's arms and kissed him.
Ert: Is now REALLY THE FUCKING TIME!?
Goeth: With the track record these two have, I'm surprised they didn't have snu-snu on the spot.
Ert: Sadly, me too.
Then his expression changed into a serious one. "Now we must get out of here and find the rest of our weapons before Dark Link returns." Nodding, I grabbed my Phoenix Circles, and followed Link as we slowly made our way to the door. Inching his way out the door, Link checked to see if anyone was coming. "Coast is clear, lets go." Link whispered. Slinking our way down the dark corridors, the echo of Dark Link's taunting voice lingered in the air.
Nora: What taunting? The taunting that he did earlier? How are the echoes still going?
Goeth: I told you. Now someone give me a hand here, we're ripping wires out of the wall and redoing the electronics in this place from scratch.
"We must hurry…this way." Link pointed towards a hallway with a light shining at the end.
Winding threw the shadows we came upon a lighted room. Quietly Link opened the door. Peeking inside what we saw was a sight for sore eyes. There on a table sat our weapons. "Oh my Goddesses…..there they are." I said as I ran inside. "Link the Master Sword is here along with our bows!"
Ert: No matter how this scene ends, someone involved was a massive fucking idiot. Link and Jenna for going after something that looks like a very obvious trap, or Dark Link for not making it a trap.
Nora: What did them being captured add again? Aside from the all so important Dark Link being a rapist bit?
Reaching over I grabbed my bow and quiver. I swung the bow over my back, then threw the quiver over my shoulder. Then I grabbed the Master Sword, his bow and quiver and handed them over to Link. Link took the sword and buckled it over his back then swung his bow and quiver over his shoulder. Unfastening the sword, Link removed it from its sheath. He took the sword and swung it threw the air, listening to the rushing sound it made as though it was cutting the air like a knife threw butter.
Goeth: First of all, even sacred swords that are probably unbreakable deserve better treatment than that. Second of all, cutting through air is easier than cutting through butter.
Ert: How fucking stupid are you Jenna? Seriously, do you sniff paint and then eat it?
"I'm just glad to have my sword back." Link said as he swung it one last time before sheathing it. "Now lets get the hell out of here." Just then the door swung open.
Ert: So yeah. It turns out that Dark Link dumped all of their shit in a random room and then wandered off to practice his evil laugh.
"Going somewhere?" There in the doorway stood Dark Link. "I thought I told you two to stay put!"
Nora: And you didn't! That is just-go stand in the corner! No desert for you tonight!
An evil sneer crossed Dark Link's face as he eyed us over. "I don't take orders from the likes of you!" Link sneered back. "You will be after I'm finished with you." Just then Dark Link drew a sword with a remarkably likeness to the Master Sword. At that point, with Dark Link holding a sword just like the Master Sword,
Ert: Jenna I swear to fucking Christ, treat me like a goldfish one more fucking time, and I will lose my shit!
Goeth: He's never drawn a revenge fic before. Let's see if he can be pushed that far.
I begun to think that this is one battle Link would not win alone. Drawling my Phoenix Circles I made a daring charge at Dark Link. Feeling my cat like instincts kick in,
Ert: I want her to get brutally maimed so badly. I'm a horrible person for wanting that and I don't care.
Goeth:  What should I do with the DRD bodies?
(Cat Counter: 8)
I jumped gracefully into the air, aiming my weapons directly at his face. Just before I managed to strike, Dark Link raised his sword and blocked my weapon causing a clank of metal and sparks to fill into the air.
Goeth: Steel on steel does not create sparks.
Falling back, I swiftly rushed forward and high kicked Dark Link in the face, causing him to go flying back into a wall. Staggering back up, his face twisted into an evil grin. "So…you want to play rough do you?" He said wiping the blood from his mouth. "I can show you just how rough I can play!"
Nora: I have a hotel on Boardwalk! You're doomed. DOOMED!
A flash of white light surrounded the room, causing Link and I to be blinded. I felt myself being lifted into the air, as if someone was carrying me. I heard Dark Link's sinister laugh ring threw my ears then all went black.
Ert: So the guy that thrashed him last time is on the loose, and Dark Link is busy thinking with his dick. Because Jenna is the most desirable woman in the land. Because of course she is.
With unblinking eyes I stared into the blackness of the room I was in. Cold water shifted around my ankles as I walked around. Pushing my way threw the darkness, I listened for any sounds that might be my love Link. "LINK…Link where are you my love?!" "Link are you there?"
Ert: And I've been meaning to say this, STOP FUCKING CALLING EACH OTHER LOVE! IT WORE OUT ITS WELCOME NEVER, BECAUSE IT NEVER FUCKING HAD ANY WELCOME!
I cried out into the darkness, but all there was, was silence. Continuing to move forward, I finally found myself standing in front of a strange tree. Looking up at it, it looked twisted and ugly, as if it was a tortured soul.
Nora: Gonna have to explain that one in a way that's a bit less tripe.
Goeth: Deep and poetic.
Its twisted branches stretched out like clawed fingers, as if it was trying to grab something. Backing up, the cold water brushed up against my legs, causing a cold chill to run up my back.
Nora: Nope, your descriptions are still garbage.
Just then a chilling laugh pierced the darkness. Looking back towards the tree, a black figure slinked out from behind it. It's chilling blood red eyes sending a chill deep into my soul. "Dark Link…where the hell am I and where is Link!?" I sneered raising my Phoenix Circles up in front of me. Snapping his fingers a sudden light filled the room, lighting up the surroundings. A sudden shock ran threw me. "Oh…my Goddesses…is this the strange room Link described where he first met his counter part?"
Ert: Uh, no fucking duh. What, you think he would've
Then something caught my eye. Looking over my shoulder, there bound to the wall over the way out, was Link. "OH MY GODDESSES…LINK!" I cried clopping my hands over my mouth. "What the hell have you done to him you bastard!?"
Goeth: Not kill him. For some reason.
Ert: Because if he was logical and pragmatic, he wouldn't get an erection from it.
"I told you earlier…if you want to play rough, I will show you just how rough I can play!" An evil glint rose in Dark Link's eyes, the flame of hatred flicking in them. "If you want to save your love; then you must defeat me."
Ert: Yay. Jenna's gonna be the hero. Or something. I don't care.
Eyeing him, I poised into a fighting stance, placing my Phoenix Circles up in front of me. I knew I was in for a long battle.
Ert: God, how does this story get stupider with every fucking chapter?
---