1538 My Inner Life: Prologue & Chapter 1 Part 1
Posted: September 20, 2016
Filed under: Legend of Zelda, My Inner Life
| Tags: Erttheking, Legend of Zelda, My Inner Life, Romance, Video Game
92 Comments
Title: My Inner Life
Author: Link's Queen
Media: Video Game
Topic: Legend of Zelda
Genre: None
URL: Whole Story
Critiqued by Erttheking
Ert: So now that we're done with genocide, slavery, despotism and imperialism, let's move onto something different.
Cornelia: Legend of Zelda?
Ert: Personally I would've liked to have done something Metroid related, but there sadly isn't much in the way of fan fiction for it out there. And what stories there are tend to be short one shots. So not great rifting material.
Nora: So what's the deal with this one?
Ert: Self insert fan fiction.
Nora: Goodie. When was it written?
Ert: No precise date, but around the early 2000s, considering a game released in 2002 is mentioned. We're really going back in time for this one. It was actually one of the first stories that I considered rifting when I first joined up.
Author's notes: Hello. Thanks for choosing to read my story.
Ert: Congrats, you've already made me regret it.
Nora: Shouldn't it be note and not notes?
Cornelia: That might be more fitting than you think.
As you might know I have become a major Zelda fan in the last year. Ever since I played OoT I have grown a fond interest in Link. I started to notice that after I got really into it, I found that I have a strange gift. A gift to Lucid Dream.
Ert: Fucking Christ, what is it about stories I review not understanding how proper nouns work?
Nora: Where is this going lady?
I started having dreams about Hyrule, and about Link. In a Lucid Dream you can control your dreams. The dreams became very real, kinda like a second life, and almost every night I would have another. Starting from where the last left off. Even to this day I still have them. I find that they help me get through life.
Cornelia: Uh, ok. We're officially veering into slightly creepy territory. I can understand media helping you through life, but a freaking second life? The thing about second lives is that they have a tendency to make you forget the first one.
I know this may sound queer,
Nora: The early 2000s, when bullshit like this was ok.
but for me the dreams sure help me out. I have shared this story with many other people and so far all has liked it. Now as you read this it is told from my perspective or first person view.
Ert: I think we could've figured that much out on our own thanks.
You will find that it is very detailed since I remember it all very clearly to this day. The story takes place after OoT. Nothing after that ever happens. No Majora's Mask. No LttP, or even Oracle of Ages and Seasons.
Nora: Yeah, why include material that's more interesting than what you're going to write, huh?
And there is no love relation between Link and Zelda, Link and Ruto, Link and Malon or Link and Saria. Because of my feelings about Link, the person that he gets involved with in this story is myself or actually is my persona.
Cornelia: Oh dear Lord, a self insert fan fiction with a romance plot. That's almost a redundant statement, but it still makes me groan every time its clarified.
A persona is for those of you who need to know, a representation of ones personality, or in dictionary terms is, (Persona) n. In biology, same as person. So for all you future readers, this story is based on Jenna, a char that is a representation of my personality.
Ert: It's a self insert. Even if you pull some bullshit about how it's your "persona" you're basically stuffing yourself into Hyrule so Link can stick his dick in you.
Cornelia: Honestly surprised there weren't any Master Sword innuendos.
But if you think this might be too queer then you shouldn't read this.
Nora: Ok, stop fucking saying that.
THIS IS NOT THE TYPE OF STORY FOR THOSE OF YOU THAT DISLIKE, OR CANNOT HANDLE SUCH MATERAL AS THE CONTEXT OF THIS STORY.
Ert: Except for me, because it's my job to review drek like this.
Cornelia: So no bellyaching please
But if you seriously believe you can handle the content of this story, then read on. If your squeamish about sex, then you should not read this, since this story is a REAL LEMON and there is a lot of that, heavily detailed.
Ert: So yeah, heads up on that.
Nora: Five bucks says that it turns out to be about as detailed as this.
(Between Link and I that is)
Nora: Really? You mean it's not going to be between King Zora XVI and Darunia?
Cornelia: I can only imagine how badly that would go. Darunia would probably kill King Zora by accident.
Especially during the bonding ceremony. There is also some blood content and strong adult language. So if that's too much then you should turn back now.
Ert: Can you just get to the fucking point already!? I came here to review your damn story, not your author's note!
Now I have not finished it as of yet. I have to catch up, since the last dream I had was just after Link and I had the blessing ceremony for our twins.
Cornelia: She's not even pretending anymore. "Our twins." So much for your character just being a persona huh?
(Our 3rd and 4th kids)
Cornelia: This fantasy is already creeping me out. Did her lucid dreams include childbirth?
Right now there is about 100-150 pgs worth. I'm expecting it to reach at least 300-350 probably even more. I will try to up date as often as possible. I hope that some of you like this.
Ert: If you're looking for enjoyment, non-ironic enjoyment mind you, you're probably looking in the wrong place.
I do not mind sharing it. But please understand that this is very PRECIOUS to me, as well as Link. So like I said, if the content of this story sounds, too queer to you, TURN BACK NOW! But to all who wish to continue, happy reading. Thanks,
Nora: You know, with all of the warnings it almost feels like she doesn't want people to read the freaking story. Just get on with it!
Ert: Seriously. But now we can move onto the story itself.
~*~ Link's Queen ~*~

Rated R for strong adult language, sex, violence and blood content.
AGAIN AS A FINAL WARNING: THIS STORY CONTAINS HEAVY SEX, ABULT LANGUAGE AND TALKS ABOUT MY PERSONAL ENCOUNTER WITH LINK. THIS STORY IS BASED ON DREAMS, DREAMS ABOUT MY LIFE WITH HIM.
Ert: OH FOR FUCK'S SAKE!
IF YOU FIND THE CONTENT OF THIS STORY TO BE OFFENSEVE, QUEER, OR PLAIN OUT OFF THE WALL, THEN DO NOT READ ON!!!!!!!
Nora: I think we're gonna need this.
(Homophobia Counter: 3)
Cornelia: The phrase, "Second verse, same as the first," is occurring to me right about now.
I HAVE GOTTEN WAY TO MANY FLAMES ABOUT THE CONTENT OF THIS STORY WHEN I HAVE PLACED SEVERAL WARNINGS!!!!
Ert: Funny thing about that. Warnings don't make your story less awful. Nor are they going to keep people from reading it. I always laugh at people who clearly want only positive feedback towards their stories, and act like a warning at the beginning means they shouldn't get any criticism. It makes me want to criticize their work out of spite.
I WILL NOT ACCECPT ANY MORE FLAMES, RAMBLINGS, CUSSING OR EXCESSIVE LASHING OUT ABOUT THE CHAR JENNA,
Nora: Char? The Hell is a char?
Ert: Technically something that is charred can be referred to as a char. So she's claiming that her self insert is the result of something being set on fire.
Cornelia: Either that or she's calling her character a Zeon mobile suit ace.
Cornelia: Though I have my doubts
OR REVIEWS ABOUT THE CONTENT OF THIS STORY,
Ert: She doesn't want reviews period? Wow. Just wow. "Don't actually review my story! Just read in silence!"
EXCESSIVE LASHING OUT, VICIOUS ATTACKS AGAINST MY PERSONALITY, OR NON-MATURE CONSTRUCTIVE CRITISIM!!!
Nora: Uh, lady? You just said that you don't want reviews at all. How are people supposed to give you constructive criticism if reviews aren't allowed?
Cornelia: Five bucks says that anything negative wouldn't be constructive to LQ's mind.
ANY REVIEWS SUBMITTED THAT DO NOT FOLLOW THE ABOUVE GUIDLINES, WILL BE DELETED IMMEDIATELY! THESE WARNINGS ARE NOT THERE TO LOOK PRETTY,
Ert: I suppose that's her excuse for why this is a massive wall of text
THE AUTHORS PLACE WARNINGS FOR A REASON!!!
Nora: It's not necessarily a good reason though.
IT IS TO TELL YOU WHAT THE CONTENT OF THE STORY IS SO THAT IF THE READER FINDS THE CONTENT OF THE STORY OFFENSIVE, THEY WILL NOT READ ON!!!
Nora: I mean seriously guys! It doesn't matter if my story is utterly horrible and fails on every level. I DON'T WANT NEGATIVE CRITICISM!
MANY AUTHORS HAVE BEEN COMPLAINING ABOUT UNWANTED, EXCESSIVE, VIOLENT AND JUST PLAIN NASTY REVIEWS THAT HAVE BEEN SUBMITTED BY READERS ABOUT THEIR STORIES, CAUSING FANFICTION TO GRANT AUTHORS THE ABILITY TO DELETE UNWANTED REVIEWS AND BLOCK CERTAIN READERS!!
Ert: Yeah, and that's never been abused by fuckwits has it? *Glares at EP*
I WILL SAY THIS FOR MYSELF AND FOR ALL AUTHORS ON FANFICTION. NO AUTHOR TWISTS YOUR ARM OR HOLDS YOU AT GUN POINT OR FORCES YOU IN ANY WAY SHAPE OR FORM TO READ THEIR STORIES!!
Cornelia: She's harping on this point a lot and acting like she's making a point. She isn't. It's a deflection tactic, pure and simple.
Ert: If someone criticizes your story and they're not attacking you, harassing you or trolling you, either take it into consideration or ignore it. Don't throw a goddamn tantrum.
ALL READERS HAVE THE RIGHT NOT TO READ A CERTAIN STORY!!!
Nora: And the right to read crappy stories and tear it apart. But that's inconvenient for me.
IT IS YOUR RESOPONSIBILITY TO READ THE WARNINGS AND DECIDE FOR YOUSELF IF THE CONTENT OF THE STORY IS OFFENSIVE TO YOU, AND TO MAKE THE CHOICE TO READ ON OR NOT!!!
Cornelia: Except she seems to be made that we actually made the decision to read on.
Nora: You have to decide for yourself! JUST MAKE A DECISION THAT I ACTUALLY LIKE! You have no choice is what I'm saying.
AND IT ALSO IS THE READERS RESPONSIBILITY TO TAKE RESPONSIBILITY ON HOW THEY HANDLE THENSELVES WHEN LEAVING A REVIEW FOR AN AUTHOR!! LEAVING A REVIEW THAT IS VIOLENT IN NATURE ONLY MAKES YOU THE READER LOOK BAD, AND IS VERY IMMATURE.
Ert: Says the person who has clogged up the story with rants, to the point where we haven't actually gotten to the actual story part of the story yet.
IF ALL US HERE ARE SUPPOSED TO BE ADULTS, WELL THEN, LETS CONDUCTIVE OURSELVES LIKE ADULTS AND NOT LIKE LITTLE KIDS!
Nora: Or is this a bullshit "Do as I say, not as I do," thing?
I ONLY EXPECT THE VIOLENT LASHING OUT AND VICIOUS ATTACKS TO COME FROM TEENANGERS, NOT ADULTS! IF YOU PEOPLE REALLY ARE ADULTS THAT ARE CONDUCTING YOURSELVES IN THE MANORS I DECRIBED ABOVE, YOU PEOPLE REALLY ARE SCARING ME!
Nora: Stop lashing out! Lashing out is only what stupid fucking teenagers do!
IT'S A DAMN SHAME TO KNOW THAT THERE ARE ADULTS OUT THERE WHO CANNOT CONDUCTIVE THEMSELVES IN THE SIMPLEST MANORS THEIR PARENTS HAVE TAUGHT THEM! ALSO LEAVING MALICIOUS REVIEWS IS ALSO A SIGN OF LOW SELF-ESTEEM.
Ert: Says she only expects lashing out to come from teenagers. Then accuses bad reviews to come from a place of low self esteem.
Cornelia: You ever notice we rarely get authors with good attitudes?
IF ALL YOU PEOPLE KNOW HOW DO IS ATTACK SOMEONE VICIOUSLY, IT'S A SIGN OF SELFISHNESS AND NO RESPECT FOR ONES-SELF!
Nora: Clearly your entire life is dedicated to criticizing me, because I'm that important!
I SUGGEST TO ALL READERS WHO ARE THINKING ABOUT LEAVING A MALICIOUS REVIEW FOR ME, PLEASE GET A HOBBY AND LEARN TO CONTROL YOUR ANGER,
Ert: PFT!
BECAUSE YOUR ONLY HURTING YOURSELF, NOT ME! ALSO LEAVING A NASTY REVIEW ONLY MAKES YOU LOOK STUPID, NOT ME!
Ert: I just….I just…do I even need to say anything? This story is doing a very good job of making fun of itself. And it hasn't even actually started yet.
I FIND IT VERY RIDICULOUS THAT I HAD TO LEAVE A WARNING THIS LONG, BUT IT IS BECAUSE OF THE VERY IMMATURE READERS THAT HAVE SUBMITTED NASTY CHILDISH REVIEWS!

AGAIN, PLEASE READ THE ABOVE CONTEXT BEFORE READING ON!!!!
Nora: Well, at the very least we can get onto the story proper…oh for God's sake.
Cornelia: More?
Nora: More.
Ert: CAN WE GET TO THE FUCKING STORY ALREADY!?
Furthermore, I have realized that this story needs some heavy grammar corrections, and that the plot needs some work.
Ert: I have no reason to doubt either claim.
Nora: Jury's still out on her actually going through with it though.
Also under the advisement of my friend who had just recently completed two literature classes, has stated the reasons why people had classified Jenna as a "Mary Sue" char and labeled her as "flat".
Cornelia: I'd like to buy this friend a drink.
She has come to the conclusion that most people do not know or understand Jenna's history, so she has advised me to create an origin story to explain about her history before she met Link.
Cornelia: Urge to buy friend a drink fading.
That way she will become more rounded and give people a reason to care about her. It was never in my intentions to create Jenna as a "Mary Sue" char or to make her conceited, because I'm not really like that.
Ert: Funny how our intentions don't always line up with our actions, huh?
Nora: Very funny indeed.
Jenna is a persona char, one that resembles my personality while this story is being told from her perspective. This story is not something that I pulled out of my head like my drawings, it came from my dreams.
Ert: Apparently LQ has her dreams in a location that isn't her head.
Cornelia: She is really ping ponging back and forth on who this character is supposed to be. Either she's a persona or she's a self insert. She can't be both.
So I understand that revising this story is going to be hard work and will take time.
Nora: Which is why I didn't do it.
Since this story is being told in the exact, or close to exact order it happened in the dreams, changing how fast Link and Jenna marry isn't going to be easy. Even changing how fast they have sex and revising the Lemon parts also won't be so easy to do.
Nora: Again, it's why I didn't do it.
Ert: From the sound of it, LQ really should've rewritten the whole story from scratch. I've done it before. It's a bummer and a lot of hard work, but sometimes it's what you need to do.
But I'm currently in the process of revising this story, also I have received a college grammar book from my friend and I will be investing in a Beta-Reader. I'm also considering taking to literature classes at JC to help boost my writing skills.
Nora: Ok, I'm starting to feel like an asshole for saying "But she didn't actually," but it sounds like she really didn't. Except the classes, I have no idea what happened there.
But now I say this, if you people, the reviewers really have the intentions to help me, them please do it positively and like a mature adult.
Ert: Oh for the love of fuck, this again? We've already been over this how many times?
I'm telling you that it is a proven fact that negative motivation NEVER motivates someone to change. It never has and it never will. I'm pretty sure your parents have taught you that people only respond to positive motivation and not negative.

I'm not close-minded, I NEVER have been.
Nora: HA!
I have always been open to other people's thoughts and opinions, its when its done in an inappropriate manner that I turn my nose at it and look away. People have to understand that when you're an adult, you need to conduct yourself like one and learn how to address other people like one. You cannot just act childish when you come across something that you DO NOT approve of, you're only making yourself look bad and that can affect you later on in life.
Ert: Seriously, do you need me here guys? I feel like the fic is making fun of itself.
Acting childish and ranting and raving is something I'd expect a little kid would do when he doesn't get his way. When an adult acts childish over stupid things, that's looked down upon, and considered to be unhealthy.
Nora: For God's sake! Stop pitching us these soft balls and give us something to work with!
I have seen far too many reviews left for me where the reviewers are just ranting and raving like little kids over this story because they do not like it. It is only making them look stupid and is very unhealthy.
Ert: Hey now. You're veering sharply into asshole territory. The farther you go in, the more comfortable I feel about making fun of you.
Cornelia: And the more justified we find making fun of you.
I fear that these people have some serious emotional problems if they get that upset over a story. People in control of their emotions and have also obtained some sort of common sense, NEVER let little things get them all riled up.
Ert: This rift is three-thousand words long at this point, and we haven't gotten to the actual story yet. I'd like to know how LQ considers bad reviews to not be a little thing, and worth getting riled up over.
It is very sad when one that is supposed to be an adult, cannot handle them like one. I was NEVER angry with the reviewers not liking the story, it's how they handled themselves when leaving me the reviews. Getting riled up, ranting and raving, screaming and spitting nails over this story is what has caused me to get upset, not the fact that they didn't like it.

Also as a side note, I NEVER physically hurt ANYONE with this story. I got one reviewer that said. "Oh God please stop writing, your hurting everyone." Now I want to know where I physically touched that person.
Cornelia: Oh Lord almighty, she's one of those people that takes everything literally.
I want to know how I'm twisting anyone's arms to read this. I have never done anything of the sort in any way, shape or form and I DO NOT appreciate being accused of that! If you're emotionally hurt over this, its your fault not mine.
Ert: Any frustration this story causes is squarely on the shoulders of the people who read it it seems.
Nora: Warnings don't make frustration go away.
I'm sorry if it did, but I have placed several warnings describing the content of this story and if you know what it contains and you do not like this type of material, then why are you reading it?
Ert: Was there a warning for it being a bad story?
Cornelia: How many times has she said the same thing over and over again? Is the record skipping?
I do not appreciate getting accused for other people's actions. It is your choice as the reader to read the content of this story and it is not my fault if it upsets you when you knew from the gecko what it contained. So please DO NOT flame me about it.
Ert:…The gecko?
Ert: Uh. Gecko, I think you were supposed to warn us about the story. Kinda dropped the ball there buddy.
Cornelia: I don't blame him.
I also feel like a schoolteacher teaching a bunch of little kids.
Nora: A creationist schoolteacher getting pissed at realizing she has kids who think evolution is real. Maybe.
And I find that this really wasn't necessary and shouldn't have had to come to this, but it is very hard when your reviewers have forgotten how to conduct themselves like adults.
Ert: Not only was it not necessary, it wasn't productive either. If people are quiet now, it's only because they've been shocked into silence.
If you honestly think that being malicious is a good thing and that you're not wrong in doing so, well then your blinded by your own selfish pride.
Ert: IT'S STILL FUCKING GOING!? COME ON!
People with common sense learn how to take responsibility for themselves and are able to admit when their wrong. I have found that many of the reviewers that have left me malicious reviews honestly believe that its appropriate behavior for an adult.
Ert: Oh my God, WE GOT IT THE FIRST FUCKING TIME! You can't take criticism! No reviews at all, except when positive. WE GET IT! MOVE ONTO THE PIECE OF SHIT STORY PLEASE!
When it really is that they are too self-absorbed in themselves to admit their wrong. Again that results from selfish pride. One to scared to admit in front of others that they just might be wrong. Also, how can any of you hold any right to call Jenna conceited when in reality, your contradicting yourself by being conceited as well?
Nora: Ok, because they left her bad reviews, they're self absorbed and conceited. I don't follow.
Being conceited is again selfish pride and being self-absorbed. And yes, it is and always will be a fact that most of the reviewers have been conceited and very contradictive. Please DO NOT leave me a review that only contradicts what you are trying to preach. You should in reality, take your own advice.
Ert: This has been going on for so long I've honestly lost track of what point she's trying to make. Criticism = bad is all I can get out of it.
Again I find it very ridiculous that this had to be as long as it is, but it is due to the fact that people not conducting themselves appropriately. Also if I do receive any more malicious reviews, with screaming, spitting nails or ranting and raving over this story because you do not like it then are to self-absorbed to admit that acting like that is wrong, well then you have proven my point! All of this is very self-explanatory!
Cornelia: Not really.
Nora: Something something something, critics are evil.
Now PLEASE DO NOT READ ON if you DO NOT plan on leaving me a review appropriately!
Ert: Yeah no.
Prologue

Dreams come in many forms. Some good, some bad, some very realistic, even ones that feels very real.
Ert: Wow. We're off to a FUCKING great start.
Cornelia: Just a minor DRD invasion, nothing serious. Herr MIGHT have been thrown in the shark tank again…why do we have that? And sharks normally think humans taste like crap, what the hell was done to them?
A dream may come to us from happy events, or even stem from bad events in our lives. Some come to us as a pleasure dream and some come as nightmares. Some become vague memories after time, while some stay very rich in our minds.
Nora: Hey. LQ. We know what fucking dreams are. You aren't giving us a profound take on them. You're just stating the bloody obvious.
This is a story about a dream that I had. A dream that became more dreams. A dream that would end one night then resumes the next. It became like a second life. Ever since I became a Zelda fan, I grew an interest in Link. I thought of him as the perfect man.
Ert: Question. What's the point in explaining something in an author's note if you're going to turn around and explain it in the story proper? Particularly when the author's note is longer than some chapters I've reviewed around here.
One that you could not find of this world. I thought of him as a man that should have been. The more that he attracted my attention the more I became more attracted to him. I felt like there was a connection between him and me. Then he became a part of me, and after that I fell deeply in love with him.
Ert:….*Cough*
I know that may sound queer
Nora: First of all, shut up.
(Homophobia Counter: 4)
Nora: Second of all, no I wouldn't. Oh don't get me wrong, there's a lot of things I WOULD call it. First and foremost being mentally unhealthy, but queer isn't exactly the first word that comes to mind.
Cornelia: Boy did we take a sharp left into uncomfortable territory.
to you but love is a mysterious thing and should not be taken lightly. Love is a very strong emotion, an emotion that should be treasured. Love comes from the heart, but when it takes hold, it's got you. I quite don't understand it myself,
Ert: Neither do we, but we're counting on your to explain it to us. If you're not feeling up to it, you really shouldn't be surprised that this story wasn't that well received.
but I do know that when I first laid my eyes upon Link I fell in love with him. My heart just told me it was right. Told me he was the one, the one I had been searching for. Ever since then I have felt that it was destiny that has brought me to him.
Nora: Uh. Judging by the way this lady has described her becoming a Zelda fan, she first saw Link when she booted up Ocarina of Time. You know. The TEN YEAR OLD Link. Link is a KID in most of the Legend of Zelda games that came out when this story was written. Ocarina of Time was the lone exception, and even then you had to jump back to being a kid for a good portion of the game.
Even in my mind it feels the same. I don't consider myself any different from anyone else. Though I have love for someone that is not really there, he will always remain very real to me inside my heart and in my mind.
Ert: Ok. There's having a special connection to a character because of the impact they had on you. There's the comfort that can come from that. Fuck, I once read about a person who almost committed suicide but didn't because of Kamina from Tengen Toppa Gurren Lagan. There's that…and then there's THIS!
Cornelia: Stuff like this is why the terms waifu and husbando are usually used mockingly.
Even to this day I still love him. He has kept me very happy. He has made me happy when I was sad. He has made me feel stronger about myself. He has even taken care of me in ways that no one else can. Even though I have feelings for him, I'm not any different from the rest of you. I will always hold him close to me in my heart. He is still on my mind and I still have dreams. The connection stills remains strong, and the dreams very real.
Ert: I repeat myself. Drawing strength from a fictional character is not a bad thing. Actually being in love with him? Crosses the line into creepy territory.
Nora: No one's going to say it? I'm going to say it. Link DOESN'T HAVE A PERSONALITY! He's a Gordon Freeman, he walks around with a mouth stapled shut kicking ass and saving the day without having much in the ways of reactions. Oh sure, there's a bit of non-verbal character building, but not much. Ocarina was one of the first to do it, and it wasn't until Wind Waker that it really went anywhere. I don't think she loves Link. I think she wants to FUCK Link.
I lived an entire life with Link in Hyrule.
Cornelia: No you haven't. You've dreamt it, but you haven't lived an entire life. Or do you have half a century's worth of dreams? And I mean half a century in real time.
All stemming from a series of dreams. Dreams that I want to have. Dreams that I make happen. From the first day I met him, to the birth of our first child, to even the days when Link and I prepared our family in the event that Gannon should return.
Ert: Gannon "should" return. Pft. Even if the latest games to come out were the Oracle games, you should know that that prick always comes back.
This book is based on my inner life.
A second life lived in a far away land in another time line in another dimension. A tale of love, passion, despair and hope. I enjoyed my inner life. I looked forward to going to sleep to it every night. And I look forward to ones that will come, because LOVE WILL NEVER DIE.
The Beginning

I will never forget the day, the day I met Link. It was a warm spring day; I was on my usual trip back to Hyrule with my wagon of goods to sell in Hyrule market at the annual Spring Festival (1).
Ert: Oh right I forgot. LQ puts in annotations to explain things in her story better. Ugh. Well, annotations in a story CAN be done well. The Bartimaeus Trilogy, a book series I read as a kid, had the annotations take the form of snarky inner monologues of a five-thousand year old demon. They were endlessly entertaining, even more so when the story continued and it was clear he was either lying, exaggerating, or taking certain things out of context to make himself look better. Here though?
(1) The Spring Festival is a celebration of the upcoming season change from Winter to Spring. This celebration is held every year to celebrate the planting of the year's crops and to prey to Mother Sclyina for a prosperous crop season.
Ert:…The author is just clarifying that the Spring Festival celebrates spring. I wonder if there's going to be another note explaining what the fall harvest is.
Cornelia: The Legend of Zelda already has a mythology, do we really need LQ making stuff up?
Ert: No we don't. We do need this however. Anytime something is added to the world of LoZ, this buzzer gets pressed.
(Do Not Steal Counter: 1)
I have been a traveling merchant since I was fourteen.
Nora: You were probably only an apprentice then, but I guess we're glazing over that little detail.
This is my sixth year returning to Hyrule.
Cornelia: That tells us very little on how your trading route works. Do you only make the trip annually? If so, that implies you take a Silk Road like route that takes months to travel. If so, I'd like to know where you actually came from.
Ert: I get the feeling this merchant thing isn't going to be very well developed.
The last two years I was not able to return when Princess Zelda sent word of an evil presence in Hyrule. Then all contact was lost. For almost two years I tried to contact Princess Zelda. Desperately I kept trying to find out if she was ok.
Cornelia: A merchant is on first name terms with the princess. Even by LoZ's very idealistic take on how medieval times works, that's seriously pushing it. I'd like to point out that even Link had to sneak into the palace to see her.
Nora: And Zelda went under the radar for SEVEN YEARS! She had to flee her castle when she was just a child and spent most of her time growing up on the run. Fuck, she even spent the majority of the game incognito, disguised as Sheik. So there's no way in heck Jenna knew Zelda at all. At best, she met the child Zelda, and I seriously doubt she would remember a fourteen year old merchant after seven years on the run…I just realized now that Zelda actually had a pretty shit life in Ocarina.
Ert: And why the Hell was there no word at all? Hyrule was going through a lot of shit, but the country as a whole was still functioning! The castle town was devastated, but everyone basically packed up and moved to Kakariko Village. Lon Lon Ranch was still functioning, even if it was being run by a dickhead. Sure, Ganondorf froze the Zoras and opened an all you can eat Goron buffet, but I still think a word would've gotten out about what was happening.  Even if it was in the form of refugees.
I was never too long without contact with my good friend. Then I was considering going to investigate, when one-day word came in that peace had been restored to Hyrule do to the legendary "Hero of Time."
Ert: Question. If Link is publicly known as the Hero of Time, does that mean people know about the time travel shenanigans he got up to? Because he's still a kid in an adult's body. Something is author seems to be ignoring.
Nora: Ew.
After some catching up time with my old friend I came to find out what really happened. Seems that a Gerudo named Gannondorf, an evil man from Gerduo Valley, desired the legendary Triforce. Though the Triforce was only told in fairy tales to the children where I come from,
Ert: IT'S PART OF HYRULE'S MAIN FUCKING RELIGION! What kind of upside down world is LQ creating, where the main religion of one country is told as a fairy tale in another!?
I was amazed to find out it really existed. She told me how she played with things she knew nothing about. And about how Gannondorf tricked the soon to be "Hero of Time" into unlocking the door to the Sacred Realm.
Cornelia: Uh. Zelda wasn't there for that. She was hightailing it away from the city when Link opened the door to the Sacred Realm. The only way Link himself knew is that Ganondorf stopped to gloat.
Ert: Fuck's sake, I just realized, she's spelling his name wrong. There's two ns, not three.
I even noticed that Zelda was a little older then I. Last I saw her she was four years younger then me. It was told to me that when Gannondorf went into the Temple of Time and into the Scared Realm, time jumped ahead in Hyrule seven years. Yet only two years passed in my land. And in the rest of the world.
Nora:…Congratulations, you just made everything more complicated than you needed to.
Cornelia: Ok, so Link jumping ahead in time somehow made time as a whole speed up in Hyrule. What? Did he play the Song of Double Time from Majora's Mask by accident? Was time going by at twice the normal speed without him noticing?
Ert: Doubt it. Even if that was going on (And it isn't, because according to this story, Majora's Mask never happened) that means three and a half years would've passed in the outside world, not two. And even then, having the Song of Double Time be limited to one country is seriously pushing it.
After the "Hero of Time" defeated the King of Evil, the hero was granted to either return to the past or to remain in the present time. Since he chose to remain in the present Zelda jumped ahead of me in age by four years.
Nora: Hm, well when you put it that way, it somehow makes even LESS sense!
(Do Not Steal Counter: 3)
Nora: Double points for that one.
It seems that everyone in Hyrule jumped in age from the rest of the world. But now that peace was restored life resumed in Hyrule…. As I made my way down the desert trail that led to Hyrule I begun to think about whom the "Legendary Hero of Time" was.
Ert: Desert trail? So what, is she a Gerudo? That doesn't make any sense, considering that the Gerudos would've known about the Triforce and what was going on in Hyrule. Considering that Ganondorf was their leader.
I was very interested in meeting this man. Princess Zelda never told me his name,
Nora: Why? God only knows. Link isn't exactly a hard to remember name.
but I was going to make it a point this time to finally meet Hyrule's Hero. As I turned off the dirt trail and onto Hyrule field,
Cornelia: She sure transitioned from desert to fields quickly. I really think she did get to Hyrule via Gerudo desert. Which doesn't make a lot of sense, as aside from the Gerudo tribe and the Spirit Temple, that desert is a whole lot of nothing. A bunch of ruins, markers, and an asshole ghost.
Hyrule castle appeared in the distance. Dust and dirt kicked up behind the wheels of my wagon as it creaked along. Then as I came closer to the gates of Hyrule castle, a familiar face appeared to greet me. I pulled back on the reins to make the horses come to a complete stop at the front gate, and I realized that the person greeting me was my good friend Princess Zelda.
Ert: Well at least she's traveling by wagon, and not by foot like in If You Don't Have Something Nice to Say. Kind of ruined by the fact that you can't just take a wagon right up to Hyrule castle from the fields. You kind of need to go over a moat and through the castle town.
I have been a good friend of the Royal Family ever since my first arrival in Hyrule six years ago for Hyrule's annual Spring Festival.
Nora: No you're not. Even if the royal family is very chummy with the common people, I have a hard time accepting that they'd commit you to memory. You. A then fourteen year old merchant apprentice.
Ever since the first day I met the Princess I have been one of her closest friends. I was even considered part of the Royal Family.
Ert: And now it's time for a classic.
(Mary Sue Counter: 2)
Ert: One for being close friends with Zelda, another for being considered part of the royal family.
After I climbed down from my perch on the wagon, I ran over to Zelda and hugged her. "Hello Princess Zelda my good friend, yes it is good to see you. How have you been?" Looking at her I could tell she was happy to see me.
"Oh it is so good to see you again my friend! Come, come, father is waiting to see you!"
Nora: Oh great. Not only is she hugging the princess casually, but the king himself is apparently waiting for a merchant. A merchant that sells…things. And stuff.
Ert: Nothing about Jenna's life as a merchant is being developed? I had a feeling.
Leaving my wagon to be tended to by the stable hands I followed Zelda through the market place and to the gates that lead to the castle. As we approached the castle gates I saw some of the same guards I have seen in the past few years.
Cornelia: The past few years you weren't actually in the country?
Nora: Oh boy, this is the kind of logic we're running on.
Saluting to Princess Zelda and me was a guard named Perrino. I met him a few years back, during one of my first visits to Hyrule. He was one of the guards that befriended me the first time I arrived. He smiled a friendly smile as we passed by.
Ert: Five bucks says that this is the prick who wants a bribe to open the main gate for you.
"Its nice to see you again Mistress Jenna." He said as he waved.
Cornelia: Uh, buddy? If you're kinky like that, you really should talk it over with the nice lady beforehand.
Ert: Jokes aside, she's a merchant. She's not a mistress of anything. She might be something vaguely resembling middle class, and that's about it.
As I smiled back I thought to myself how good it was to be back again. We went through the front gate and made our way towards the palace garden. Upon approaching the gates leading to the garden another familiar face appeared to greet me. As we walked closer I realized that the face was of Zelda's caretaker Impa of the Sheikahs. As I walked over to Impa she turned to fully face me and a small smile crossed her face.
Nora: I don't actually recall Impa smiling in game. Ever. Granted she was living in a very stressful time, but still.
Cornelia: And shouldn't she, you know, not be around? She's the Shadow Sage. I thought all of the sages were busy keeping Ganondorf sealed away. Granted most people tend to ignore this because most of the sages are interesting characters and taking them out cuts off a lot of possibilities, but still. You can at least provide a throwaway explanation.
"Its good to see you again my friend. How has life been treating you?" Impa asked and put a hand on my shoulder.
Ert: My friend what'syourface. Yeah, notice that no one has actually said Jenna's name so far?
"Oh fine. Nothing out of the ordinary. I had to chase some thief's off on the first night that I was on my way here. Though after some facing time off I was able to chase them away with my bow."
Nora: I have no idea what the fuck she tried to say just there. "Though after facing time off." What does that have to do with chasing off bandits?
Then I made a big grin as I remembered the looks on the thief's faces when I rained arrows on them.
Cornelia: I'm guessing they were blood stained faces, because you probably killed them.
Ert: And for a story that doesn't want to include Majora's Mask, this sure reminds me of Majora's Mask.
"Well it seems that with the abilities you posses you should have no problem keeping your possessions safe."
Nora: Abilities? Shooting a bow and arrow isn't the easiest thing in the world to do, but it isn't the hardest thing to do either.
With another smile Impa gestured for us to go into the garden.

That is where I met him. The man that took my heart.
Ert: Took her heart? GOETH! I told you to only harvest organs from the dead!
Goeth: Supply and demand boss!
As we walked into the garden I saw a young man in green with his back facing us polishing a rather odd sword. As I watched him I had begun to notice something about the sword. It had a rather odd shape on the hilt.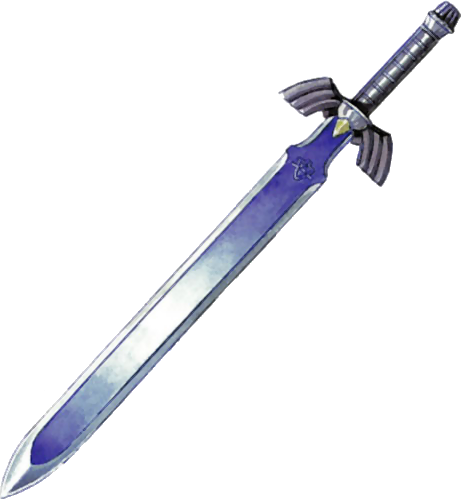 Ert: No it doesn't. Unless you count that tiny diamond looking little thing, and that's barely worth pointing out.
The hilt was blue with the top of the hilt looking like a fishes tail.
Nora: Oh come on, not even halfway close.
The sword looked rather strangely familiar. I leaned over to Princess Zelda and asked her who the young man was.

"That is the Legendary "Hero of Time," his name is Link." Zelda replied.
Cornelia: And for some reason I never told you this before now. Dramatic reveal or something. Which fails at being dramatic because the story just started.
My eyes grew as big as saucers as I turned to look back at him. "You mean he is the "Hero of Time" you told me about? The one who saved Hyrule? Then that must be the Legendary Master Sword he is holding?"
Ert: Well he can't exactly put it back in the Temple of Time without turning back into a little kid, can he?
Zelda nodded yes. Just then Link turned to look at us. And with one look at his face my heart sank into my chest. He was the most gorgeous man I had ever laid my eyes upon. At that very moment I fell in love.
Nora: No you didn't. You wanted to bone him. There's nothing wrong with that, but call it what it is.
Cornelia: Never understood the appeal at love at first sight. Most people seem to forget that Romeo and Juliet was pointing out how it leads to people acting like idiots.
His eyes were like looking down into deep blue pools of water. His lips firm. His ears long and sexy. Beautiful blond hair that parted in the middle. And his body was so tight and muscular that it took my breath away.
Ert: Just a reminder LQ, you're talking about someone with the mind of a child. Making this rather creepy.
When our eyes met, I blushed and swiftly looked away. He approached me and took my hand in his, gently kissed it and asked, "Who might this beautiful young lady be?"
Nora: Kind of straddling the line between flattering and creepy there Link. You're not quite over it, but if you were to move forward just an inch, you'd be violating someone's personal space.
I turned my head back to face him, and as our eyes met again I blushed. "My name is Jenna, I'm a traveling merchant from the Great Lebian Coast." "My village is there." "I have been a friend of the Royal Family for a long time." "And I come every year for Hyrule's annual Spring Festival."
Ert: GAH! THE QUOTATION MARKS! THEY'RE BURNING MY FUCKING EYES! Quick tip LQ, you only end a quotation around someone's dialogue if they're done talking or the narration is interrupted them.
Cornelia: Am I the only one noticing that Great Lebian Coast is one letter away from Great Lesbian Coast? She's does that even though she was dropping "queer" left and right? That's hilarious and sad.
Nora: Every year. Except the two/seven years in which she didn't.
He looked into my eyes and smiled. Watching him smile made my heart pound in my chest. He again took my hand in his, kissed it again and spoke. "Nice to meet you Mistress Jenna." "You are as beautiful as a winter rose." He said as he stared at me with his enchanted blue eyes. "Th-Thank you." I stammered as I blushed again.

"What are you doing tonight?" He asked with a soft smile. "
Nora: Well, probably you. *Gets hit in face with tomato." Oh we're all thinking it.
Stunned, not believing my ears I turned and looked directly into his eyes again. "Nothing really." "I was just going to retire to my wagon and cook supper before settling in front of a fire to read a book." With a glint in his eyes he asked, "Why don't you join me tonight in Kokiri Village for the annual Spring Night celebration?"(2)
Cornelia: So she shows up on the eve of the festival every night. Then just sits in her wagon. She doesn't mingle, doesn't get a room at an inn, she doesn't even try to sell her freaking wares. This woman is a moron.
Ert: And another annotation. Oh for fuck's sake, what is it this time?
(2) Spring Night is a celebration feast that happens before the Spring festival. Spring Night is kind of like our Christmas Eve.
Nora: Really? I NEVER could've guessed that!
Ert: I'd start a counter, but they essentially keep track of themselves. And this is really stupid and might as well not be there, but hey. It still counts.
(Do Not Steal Counter: 4)
"It is a celebration feast that happens the night before the Spring Festival."
Ert: WHAT WAS THE FUCKING FPFIONT OF THE ANNOTATION THE NYOu fUCKIGN CUN!?
Nora: Ok, that gimmick has worn out its welcome.
Without hesitation I took him up on his offer. "I would love to go." I said with a soft smile. "I will pick you up this evening." Link said with a grin. Just then a deep voice rumbled through the garden. "Jenna my dear friend, how have ye been?"
Cornelia: Getting mixed signals on the speech patterns here. "My dear friend" implies something more regal and formal, while "how have ye been" sounds like something Hagrid from Harry Potter would say.
Ert: God I wish Hagrid would kick the door to this fic down.
A grandfatherly face appeared before me. With a smile I curtseyed before the King. "King Zelda, my old friend how have I missed you!" " I have been just fine." " It is really nice to see you again." I said with excitement in my voice. As always the King thought of me as a daughter
Nora: I really want to smack this lady in the face. Also I'm pretty sure the royal family isn't the Zelda family. I'm certain Zelda is a first name.
Ert:…No one's going to point it out so I'll say it. At the time this story came out, none of the games that had shown the king of Hyrule…except one.
Cornelia: Ert. NO!
Ert: Sorry guys. YOU KNOW WHERE THIS IS GOING!
Ert: THAT is the king that considers Jenna to be a second daughter. Thanks for the image there LQ!
and always looked forward to the day when I would arrive in Hyrule for the annual Spring Festival. He always liked to see what new merchandise I have picked up thought my travels since the last time I was there. And most of the time he would buy something from me.
Nora: The narration keeps bringing up Jenna's merchant background, but we've yet to hear of a single thing she actually buys or sells. Just say something generic already. Like pelts or spices.
Cornelia: Most of the time? Was there a time where everything bored him and he told Jenna to screw off?
But he always liked it when I would show up since I would bring lots of fun and happiness. As I looked at the King I realized I was some what at home.
Ert: Only just now?
As he started to approach me I ran up to the King and gave him a hug. How I missed him. Ever since my parents died when I was very young, I never let anyone get very close to me.
Nora: *Sigh* That wasn't clumsily rushed out or anything.
(Mary Sue Counter: 3)
But the King was different. He opened up to me, took me into his family and became like a father to me. He gave me a home to come to every year. When I was in Hyrule, I felt at home.
Ert: You already said that. Stop giving Goeth a reason to kill DRD agents!.
Goeth: OOOOOOOOOOOOH, one little, two little, three headless agents, four little, five little, six headless agents, seven little, eight little, nine headless agents, and I still have a million to GOOOOOOOOOO!
"Jenna my sweet daughter, what have ye acquired through thy travels this past year?"
Ert: He actively refers to her as his daughter? Ugh. Don't you have to go to Gamelon or something?
(Mary Sue Counter: 4)
I smiled at the King, "You must see some of the new cloth I picked up in the city of Skyile." "The great city of light."
Nora: City of light?
Nora: HOW ORIGINAL!
I smiled, as the King's eyes grew big. "Jenna my daughter, you must show me what you've acquired." Then he took my hand and began to lead me out of the garden. With one last look back at Link, I smiled at him. "See you tonight." I said before I left. After spending some time with the King, he brought some of my new cloth then let me settle in for the night.
Ert: And she bought some random cloth from the city of not!Paris that the king bought for X rupees. And I think that's a good place to stop. I would've done the whole chapter, but that author's note kind of bloated things. It doesn't help that while this story isn't very long PAGE wise, word wise it's a nightmare. The paragraph that comes up next is three-hundred freaking words long. So, join us next week for badly written sex scenes and Lord knows what else.
---