1490: X-Com: Mass Effect: Chapter 1 Part 3 & Chapter 2 Part 1
Posted: August 2, 2016
Filed under: Mass Effect, X-Com: Mass Effect, X-Com: Mass Effect, XCOM
| Tags: Dragonsong2795, Erttheking, Mass Effect, Sci-Fi, X-Com: Mass Effect, XCOM
49 Comments
Title: X-Com: Mass Effect
Author: Dragonsong2795
Media: Video Game
Topic: Mass Effect/XCOM
Genre: Sci-Fi
URL:  Chapter 1 & Chapter 2
Critiqued by Erttheking
Ert: *Sigh* I'd like for nothing more than to skip what was left of the last chapter and move onto the second one, but the author had to go ahead and make what was left important. Not important to the story, but important to why this story is such a massive train wreck.
Woods: Been awhile folks. How are things?
Ert: SHIT!
Goeth: He's been like this for some time.
December 24th 2057

Military Leader Steven Hackett looks up at the Councilor of Science Laura Vahlen and says "You have a proposal for me?"
Ert: Either that should've been obvious from the get go or he was asking a very random question. This is dialogue that exists to explain things to the audience and no one else.
Goeth: Yes, now let us continue on the space station where we review stories that are not to our liking.
Vahlen nods in response to Hackett's query "I do, after discovering the ruins of these 'Protheans' we cannot afford to have no military ships"
Ert: *Sigh* Really. The discovery of the Protean ruins on Mars is what made you decide that you needed a navy. Not the freaking Ethereal invasion.
Woods: I'd think the mere fact that extraterrestrial attacks were now possible would've gotten a massive push towards building warships. But apparently they're only just now thinking about it.
Goeth: Maybe their previous plan was just to build a wall around Earth.
Shepard walks in having sensed Hackett's confliction, she turns to Vahlen "Show me what you are planning, Councilor Vahlen"
Ert: Hey Shepard, you ready to make me hate you even more?
Woods: She sensed his what now?
Vahlen nods and walks over to a large holographic screen opposite Hackett's desk, she manipulates some controls to show a picture of what looks like a tear drop with an extra bit on the rounded end of it and an oval at the point. Above it is the title 'CCS-Battlecruiser' below it is a side on view of the proposed ship.
Ert: I named it after a type of warship that's barely been used after the WW II and…I should probably stop now before I realize what I hypocrite I'm being. Also, go fuck yourself story. CCS-Battlecruiser. Oh gee, I have no idea what that could possibly be a reference to.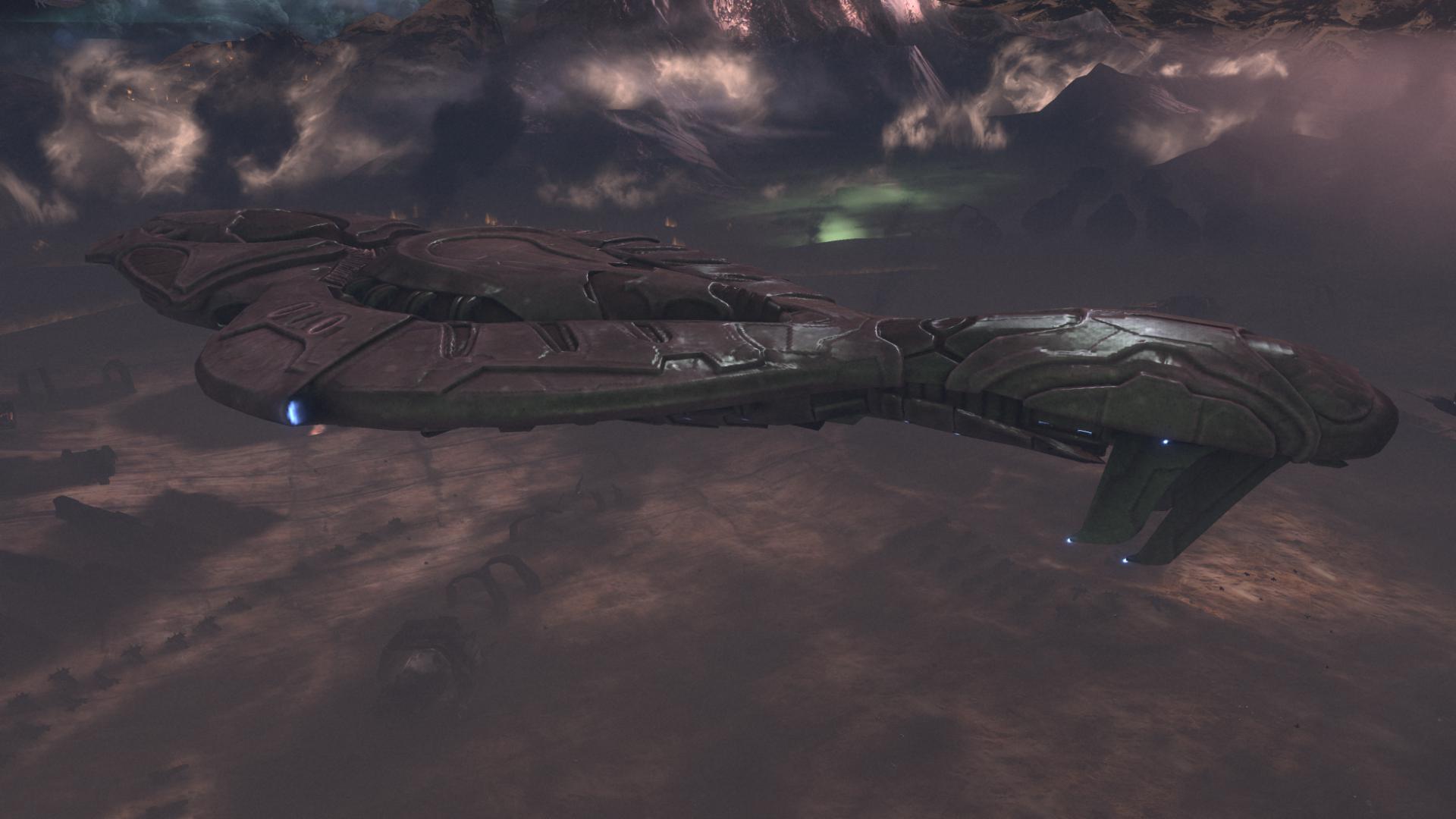 Ert: Nope. No idea at all.
Woods: We knew that you were going to steal designs from Halo author, we just didn't expect you to be so upfront about it. We were expecting something slightly more subtle, not very subtle, but something.
Goeth: And the description is lacking too.
Shepard looks down at the proposal on Hackett's desk
Ert: Cutting out pointless bullshit here.
Woods: Also, let Hackett read it first Shepard. Or read his mind or something, you have this hive mind don't you?
Upon researching the more in-depth properties of the Alien Alloy (codenamed: Titan Skin)
Goeth: IE, the author didn't try very hard to come up with an original name for the alloy.
we have discovered a way to improve its structural strength and blast resistance, by adding a 40:60 mix of cobalt and iron to the alloy, we can reinforce it by a factor of four,
Ert: I assume you're trying to say that it's four times stronger, which I call bullshit on. Whatever the alien alloy is, you're not making it four times stronger by stuffing in iron and cobalt. Cobalt isn't even used for plate armor! The closest thing to a military application that I could find for cobalt is that it's used in aircraft engines. It isn't going to take alien mystery alloy and make it four times stronger. Neither is iron, because we stopped using iron armor A FEW HUNDRED YEARS AGO BECAUSE CLEARLY IT ISN'T UP TO FUCKING SNUFF! Iron armor can't even stop modern weapons that well, what good is it going to be against plasma rifles?
Goeth: F Mr. Author, seem me after class.
however this leaves the metal with a purple coloration, replacing the cobalt with silver changes the coloration to silver but the reinforcement is by only a factor of two.
Ert: I hate. I hate. I hate. I hate. I hate. I hate.
Woods: Wow, is he really using bad science technobabble to explain why humanity's ships will be purple? Also, silver isn't the best material to use in armor either. I don't think the author knows how alloys work. I mean, if you don't know how complex processes work, that's ok. Gloss over them and we'll roll with it. Don't show us you have no idea what you're doing.
By adding this new alloy with a special curved design, we can create a starship up to and over a Kilometer long, unlike the ten kilometer long Temple Ship we do not possess the ability to support a ship of that magnitude, yet. We will also make use of the experimental (Project: Jupiter) plasma weapons and the (Project: Mercury) prototype inertial dampeners with the Ethereal Plasma engines.
Woods: *Snort* Kids. They always want to say, "I'm a big boy now!" and drink daddy's bear. Start small kiddies. How about you actually get a ship that can shoot and move from planet to planet from the same time? Why not do that before moving onto kilometer long warships?
Ert: Because the author has zero self awareness here. He's ripping off the Covenant from Halo's ship design in every way. Including scale. See, the Covenant could get away with fielding ships that big, because they were an interstellar empire that had been space faring for over three-thousand years. You have yet to reach a planet outside of your solar system and your species numbers under a billion. You do not have the means, resources or manpower for this to be REMOTELY possible.
We are tentatively naming this the CCS-Battlecruiser, if it is a success, we also have the CRS-Light Cruiser and SDV-Corvette designs which are based off of the CCS-Battlecruiser. Future technology may also allow the CAS-Assault Carrier and CSO-Supercarrier hulls to be created, however the size of these hulls marks them as a impossible endeavor for the foreseeable future.
Ert: *Grinds teeths* Oh wow. Fucking wow. You had to go there. Vahlen is being cocky enough drawing up plans for four more warships when they haven't even gotten a single one done yet. For the record, they should be starting with the CRS-Light Cruiser with it being the smallest of the ships the author ripped off. But…wow. The CAS-Assault Carrier is five kilometers long, and the CSO-Supercarrker is FUCKING TWENTY-EIGHT! I don't care that Vahlen just said that this is a design for the future, planning these absurdly large warships is just the height of arrogance.
Woods: It really is everything wrong with alternate humanity Mass Effect crossovers. Humanity gets super awesome technology and powerful warships that make them better than the Council. Because the author doesn't like tension because it makes them feel bad.
The discovery of the Protheans thanks to the Promethei Outpost has lead to us adding more weapons systems and overlapping fields of CIWS style plasma weapons, due to the possibility of encountering more hostile alien species.
Goeth: Apparently before they just assumed that the galaxy was a peaceful place that was utterly empty except for the Ethereals. And they had most certainly killed all of them.
End of Proposal

Shepard looks up at Vahlen, and thinks for a second before nodding "Councilor, you have a go"
Ert: So why was Vahlen showing it to Hackett if Shepard was the one who needed to approve it?
Woods: No idea. Maybe the author is trying to pretend that Hackett's decision matters and that it isn't an absolute monarchy. Well if that was the plan it backfired pretty badly.
And End, so the winner was actually a Tie. Both UNSC and Covenant won, so I'm splitting the difference, UNSC ship types will be used for the civilians ships and Covenant ship types will be used for the Military vessels.

Also a full list of Credits

Research Report headings and the Nanoforge are both ideas from Palladius
Woods: *Googles* The guy who wrote Silly but Killy?
Goeth: There was a good chance it was less stupid when he did it. Though not by much
The Forerunner Architecture, CCS-Battlecruiser and UNSC Prowler belong to Bungie, 343 Industries and anyone else that can claim ownership of the Halo Franchise.
Goeth: So he's claiming that they only own the CCS-Battlecruiser, and that all the other ship designs are his. That's either a slip up or very arrogant.
A majority of the OCs belong to me, however some are Easter eggs hidden in the story. If you spot them, congratulations.
Ert: YEAH BECAUSE IT WAS SO FUCKING SUBTLE!
Lastly: a new Poll, since I'm bringing in some stuff from the Haloverse, should I bring in more like Elite Plasma Swords (And the Elites themselves) and Halos or just leave it at what I currently have. So basically should I make it a three-way crossover or just a two-way with elements of a third.
Woods: Oh my God he didn't.
Ert: He did.
Woods: Ok then. Forget the huge ships, he's talking about making Halos. First of all…why? What's the purpose of humanity making a Halo at this point? They don't need an artificial world to study a parasitic life form in and/or a weapon to wipe out all sentient life in the galaxy. Second of all, forget the Covenant, the Halos were built by the Forerunners. The Forerunners were a race whose civilization stretched across the galaxy, and who reached their peak 150,000 years ago. They had the capabilities to built a Halo. A single planet species who only just got into space isn't going to be able to compare.
dragonsong2795

Okay here it is the second (third) chapter of X-Com: Mass Effect. Now I would like to give a big thanks to ProdigiousThunder and Leonas as Private Messaging conversation with them helped provide inspiration and ideas that gave this chapter shape.

Review replies
Ert: Yeah, let's not.
Chapter 2

New Age of Exploration

X-C:ME

1st January 2058: Humanity completes its first military starship, The CCS-Battlecruiser 'Silent Star' is launched from the former ISS, now known as the Arcadia Shipyards. High Queen Shepard captains it for the maiden voyage, before handing control to Queen Alyssa Campana, daughter of Alessandra 'Alessa' Campana.
Ert: You know, for the most part I can be sold on people in high authority taking front line positions. So long as the story can sell me on it. This story has not. Because Humanity is fully dependent on the Queens for reproduction. A single one of them dying would hinder the entire species.
Goeth: A 10% reduction in overall population growth is nothing to sneeze at. And they're just asking for something to go wrong. I mean they do think the galaxy is inhabited with hostile aliens.
A cultural sentient names this the beginning of the 'New Age of Exploration' the name sticks and humanity begins to name parts of their recent history as Ages. The current three are the 'Age of Warfare' which is from 1914 to 2015.
Goeth: You heard it here folks. Warfare was only invented in 1914.
Ert: What the fuck was wrong with the periods we already had? Atomic Age, Space Age, and Information Age are all much more interesting than "The Age of Warfare." That name doesn't even make sense and it sounds like humanity is just trying to be pretentious. "Oh, we're so beyond war now." Ignoring that there weren't any wars near the level of both world wars and that war has existed throughout human history
The 'Age of Rebirth' 2016 to 2057. Debates are still being held over what to name the earlier ages, although some like the Prehistoric, Stone, Bronze, Classical, Roman, Iron, Medieval and Renaissance are left as is.
Woods: This is just debating on changing things for the sake of changing them. They've already made history harder to describe simply so they could make a melodramatic point about how they had changed.
2058: Over the next twelve months mankind constructs fifteen CCS-Battlecruisers, tasked with patrolling the Sol system for the time being. Prowler class scout ships are sent to every system within the maximum three hour charge of a Hyperwave Drive (25,000 Light-years).
Ert: Oh fucking blow me. Really? No, that's just fucking stupid. A ship like that could read the end of the Milky Way Galaxy with four trips. So prowler ships have to patrol a quarter of the entire fucking galaxy. And since around a hundred billion stars in the Milky Way, I imagine that they won't be back this eon.
Goeth: Writers don't seem to get it. The galaxy is a very big place. You can't just go up and down it, seeing everything like it's a trip to the amusement part.
Limits to the Hyperwave Drive are discovered, the Drive has a base charge of three seconds, which grants the ship a 10,000 Light-year range, however there is no discernible increase in range until the three minute mark is hit which increases the range to 17,500 Light-years.
Woods: This is just getting confusing and it make me tilt my head on how this works. I mean, what is it even saying? That the drive needs to charge up for longer in order to reach further distances? I'm not sure, the wording is confusing and muddled.
Ert: Good Christ, he can't even get basic explanations down.
Next is three hours and if the pattern holds, three days. However a ship can only charge for a maximum of five hours before the drive violently discharges into the hull, vaporizing the ship.

Plans are made for a 'Hyperwave Gate' which will act in a similar manner to the 'Mass Relays' allowing far greater range
Ert: GREATER RANGE!? You can make it a quarter of the way across the galaxy in one go (I think! Your technobabble is cluttered and awkward) and you're not satisfied! Hey, here's a crazy thought! Before you create a gate system, have somewhere where you need to ACTUALLY GO!
Goeth: I think the author is going with the same logic he has been for the entire story. Build it for the sake of having it.
and speed without undue damage to the ship, or impossible amounts of capacitor banks. Plans are put on hold due to the lack of technological sophistication required to build one of these gates, the estimated size for one to reach to the other side of the galaxy is a ringworld with a diameter of 10,000 kilometers.
Woods: Which, once again, isn't really a big deal considering that you have nothing on the far side of the galaxy that you need to get to in a hurry.
Ert: I mean, we need to get to the far end of the galaxy to get the fuck away from this stuff, but that's another story. Also I notice they want something "Like" the Mass Relays. As supposed to, oh I don't know, USING THE FUCKING MASS RELAYS! You don't know that they're a trap laid by the Reapers! You're just being elitist snobs about them. I mean, you want to go to the other end of the galaxy? There's your solution.
2059: The first CRS-Light Cruiser 'Cairo' is launched from the Arcadia Shipyards, each of these vessels is to be named after a city of Earth, Current or former. Over fifty of these magnificent vessels are planned to be built in the next decade.
Woods: We can't be too hard on timelines considering that we used them pretty thoroughly in the past. Even though Ert hasn't actually written one in nearly half a decade. Still, Ert kept them pretty clinical "This happened" and that was it. He didn't have them broken down into a shrine for the first church of "Humens be awesume."
John Freeman: Humens lose many time to science and outer space! Fiteing hard, many looses.
2060: A breakthrough in alloy reinforcement allows for the possibility of the creation of ships between five and ten kilometers long. Plans for the CAS-Assault Carrier are brushed off and reviewed. Newly developed Energy shielding from Project: Mars is added to all starships.
Ert: Oh, so you had another breakthrough in alloy development. What, did you stick in copper this time? Is that the secret metal that allows you to create super alloy? Oh no wait, you already got super alloy, I guess that makes this super duper alloy. I look forward to the next breakthrough so you can create super duper alley opper alloy.
Woods: And another freaking science report. These things are very boring, so we're just going to sum it up. Humanity has shields now, but it stops everything, including air. They killed someone but it was a drone so it didn't count and people with psionic abilities can get around it because magic.
Goeth: And right after that research report, we get yet another research report. Clearly the author isn't interested in telling a story. He's more interested in showering us with half baked science.
Cloning Research.

Project Codename: Venus

In order to solve the problem of slow growth due to limited numbers of Homo Novus capable of reproducing, we attempted to clone humans, however we discovered an important fact. The Queen of the clan we are attempting to clone the new human for must provide a drop of blood to start the growth of the clone.
Ert:…Ok new counter.
(How Does I Science Counter: 10)
Goeth: Due to the sheer number of incidents of bad science, we just gave it a nice even ten. Whenever we get an example of bad science, or just plain cartoony science, this counter gets a ding. We were ready to do this when we learned Humanity could travel the length of the galaxy in a day (We think). This just pushed us over.
Ert: If you need a drop of blood of a Queen to clone someone, you suck at cloning.
Drones can be cloned in a matter of hours, sentients take weeks and we have never attempted to clone a Sub-Royal or Royal.
Woods: They're stupid like that. I mean if they got more of those they could reproduce and not have to worry about extinction.  But Shepard is probably more concerned with keeping an iron grip on the populace.
The traditional 'downside' of cloning seen in movies and written about in literature, the short lifespan, is ironically negated by their being human. The 'Vitam Nodes' keep their body at the peak of health and prime of life and appear to fix the mistakes caused by our imperfect understanding of the art of cloning.
Ert: I love how Vahlen is wasting her time assuring whoever is reading this that utterly fictional problems aren't something they need to worry about. The thing with clones living a short life, is that they usually suffer from accelerated aging. So question. How does Vahlen know that this would've happened if they didn't have Fountains of Youth stapled into their spines? How does she know that accreted aging is a problem to worry about in cloning IF NONE OF THE CLONES AGE!?
Goeth: "Imperfect understanding of the art of cloning." *PFT* That's being diplomatic.
Personal note from Laura Vahlen: I would suggest against the cloning of Sub-Royals and Royals indefinitely as we have no idea what may result from such an action.
Ert: Is…is humanity trying to fuck itself over? I mean, do they LIKE having an unstable source of reproduction that can easily be snuffed out?
Goeth: Maybe. Hold on. *Pushes cloning tube into the room* We have no idea what will result? No we don't. That's why we do need to do it. *Activates tube* To find out.
Woods: Is there a chance of this causing a civil war?
Goeth: Ha! That implies that the clans are developed enough for us to actually know how the balance of power between them works!
Population Cloning now available in the Population Section
Woods: Ok, this was annoying and pointless before, but at least the author was referencing things that were actually in XCOM Enemy Unknown. This was not. XCOM Enemy Unknown is not Civilization author. I know they were made by the same company, but that's not enough.
Ert: Yeah, XCOM doesn't have Ghandi threatening to nuke everyone.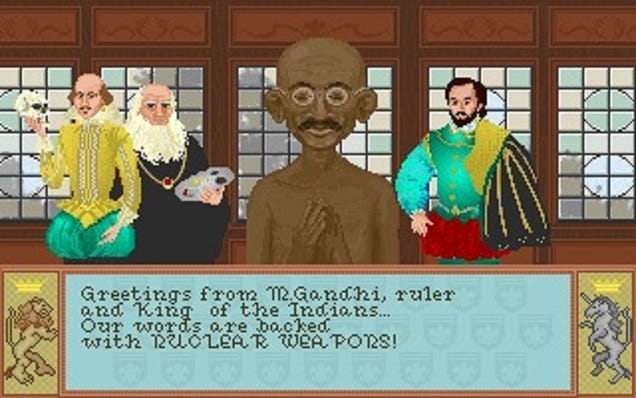 End of Report.

X-C:ME

2061: The first Phoenix-class colony ship takes off from Earth, despite being headed towards the distant Alpha Centauri system, Hyperwave travel means the trip would take only seconds.

2065: The Planet Reach in the Epsilon Eridani system is colonized, at 10.5 Light-years from Earth, it is the farthest Human colony from Earth. Plans to take this honor are already in the making.
Ert: Farthest human colony from Earth. Well, considering that you only have two at this point, that isn't saying very much. Hell, it practically says nothing.  And another Halo reference.
Goeth: Less than nothing.
Woods: The hell does "Take this honor" mean?
2069: Mankind finishes building the sixty-six planned CRS-Light Cruisers, each system colonized or planned to be colonized by Humanity is assigned at least three CRS-Light Cruisers as a defensive measure. A dozen of them are kept for the defense of Earth.
Goeth: So they already have warships for the defense of around a dozen systems, even though they have colonized nowhere near that amount.
2070: Over the last five years a concentrated growth and colonization effort by humanity has added the worlds of Chi Rho, Tantalus, Pinnacle, Seti-456, Azure and Pantheon to its banner. Humanity now has nine star systems to its name and a population of 41 billion, 105,697 of which are Queens. The major reason behind this sudden growth is a cloning project known as Project: Venus.
Ert: Wow. I mean wow. A Halo reference and a Borderlands reference. You know, a lot of stories and games make references. But when you make a reference every other sentence, I can't help but wonder. Do you want to tell a story, or just make pop culture references?
Woods: Wait a minute, wait a freaking minute!  Ten years ago "We can't clone royalty, we don't know what might happen!" Now "NEVER MIND! Let's clone Queens! I want to inflate humanity's numbers to stupid amounts!
Goeth: Even with humanity's new breeding process and the clones put together, reaching a population in the tens of billions in only half a century is absurd.
2077: Across the galaxy on her homeworld of Thessia, Liara T'Soni is born.
Ert: Ok, now you're just padding the chapter with old information
Woods: *Cough*
Ert: I know, I know…
2084: Mankind discovers the Arcturus System, they activate the Relay present there in order to run experiments and take scans of an active Relay.
Goeth: And for some reason they couldn't do this with the relay in the Sol system. Five bucks says that the author is only activating the relays so that there can be a conflict with the Turians. An utterly arbitrary one.
The system is sealed off for Military technological testing. Several 'fake' worlds are created with the use of Element Zero cores and large amounts of asteroids.
Ert: Ok. Author, what do you think you are adding here? Why do you think that XCOM is popular? Why do you think that XCOM 2 is about an alternate reality where the aliens won the war? Why do you think the games are insanely difficult? Because there needs to be a challenge in fighting a foe in order for there to be satisfaction in winning. But no. You just want humanity to be the gods of the universe. They can do EVERYTHING! They can built artificial planets, they can create stupidly long ships, they can travel across the galaxy, why? BECAUSE I'M THE AUTHOR AND I FUCKING SAY SO! ALIENS SUCK BECAUSE THEY'RE NOT US AND HUMANS ARE BETTER THAN ALIENS BECAUSE I'M HUMAN! So enjoy your shallow pathetic mess of a story, because I'm certainly not.
(How Does I Science Counter: 11)
2087: A miraculous breakthrough allows mankind to discover a method of hyper-condensing materials to create 'Ultra-Dense Alloys'
Ert: Did I call it? I think I fucking called it. So they finally stuffed copper in there and now they created alloys more advanced than the ones they got from the aliens that have been a space faring empire for who knows how long.
(How Does I Science Counter: 12)
Woods: This feels like the type a story written by a little kid. All cool sounding ideas, no nuance or intelligent thought.
this allows for the construction of ships in excess of twenty kilometers. Along with the knowledge of carbon nanotubes and nanofibers, Orbital elevators become a possibility as does the Hyperwave Gate project and the CSO-Supercarrier, however more research is considered before attempting to create a CSO-Supercarrier. The source of this breakthrough is sub-atomic scans of the Arcturus Mass Relay.
Goeth: They scanned the Mass Relay. This allows them to create even more dense alloys. Somehow. Also they couldn't build bigger ships before because of reasons. Ignoring that a ship's size doesn't really matter much in space. That's two more.
(How Does I Science Counter: 13)
Woods: The next entry is just screaming "humanity got even BIGGER and has even MORE ships!" so we're skipping it. We're not interested in material that acts purely for masturbation fodder.
2100: Mankind completes the first of the Hyperwave Gates, the circular ring is given the codename 'Stargate'
Ert: Another fucking reference? What, has it been two minutes already? This is doubly annoying because the author squashed together two references there, one was for the earlier Halo one, but then he said "Wait wait wait, Stargate would be so much better! MORE REFERENCES! I NEED MORE REFERENCES!"
it is only a kilometer wide but is 10,000 kilometers in diameter.
Goeth:….No. Just no.
Ert: My brain hurts from the stupid
The 'Stargate' is left in orbit just beyond Pluto. While some wonder at the risk of placing such a strategic object so close to the homeworld,
Goeth: Risk? What risk? Why would it be safer to put it out in the middle of nowhere where there's nothing to defend it?
the risk is deemed acceptable by the fact a fleet of several dozen warships is constantly on alert should a call for help occur, they will be on location within seconds to render aid and should also act as a deterrent against an invasion of Earth.
Goeth: Ah. I see. It was an attempt to create tension. Done by someone who has a poor understanding on how tension works.
Woods: And by poor we mean none.
March – 2100: A clan lead by their Queen Amelia Serras attempts a rebellion, the clan is quickly and mercilessly put down, with three hundred thousand members dying when their CCS-Battlecruiser Agamemnon is disable and blown into a star, the survivors and clan heiress are stripped of most of their G-Mods and their ability to connect to the Hive Mind, however their 'Vitam Nodes' are left functional. They are stripped of all of their knowledge related to human technology, culture and the location of their worlds, then using the newly created Stargate they are dumped in a barely functional frigate using ancient technology over the distant world codenamed Sierra-117.
Ert: Ok. First of all, STOP MAKING FUCKING REFERENCES! It's just getting to the point where it feels like you have a physical compulsion to make them! They don't ADD anything, you keep dipping into the Halo well over and over again, it's crossing the line from a reference to downright stealing because you're not doing anything original at some points, they're distracting, too obvious and NOT FUCKING CLEVER! Here's an idea! Call a defensive space station an Iserlohn class station, then don't bring up the name that much. It's a more obscure shout out, it fits more thematically, and it doesn't make it look like you're just jumping around, screaming "GUYS! HEY GUYS! DID I MENTION I LIKE HALO!?"
Woods: Second of all, this comes up as freaking creepy. There are only ten clans (Well there should be more, but the author's world building extends only to making humanity look awesome, not three dimensional. He can't get empowered by making them flawed and believable) so ten percent of humanity was exiled and stripped from the hive mind. And then they were all stuffed into a single frigate. When humanity has no frigate class ships. Nor ancient ships. Because they dared to defy the High Queen. Remember, this wasn't a civil war. This was a rebellion, which makes it sounds like there was something to rebel against. So Shepard looks like the bad guy here.
(Fuck Shepard Counter: 8)
Ert: Finally, we're given no reason for the rebellion. Because the author doesn't care. Also, how is it that humanity lacks the free will to commit crimes but can still rebel? Author. Pick a way this humanity works and STICK WITH IT! Don't jump from concept to concept, dropping one the second you get bored.
Goeth: Blown into the sun. HA! What, were the fighting right over the sun or were they knocked across an entire star system? Scale, a word that isn't in this author's vocabulary.
2105: Mankind develops basic Terraforming techniques, with Project: Ceres providing the knowledge needed to alter the chemical composition of a planet's terrain, Project: Neptune allowing a planet's oceans to be alter on a massive scale and Project: Uranus providing the information to alter a planet's atmosphere to match Earth's.

Over two dozen planets are tagged for Terraforming over the next two decades.
Ert: You think they would've come up with terraforming before coming up with overly compensating ship designs. Then again that would've been logical, and not "badass." That's one of the thousands of problems with stories like these. These "better" humanities aren't driven by logic. They're driven by wish fulfillment and tesosterone, therefore the only fields they develop are the fields where they can rub it in the Council's face. Because to these authors, that's the only thing that matters.
Planetary Soil Terraformation Research.

Project Codename: Ceres

The use of Nanobots as a Terraforming device
Ert: NO!  NO FUCKING NANOBOTS!  Oh for the love of-HOW MANY GROUND BREAKING INVENTIONS DOES HUMANITY HAVE NOW!?  And how many of them are logical extensions of Ethereal technology?   The answers are A. Too many and B. Zero.
was one of our first attempts and to our dismay they are either useless or would require so much expenditure that it wouldn't be feasible.
Goeth: *Snort* It took you until the early 22nd century to figure that out? It's not exactly a hard concept.
So we looked at other methods, two were considered particularly successful, combining both solved our problems. The two methods are:

Method Alpha. Harvesting rock asteroids and using Nanobots to turn them into soil, then nutrients required for CO2-O2 photosynthesizing flora are added. This soil is then dumped by specially designed Phoenix-Class Colony Ships. While useful this method has the problem of only affecting the surface.
Ert: Also, no it's not useful at all. For a couple of reasons. First of all, you're going to break down enough asteroids for soil for an ENTIRE PLANET'S LAND MASS!? That'd take a couple hundred years! IF YOU'RE LUCKY! Second of all, you wouldn't create soil in the way we have it on Earth. It's just be a big pile that wouldn't work the way you'd want.
Ert: Third, do you know what happens when there's massive piles of soil and NOTHING to anchor it down? No plants?
Ert: Homework author. Google "Dust Bowl." You might learn a few things.
(How Does I Science Counter: 14)
Method Beta. A specially designed bacterium is dropped onto a planet's surface, this bacterium is programmed to change the chemical and biological composition of a planet's soil so that it is capable of supporting the flora needed for O2-CO2 respiring fauna. However direct exposure to sunlight renders the bacterium inert.

By combining the methods and using Method Beta when the planet is facing away from the sun and then placing Method Alpha's soil on top allows us to easily change the soil of a planet to one more suited to fauna and flora capable of supporting Humans.

Planetary Soil Terraformation now available in the Colonization Section
Ert: Credit where credit is due. That at least SOUNDS plausible. Only sounds, I can't comment on the validity of it. Though it loses credit because the author still thinks that method alpha isn't utterly bone headed.
Woods: Oh goodie. Yet another report. Because we're not sick of them, or anything.
Planetary Ocean Terraformation Research.

Project Codename: Neptune

The problem of Terraforming a planet's ocean falls into four categories

Category A: No Liquid at all, simply capturing Carbonaceous Asteroids and Ice Asteroids to collect the necessary resources. Then turning them into H2O adding Sodium Chloride with trace elements identical to what would be found in unpolluted Terran Ocean water and releasing it into depressions once a suitable atmosphere is present with the necessary life-forms for a salt water ecosystem. May take between 10-12 years.
Woods: Ok. I'll bite. How does humanity plan on getting enough water to fill up a couple of oceans? They tried something like that in 3001: The Final Odyssey but it was a long and complicated affair.
Goeth: Ha ha, 10-12 years. Try a little longer. Terraforming is a very long and complicated process, possibly a multi-generational endeavor. But the author doesn't think that that would sound cool.
Category B: H2O present but lifeless, adding basic aquatic flora like algae to oxygenate the water and then slowly adding more complex fauna and flora until the apex predators are in place. May take between 10-12 years.
Goeth: See above. Ecosystems on Earth took ages to properly develop. You can't fill up an entire planet within a decade.
Woods: This really does feel like porn. No substance, just all feel good.
Category C: Non-H2O liquid present, first is the removal or neutralization of existing liquid and then identical to Category B. However it can take an extra six months to a year before this operation is completed.
Woods: So the author just saw that his new humanity can completely drain an ocean. In a year. One year. Entire ocean gone.
Category D: Non-H2O liquid with primordial life present. Planet first undergoes a high level evaluation to see if disrupting a world where life has begun evolving is worth the cost, if not then the world is tagged for an observational satellite, if it is considered valuable enough. Then Category C is followed with extra filtering for fauna and flora.
Ert: So in other words, plans for a planet that the price of terraforming would not be worth it 99% of the time, gotcha.
Woods: And wait a minute. Non-H20 liquid? Like WHAT exactly?
Planetary Atmospheric Terraformation Research.
Ert: Oh Christ, IT"S STILL FUCKING GOING!
Project Codename: Uranus

The Terraformation of a planet's atmosphere is a massive undertaking, the amount of time necessary for such an operation is dependent entirely on the atmosphere of the planet and its proximity to its star or other celestial objects.
Woods: So is terraforming the other parts of the planets. That doesn't change just because you arbitrarily decided that they were easy.
By using specially designed Aether-class Terraforming ships with Atmospheric alteration devices, existing Atmospheres are sucked into a Nanobot bath where the gases are altered to 29:70:1 mix of Oxygen, Nitrogen and Carbon Dioxide. Extra gases are brought in from atomically altered asteroid gases if the atmospheric pressure is below one Atmosphere. Then Project: Diana can commence.

Planetary Atmospheric Terraformation now available in the Colonization Section
Goeth: Compared to the other parts of the terraforming process, this is one that is pitifully underdeveloped.
Woods: Also, what's the plan for changing planets that have no atmosphere? Or very thin atmospheres? Because there are quite a few of those knocking about.
End of Report

X-C:ME

Planetary Ecosystem Introduction Research.

Project Codename: Diana
Ert: JUST! FUCKING! STOP! Don't pummel me with research reports! You're writing a story! TELL A FUCKING STORY!
The hardest part about introducing an ecosystem to a planet is matching the ecosystem to the planet and biome. Once a Planet has completed Projects: Ceres and Uranus and is partially completed Project: Neptune. Then the introduction of an land/air based ecosystem can begin
Woods: I've already forgotten which ones Ceres and Uranus are. The author has just been firing nonstop project after project at us. Pro-tip. If you try and shove too much information down someone's throat at once, it doesn't matter how well thought out it all was. It's all going to turn into meaningless noise.
Goeth: Not here though, this was always meaningless noise
The first part of the ecosystem is flora and pollinating insects like bees, once the flora has been established and covers a majority of the landmasses, then prey fauna like mice, deer and rabbits can be added. After a couple of years predator fauna like wolves, lions and hyenas are added.
Ert: So the plan for introducing Earth life is…just dropping it off. Did we really need a fucking research report for this? This story could've been a couple hundred words shorter and less of my life would've been wasted reading it.
Woods: But humanity = awesome!
The total time for a planet's ecosystem to be introduced is between four to six years

Planetary Ecosystem Terraformation now available in the Colonization Section

End of Report

X-C:ME

2109: The testing world Arcturus-III is destroyed by a new Plasma Weapon, designed for planetary bombardment, known as the Energy Projector. This technique of Orbital Bombardment causes the planet's surface to become a sort of charred black glass like substance, it is therefore referred to as 'Glassing', the Project behind the weapon (Codenamed Pluto) considers it a resounding success.

X-C:ME

Planetary Orbital Bombardment Plasma Weaponry Research.

Project Codename: Pluto
Ert: No, I'm fucking done with these reports. TL;DR, the author rips off Halo for the umpteenth time and gets the energy projectors the Covenant used. Which are used for when a planet is being rendered uninhabitable. I'm sure that only good things will come from humanity discovering a new weapon of mass destruction.
End of Report

X-C:ME

2110: Mankind discovers another sentient race, the Unggoy
Ert: FUCK! YOU! I mean wow. Fucking wow. You crossed the line from referencing Halo to the point where you just said "Fuck it, I'm writing Halo now."
Woods: How does this always happen? How does every story we review always turn into a crossover out of nowhere? Even if it was already a crossover?
small in stature and weak of spirit these beings are struggling to survive after severe over-industrialization had severely damaged their planets ecosystem, mankind would never have found them if a Queen passing by hadn't heard their cries of sorrow through the void of space.
Goeth: She can do that apparently. It was never mentioned before but now she can.
The Unggoy are amazed when Mankind uses their Terraformation and cloning technology to repair the damage to their homeworld's (Balaho) ecosystem and atmosphere, in response the matriarchs of the Unggoy pledge their race to the service of Mankind.
Ert:…This author turned humanity into the Covenant. He gave them Covenant ships, Covenant weapons, and now he's giving them the Covenant's slaves. No, I don't care that they pledged themselves to Humanity, because they're in a position where they're a lesser people to humanity. Humanity is the Covenant. A genocidal empire that killed billions of people just so that the people in charge could remain in power.
Woods: Yup, that sounds about right for this humanity. You can't be equal with aliens. That would imply that humanity isn't superior.
Goeth: The leaders of humanity right here.
Woods: I mean if you want Humanity to be like the Prophets, more power to you. No idea why you'd want to do that though.
2111: Mars is Terraformed, the first planet to be Terraformed. The process is a resounding success and hopes are high for the other worlds to undergo Terraforming.
Ert: Other worlds? Two dozen worlds were already planned, it should already be happening.
Woods: Did the author loose interest?
Goeth: Seems so.
2112: The Citadel Council discovers the exiled clan, the clan calling their 'race' Nephilim. Slowly start to integrate themselves into the Council Society, however internally every member of the clan wishes to return to the Hive Mind, only those born after the rebellion do not desire this.
Woods: So the Nephilim are going to tell the Council about humanity right? RIGHT!?
Goeth: And even though they disliked Shepard enough to rebel, now they want back in. Rather nonsensical.
Ert: Some bullshit about humanity being a master race and how they were wrong to want individuality and a democracy.
2114: The Arcturus System is home to a massive explosion when an experimental gel made of Hyperwave Crystals and Elerium between the inner and outer armor layer from the prototype CAS-Assault Cruiser in the system comes in contact with the Mass Relay. The explosion destroys the system and leaves it a wasteland of energized Element Zero particles.
Goeth:…I just want to point something out. In the three thousand years that the Council has been around, there were no records of someone managing to accidentally destroy a system because a Mass Relay exploded. If the author wanted to portray humanity as better than the Council, that was a large step in the wrong direction.
15th August 2114, Conference Room 4, X-Com Luna Base

Shepard frowns at the report before her eyes, she then looks up at doctor Vahlen "So what you're saying is that the new experimental armor gel layer is wha caused the explosion?"
Ert: Is there an echo in here? I swear that was already said to us.
Woods: Another author that thinks we're stupid.
Vahlen nods and pulls up a holographic simulation of what happened "As you can see when we purposely overloaded the Ex Gel layer, not only did the outer layer of the CAS prototype disintegrate where we were striking, but the majority of the gel layer immediately vaporized when exposed to the cold of space. However some of it near the edges of the hole didn't and instead was flung out, it then immediately shot towards the Arcturus Relay. Upon impacting with the Relay Core it caused it to go super-critical and the resultant explosion destroyed the system"
Goeth: Yeah, none of us are managing to register any of that as something meaningful. Some sort of goop created by using a power source as armor (Because that's what Elerium is) along with communication equipment makes Mass Relays explode.
(How Does I Science Counter 15)
Shepard sighs as she looks over the report again and then nods "Doctor Vahlen, you have a go. Collect and research the fragments of the Arcturus Relay"

Vahlen nods in pleasure and acknowledgement before turning around and leaving the room. Shepard sighs and murmurs "I know this will come back to bite me in the ass later, I just know it"
Woods: Maybe you shouldn't have blown up a star system, killing who knows how many people.
Ert: This story is glazing over death tolls again. It does that a lot. Doesn't care about the people who died on death day, the people who died in the rebellion, just doesn't care.
Hyperwave Crystal/Elerium gel armor layer Research.

Project Codename: Aegis
Ert: Fuck off.
Goeth: Allow me to summarize. The magic gel that they created makes their ships immune to Mass Effect Projectiles, meaning that XCOM > Mass Effect and that no Mass Effect ship will ever threaten humanity in this fic and that they will always be better. Because they can send the kinetic energy into sub-space. An laughable concept, with a laughable execution.
(How Does I Science Counter: 16)
Ert: Ok…I need to stop here. This rift is getting long and I want time to fully explore how the rest of the chapter fucks up.
---