1411: Captain Rapist's Half Assed Adventure (AKA Trapped) Chapters 11 part 2 & 12
Posted: May 10, 2016
Filed under: Warhammer 40k, Your Librarians are Crazy
| Tags: Adventure, EP's Stupid bullshit, Erttheking, Oh god why why why why, Sci-Fi, Trapped, Video Game, Warhammer 40k
50 Comments
Title: Trapped
Author: This Fuck (EP)
Media: Video Games
Topic: Warhammer 40,000 (40k)
Genre: Adventure/Sci-fi (Porn really)
URL:  Chapters  11 & 12
Critiqued by Erttheking. 
WARNING! MORE OF EP'S HALF ASSED WRITING! IF YOU HAVE A RAPE TRIGGER, PROCEED WITH CAUTION!
Ert: *Bashes head against wall* I can still feel. *Bashes head against wall* Please make it go away.
Nora: Come on Ert. Goeth, give the guy a sedative.
Goeth: Already did. It should be kicking in in three…two…one.
Ert: GAH!
Goeth: Whoops, wrong vial.
Ert: Oh fuck it, lets just get it over with. Last chapter, EPrick was given command of a company of soldiers because of nepotism, enslaved a soldier's eldest daughter and he knew he had a daughter because EPrick is totes straight and knew he wouldn't have a son, and is quickly fitting right in with the Imperium's self-righteous and destructive commanders. Which GW has been slowly moving away from for years, making the ones like that more the exception than the norm.
OOOOO

Chris and Kimsa with the command team minus the standard barer moved up with the scouts while the others stayed behind waiting for their signal.
Nora: EPrick's idea on how tactics work. You send in the command team with the scouts. Bet he also sends in the diplomats and cooks.
The jungle was dense allowing for them to move unnoticed by the Tau forces. The crash sight was huge and took away most of the forest
Goeth Dense = mostly burnt away. That's good logic there EPrick
Ert: And is it a forest or a jungle EPrick? There's a difference between the two. They're not just clusters of trees you know.
but that left digital blue camo hull wrecks that would give the Tau quite a bit of cover. They could see them move around fas trying to get supplies form one place to the other trying todo something.
Ert: Oh my Christ it hurts. The piss poor spelling hurts so bad.
Nora: Why do I see EP writing while looking at the ceiling with his tongue lolling out to the side?
Chris looked to one of the scouts beside him.

"Soldier can I borrow your rifle?" he asked.
Ert: Use your own fucking rifle! The poor bastard has a flashlight and you get a hellgun. Or is this another "Ah badass" moment.
The sunned scout looked at M3 with wide eyes and handed him his rifle.
Goeth: Any reason the plebeian is so wide eyed?
Nora: ADUH!? NO ONE HAS EVER ASKED ME FOR MY GUN BEFORE! I'M LOOKING AT LIFE THROUGH NEW EYES!
Taking the handle of the weapon and looked down the scope before switching his ear bud on.

"Victorn, Haser can you both hear me?"
Nora: *Sigh* if I say no will you go away?
Ert: Damn it! He can't hear me!
"Yeah." Haser said.

"I can hear you well." Victorn said.
Ert: NOBODY FUCKING ASKED YOU VICTORN! GAWD!
Goeth: D'aw. Someone wanted people to pay attention to him.
"Good I got eyes on the Tau, I can see heavy vehicles I got eyes on at least two hammerhead tanks, and three broadside battle-suits. At least around 200 troopers, but that's all I can see right now."
Nora: And you couldn't establish that in the narration why?
Ert: Simple Nora. He didn't want to waste any time on narration that didn't talk about how big his cock is.
"I hear you." Haser said. "My scout's have got eyes on a few battle suits of three different types."
Goeth: Glad to see his reporting skills are up to par. He brings up how many types of suits there are, but does not list what type they are.
"My scouts have got their sights on mostly infantry units here." Victorn said. "Valkyries are on the way. 60 seconds incoming."

Chris handed the rifle back to the scout. "Get your men into a line, give us cover when we move."
Nora: Sir, why didn't you just bring binoculars?
Ert: REAL MEN LOOK AT ENEMY FORMATIONS WITH SNIPER RIFLES!
The man nodded and the Scouts moved into a line behind the trees as the Veterans came up.
Goeth: D'aw, he doesn't know how to use proper nouns. He thinks scout and veteran should be capitalized.
Ert: What veterans? The veterans including the man whose daughter is being kidnapped right now?
"What's the plan sir?" the lead asked.

"Get ready to move up get into cover, they have tanks an I want the lascannons and Leman's to get a clear shot at them."
Nora: Sir, can we actually get the plan now?
Ert: I already gave you my plan! Now get into formation while I roll the dice! Heh, they won't have nearly enough wounds to survive this!
The man nodded and revved up his chainsword while Chris took out his power sword and bolt pistol. The sound of aircraft met their ears and alerted the Tau to their presence. The Valkyries came in fast and fired their rockets at an antenna severing their connection to space.
Goeth: As opposed to bombarding the exposed infantry because the extra five minutes that it would require for them to destroy the beacon if they attacked normally would be too much.
"CHARGE!" Chris yelled pointing his sword in the direction of the Tau forces.

Aside from the aircraft the Tau forces where taken by surprise and fell from the mix of las fire.
Nora: Yeah, except they should've been on guard the second the air-strike hit. But then again these people are fighting EPrick, and EPrick subscribes to the mindset of not making it so that his character has to overcome a superior foe. No, everyone who isn't him is just pathetic.
A Tau hammerhead tired to fire them but clearing the way for the Leman Russ' allowed for their battle cannons to get the attention of the anti-grav tanks.
Ert: Oh goodie, now the Tau have spotted the Imperial tanks and are going to destroy them. Because, even though EP isn't showing it, Tau technology is vastly superior to Imperium technology.
The mix of lascannon's hand heavy shell fire cause the tank to explode and Tau forces to fall back. The crash sight was large allowing for the Tau to move back more. But that as the idea as the Space marines came down from the north and the Inquisitor's forces coming in from the south east to corner the xeno's forces.
Goeth: *Snort* Even when he's talking about how awesome he is, he ruins it by showing how stupid he is. It isn't cornering someone when you're attacking from all sides. You only corner someone when you force them up against a wall, or something similar
Ert: Now now, take it easy. It's very hard to write one handed.
The surprise attack caused the Tau to become disorganised and react poorly making them fall back and leave key positions to the Imperial forces.
Nora: What key positions? Burning piles of scrap metal?
The militia advanced to what looked like an engine allowing for cover against two broadsides and three crisis battle suits that advanced on their location.
Goeth: The engine of the ship? I doubt it'd be out in the open like that, those things tend to not be exposed.  And if the ship was that badly mangled, no one would be alive.
One of the Leman russ came up and fired at one of the battle-suit teams. One of the crisis suits exploded tocking the other two out
Ert: Why the shit would the incredibly agile and mobile battle-suits be so tightly packed like that? Oh right, because EPrick is terrified of conflict.
while a railgun shot from one of the broadsides knocked out on of the Leman's treads.
Nora: Oh no look Ert. See? They got a non-fatal shot in! That totally means they're struggling.
That was a bad move as one of the lascannon teams fired at the head of the battle-suit taking out is optics and causing it to shut down.
Goeth: Yes. It was a bad move. Because if the treads hadn't been taken out, they wouldn't have done that.
Ert: The unmovable and forward mounted lascannon. Uh-huh.
Dalvan then took his change and came out of cover and fired a fully charged plasma shot at the last battle-suit. The shot impacted the suit melting the front of the hull showing the pilot.
Ert: Ok, a pistol, even a plasma pistol, shouldn't one-shot a battle-suit, but I'll let it slide because it's Dalvan. But why the fuck didn't he use a plasma pistol when he was threatening EP? It's what we've been saying all along. People aren't allowed to be competent when opposing EPrick. Dalvan fights EPrick, he only gets a flintlock. Dalvan fights for EPrick, he gets a plasma pistol.
Chris came out of cover and fired a round from his bolt pistol at the pilot taking him out with ease.
Nora: *Claps slowly* You took out an unarmed pilot after his main means of defense had been destroyed. I'm so very proud of you.
They advanced further, as Chris moved up a stealth-suit got a lock on him but before the Tau could do anything a pole slammed on his gun arm. M3 turned to see the standard barer using the standard like a spear as she thrusted the bottom half of the pole to take out the Tau's optics.
Ert: HA! HA HA HA! FUCK YOU! A Tau stealth suit is basically power armor. It has an armor value ON PAR WITH FUCKING SPACE MARINES! So you're saying this woman pierced armor that can easily deflect small arms fire…with a flag.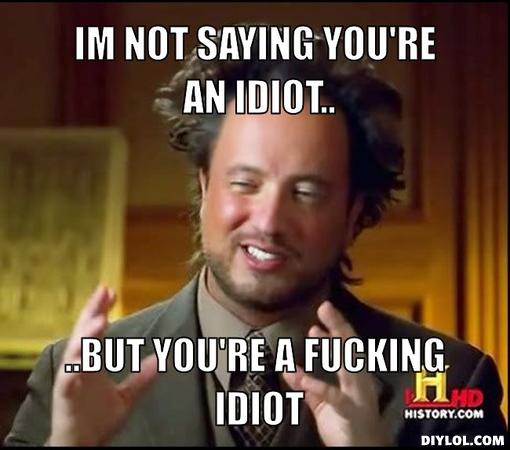 She had a calm good aura about her that made everyone around her clam.
Goeth: Message from the DRD EPrick. Their agents are on the way.
Chris and the Command team joined up with Haser's command team,
Nora: EPrick, you know that command doesn't mean assault right?
the two forced the Tau into the middle of the crash sight while the Space marines came down from the north. The Tau where quickly cornered.
Goeth: I think the record skipped.
Ert: I thought the Space Marines already came down. Guess EPrick forgot. I mean it was a long eighth of a chapter ago.
"Surrender." Haser ordered.

With that the Tau forces dropped their weapons.
Ert: Why all of them? As far as they know, these were just two random troopers. But whatever, no one on EPrick's side of victory is allowed to make a mistake, except for one dimensional assholes who hate him.
OOOOO

With the battle over and the Tau ship being dismantled for scrap or whatever the Mechanicus did with alien metals.
Nora: Or whatever. When the narration and the author just stop fucking caring. Is what I would say if I thought they ever cared.
Chris was in his room on the Inquisitors ship while they sorted out survivors, he and Dalvan waited for the Specialist's daughter to arrive.
Goeth: And Selena is ok with this apparently. Meh, makes sense. She's an idiot.
Nora: I honestly wish she would do the stereotypical jealous thing.
A few moments latter two of the Cadian soldiers came in with a girl around the same age as Chris. She wore a long green dress with a flower patterned on, she also had long raven black hair and deep purple eyes.
Goeth: Ah yes purple. A perfectly normal pigmentation for anime characters.
Nora: Why? EPrick already has half a dozen characters for his harem, half of which have been MIA since the start of his story. He's like a kid who gets a pile of toys and then throws them all away in favor of shiny new ones.
As per procedure her hands where bound in shackles to prevent her from going anywhere and taking anything.
Ert: Also it made EPrick hard. Oh come on, don't deny it. We know he has a BDSM fetish, and as someone who also has a BDSM fetish, fuck off buddy. We already have Fifty Shades of Grey making us look bad, we don't need help from you.
She looked from her father to Chris.

"Ok old man what's going on here?"she asked but Dalvan didn't say a thing.
Goeth: *Snort* Nice parenting there Dalvan.
Ert: I just. I just. Fucking. Ugh. What cartoon world are we in right now?
"Your here as payment for your father's crime." Chris spoke up in an emotionless voice making her brow raise.
Ert: Emotionless voice. Because he's a heartless monster who just wants to get his dick hard and be king of the universe, fuck the morality involved.
"What are you talking about?" she demanded.

"Your father, pointed a gun at me and tired to leave before a battle. Thus making him a coward."
Nora: I still think you're the bigger coward, considering how you're hiding behind your position and fuck toys to abuse him, but no logic allowed.
Ert: Also yes, he's such a coward. That's why he took a battle-suit head on with nothing but a pistol, while you waited for the one you fought to be disabled. EPrick, I'm going to mail you a dictionary. Please use it. Also I have made an edit to it. I put your picture under incompetent, arrogant, and inflexible.
he said making the specialist look away in shame. "While killing him would give his honour back,
Goeth: That's not how it works in the Imperium. It goes more "Disobey me and die. That'll keep the men in line."
I cannot kill a specialist like him. So there was another way."
Nora: One that satisfies me sexually. And really, that's the only thing that matters. There's a thousand different ways we could do this, but me releasing the feeling of my penis takes priority.
Ert: Should I just be grateful EPrick doesn't want his wife too?
"He…ugh he wants you as his servant Isis." Dalvan said looking down.
Ert:…Was his other daughter Al-Qaeda busy? And yes I know Isis is a real girl's name, but EPrick has such a bad track record, I'm not in the mood to give him the benefit of the doubt!
Isis smiled before outright laughing. "Hahahaha your kidding right? Just kill the Malki (bastard) he deserves it."
Ert: YES! Someone speaking with logic! Nora!
Nora: *Cocks pistols* Oh can I really? Have I been good, because Christmas seems to have come early!
Goeth: You know, I can't find the word Malki being connected to the word bastard. The only thing I located was the hebrew version of the word, which means "my kind."
Ert: The narcissism just won't stop.
"He would but…"

"But, the price of his armour, training, weapons and equipment… well let's just say that you can say goodbye to that house of yours." Chris finished
Goeth: This still feels like a contrived method of punishment. Does EPrick even know how much money his family even has? Or if they even own a house? Or if his family is even on planet?
Ert: No he doesn't, but he's too busy jizzing all over the wall to care.
She looked at him with wide eyes. "Wait your saying that we'll be on the street if you kill this frager?"
Nora: Asinine I know.
"That's the penalty, it's ether work for me or your family end up on the street."

Isis looked from one to the other before sighing. "So being free but end up on the street, or be a slave to my father's commander but keep my family where they are.
Ert: We just had that confirmed asshole. We're not goldfish, we don't need to have things echoes back to us.
Well then looks like I'm the slave to the commander then." she said not taking long to decide.

Chris then signalled to the Cadian's to remove her shackles. Once they where off she then spun round and punched her father in the jaw.
Goeth: And of course it's not the man who's about to own her and most likely rape her, because that would kill EPrick's boner.
Ert: I am honestly scared that he's going to rape someone one day.
She just looked down on him like an animal and he couldn't blame her.
Nora:…Please rephrase that.
Ert: I just…*Gags*.
Chris then came up to Isis and fastened a black leather collar around her neck.

"Hey!" she said before trying to pull it off. "What is this?"
Goeth: Do collars not exist on this planet?
"It's an explosive collar." he said making her stop pulling on it and look at him in shock. "Call it insurance in case you decide to run. It's also linked to my heartbeat, if you or your father decide to kill men then you die. Understand?"
Ert: So if he gets killed in battle she dies. Why an amazing prick/doucebag/motherfucker we have here. He just doesn't care about anyone except himself. And where did he get this kind of technology? Is the Tech-Priest committing more tech heresy to fulfill EP's masturbatory fantasies?
Goeth: Apparently.
"Yes sir." she said standing up straight.

"Good, now you have till tomorrow pack all your things." he said before walking back to his desk. "Your all dismissed."
Nora: We couldn't have her get this out of the way now because reasons.
The four then walked out. Once they where out he took a deep breath and sighed.

"Just like Overlord build your own army, gain people through questionable means. Ha, well hopefully he'll fall in line now." he said before taking some files out and began to read them.
Ert: DUHHHHH! IMMA TREAT REAL LIFE LIKE A VIDEO GAME! A DUR-HUR! IT'S OK IN A VIDEO GAME SO IT'S OK FOR ME TO DO IT! A DUR-HUR! There were far simpler ways to get a soldier to obey you than this you stupid twat! AND OVERLORD DOESN'T WORK LIKE FUCKING WARHAMMER 40K! YOU STUPID MOTHERFUCKER!
Each file he was looking over his command files on the leaders and Veteran's in his militia. Unlike the games he needed to gage their personality and get them to trust him.
Goeth: Get them to trust the man who insults his men and enslaves their daughters. Good luck with that.
Ert: Trust. He wants their trust. This motherfucker thinks he's the GOOD GUY! EPrick is so stuck in his fantasy land that he thinks he can do no wrong. Then again in Kira's Story of Domination he had his main character round up everyone and keep them as sex slaves for no real reason other than payback/keeping the secret/and wanting to. And he had the gall to say it was "morally gray." That she was doing it for the greater good…this asshole scares me.  He's so fucking dense he can't comprehend doing something wrong.
The one he mostly needed to trust him was the command team. He already had their files out and rad them, their past, personality strengths and weaknesses.

The files came to him thanks to the local Administratum who demanded to record everyone across the planet and from every nation. This made it easy for him to get the info on his command team and Veterans.
Nora: AHAHAHAHAHAHA! The Administratum? Oh that's a good joke! They're the bureaucracy of the Imperium and they SUCK at their job. They're so bad that they've actually lost entire planets. Just forgot where they were. So yeah, expect all those reports to be ten years out of date, and for half of them to be about dead men.
Ert: Also there would be no nations. Just the Imperium of Man.
The first file he looked at was about the standard bearer of the militia, Mileena, a tanned woman from one of the southern nations, a good soldier. But she had an aura about her that made men around her feel… weird in a good way.
Goeth: That sounds like a psyker. Which means if she's not sanctioned, she's off to the Black Ships to be carried off to Holy Terra. Have fun as a sacrifice miss!
He couldn't deny that, after all she did stay close to him.
Nora: That one time.
Her file said that she used to be a tribal dancer
Ert: OH! OF COURSE! Because if he wrote a woman that didn't titillate in some way I think EPrick's head would explode.
Nora: Both of them.
before she was chosen by the elders to become a militia soldier. The tribe had an agreement with the family about giving them their best warrior.
Goeth: Well that was a vague and pointless bit of backstory.
Since he may not be coming back to this planet he would need to remove that little agreement from their records.
Ert: Nothing like stepping all over previous agreements to add to his pile of sex toys he still hasn't properly used.
She was well trained with a spear which explained why she used the standard like it was a spear.
Ert: Except she shouldn't be, because standards don't have sharp ends.
He made a note to make a new standard pole into a spear otherwise her skills would be useless.
Nora: Yeah, useless. All she can do is pierce Space Marine armor. EPrick is apparently illiterate, considering he can't read what he wrote himself.
Before he could read further there was a knock on his door.

"Enter." he said and Mileena entered.
Unlike her combat gear, she wore a short red top with gold trim and a long red dress with gold trim. She also wore a golden chain around her belly and had a blue gem where her belly button is, a golden arm band was wrapped around her bicep and her hair was out in full as she had let it down. What's more was that she didn't have her chain-mail veil on but a tight red veil that she brought down as soon as she entered. She was beautiful to say the least.
Goeth: Ah yes, another fetish I never really understood.
Ert: Ugh. A harem girl. Because a princess, another princess, a cat-girl, a nun, a slave and a Farseer just weren't enough for his ten foot cock.
"Master." she said in a surly voice. "I am here to please you."
Ert: Please let this woman be an undercover assassin from the Officio Assassinorum. A Callidus Assassin.
Nora: You know she isn't.
Ert: I CAN FUCKING DREAM NORA!
"Master I am here to please you." she said in a surly voice.

Chris looked at her with his eyes blinking owlishly at her. "Sorry?"
Nora: Uh, I don't think an owl would react the way EPrick no doubt would. IE, tongue on the floor and at full mast. No I am not being cruel, remember when he looked at Selena's tits? He flat out said that that was just the kind of guy he was. He dug this grave for himself.
"My old master, after every battle, wanted be to please him. Physical." she said.
Nora: Oh goodie, another EPrick. Wait. This one isn't in the story! He isn't important! Be right back. *Runs off*
Ert: Normally I would be concerned, but at this point I'm willing to sink down to Goeth's level.
Goeth: HA! As if you could ever be on par with me. It's an art Ert. You can't just pick it up. It needs to be honed. Refined. Mastered.
Ert: True I suppose. But at can at least *Sounds of automatic weapon fire*…start.
Nora: *Walks back in covered in blood* So for the record, I found the soft limit for how many rifles I can make with my Green Lantern ring. A few thousand. Could probably push it a little harder if I wanted to, but I was starting to feel the strain.
"Ah right, look he took advantage of you, but I'm not going to. Unless you want to."
Ert: NO! NO! NO! You don't get it EPrick, the way this woman has  talked? She has been CONDITIONED into being a slave to someone else! She does not have the capacity to realize that what is being done to her is wrong, and she does not have the capacity to say no! And after what you did with the Farseer and Isis, YOU DO NOT HAVE THE RIGHT TO PRETEND THAT YOU ARE NOT A RAPIST!
Goeth: Plus there was the whole him drugging someone who tried to drug him. Is there a term for that?
Nora: Other than "every single person in this room needs to die horribly" I can't say that there is.
She nodded but removed her veil and top allowing her beauty to be shown.
Nora: And everything that was shown off before didn't count why?
Walking around to him she turned the chair Chris was on to the side and pulled down his trousers. She was doing this fast, and forceful, she must had been conditioned to service her commander regardless of what they say.
Ert:…SEE!? She is incapable of not doing this! So if you want to ever pretend that you are not a rapist EPrick, you would put a stop to this right now! And if you fucking DARE say "Oh but she enjoyed it!" then you will forever be a rapist in my eyes. Not just the character, but the man behind the screen, BECAUSE THAT IS RAPIST LINE #1!
As much as he wanted to get rid of this right now, he couldn't as the tip of her lips slid over his dick. He yelped as she slid her mouth over his dick.
Goeth: The DRD agents are all having aneurisms over this.
Her mouth felt like a silk vice as she moved her mouth up and down his thick shaft making it more and more wet as she moved. She was well experienced, there was no doubt that her previous commanders used her as a sex toy.
Nora: Wow. I just…wow. He really is trying to act like he's DIFFERENT from those previous commanders. Even though, as we will keep on saying, he has threatened to rape someone. And he then regretted it…because he might have been killed.
Ert:…You know, let's play a game. Good author, bad author. Good author. Rae D. Magdon. Writes a ton of smutty stories for Mass Effect, Dragon Age, Legend of Korra and Avatar the Last Airbender, with a ton of kinks. Consensual slavery, bathroom sex, spouse swapping, BDSM elements, public sex has been mentioned, all the threesomes foursomes and there was a sixsome at one point. Like EPrick, she has delved into non-consensual works…except she clearly knows what the hell she's doing, doesn't sugar coat it when rape is rape, makes it clear in her notes that what she writes are just her fantasies and should not be imitated in real life without following the three rules of BDSM (Safe Sane and Consensual). Oh and the most important thing? Her stories are well written and are actually sexy! Good sense of humor too.
Ert; Bad writer. EPrick. WOMEN WITH BIG TITS! RAPE RAPE RAPE! BUT IT'S OK BECAUSE THEY SECRETLY LIKE IT! THEY LIKE IT BECAUSE I LIKE IT! BECAUSE IT MAKES MY PENIS HARD! DON'T JUDGE ME! I HAS A BIG IMAGINATION! MY STORY! I DO WHAT I WANT! SPELLING MISTAKES, GRAMMAR MISTAKES! BARE BONES NARRATION! POOR UNDERSTANDING OF LORE! USING AUTISM AS A DEFENSE!
Nora: *Opens a Rae D Magdon story* Councilor Tevos and Aria T'Loak?
Ert: Oh yeah, she pretty much single handily launched that ship. Also I'm cutting out EPrick getting a blowjob because I don't need to see that.
"'sigh' damn it. I need to get that attitude of her's sorted." he said before looking at the militia list he had.
Goeth: *Snort* She is conditioned to the point where she can't stop herself from doing this and he treats it like a minor inconvenience.
Ert: Yeah. *Grinds teeth* Such a noble soul. Ain't he?
Mostly infantry based he needed some air support.
Nora: Did those Valkyries all crash after they wasted their entire payload on a single beacon?
He only had a few hours before he needed to get to the train to get to the ice base in the north. He needed to talk to the inquisitor now before anything else.
Goeth: Well those are all things now. Ice base and a train there. That's a thing now.
OOOOO
Somewhere unknown to the rest of the Imperium a group of 10 Inquisitors entered a dark room with a stain glass window of a hydra at the front. 5 female Inquisitors and 5 male inquisitors made their way to a large table and sat around it and waited.
Ert: Oh Christ, I saw about this in the comments.
Goeth: What?
Ert: You'll see.
A tall male inquisitor wearing a long red trench coat and walked up and sat down at the head of the table. He looked from one to the other before talking.
Nora: I think an Inquisitor could spring for more than a trench coat.
"So, what do we have?" he asked.

"Our plan seemed to have worked, someone from M3 has arrived, but the planet is a recently conquered,
Ert: That is NOT what you said. You said that this planet was where Space Marine recruits came from, and they do not come from recently captured planets. And you planned this? Please tell me Inquisitors. How, the ever-loving FUCK, did you use the Eldar Webway, something that is FAR beyond your understanding.
Nora: And their plan involved getting someone from 38000 years ago. Why?
it has a rebellion underway which the local Guard is trying to quell. There is an Inquisitor on planet but her loyalties are in question at the moment." one of the female Inquisitors said.
Goeth: Loyalties to who exactly? Them or the Imperium?
Nora: I can see either.
"Indeed, there is also the possibility of an Ork invasion given the recent reports.
Ert: Yeah they're…somewhere. Over there.
The 5th company of Ultramarines are there, also 2 more chapters are on the way but are delayed due to warp storms." another Inquisitor said.
Ert: ….Two ENTIRE chapters? For fuck's sake, Angron, one of the Emperor's traitor sons, invading the planet of Armageddon didn't get two entire chapters plus some more.
The lead nodded at that. "Very well, Kalas, Mikola, gather your Cabals and move onto the planet. Retrieve the subject, soon our plan can begin, hail Hydra."

The Inquisitor's stood and yelled out. "Hail Hydra."
Nora: Hyrda. Hyrda. The Marvel supervillian group. What? I just…what? So, this takes place in the Marvel universe? Does that mean that Asgard exists? Thanos? The Chitauri? Is Loki still kicking around being a dick? Probably not, EPrick just wanted another one dimeonxsal villain to make himself look better by comparison.
Ert: Which is kind of ironic. Hydra is descended from the Nazis, often being said that they were even worse, with Hitler himself being scared of the Red Skull. Except you know what the Imperium of Man is commonly referred to? Catholic Space Nazis. So hate to break it to you EPrick. Whatever Hydra possibly could have done, the Imperium has done a thousand times worse.  Oh I almost forgot-WHAT THE FUCK AM I READING!?  WHY!?  EVERY FUCKING TIME THE STORIES I REVIEW ALWAYS TURN INTO CROSSOVERS!
OOOOO

"Look I need air support, regardless." Chris said standing in front of the Inquisitor. "At lest 3 Valkyries."

"I need the air support too M3." Selena argued. "I can give you one."
Goeth: Yes, she needs them for thing. That's the funny thing about this story. We keep getting told how many threats are on the way, but there's no sense of urgency. Like they could take as much time as they want and not have to worry about anything. Because it doesn't feel like they're actually doing anything.
"I need three, do you understand my Gothic? Three." he said holding up three fingers.
Nora: Yes, being a smart ass to an Inquisitor. That's a smart move.
Victorn was in the room amused by the situation.
Goeth:  For no reason.
The two looked at each other before the young man finally noticed the powered armoured soldier in the room and smiled.

"You can have the Ultramarines Thunder hawks." he said making the smile drop from Victorn's face.

"Deal."
Ert: Oh for fuck's sake. He already got to fuck an Ultramarine's daughter, why does he get access to one of their rare and incredibly powerful aircraft too? Hey EPrick. You ever notice that most stories do more than talk about how awesome their main characters are and then give them more stuff? Because storytelling is about more than that! Sorry if I just blew your brain but it's the truth!
Nora:  And who is offering that?  We never get a name.
OOOOO

The Outpost that Chris was sent too was pretty large the size of a town with ammunition stores, refinery's for arms and fuel, barracks, everything that a base needed.
Nora: A base with a refinery? Oh goodie, he thinks Command and Conquer was an accurate depiction of how logistics works
To the south was the train-yard where supplies would be delivered monthly to support his garrison.
Ert: You said have a refinery that can make arms and fuel (Which is NOT how a refinery works but whatever). What's the point of that if you still need to be resupplied?
If what the Tau said about the Orks was true, then it would stand to reason that this vital point needed to be protected at all cost.
Goeth: What makes this position so vital? Protecting a choke point? Keeping them from reaching the main city? Because slight problem with this plan. The Orks are coming from space. They can land wherever they please. They can bypass this "vital point."
The place was surrounded by six bunkers in an elongated hexagonal shape with a corridor connecting them to each other.
Ert: Yeah, that's not a waste of resources at all.
On top of each of the bunker's was two sets of tarantula turret's, one was heavy bolters while the other was lascannons. Slightly above the centre of the outpost was a large tower like structure with a shorter but fatter one underneath. North of the tower where three aircraft platforms in a triangle shape thus allowing for their three Valkyries to take off and land. Inside the tower was the motor pool and the armoury.
Nora: No no please EPrick, keep going. I'm certain that you could find a way to make this sound even more boring than you already have.
As soon as they had arrived they began to settle in and Chris began to make the officer's quarters his own. Granted he didn't have a lot of thing's but he tried to make it his own, at least for the time being.
Goeth: This really is like a little kid constantly trying to readjust his treehouse to make it into his own little fortress of solitude
Ert: Problem one thousand and one with this story is that EPrick can't just pick a fucking tone. When he's not being a rapist and a "hardass" commander, he keeps making goofy pop culture reference to Deadpool or Overlord and acting like a two year old playing with his toys. Minus the innocent charm that would come with that.
Just making it how he liked, as he worked Isis was helping him but kept looking at him in a strange way when he asked to move things to a different place.
Nora: You enslaved her and put an explosive collar on her. Yeah I thin she might look at you in a "strange" way. IE, she probably wants to murder you.
Despite this she just moved along following her orders cursing her father as she did. Just then a space marine Scout Capitan walked in the room with the leader of the Militia scout group.
Ert: *Sigh* once again EPrick's incompetence shows its ugly head. He said the Ultramarine 5th company was here, and now he's saying that a scout captain is here. The scouts in a Space Marine chapter are the 10th company and there is only one captain, so EPrick is saying that he's receiving support from the 5th company, and for no reason the 10th company captain just decided to stick along for the ride. Fucking moron.
"You wanted to see us sir." the Militia man said.

"Right, Isis go grab something to eat." Chris said.

"But." she said turning to him. "I'm not hungry."

"Then go sort out your room." he said.

Nodding she left
Nora: Well that added a lot. It's like he thinks that if he gives her a couple of lines, she isn't a completely pointless character. He thought wrong.
and Chris walked up to the door and locked it before leading the two scouts to his desk.

"What I'm about to tell you, your not allowed to tell anyone else or I will have you both executed."
Goeth: I think even by Imperium standards he's being rather obsessive with giving out execution threats.
Ert: Less elegant too. An Imperium commander would say "Under pain of death you shall stay silent," not "your not allowed to tell anyone," mainly because Inquisitors know the difference between your and you're.
Nora: Also he's threatening Space Marines here. You don't do that. Technically Inquisitors have the right to execute whomever they want, but in the same way a King is technically allowed to do whatever he wants, the reality is more complicated. Space Marine chapters have a lot of influence, manpower and resources, the Inquisition can't just boss them around the way they normally do with everyone else. The Space Wolves actually clashed with the Inquisition, and the Space Wolf Chapter Master killed an Inquisitor and got away with it. The point is, the Inquisition would normally try to avoid pissing off Space Marines, especially a chapter with as much pull as the Ultramarines.
he said and the two nodded as he lay out a map on his desk. "Ok I'm sending you both on a recon mission here." he said as he pointed out an area on the map. "According the magos there's a Relic in this area, and Sargent Stolholm wants it."
Nora: Oh right that. I completely forgot about it. Mainly because it was completely unimportant, underwhelming and come off as EPrick building up his victim complex.
"I met him." the Marine scout said. "He's not the kind of person I'd get along with."
Goeth: And the rapist EPrick is so much more charming.
Ert: Christ this is pathetic. He needs to have EVERYONE shit on his flat bullies because he's that insecure.
"Well either way, I overheard a conversation that he had and it seemed that his family. It appears that his family had problems with Chaos,
Ert: I think the record skipped there.
he wants this relic to gain his family's reputation back. Whatever it is, it cannot be good. I want both of you to investigate what this relic is as soon as possible."
Nora: It's bad because I don't like him and therefore he can do nothing good!
The scout marine took them map and nodded. Chris then walked back to the door and unlocked it allowing the two to leave.
Goeth: They then told everything to their captain, because they not staying quiet because of the empty threats of a twenty-two year old boy.
Sighing he then began to make the place a little more homely.
Ert: Homely. A barracks on the front line. Homely. What world does this asshole think he's in? Animal Crossing?
But before he could begin he looked to his desk, he needed to set up a patrol rotor.
Nora: Does EPrick word? Does he word? I don't think he can word.
The area wasn't layed out so he needed to set up a recon group to get the lay of the land. Sitting down she then began to write up the orders for the week.
Goeth: This base has clearly been here for some time. How do they not know the layout of the surrounding area?
As he wrote, he began to think while Sleena gave him the same amount of power as an Inquisitor he wondered what he should really do.
Ert: Except she can't. You can only have the power of an Inquisitor by making a person one. But that gets in the way of EPrick touching himself so I'll get out of here with my logic.
Granted he sent people out to find this relic but what should he do now as an Inquisitor.
Ert: YOU ARE A FUCKING ACOLYTE! AT BEST!
He leaned back in his chair and stared at the ceiling. Why was he here?
Nora: Normally this would be a good question to ask. Except he fucked it up by giving us an answer. Why is he here?
Nora: This is what happens when you try and be profound EPrick.
What was he meant to do in this world?
Ert: Fingers cross on "die like a bitch."
That was something he needed to find out, finishing the written orders he walked out and posted them onto a wall before walking back to his office.
Goeth: Ah yes, an excellent method of communicating orders. A bit of paper on a wall. Screw that intercom and radio nonsense.
OOOOO
Mira woke slowly only to find herself freezing cold. To say it was freezing was and understatement, looking out of the pod she could see snow. Real snow, the world she lived on was more along the lines of a civilised world but the only temperature it had was warm and rarely cold. Snow was never present on the world so it was amazing when she saw it.
Nora: Oh my god. HA! It's adorable. He's trying to give his characters personalities and backstories. As if he cares about anything other than whether he can put his dick in them or not. HAHAHAHAHAHA! Oh good one.
White, and soft but it was so damn cold that she couldn't concentrate. The door opened and she moved out into the cold.
Ert: Wait, is it cold? I forget.
Wrapping her arms around her to try and keep herself warm she looked back at the pod to see a survival pack had been released. Walking over to it she opened it to see a large fur coat was inside. Breathing a sigh of relief she picked it up and threw it on. It was warm but still freezing, just then.7
Goeth: 7? Seven. He did a seven
Ert: Wow EPrick. Your stories somehow manage to get more and more unrefined every time you release a chapter. I don't know how you do it, but you keep managing to pull it off.
"HOLD IT RIGHT THERE XENOS SCUM!" a voice yelled.

She turned to face a small group of Imperial Guard soldier aiming their rifles at her.
Nora: Well they just popped right the hell out of nowhere. I'd ask why her escape pod landed so far away from the rest of the ship and why she's only just now getting out of it, but this chapter is almost over and we want it to just end now.
Her eyes widened as she mentally cursed and gulped. This was an Imperial controlled world, meaning that she was going to die, or worse.
Goeth: Yup! Nice knowing you!
The Sargent then walked up to her and fastened cuffs around her wrists before dragging her. This was odd, most of the time she had heard that Imperial humans where on a shoot aliens before asking questions.
Ert: Yeah, normally they do. But EPrick's foul influence means he wants another fuck toy. CHRIST is anyone counting?! What are we on now?
But this was odd, it could mean that she was going to be experimented on or something much worse. She was lead to a Chimera and thrown in with two of the guard following her.
Nora: Now she could be experimented on, but its not really likely considering that she's human (I think, EPrick's vague narration makes it very unclear) and the Inquisition has no shortage of convicts to experiment on.
OOOOO

Soon enough Mira found herself in a jail with her coat taken from her and the cuffs still on. Granted the place was warm but still, she wanted to be warmer.
Ert: OH MY GOD SHUT THE HELL UP ABOUT TEMPERATURE! What is this weird ass little fixation that he got out of nowhere?
She sat down and just waited, waited for whatever these humans had in store for her.
Goeth: So is she human or not?
Relaxing she stared at the glow globes
Nora: It's a fucking lightbulb EPrick.
for a good hour before the door opened and a young commander entered. He wore black clothing with a silvery white chest plate. He stood relaxed, as if he was ok with her presence on his base. Smiling he rested on the wall opposite from her and looked at her.
Ert: Yeah, why is it I get the feeling she's not looking at his crotch? Because I'm pretty sure activity would be going on down there.
"Are you ok?" he asked din a polite and friendly manner.

Taken aback she nodded.
Nora: Heh. EPrick. Polite. After everything that we've seen before this. You know, he really does remind me of a sociopath at times. Putting on a mask of friendliness to hide what he's really like.
"Good, now then I have a question to you. My men would love to string you up on a post and let you die. However since that would be a waste of your talents since I heard that there was a skilled battle-suit pilot. Who of which I would assume is you."
Ert: You heard this from who? And what evidence do you have that she's the pilot? Other than she assumedly has tits and you want to fuck her?
Nora: Not to mention it's kind of pointless. What good is a battle-suit pilot without a battle-suit? You kinda destroyed them all in the previous fight. Unless the Tau weren't using all of their suits, which is stupid.
She nodded again making him smile.

"Nice, ok then here's the question. Would you like to be sanctioned and live, or not and die?"
Goeth: He's being awfully willy nilly with sanctioning. Usually the Imperium is a little slower to do this, as they don't like to rely on xeno that much.
"What's the difference?" she asked.

"Well if your sanctioned then my troops won't kill you, and you can used your skills to help me in my mission. We can provide a battle suit, but you'd have to repair it. If your not sanctioned then like I said you die."
Ert: Yes, I'm certain a pilot has the know-how and resources to repair a battle suit that most likely was blasted by a tank.
She looked at him, wondering where he came from. This was not like what human commanders are like from what she heard form more experienced commanders and Gue'vesa soldiers. But then again she did want to live, and it seemed that the only way to do that was to be sanctioned.

"Very well. Sanction me." she said.
Nora: Look ma! No drama!
Ert: Turning her back on the Tau Empire even though she was raised by them if she was a Tau, and if she's a human than she's going back to the Imperium even though she or her family turned traitor. Good. Fucking. God. Everything takes second place to someone else being added to the harem eh? And the pathetic thing is that this is a harem story where the majority of the harem is completely ignored! We got a list of around half a dozen characters at the start, and half of them just dropped off the face of the earth! Even though they clearly only existed for EPrick to lust over!
Nora: Well there's only one chapter left in Trapped, but since it's too short to tackle alone and would add too much to add here, we're going to leave it. Sad to say, but we really need to get back to My Little Unicorn.
---