1404: Captain Rapist's Half Assed Adventure (AKA Trapped) Chapters 10 & 11 part 1
Posted: May 3, 2016
Filed under: Warhammer 40k, Your Librarians are Crazy
| Tags: Adventure, EP's Stupid bullshit, Erttheking, Oh god why why why why, Sci-Fi, Trapped, Video Game, Warhammer 40k
90 Comments
Title: Trapped
Author: This Fuck (EP)
Media: Video Games
Topic: Warhammer 40,000 (40k)
Genre: Adventure/Sci-fi (Porn really)
URL:  Chapters 10 & 11
Critiqued by Erttheking. 
WARNING! MORE OF EP'S HALF ASSED WRITING! IF YOU HAVE A RAPE TRIGGER, PROCEED WITH CAUTION!
Nora: Oh good fuck, we're back with this guy again? And there' something that could trigger people in this chapter?
Ert: No idea, haven't looked yet. But considering EP's general attitude towards women I feel like even if nothing happens we should have a trigger warning up.
Seiko: Goodie good.
I am sooooo sorry for the delay but I wrote this out a least twice but the program I use deleted it. I use open office, now before you suggest it I used Libre office but it no longer works for me.
Ert: This just in, the machines are becoming sentient. And they're trying to destroy EP's work. THE MACHINES ARE FRIENDS! THE MACHINES ARE FRIENDS!
Selena was working on the paper work of the operations on the planet and the files to make sure that Chris would become a Noble.
Ert: See an interesting thing to do would be to show the reaction to this. I've seen countless stories where pure blooded nobles learn about a commoner being lifted up, and they are rarely happy about it. So Prick, in reality, would have assassination attempts and political schemes designed to take advantage of him. This isn't reality though. This is EP's sexual fantasy where he kicks everyone's ass and releases the feeling of his penis in everyone's vagina. Because he's that awesome. Even though in reality I'm sure every woman he knows carries mace around him.
This was so that he would receive better protection. She liked him yeah, hell she even felt like fucking him now and again but she had to focus.
Nora: Ert, EP is typing with one hand again. I guess that explains the spelling errors.
Seiko: Hardly. The way EP talks about women we know he'd last a grand total of sixty seconds. If even.
The thing was because he was what would be known as an Ancient human his genes are probably more pure then her own.
Ert: EP, stop talking about genetic purity like you know what the fuck you're talking about. The Imperium of man has a pretty damn archaic view on the matter anyway, viewing impurities as coming in the forms of mutation and the like. Not natural evolution.
Not to mention that he was likely here thanks to the Emperor's will.
Ert: SURE! WHY NOT!? Let's just make EP Jesus while we're at it! I needed that good image of his spraying his load all over his computer screen anyway.
Shaking her head and looking at the papers she just filled out. Her head slammed onto the desk with a hard thud. This was one of the things she hated, she used to be a Storm trooper until an Inquisitor took her from her squad.
Nora: Not impossible, actually. Inquisitors tend to have personal entourages of acolytes that they form themselves and that they can uplift to Inquisitors if they please them. A stormtrooper wouldn't be a bad place to look.
Her mind was getting more then a little tired, she felt her mind clouding out of shear exhaustion. This was worse then going on a 10 year mission.
Ert: Oh grow up princess. If you can't handle paperwork then frankly you don't deserve to be part of the Emperor's holy Inquisition.
The mix of the rebels, Chaos and Ork threat was way too much for her, at least on paper. She was a soldier not a desk jockey.
Seiko: Meh meh meh. Does this woman ever do anything but whine? She's an Inquisitor, I'm fairly sure that she has some subordinates that she could pass the work off to.
Lifting her head off the desk and resting her head in her hands she looked at the ceiling as one of the Cadian soldiers walked in.

"Err excuse me Inquisitor?" he said softly walking in.

"Just leave it on my desk I'll get to it soon." she muttered.

"That's not… no Chris just went on a raid to the noble house where the girl went missing and arrested the Lord and lady."
Seiko: The personal guard of the house then piled on top of him and took turns punching him in the dick.
Ert: Because despite what EP keeps thinking he would never be accepted into the Imperium as a noble and he would never be given the authority to arrest anyone, but he keeps acting like-YOU FUCKING SELF ABSORBED LITTLE PRICK! YOU CAN'T EVEN FUCKING SPELL PROPERLY!? YOU THINK YOU CAN ARREST NOBLES WITHOUT GETTING YOUR SHIT KICKED IN! WAKE THE FUCK UP! You would get shot the second you tried and then tortured within an inch of your life. STOP LIVING IN YOUR FUCKING FANTASY WORLD!
Nora: Easy buddy. Easy…
If she wasn't awake she was now. "WHAT?" she yelled.

The Guardsman cowered in fear as the piercing look of a former Strom trooper was terrifying.
Seiko: And the fact that she was an Inquisitor had nothing to do with it huh?
Nora: Man, EP is really proud of that bare bones backstory he came up for her. Oh and she was a Stromtrooper not a Stormtrooper. Gotcha.
"Get. Him. Here. Now!" she said sitting back down.

The Guardsman nodded before leaving the room then broke into a run.

"I'm gong to kill him." she muttered.
Ert: Oh fuck off. You're not and you know that. EP, who the fuck are you kidding? You don't have the spine, you don't have the balls to make it so that your rapist self insert did anything wrong. I know that because your self insert THREATENED TO RAPE SOMEONE! And it wasn't depicted as a bad thing, just a stupid thing. So fuck off with this false drama you pretentious twat.
OOOOO

In the refectory Mira sat just looking at her food as Tau, Gue'vesa, Vespid and Kroot troopers walked around talking and having something to eat. But she just played around with her food not knowing what to do.
Nora: Ok, well let me explain it, it's very simple. You take the one with three points, this is called a fork. You use it to pick up the food and put it in your mouth. You chew for awhile until its nice and mushy. This is the hard part, you use your tongue to push the food down your throat. That's how you eat Mira. Now you know!
Seiko: Gwyn's sake…another member of the harem? Has he even gotten to half of the current ones yet? EP is like a little kid who screams how he wants all the toys and throws them away before even playing with him.
The Capitan of the ship was new to it despite being trained he was panicking.
Ert: HAHAHAHAHAHHAHAHAHAHAHAHAHAHA! Jesus Christ, EP is suck an insecure little bitch that he can't write anyone being more competent than he is. And since the bar is set so fucking low that means everyone is a drooling idiot. Because not only is this captain an idiot…
This was the first time he was this close to imperial territory as such he was worried of being attacked without any support. This would make them more obvious to the Imperials. Looking at her food she just sighed got up and left.
Ert: Yeah, someone looked at this little clusterfuck and said "YUP! THAT'S NOT A STUPID IDEA AT ALL!" The Tau are more advanced than the Imperium but they're massive outnumbered by them. They prefer to use diplomacy when they can and they don't charge in dick first.
This wasn't the first time she had been under the command of someone who had just taken command of their ship or army. The last time she was on the field and the O was hesitating to make decisions after all it was their first time.
Nora: It really does feel like EP is taking the same basic mistakes horrible writers make. Just make all of your antagonists idiots so that the protagonist looks smarter by comparison. Because they're not talented enough to show a smart antagonist being outmaneuvered.
Not all Tau fire warriors could command their army with efficiency so they tended to die before they could last longer.
Ert: When the hell did the Tau turn into the fucking Imperial Guard? They're the ones that are supposed to have stupid commanders. And GW has been moving away from that!
Walking into the battlesuit bay she looked at the different suits they had from the Crisis to the Rip-tide.
Ert:….NO! YOU DO NOT HAVE A FUCKING RIPTIDE (Not Rip-tide, use google for fuck's sake) The Riptide is the most advanced battlesuit the Tau have ever created and they are very rare and very fucking expensive, they would not give it to a greenhorn, twelve year old commander like this. This is without going into what a damn powerhouse the Riptide is, and how its being wasted here.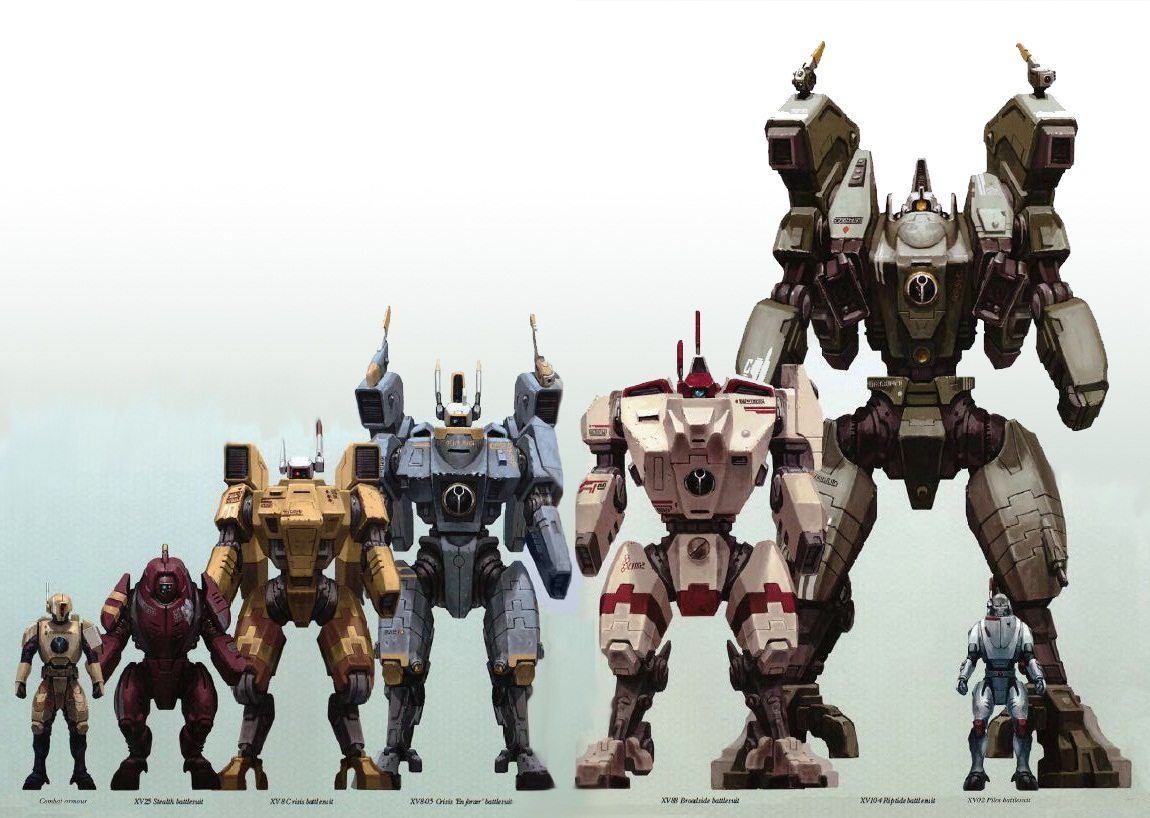 (Riptide on the far right)
Seiko: Let me put it this way. The Imperium of man has Fortress Worlds, planets where the entire surface is a military base. They are commonly formed to stand against a nearby threat. The Tau had been trying to take one for awhile and had failed. Then they invented the Riptide and have twelve of them spearhead their next invasion. That planet isn't under Imperium control anymore. Putting a Riptide suit under the command of a little boy who wants his mommy is nothing short of a waste.
But the feeling was still bugging her then a loud clink sounded. Before anything else could happen a deafening bang sounded and the gravity was no more.
Nora: And then things happened!
She floated in the air for a moment before she pushed herself to a terminal near the door. Typing in a few keys she had found out what had happened, a large asteroid hit the ship and cut it in half. Given the speed and direction of the asteroid it had to be an Ork Rokk heading for some place. The terminal the began to flash red as the part of the ship she was in was caught in a gravitational pull. Gritting her teeth she pushed herself off towards an escape pod and climbed in before launching. Hopefully this planet was friendly.
Ert: An Ork Rok? An. ORK! ROK! If an Ork Rok hit a spaceship, it wouldn't cut it in half, it would smash it into atoms. A Rok is a very fucking big thing.
Nora: This is without the fact that a Tau ship can't see a giant asteroid heading right towards them for some reason. No I don't care if this was the commander's first mission. Anyone who knows anything about commanding a ship should be able to see and avoid something that isn't that great at steering.
Seiko: Like we said. Everyone has to be dumber than EP. Hence Mira hoping that she would land on a friendly planet even though she should know she's near an Imperium planet. And since she's a Human who threw in her lot with the Tau (A fairly common thing), she would be labeled a traitor. And would be dead Either that or she's nowhere near a planet. And is dead.
OOOOO

Chris stood in Selena's office, he was nervous thanks to the deadly aura that the inquisitor was releasing. He could see why she was an Inquisitor, that aura could influence any Chapter master. Those eyes of her looked her making him cower slightly.
Ert: Shut up Prick. You are not cowering slightly. You are on your knees begging for mercy. She could order you murdered with a snap of her fingers, and it'd be the most prolonged and painful murder you've ever seen
"Chris while I would normally compliment someone for this,
Nora: No. No she would not. Considering that even an Inquisitor usually waits for vague evidence that incriminates the person being arrested, and not the half assed conclusion EP
unfortunately I cannot. The raid that you have done in the noble district may have cause our mission to last longer then it should be.
Seiko: Yes. It would. Because he is an idiot who doesn't know what he's doing. And you, by association, are the exact same because you gave him this authority.
Not to mention that the people will fear us and each other, hell they might even point out people as Chaos worshippers. The point is that you may have cause this operation to fail."
Seiko: Her logic is faulty, people are supposed to fear the Inquisition. The small badge that they carry terrifies those who see it. They are the ones who will find any dirty secret that you have and will remove you from reality if you pose a threat. Their opening act for interrogating someone is telling people that they work for the Inquisition, and that gets a lot of suspects to spill the beans. EP is trying to turn the Inquisition into heroic good guys.
Nora:…The Inquisition. The INQUISITION!
She sighed and took a deep breath before continuing. "I want you to stay on the ship until I can find a suitable punishment for you."
Ert: Please make it an actual punishment and not a kinky one for the love of fuck.
Nora: Who the hell are you kidding? Do you really think EP would ever play the bottom.
Ert: Good point. Well, he's missing out.
"Ok but we both know that we cannot allow for Chaos to get a foothold or even move their operations. So I acted on what I knew." she just stared at him unimpressed.
Seiko: Everyone else is doing the same. Because this sentence makes no sense and isn't even grammatically correct.
"Don't look at me like That ok, I was just doing what I thought was right."
Ert: So did Inquisitor Kryptman, the man who kidnapped Genestealers (Things that can rip a Space Marine apart) and used them to start a war between Tyranids and Orks. And ended up making both sides stronger by mistake.
Nora: What he's trying to say, it doesn't matter what you thought was right if you have the critical thinking skills of a newt.
"Ok as long as I doesn't happen again." she said standing. "Come on the Magos wants to see us."

She stood and lead Chris to the lift where they both stood as it moved down.
Seiko: "Just don't do it again." Of course, Prick is being babied. Just don't make an illegal arrest with poor evidence again darling. Now lets have more sex.
OOOOO

Alreanandria sat in the ships refectory ripping meat off the bone. Despite being a noble she was after all the daughter of a Space marine.
Ert: For the umpteenth time, bullshit. Their are either two possibilities. #1, she was conceived before her father was augmented, in which case she would be utterly normal. #2, she was conceived after he was augmented, which is bullshit because Space Marines don't marry, are probably infertile, and even if they weren't there's no fucking way they would fit!
Nora: And what does that have to do with her ripping meat off the bone? I mean it'd be somewhat relevant if her father was part of the Space Wolves, they're wild enough to do something like that, but he's an Ultramarine. They're supposed to be uptight and dignified. Ugh. EP doesn't know how to logic.
Her bones strength even her reflexes where greater then a normal human. It was concluded by the Magos biologist that she had received some of her father's gene seed when she was conceived.
Ert: HAHAHAHAHAHAHAHA! THAT'S NOT HOW THE FUCKING GENE SEED WORKS! When you get down to it, the gene seed is a set of 19 additional organs that are implanted in a person, radically altering their biology. Space Marines can't just tap and make more Space Marines. If not, THEY WOULD HAVE DONE IT!
Not to mention that she picked up some of her habits from her father and fellow Marines such as ripping meat off the bone.
Seiko: The Ultramarines. Cultured. Wise. The table manners of a savage. What's the point of this?
Nora: Another fetish? I don't know.
Kimsa came up with a plate filled with veg and meat. She sat down in front of the Macaggian noble and began to eat.
Ert: The hell is veg? Is this some obscure Imperium drug used out on the Expanse? Oh no wait, EP is just so insufferably fucking lazy that he can't even spell out vegetable all the way. It's so hard you guys! Nine whole letters! It's more than he can take!
Nora: Who the fuck is Kimsa? The harem is such a character blob I honestly forgot.
Seiko: The princess. The one who keeps saying culture a lot like it means something.
"Hey how've you been?" she asked.

"Ah a little sore." the noble said with a slight smile.

"From what?"

"Chris, or M3."
Ert: Oh yes, that's right. They both drugged each other and made me wish that a rampaging Bloodthirster would burst into the room and rip both of their heads off. It was a thing.
Kimsa looked up with interest. "What do you mean by that?"

"Oh right, the Hospitoler asked me to get some of his sperm for research for how good his sperm is.
Ert: I! HATE! EVERYONE! I had honestly forgotten (Suppressed) that.
Nora: I'd really like EP to come out and say what's so bloody superior about his self insert's DNA. He won't, because he doesn't know what the fuck he's doing, but it'd be fun to watch him stumble through it.
After all he is a pure human,
Nora: So are all of you, aside from the cat girl. But EP won't bring that up because Prick is supposed to be worshiped because Prick is EP and EP has a bizarrely overinflated opinion of himself.
his sperm is being tested for how potent it is and what we can expect for his offspring. Ohhhh just thinking about it make me hot." she said shivering.

Kimsa just stared at her eyes wide. "You had sex with him? Unprotected sex?"
Nora: Uh, I don't think the Imperium gives a rats ass about birth control.
"Oh yes, he was an animal, he ravaged me on instinct. It was amazing."
Seiko: He's also based on EP, so obviously he lasted three and a half seconds before rolling over and going to sleep.
Nora: "Ravaged me on instinct." Let's ignore how creepy that sounds and just point out that it's a lie. You drugged him. Nothing that happened there was on instinct.
The meat that Kimsa had just put in her mouth fell onto the plate in shock. She wanted to be the first who would have sex with him and not the Inquisitor. A wave of emotion hit her like a high speed rhino, calmly she stood.
Ert: Moments like these make me wonder why she's a former princess. I'd like to think she was so impulsive that she was exiled. She's clearly thinking with her clit.
Nora: No argument here. Probably tried to fuck absolutely everyone.
"Excuse me." she said before leaving.

As she left a smile came to mind. Ho she was going to get re revenge.
Ert: "Ho she was going to get re revenge." …EP, English is your first language right? Because you could've fooled me.
OOOOO

The two entered the forge, the heat was almost blistering to M3.
Nora: Only almost because he's a big manly man who can take anything.
The Magos was at a terminal looking at something while several servitors where working on a Leaman Russ battle tank. The two walked up to a table and the Magos noticed them and walked up to them.
Seiko: So they just walked to a random table and expected the Tech-Priest to go to them? Arrogant twits.
"I was expecting the both of you." he said with a slight smile.
Ert: What smile?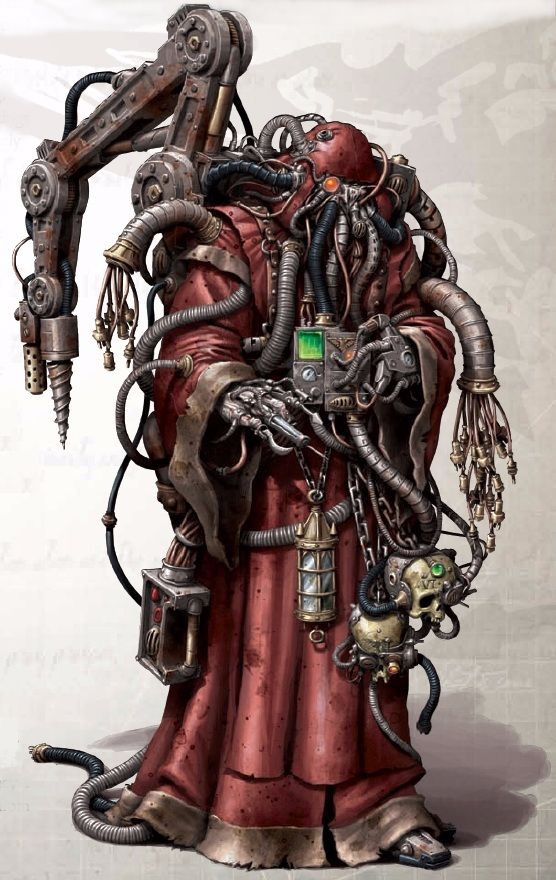 Ert: Where does he keep the mouth.
"Well we're here now let's get to it." Selena said.

The Magos nodded and brought up a black latex-like bodysuit and laid it out in front of the two. It looked tight, making M3 shake his head trying to get the image of the Inquisitor being in that bodysuit. With black sister of battle leg armour and storm-trooper upper armour. With her being an Inquisitor the amour was black with red stripes on the sides and an Inquisitional I in the middle of the armour. She smiled looking at this.

"I managed to weave the nano fibre tightly enough to protect you from chemicals and fire. It will also allow you to go out into the vacuum of space. And the armour is pure adamantium." the Magos said.
Ert: Yes, he just happened to have pure Adamantium lying around. Not like that shit is rare and valuable, and DOESN'T FUCKING WORK as body armor. It's too fucking heavy!
Nora: It fails on multiple levels. This tech priest just committed heresy. The Adeptus Mechanicus have strict policies on modifying technology. IE, you do it never on pain of death. But that didn't stop EP from creating this wet dream, utterly impossible suit of armor.
Seiko: Sounds like a five year old made it. "And it makes me invincible, and I can breath in space, and it makes ice cream, and it makes me super smart." Except it's from EP's perversions so it sounds like it's for sex appeal. Because the densest metal in the galaxy is well known for being snug.
"Nice." she said taking the items and walking away. "I'll leave you two to it."

The Magos and Chris looked to each other and shrugged before the Inquisitor placed clothing and armour in front of him. The fist was a hoodie
Ert: I…I just…I fucking. HATE! HATE HATE HATE! This is fucking 40k! Where armor looks either like this!
Ert: This!

Ert: Or this!
Ert: NOT LIKE FUCKING THIS!
Ert: EARTH TO EP! ANYONE HOME!? RHETORICAL QUESTION! OF COURSE THERE ISN'T! BECAUSE THERE ISN't A SINGLE INTELLIGENT THOUGHT IN THIS STORY
made out of what looked like silk, it was black with stripes down the side and an I on each of the shoulder. A pair of trousers was then placed next to the hoodie, it was black and red camo to make him look like an Inquisitor.
Seiko: Yes. Inquisitors are well known for wearing trousers and hoodies. I'm sorry, let's google 40k Inquisitors and post the first three results.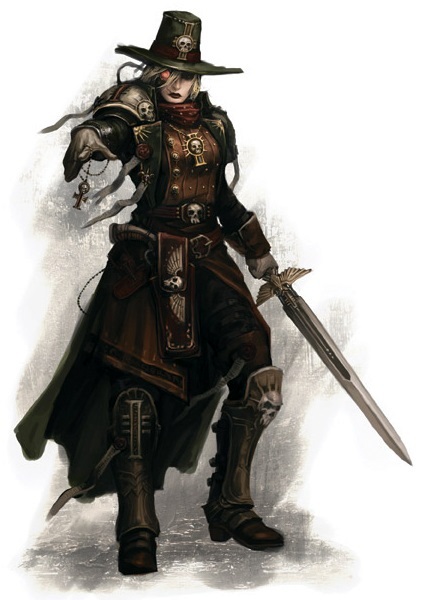 Seiko: So not only does EP not get the basic idea of what they look like down, he can't even get their color scheme down. Because they don't have one. Red and black are not the colors of the Inquisition. The Inquisition has no color scheme. You know who does have black and red as a color scheme? The Red Corsairs. A Space Marine chapter…that turned traitor.
Ert: Well technically red, black AND brass, but close enough. The brass is just a trim anyway.
Ert: Frankly with a look like that, it'd be a miracle if they DIDN'T turn evil.
"Much like the body-glove I gave Selena,
Nora: Is that what we're calling it? Body-gloves are a thing in the Imperium, but they're mainly used by assassins. People who don't have a plan to survive being shot because they're focusing on not being shot in the first place. It doesn't work for someone like these people, who constantly go on the front lines.
the material and nano fibre to make sure that it will allow you to survive flamers and the vacuum of space."
Seiko: A vacuum sealed hoodie. Is EP suffering form some sort of brain damage?
the Magos then brought up carapace armour that looked more like a cross between knight and Scion armour,
Nora: We tried to look up knight armor and we found nothing. The only knights in 40k are mocha pilots Honestly, EP is just jotting down random words. Possibly trying to invoke his fantasy fetish again.
Ert: Also it's stormtrooper, not Scion. I know it's officially Scion, but Games Workshop is run by monkeys, so fuck what's canon.
like the other armour it was coloured like Selena's armour. "Much like the armour I made it out of adamantium, light and as hard as steel."
Nora: Oh, so he makes the armor out of the most durable and rare material in the Imperium and then he just says that it's as hard as steel. In a universe where most weapons would tear steel apart. It's amazing how little EP understands the world that he writes in.
"Nice." was all Chris could say.
Ert: When he says that, that means that's all he's capable of saying.
"Now then." the magos said placing his Smartphone on the table.

The phone was much more angular and bigger then last time he had it. The Magos had obviously modified it to some extent.
Seiko: Oh goodie. How did he James Bondify his cellphone? Oh, and the Tech Priest wouldn't have modified it. That's, what, the fifth instance of tech heresy this priest has committed?
"I have rarely seen digital tech outside the mechanicus M3. It must have been very common back then."
Nora: I make this comment with no evidence to support it.
"You have no idea." Chris smiled.

"I know, anyway I upgraded it so that it can translate any know language to your ear plug
Ert: NO! Even the Imperium can't just do that! If they could, contact with other species would go much more easily. AND THEY DON't CARE ABOUT THAT SO THEY DON'T BOTHER!
and go shift through Vox channels with ease. I also added a head sensor and motion tracker to it, this will allow you to do more for the inquisition then before." he said before placing a gauntlet on the table. "This is so you can hold it in."

"Thank you."
Seiko: And more nice stuff for you, because you're so awesome because you exist and have a small-I mean big penis.
The Magos then placed a bot pistol onto the table with a chainsword and hellgun.
Nora: Does Prick know how to use half of this stuff? I imagine all this war gear would be rather heavy. Heck, the power cell for the hellgun is supposed to be the size and weight of a car battery.
"I know you prefer rifles
Ert: For no reason as they are vastly inferior but whatever.
but laser rifles are the best for any solder unless you are a Space Marine."
Seiko: You consider him the best at everything and you had to point out this painfully basic piece of information to him?
"It's ok, anyway thanks for the equipment." Chris said before taking what he could and heading to the lift. "I'll come back for the rest."
Nora: Oh why stop there? Why not go all out and have a gold plated athletic cup for Prick. This story isn't exactly subtle in the message being "I'm awesome and I totally have a big dick," signed EP.
OOOOO

Chris and Selena where in the Assembly main chamber.
Ert: Where is that in relationship to everything else? FUCK YOU!
There where at least thirty people from the different houses sitting at the sides while the leader of the assembly was sitting at a desk before the two. The Inquisitor was wearing her body-glove with armour while Chris was in his hoodie and armour.
Nora: You just mean hoodie, because a hoodie is not armor, no matter what bullshit EP spouts at us
Both of them had to relinquish their weapons before entering the Assembly chamber.
Seiko: Oh, they're not allowed to have their weapons after Selena fired hers in the middle of the last meeting and Prick arrested private citizens? I'll be damned, people are acting logically.
The place was deathly silent as all eyes where at them, but mostly at Chris as he orchestrated the raid and arrest.
Ert: So what shall it be? The racks? The Iron Maiden? Oh I know! The Iron Bull! Seal him inside an iron bull and light a fire underneath
"This assembly is called to order, Inquisitor Selena, I understand that one of your subordinates acted on their own to arrest two nobles. Is this true?" the man at the head asked.
Nora: Now if this was realistic, Selena would say "Yes, and I'm part of the Inquisition so shut up." But EP doesn't really know how the Inquisition, or anything in 40k, works. Granted I think an investigation would be called within the Inquisition after Selena let her brain damaged boy toy weird authority, but now I'm asking for reason.
"Yes it is true." Selena said in a monotone voice. "However the act was justified, we have found evidence to have them in our ships dungeon, we will question them."
Seiko: Is there any reason you didn't share this before? Oh right, because EP needs to always have his protagonists be persecuted by one dimensional villains.
There was a bit of discussion between the nobles for a few moments before one of them whispered something into the man's ear.

"Ok… I suppose it would be too much to ask if we ask for the person who arrested them in the first place. But the people are restless at the moment an removing the person who did the deed must be removed from the city until they calm down."
Ert: Where's the DRD?
Nora: Oh they aren't having jack shit to do with this story. Hell, they're got tactical missiles locked onto it and are posed to shoot the second it makes any sudden moves.
"I am in agreement, but since the nobles in question have been found with Chaos related items I must demand that the militia that they own be under the of the one who did the raid. The reason is because weather they are innocent or not they are not allowed to have any power. As per Imperial law." she said.
Nora: *Sigh* What the fuck is that trying to say? EP does speak English right?
The assembly looked at each other with knowing eyes. The family that Chris had arrested where primarily a military family, as such they had a reputation for all their children being commanders. But this Chaos corruption charge and arrest meant that they cannot have such a standing again even if they where cleared of corruption.
Nora: Well that's one thing that I can honestly see the Imperium doing. Granted it'd probably be less an official law and more because they're reputation would've been dragged through the mud. And Prick doesn't seem concerned that he might have possibly gotten an innocent person to have lost their position because of his dim wittedness
They began to chatter with heads nodding in agreement. Someone then whispered again something into the man's ear.

"Very well the Uniti house militia will be under the control of the person who orchestrated the raid." he said making both Chris and Selena smile.
Ert:…EP. Question. Are you ever going to do something in this story other than giving your self insert more stuff? Because if you love yourself that much, just masturbate to a picture of yourself. No one else cares. You'll notice no one has left a review on this story since JANUARY! A third of a year! Probably because you keep banning everyone who points out what a steaming pile of shit your stories are!
OOOOO

Chris looked over the militia standing in front of him. They where dressed in Cadian style armour which was pretty common across the Guard.
Nora: Oh good for you, you got something right finally. How long until you fuck it up again?
The first thing he noted was the colour, since he was unofficially part of the inquisition then they would need a colour change to whatever he would like them to ware. Looking down at the list he read slowly.
Ert: Oh great. He gets command of a military unit, and the first thing he does is think about how he's going to play dress up with them. Can Chaos please invade and slaughter everyone on the planet?
There was at least 150 members of the militia, 4 man command squad with a medic, Standard barer, Vox caster and weapons specialist. 12 Leman russ crew 6 chimera crew, 6 sentinel pilots, 16 snipers, 20 veterans, 6 heavy weapon teams and 74 standard soldiers. The vehicle list was 6 sentinels, chimera's and 2 Leman russ with 3 heavy bolters and 3 lascannons. Chris chucked to himself, this was more or less around a 2500 pt infantry based army. Looking out to them all he remembered his time in the Army cadets and stood to attention.
Nora: No. You were not in the Army cadets. You know how I know that? Because in the UK Army cadets train with general purpose rifles, and you did not mention anything about that when you were talking about your experience with shooting. You were talking about how you shot an airsoft gun and how your dad owned illegal weaponry.
Ert: And he's viewing it like the tabletop game. Goodie. First of all, this is not a militia. Militia, even in 40k, tend to not have tanks. If they have tanks that they regularly maintain and field, they're a freaking army. Second of all, EP has no experience leading armies, but I just know he's going to count his table top experience. It'll be awkward when he asks Chaos to stop charging him, so he can measure the distance between them and roll his dice.
"COMPANY ATTENTION!" he called out and there was a sound of boots thumping on the ground. "As you all know you are under my Command now. And there will be changes
Seiko: Like everyone wearing his color to make his dick hard. Nothing of substance of course.
but for now we are going up north to the Frost-claw fortress to hod the area against the rebels.
Nora: Will with have to hod the area long sir?
https://en.wiktionary.org/wiki/hod
Nora: And how will we hod when none of us have horses?
You will no longer be a guardian force but an attacking force or whatever I decide,
Seiko: Forcing soldiers into unfamiliar territory. Goodie.
you will do what I command or you will be executed.
Ert: Hey EP, you familiar with a rule for certain soldiers? It's for the Catachans. They hate being commanded. If you have a Commissar at the beginning of a battle, you have to roll to see if the Catachans murdered him. I think we might have to do that with you, considering you're a twenty-two year old little shit who thinks he can command a small army because your girlfriend is an Inquisitor.
Follow my orders and we will have no problems, question them an I will thing about your replacements. What we will do is for the betterment of this world and your families! And together we will crush this rebellion!"
Nora: Now all female soldiers should be wearing bikinis!
"SIR!" the militia called out with a salute as a bang sounded causing everyone to look in the air as burning objects came down through orbit.
Ert: And no one noticed this why? Oh right, everyone has to be dumber than Prick, so everyone has -50 IQ points.
The City was in Chaos
Seiko: Why are both of those proper nouns? The city isn't called City and Chaos isn't here.
as the burning objects that appeared earlier that day was from a damaged Tau ship.
Ert: I take it back. Everyone has -100 IQ points.
What was left of the ship slammed into the Balkal forest, which was nearby the city. Survivors where already getting geared up for war but their numbers where unknown. While the local Guard
Seiko: Another thing EP doesn't understand about 40k. The Imperial Guard is a mobile army. They don't stay in one place for very long unless they're fighting a prolonged war. In a relatively peaceful area, they would've been moved on to an area where they're more needed. PDFs are for defensive positions.
where already evacuating the Capitol in case the Xenos move up to the city. While the Inquisitor was trying to clam the Assembly down, her Commander Hazer, Force Commander Victorn and Chris had sent their scouts to analyse the situation.
Nora: Ah right, I remember Hazer and Victorn. They had a deep discussion on whether tanks or infantry were better. An infantile discussion as it's apples to oranges and it shows EP doesn't know how military operations work.
To lessen the chance for the Tau detecting them each one sent one squad of five each in different directions

Capitan Dalvrann of the Ultramarines came in from the west with his sniper team.
Ert: Where the hell did they come from? I guess establishing things got in the way of EP writing about the size of his penis and more tits with legs.
He and the other two groups had communications with each other in order to communicate what they can see.
Nora: Man, the DRD would be having overtime if they were to go anywhere near this thing. It's practically radioactive.
The Capitan moved up slowly with his team making sure they move slowly and calmly in order not to be detected by the Tau.
Ert: *Snort* I'm sorry, they're trying to be stealthy and there's a nine foot tall multi-ton giant with them. Not exactly stealthy. Fun fact. When playing as a Space Marine in a 40k tabletop game, they all gain -20 to stealth rolls. (Well unless they're Raven Guard, who train in stealth tactics heavily. But this guy ain't Raven Guard)
Back at the capitol the three where looking over a holotable at the Administratum which they where using as a makeshift HQ. The the scout teams where already moving ad they would get updated on the situation.
Seiko: If we were doing shots for spelling mistakes then we'd all be dead. EP's spelling is even worse than Ert's. And his lack of proofreading is pretty bad.
Ert: I resent that.
Seiko: Do you deny it?
Ert: No, I just resent it.
"What are the Tau doing here?" Hazer asked.

"Well I used to be a Tau player when I was back home.
Ert: SHUT! THE FUCK! UP! How no one has decided to lock you up and treat like you in general like a crazy person is beyond me! Also if you used the Tau then fuck you. I've never played the original 40k tabletop game, more of a fan of the RPGs, but apparently Tau are one of the cheapest armies to use. They just dig in and blast away. Not very well liked by the community in that regard.
They wouldn't venture out this far unless it was important." Chris said matter of factly "They want to expand yes but they want to take their time at it."
Nora: Where is, "This far out?" Where the hell are we in relationship to everywhere else in the Imperium? Considering the lack of presence from the Imperial Navy, this planet seems fairly isolated and ripe for the taking.
"Interesting." was all Victorn said hearing this before looking at the holotable. "Intel incoming."
Ert: Notice how no one is questioning how Prick knows all this.
The table lit up as images of the different units represented by the force emblems that he saw in Imperial codex's. The crash and the treeline was visible for them to see.

"Their setting up a defensive line next to the crashed ship." Hazer said looking at what was happening.
Nora: They're you twat. Oh boy. I can't wait for this tactically sound move to come to nothing.
"I don't know the sept colours, or emblem but they maybe trying to get ready for an attack and call for backup." Chris said. "Now I don't know about you two but I think we can at least salvage something from all this. But I think it best that we at lest beat them into submission, make them surrender then get whatever we need from them. Expendable troopers and intel."

"I like your thinking Chris." Haser said.
Ert: What should we do?
Nora: We should win!
Ert: BRILLIANT! I mean really. The Imperium of Man. Trying to get the enemy to SURRENDER! That's funny. You're funny EP. If they were human? Maybe. But not if they're xeno, especially when said xeno are gearing up for a fight.
"I don't like it." Victorn said looking down. "But I see the logic in this. We will do your plan."

Chris looked at the Force commander and nodded. "Ok what I might suggest is this, we use the local Guard Valkyries and take out the distress beacon. That will cut off their contact with any of their allies in this system and allow use to take them head on with the knowledge that they have no support to call upon."
Nora: If they haven't contacted reinforcements by now they aren't coming. And if they have contacted reinforcements they're already on the way, so I don't see the point of this. Except to make Prick look clever when EP couldn't come up with anything actually clever. That's just the way it is isn't it. We don't by that Prick is clever because he's EP. And we know EP isn't clever.
"Sounds good to me, move in in full force once we take it out a simple but sounds effective." Haser said with a smile impressed.
Ert: Or, and here's an idea, let me use my super experiment military experience on this. BOMB THE SHIT OUT OF THEM! They've got no AA support and you've clearly got aircraft. Bomb them. Also EP didn't actually give a plan for taking them out, just destroying the beacon. They're giving him credit for things he didn't even do now.
"That's not all. When we attack I thick we should use our forces in a kid of three-way split. Two from these two directions and the third and the final coming from the north. This will lock them and force them to surrender."

"Let's do it." Victorn said.
Seiko: So his plan is so complicated that he can't even point out what the first two directions are. Because EP just doesn't care about the parts that don't talk about how awesome he is.
OOOOO

With the planning out of the way Chris made his way to his command tent
Nora: Tent? They're inside the city still aren't they? Tents are used for field HQs.
that his personal force set up. He walked inside and all eyes turned to him, it was deathly silent. He could tell the command team from their uniforms which he'd knew he have to change to represent their new loyalty.
Seiko: Oh by Gwyn's beard, the hell is it with Prick and uniforms? He's spent more time on what color he wants his men to wear than he has on how he's actually going to lead them. Heck, this comes off as a spoiled child establishing his dominion. Which fits.
Ert: Kind of funny, I remember reading a 40k story where a general was more focused on the uniforms and parade marching formations of his men than his men's combat training. Except the difference is that he was supposed to be an idiot and his unit had an utterly appalling combat record.
The Vox caster looked at him,
Nora:…Why is the radio looking at him?
Seiko: Daemons can posses technology….
he was at least slightly older the he was, the medic had white hair and what could be said as tanned skin. The weapons specialist had his hands on a plasma gun on his lap looking at Chris with hard black eyes as if he had seen too much combat.
Nora: Who? What? EP, you have to establish characters before telling us what they look like. Also combat does not change your eye color.
As the the standard bearer,
Ert: Oh right. They used to serve nobles…
from what he could tell was that she was a she, he couldn't see her face thanks to a chain mail veil covering her face. But her curvaceous body told the story.
Ert: That she is a woman and only exists to make EP's dick hard. And a chain mail veil. EP, does sunlight hurt you? Because I'm curious as to when the last time you saw
Chris looked to each one before speaking. "Ok so you all don't trust me, I get it. Having the nobles who ordered you round arrested can be… awkward
Ert: Another example of logic being fed to the Grox in the basement so that EPrick can get a hard dick. (OH GOD WHY DID IT TAKE ME SO LONG TO COME UP WITH THAT!?)
but lest get passed that for now. We've got a job to do."

"Yeah so I've gathered." said the weapon specialist who stood and walked over to his new commander.
Nora: "New commander." I really don't like how the narration is making EPrick to be in the right here, but then again he can never be wrong or the author goes limp.
The two just stared at each other. The other three didn't know what to do as the two just stared at each other, the old grizzled face of the specialist was hard seeing many battle in his life.

"You're nothing more then a wimp." he said. "I'm outta here."
Nora: That guy is my new favorite character. And once again, he's supposed to be a one dimensional asshole. And I'm agreeing with him.
As he took one step Chris spoke up. "Coward."
Seiko: EPrick then woke up twelve hours later in a dumpster with half of his teeth missing.
The man slowly turned and looked at him. "Take that back."

Chris turned and looked at the man. "No."

Gritting his teeth the man then grabbed him by the collar and looked at him. "Take. It. Back." he demanded once again.

"Not unless you work for me."
Ert: You really don't know how provoking people works EPrick. Most people don't mindlessly work for you because you insulted them.
"I'll never work for a punk like you."

"Then I won't take it back."
Nora: Five year olds hard at work.
Rage ran through the man as he looked at him with his eyes almost bulging. He took out his pistol, a flintlock pistol and pointed it at Chris jaw.
Seiko: EPrick, what was the plan here again? You wanted to get this guy fighting for you. Now he's got a gun to your face.
Ert: A FUCKING FLINTLOCK!? This is supposed to be an advanced planet where Space Marines are recruited from, WHY IS THIS COMBAT VETERAN USING A FLINTLOCK!? This isn't some backwards feral planet! And if it's supposed to be a Belasco dueling pistol, AKA a dueling laser pistol with pretty damn good range and stopping power, BUT IT'S STILL A ONE SHOT WEAPON! EPrick, this might shatter your world view…but we live in the 21st century.
"What are you going to do with that? Kill me?" he asked almost mockingly. "Kill me and you kill your family." this made the specialist even angrier
Nora: Bang up commanding there EPrick. Infuriate the guy aiming a gun at you. That never goes wrong.
but then a loud click sounded making him look to the side.

A shotgun was pointed directly at his head his eyes widened as he looked down the barrel of the gun. "Drop it." a female voice ordered.
Nora: You know, the guy was right earlier. He said Eprick was a coward and now he's hiding behind other people.  But this will never be acknowledged.
Chris smiled as he could see Kimsa from the corner of his eye. "I said drop it or your going to end up without a head."

Taking in a deep breath the specialist dropped the weapon and just looked at the cultural specialist with a hard look. "He called me a coward."
Nora: That and the whole threatening to kill his family thing. You can't pretend that didn't happen.
"From where I'm standing, I don't blame him." she said.
Ert: Yeah. Directly confronting the guy who called him a coward. He's such a coward. EPrick, words mean things.
The other three of the command team just looked onwards in a mix of shock and fear. They didn't want to get involved as while they had no love for the specialist
Seiko: No one who disagrees with EPrick is allowed to have friends.
as well but they knew the rules the Imperium had.

"Good now then, what's your name?" Chris asked.

"It's Dalvan." he muttered.
Ert: Note to self, write a selfless hero of the people and have his name be Dalvan.
"Ok then Dalvan do you know the penalty for leaving before a battle and pulling a gun on your commanding officer?"

"No."

"The plenty is death,"
Nora: Oh, well if I'm going to die anyway I might as well kill you I think.
Seiko: The plenty is death. Nice dramatic moment ruiner EPrick.
he said not making any kind of impression on the soldier. He was clearly ready to die if needed. "But that's not all, all the equipment you are using, will have to be paid by your family.
Ert: No it doesn't. Shut the fuck up EPrick. Every time you try and sound clever you make an ass out of yourself.
And given that the advantage people earn is not enough to buy everything thing that you haven then there's only one place they would go."
Ert: What the FUCK is he trying to say? Does anyone speak sexist, barely literate moron?
"The street's." he said in fear before looking into Chris' eyes. "You cannot let that happen."
Seiko: Our Hero. He threatens to rape someone, arrests people without proper evidence and threatens a man's family to make him fall in line.
Nora: Most 40k stories would have a character like him be a villain within the Imperium itself. A corrupt noble overriding the actions of the hero for selfish reasons.
Chris turned away from the specialist and looked at the other's of the command team. "There is a way around it." he face the specialist again. "It involves you following my orders and for your eldest daughter to be my servant for the rest of her life."
Ert: No. NO. NO! FUCKING NO! Dalvan shoot this motherfucker in the face RIGHT NOW! He wants your daughter as a sex slave. Sacrifice yourself and BLOW THIS PRICK'S FUCKING BRAINS OUT!
The man's eyes widened in shock and horror. But he closed them and nodded.
Nora: HA! SUCKER! I ONLY HAVE BOYS!
"Good." Chris said as Kimsa lowered her shotgun, he then turned to one of the guards. "Go to his house and arrest his eldest daughter. If I die execute her." the soldier nodded and left.
Ert: WHAT THE FUCK IS WRONG WITH THIS STORY!
Dalvan wanted to say something but he kept his mouth shut.
Seiko: Plot his murder in silence…plot it in silence.
"Ok people let's move out."
The other three just stood an saluted.
Ert: If you assholes don't help Dalvan murder EPrick you all deserve to get eaten by Genestealers. I need to stop there because I'm honestly getting really fucking mad at this story. But I just want to say something. I just want to say EPrick…thank you.
Nora: Wat?
Ert: You see, I write a 40k story where a snarky soldier talks about the stupid deaths that he's seen throughout the Imperium of man. Stupid people who do stupid stuff to get themselves killed. *Laughs* EPrick. You've given me a GOLD MINE of material to work with. Your idiotic self insert should gotten killed a dozen times over by his own bottomless stupidity. And now, within the realm of my work, I plan to describe exactly how he would have done so. So thank you EPrick. Thank you for showing me the finer ways of writing characters who are hopeless morons. Now then, excuse me. I need to go wrote horrible people doing the same thing your character did getting their karma and dying horribly. I'm just upset I already included an entry about not sexualizing the Sisters of Battle. So I'll make up for that with this.
---