1380: Harry is Hari? – Chapter 3
Posted: April 8, 2016
Filed under: Harry is Hari?, Harry is Hari?, Harry Potter, Sekai-Ichi Hatsukoi
| Tags: Anime, Book, Crossover, Ghostcat, Harry Potter, Manga, Movie, Sekai-Ichi Hatsukoi
29 Comments
Title: Harry is Hari?
Author: Death Magnetic Cyanide
Media: Movie/Anime/Manga
Topic: Sekai-Ichi Hatsukoi/Harry Potter
Genre: none given
URL: Chapter 3
Critiqued by Ghostcat
Welcome back, Patrons!
I'm here with the second-to-last chapter of this frustrating fic that increasingly makes me want to inflict bodily harm on someone with one of my very heavy kanji dictionaries. In the last chapter, Onodera and Takano took Harry shopping (buying mostly shirts and little else), Onodera painted Harry's room while Takano vanished and Harry fell asleep on the couch, and then Onodera enrolled Harry (now called Hari) in a local school via a telephone call.
For such a short chapter, quite a lot happened – pity almost none of it was described in any meaningful detail.
Now, on to the fic!
Onodera POV
:headdesk:
:headdesk:
:headdesk:
This is the third frickin' chapter with the same damn POV Tag! What the frickin' hell, author? There's no frickin' change of perspective, so there's no need for these stupid, pointless, pain-in-my-ass tags!
"Now, Hari, remember that your name is Hari Onodera now okay?"
Is that really so hard to remember? Other than the change in spelling, the name isn't all that different. In fact, using katakana "Harry" is written as ハリー  or Harī. The only difference between his old name and his new one is that the final vowel sound isn't held as long so it would be ハリ instead ofハリー.
"Yes sir."

"Don't call me sir, call me Ritsu or something."
What has he been calling you before now? "Hey, you?"
"…can I call you Ritsu-chichi?" I stared in open mouthed shock at the young boy. He had only been with me for about two days and he wanted to call me his father.
:headdesk:
First off – Harry speaks no Japanese. (I know I've been harping on it, but the narration clearly points it out in the very first chapter and then blatantly ignores this glaringly obvious handicap. It seriously pisses me off.) How does he know what the word for "father" is? Secondly, that is not how you use that word!
:rolls out Lyle's chalkboard:
Language lesson time!
In Japanese there are generic nouns used when speaking of your family members to someone who isn't related to you or when referring to someone else's relatives, and then there are separate words used when speaking to relatives or to that person themselves. (Because simple grammatical rules are for chumps.) There are also less-formal versions of these familial terms, with several variants of differing degrees of formality. If I was talking about my father to a friend, or asking about their father, I would use 父 [chichi], but when speaking to my father directly or discussing him with my sister I would use more formal language (called 尊敬語 [sonkeigo]) such as お父さん or 父さん[otōsan or tōsan]. It is really quite rude to use any informal language at all with your parents or elder relatives, as it is considered very disrespectful.
And yes – that is the same kanji character used in both words. The pronunciation is different because the words are different even though they have a similar meaning. (And, yes – it does get confusing.)
"Yes that would be fine." I reached down and ruffled his hair with my hand.
No, that would be very disrespectful of Onodera's dead brother-in-law. If Harry/Hari has to call him something in Japanese then he should call him 叔父さん [ojisan] because that's what he is – his uncle.
'He's starting to open up. Does love really effect people this much?'
Or he wasn't as traumatized as the author tried to make it sound in the first chapters. Kids are pretty resilient.
We walked into the school and into the main office. The woman at the desk looked up at me.
The way this is worded makes it look as if the front doors of the school open directly into the main office. That would mean every student has to pass through when they enter and leave the school. The bottleneck must be incredible.
"You must be Ritsu Onodera. Please follow me." We walked back into the office behind the desk.

"Hello, I'm Alexander Toshiba, please sit down." We did as told and sat on the two chairs.
Who is this faceless voice and why does it have a clearly English first name? Is this the same faceless voice from the phone call, or someone else?
"So you want to enroll your son. It shouldn't be a problem. Just sign these papers and we'll get him set up." I nodded and looked over the papers. It asked for information on who to contact in an emergency and other such information. I filled it out as best I could and signed it at the bottom.
Wait, what? That can't be everything.
"Okay, follow me and we'll take you to your class room. Because it's so early in the year it should be easy to catch up okay?" Hari nodded his head to the man.
:spit-take:
ARE YOU FUCKING KIDDING ME?!?
That was it? Onodera had to sign a few papers and give his emergency contact information? It takes more work than that to adopt a cat from the shelter! The faceless administrator never asked anything about Harry/Hari! They didn't even talk to the boy. And since Harry/Hari DOES NOT SPEAK THE LANGUAGE, it would be nearly impossible for him to "catch up" to anyone.
"You teacher will be Lynn Shibachi.
Someone else with a clearly English name. It's not unheard of, but from what I can tell it is pretty rare for children to be given non-Japanese names.
Her room is right here.
In the main office? That's going to get a little crowded, isn't it?
School starts at eight, lunch is at twelve, it's an open lunch if you want to eat with him, and school ends at four. There is half an hour for them to eat and half an hour for outdoor activities." He explained as we stopped in front of a door.
I don't know much about elementary school schedules – but I can do research! According to this, elementary schools start at eight-thirty and there are four classes (lasting forty to forty-five minutes) with five to ten minutes in between, and perhaps a twenty minute recess. During the fifty-minute lunch students eat at their desks, so there wouldn't be anywhere for Onodera to sit if he decided to visit with Harry/Hari. Lower elementary students like Harry/Hari only have half-days, so he would go back to Onodera's empty apartment and sit quietly outside the door (since he doesn't have a key) until Onodera gets home from work sometime in the evening.
This doesn't sound like a very good arrangement.
He knocked and a woman with long dark hair and bright red eyes answered.
Why the sudden anime eyes? Sekai-Ichi Hatsukoi doesn't really have those, the "wildest" eye color I can recall is a subdued shade of greyish-lavender.
"Yes?"

"Lynn, this is Hari Onodera the new student." He said pointing down to Hari.
Was it really necessary to point out which of the two was the elementary school student?
"He's adorable! Okay, come on in. You must be his father right?"

"Yes. My name is Ritsu Onodera." I shook her hand and she flashed me a smile.

"It's nice to meet you. Don't worry about Hari. I'll watch out for him."
:headdesk:
There's a few different ways that introductions are handled in Japanese, depending on the level of formality required – but they all follow a certain formula. This isn't it.
I nodded I quickly kneed down and looked into his eyes.

"Now be good, and make me proud today okay? I'll pick you up after school."
No, you won't; he's out of school in the afternoon and you'll probably have to work late to make up for taking a full day off yesterday.
"Okay." I smiled and gave him a hug. After I let him go I gave his hand to the teacher.
Does Harry/Hari have a detachable hand?
I walked out and towards work. I got there and sat down getting right to work so that I could be done in time to get Hari and still do a good job at working. I took a small break at noon to eat a small lunch before going back to work.
:yawn: Much interest. So exciting.
"Geez Ritsu! You've worked really hard today! Got a special date or something?" Kisa asked me. I shook my head.
Yeah, he worked for what? One sentence? Maybe one and a half?
"Nah, I gotta pick someone up though."

"Oooh~ Who?" He asked leaning in close to my face.
Onodera does make it sound a little like a date, which is really quite creepy.
"…My nephew, I'm going to adopt him as my son soon, but I have to get him from school." I said.

"I thought you were an only child?"

"My older sister was kidnapped." I said softly going back to my work. I finished up the one I was working on and looked at the time.
The expositional conversations regarding how and why Onodera has Harry/Hari get shorter every time – this particular conversation manages to explain without actually explaining anything, which is quite a feat. Onodera just says his sister was kidnapped, not that she was taken at a young age or that she and her husband are now dead and that is the reason Harry/Hari lives with him now.
"GAH! It's already that late! I'm going to be late! I've got to go!" I quickly grabbed all of my stuff and ran out of the building taking the stairs because the elevator was too slow.
There are very few instances where taking the stairs would be faster than taking a elevator.
I ran out the front doors and all the way to the school. I got there and it was already five. I walked up to the doors and walked in. Hari sat in the office but stood when he saw me.
:loads key lime pies into Pie Launcher:
Wait for it…
"I'm * huff * sorry I'm *huff * late. I got *huff * distracted." He just nodded.
HEADS UP, HERR!
:WHUMP!:
According to the narration, school ended at four – he's at least an hour late. Didn't the school call him, or did he call the school to let them know? This is terrible parenting and terrible teaching.
"It's okay Ritsu-chichi. Shibachi-sensi said I could go to the library."

"Did you get any books?" He nodded and held up a book. It was one by Akihiko. I smiled.

"He's a good author." I said.

"I've read the first chapter and I like it." We were walking down the street and towards our apartment when Takano came up to us.
:headdesk:
"Akihiko" would be the given name of Usami Akihiko, a famous writer published by the same company that publishes the magazine Onodera works for.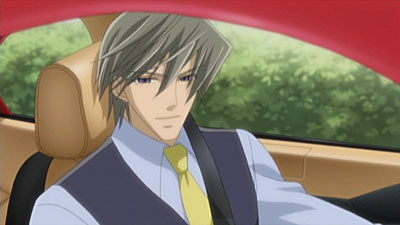 He's a character in Junjou Romantica, another yaoi manga/anime written by the same author. Usami-san writes "serious" fiction and has won prestigious literary awards for his work, and also writes BL (boy's love, AKA yaoi) novels under a pseudonym. Harry/Hari is five, he shouldn't be reading adult fiction or BL novels at his age.
Of course since the author's family name isn't given, just his first name, this could be another author who just happens to share the same given name as Usami-san. I kind of doubt it, though.
"Hello Takano-senpai." Hari said. Takano seemed taken aback but smiled.
:headdesk:
He is not Harry/Hari's senpai! Takano is Onodera's senpai, but Harry/Hari shouldn't be calling him that.
"Hello Hari-chan. What are you doing?" Hari held up his book for Takano to look at. He smiled.

"That is a good author. Perhapes I can get some of his other books for you." Hari seemed shocked.
I was shocked, too. Those books would be well above his level, even if they were in English. (Which they are not.)
"A gift?" Takano nodded his head. Hari did something that shocked us both and hugged the man around his knees.

"What was that for?"

"…I've never gotten a gift before." He said as I was unlocking my door.
Didn't Onodera give him a whole bunch of stuff the day before?
'Its a wonder he isn't jaded.'
:sighs:
:opens dictionary:
Jaded – adj; tired, bored, or lacking enthusiasm, typically after having had too much of something.
:smacks author with dictionary:
I don't care what language they are in, stop using words you don't know!
le skip to six years in the future, Hari = 11, Takano = 37, Ritsu = 30 –
:eye-twitch:
What. The. Hell. Is. That?
Hari and I sat at our table eating dinner while he told me about every thing he had done that day while I was at work.
Something tells me that the audience isn't going to get to hear about any of whatever it is that Harry/Hari does now.
"Than I was able to sneak into the teachers room to give her a secret gift. She came out of there later with a really big smile on her face too!" He explained.
:blinks:
It would be so easy to misinterpret those statements.
"Good job. Your a very sneaky kid."
Most parents wouldn't praise their children for breaking the rules and trespassing.
"Yea, I know. You tell me all the time. Just like how my dad was according to uncle Remus." Kingsly had contacted the werewolf about two years ago and he had moved into Japan who had much easier laws on magical creatures like him.
Given the casual xenophobia that is present in Japanese society, I really doubt that they would welcome werewolves with open arms.
He often visited Hari and I always telling stories about how their gang including Haris' dad, his godfather, and another boy would pull pranks all over the school.
That kind of makes it sound like the Marauders were a big group instead of just four boys.
He also informed us of what Dumbledor had truly wanted and how he tricked and controlled people.
How thrilling; yet more Dumbledore bashing.
Hari knew better than to trust the man now and really only trusted my self, Takano and Remus.
I notice Kingsley isn't on the short list. If you can't trust him, how can you believe that what he says about Dumbledore is correct?
He also trusted a few friends he made at school and his teachers.
Sounds like Harry/Hari is a pretty smart boy, but no different from many. By eleven, most kids don't blindly trust everyone.
He had turned out to be a very smart and talented child. During one visit Remus had explained that Hari had a powerful magical core and that he was going to create a way for Hari to control it with a trinket rather than the bonds that Dumbledor had forced on it.
Wait, what? Why does Harry/Hari sound like some sort of magical battery?
The trinket turned out to be a family ring that all Hari had to do was slip of and his magical core would be at full power while if he had it on it would be about half power.
… That's not how magic works in the HP universe. Not even a little bit. And the other source material doesn't have any magic in it at all.
As Hari continued on an owl hit the window. Walking over I opened it and let the bird in. Quickly taking off the letter around it's foot I read it.
Is this a normal thing in their house? Even if it was, most owls are large birds; one hitting a window would startle anyone in the room.
"What is it Chichi?"

"It's your Hogwarts letter. Only they still think your name is Harry Potter…"

"But… I've been Hari Onodera for almost six years now!"
Have you? Onodera gave that name to the elementary school and there were a few mentions that he was going to eventually adopt the boy, but all of that was lost in the [eye-twitch] time-skip.
" I know…Hari, do you want to go? It's up to you. If you don't we could always see if a one in Japan would teach you."
If there's one in Japan, then why didn't they get a letter from that school as well?
"…I want to go Chichi. It's the place my parents went to learn and were uncle Remus went.
It would seem Remus didn't do a lot of learning at school.
I want to see what it's like. Besides, I already know not to trust anything Dumble dork says to me."
Subtle, author. We get it, you don't like Dumbledore. Give it a rest.
"Okay. Well, looks like we are heading to London to get your supplies than." I said. He smiled.
Why do they have to go to London? If there are magical folk in Japan, there should be a corresponding location to Diagon Alley somewhere in Tokyo.
a few days later in London –
:eye-twitch:
Damn, but this is getting rushed.
Hari and I walked around the magical ally, Diagon Ally behind the Leaky Cauldron where we were staying until he had to leave on the train.
Are they sleeping in the alley behind the Leaky Cauldron? Because that's what it looks like to me.
Hari had already read through most of his books and played with a snowy owl he had named Hedwig.
Okay, no. Hedwig was a birthday gift from Hagrid to Harry. Even if she was still in the pet shop after Harry's birthday, Hagrid was the one who chose her – not Harry. It is unlikely that Harry/Hari would chose the same owl Hagrid picked since they have very different tastes in pets.
We walked into the magical book store again so that he could browse and look for more books to read.
Harry/Hari sounds more like Hermione.
While we were in there we bumped into a man and his son whose blonde hair was nearly platinum.
Gee, I wonder who they could be?
"Sorry! I was reading this book about magical creatures. It's very interesting you see."
If it's that bitey one Hagrid uses to teach his class, then it's very "interesting" indeed.
"You have a strange accent. Where are you from? What's your name?" The boy asked.
The formatting tells me that Harry/Hari was really speaking Japanese in the previous chapter – which just makes me even more mad.
"I spent five years Surrey but for the last six I've grown up with Ritsu-chichi in Japan. My name is Hari Onodera." The boy blinked as so did his father.
Not only is that awkward, it makes no sense. Why would they be blinking in unison? The name "Hari Onodera" doesn't have the same cachet as "Harry Potter"; he's not The Boy Who Lived, just some guy with a foreign name.
"Hari-chan! Who are your friends?" I asked.

"…"
They're not friends, it's some boy that Harry/Hari apparently bumped into while distracted. They've barely exchanged a dozen words.
"Hello, I am Onodera Ritsu… well here I believe it's Ritsu Onodera. What are your names?"
I'm kind of on the fence about this. It's very common for Asian names to be "westernized" in this fashion – in fact, the author has been consistently using the "given name first" format up until this point which makes this one instance look very odd – so Onodera would likely do something like this when introducing himself, but his hesitancy is very strange. Onodera did spend several years studying in England, so he would know how to introduce himself in English.
And if you're thinking to yourself "Wait a second! If Onodera is fluent in English, why were the speaking almost exclusively in Japanese in the previous chapters?" I really don't know the answer to that. It would have at least partially resolved the whole "Harry/Hari doesn't speak the language" issue.
"I am Lucios Malfoy, this is my son Draco Malfoy. Why have you come here for his magical education?"
Here being this nameless bookshop in Diagon Alley? I don't know why anyone would go there for a magical education when there's a perfectly good school only a train ride away somewhere in Scotland.
"Well, since he was born here he was put on the Hogwarts list and since his parents went there he wants to go there."
I'm not really clear on how the enrollment process for Hogwarts works. Hagrid does say that Harry's name has been down since he was born, but then how do Muggle-borns get their names on this "list"? When Lily received her letter, it came as a surprise to the family. Presumably the Ministry of Magic keeps track of those exhibiting magical abilities within their jurisdiction and sees to it that they are sent to a proper school so that they don't have a sneezing fit and blow up Town Hall or something. If that's the case, Harry/Hari should have gotten two letters, one from Hogwarts and one from the school nearest to him.
(Any thoughts, AR?)
"I thought you were his dad." Draco said. I smiled down at him.

"Well, I am, but I took custody from his relatives. So I am his dad." They seemed to take a second to understand the sentence.
… I think I need a minute, too. I am a bit surprised that he didn't just say "my sister was kidnapped" and leave it at that, but what the hell is that supposed to mean? He couldn't tell them that he's Harry/Hari's uncle and the boy's parents are gone? They've had five years of introductions to streamline this process, but it just gets less coherent each time they meet someone new.
"Chichi! Your gonna hurt there heads!"
I know I'm picking up an ache in the cortex.
"Sorry Hari-chan. It's something I picked up from the authors and printers."
I don't even … Wha?
"And Takano-senpai!" I rolled my eyes.

"Sure, And Takano-senpai." He smiled up at me and went back to his book.
Don't you dump that mangled corpse of a thought at Takano's feet!
"So what house do you want to be in?"

"I don't know. Either Gryffondor or Slytherin. Because I always protect my friends but I've been told I'm sneaky and cunning." He tossed a look my way.
Since this is a Harry/Draco fic, and because only one of those Houses is even spelled correctly, I think I know which House Harry/Hari will end up in.
"Your the one you messes with the teachers not me…Oi!
It would be really strange if Onodera "messed" with his adoptive son's teachers. That's just weird. And "Oi!" is British slang; "Oya!" is the Japanese version.
I've got to tell your school that your going to a boarding school this year…
I get the impression that Hogwarts replaces middle school and high school; in the first book/movie, Harry and Dudley are both getting ready to transition into higher level schools when Harry gets his letter, so Harry/Hari should be leaving his elementary school and going up to the next tier in a different school. There is something called an "elevator school" in Japan: a group of associated schools where the students automatically move up to the next associated school, so attending Elementary School A would automatically enroll the student in Middle School A and then High School A. There's no indication that this is the case with Harry/Hari, however, since the author only spent about twelve seconds on his pre-Hogwarts schooling.
Also – they are in London and have been for some length of time, and Harry/Hari is presumably already enrolled in Hogwarts, but Onodera is just now thinking about alerting Harry/Hari's school about the change?
I've got to call Takano and tell him I'll be gone next week…which is hell week. He is going to kill me." I quickly pulled out my cell phone and called Takano.
Again – they are in London and have been for a while. Onodera would have had to request the time off in advance before even leaving on the trip. And when grown-ups go on vacation or take a trip, they must have clearly defined times when they will be leaving and returning – especially if they have to make travel arrangements and book hotel rooms – because you can't just go back to work whenever you feel like it.
"Hai."
Why the gratuitous Japanese? The last time someone answered the phone, they used "hello", not "hai".
"Takano…I won't be able to come to work next week because I have to make sure Hari-chan makes it to his train."
Why is it going to take that long? How early did Onodera and Harry/Hari arrive in London? They have all of the shopping done for school, so they just have to chill for a week until the train arrives? This seems like poor planning on Onodera's part, or he grossly overestimated how long it would take to shop.
And there's an eight hour difference between Britain and Japan – I hope Takano wasn't asleep.
"WHAT? YOUR GOING TO LEAVE THE OFFICE FOR A WEEK? AND HELL WEEK! YOU ARE GOING TO GET YOUR ASS BACK HERE AS SOON AS HE IS ON THAT TRAIN AND SPEND THE WHOLE TIME WORKING ON YOUR STORIES AND IF THOSE MANUSCRIPTS ARN'T FINISHED I WILL HUNT YOU DOWN AND FEED YOU TO THE PRINTERS! Tell Hari-chan good luck." I closed the phone after he finished and rubbed my ear.
And that's an excellent example of why you don't call your boss and tell him you're not going to come to work for a week. Onodera's lucky Takano didn't fire his ass. (Not literally. I don't think Takano's into that kind of kink.)
"…I think he is mad Chichi." I nodded and put the phone back into my pocket. The Malfoys stared at me.
Probably because it's rude to make a phone call, even in another language, while you're in the middle of a conversation.
"Sorry… that was my boss he's not to happy that I had to take this week off…"
I think you mean "an extra week off."
"Takano-senpai shouldn't yell that loud."
Still not your senpai.
"Yea, well he shouldn't smoke those cancer sticks but he does…did you find a book?" He held the one in his hands up to me.
I'm not fluent enough to switch languages mid-sentence, but given how very different the grammatical structures of the two languages are I don't think it's really possible.
"This, it has a lot of information on the magical creatures and what they can do or what their blood and hair and such can do. I'll see you later Draco-senpai!" Hari waved to his friend as we walked towards he check out. After paying for the book we decided to go and get something to eat at one of the cafes.
Draco would also not be Harry/Hari's senpai, because that's not how it works.
Time for another language lesson!
The kouhai/senpai relationship doesn't really have a western equivalent; the closest would be something like a mentor and a student or a supervisor and trainee. The older senpai (typically an upperclassman or someone senior in the company) will take the younger kouhai under their wing and show them the ropes, and the kouhai will treat the senpai with a high level of formality and run errands or perform minor tasks for them. It's not always a one-on-one relationship, a senpai may have several kouhai and vice-versa, and there are times when a kouhai might be someone else's senpai. (I don't really understand all the intricacies of Japanese social interactions, but it does seem to have many subtle nuances and ridiculous levels of complexity at times.) Takano cannot be Harry/Hari's senpai because they cannot have that type of relationship given their differences in age and social status, and Draco is going to be in the same year as Harry/Hari so they will be equals.
"So, are you ready for this Hari-chan?"
"This" being school or having a meal in a cafe?
"Hai. I know that I can do this…I only hope that I'm put into Slytherin or Gryffondor. Because Slytherin is for the sly and cunning and Gryffondor is for the brave and loyal."
That's asking a lot of English cooking. Or are we back to discussing school?
"What about that other one…Raven something or other. That's for the smart kids right?" He nodded.

"That would be okay too. It'd be like the honor class kids at the school."

"Than you'd fit in perfectly." We sat in silence for a while before Hari spoke up again.
Yet another fic with no love for the badass badgers of Hufflepuff.
"Chichi…do you…like Takano-senpai…as in like like him?" I choked on my food for a second.
:extreme spit-take:
Where the hell did that come from?
"It's complicated. You see, Takano-senpai and I did date in high school but then we had a huge misunderstanding and that made me jaded. But since I've been working with Emeradle he has tried to win my heart. I am afraid that I love him."
:headdesk:
Harry/Hari is eleven; is this really a good conversation to be having with him – in public, no less – right now? He probably thinks girls can have babies from kissing too hard.
"Than why don't you tell Takano-senpai that? If he has tried to win you back doesn't that prove he loves you?" I thought about what he had said before messing his hair up.
… I feel like this fic has taken a weird turn.
The author is trying to bring in some of Sekai-Ichi Hatsukoi into the fic, perhaps to counteract the HP portion, but this is very jarring. Having a little boy abruptly begin discussing his uncle's dating life, possibly as an awkward way to establish Takano and Onodera's relationship, is very odd.
"When did you become so smart…I'll tell him, but you have to be there with me for moral support. Okay?"
Looks like Onodera's dodged a bullet until Christmas, maybe longer if he can convince Harry/Hari to stay at school over the holiday.
"Hai!" He smiled and went back to eating his food.
I'm going to guess that the author has learned exactly one word of Japanese.
'I can't believe I love him again. Thank you for helping me Hari.'
Harry/Hari's advice boils down to "express your feelings!," something the Sekai-Ichi Hatsukoi audience constantly screams at the page and/or screen since a lot of the drama is manufactured through Onodera's unwillingness to admit that he still loves Takano. I don't think it would ever happen because A. that would mean an end to the series, and B. even in modern times in Japan it is considered "unmanly" for guys to admit that they have feelings.  It happens a lot in anime and manga, but mostly in those written by women for a female audience.
Time for a language/cultural lesson!
The classic "ideal man" in Japanese culture is a nikushoku-kei danshi; literally a "meat-eating man" who is stoic, sexually aggressive, and domineering. The polar opposites are sōshoku-kei danshi, the more passive "grass-eating men", who are sensitive, caring, concerned about their personal appearance, and are the favored prey of nikushoku-kei josei – the "carnivore girls".  There are other variants as well –  roru kyabetsu danshi (cabbage roll men) who appear to be herbivores but are secretly carnivores inside, asupara bēkon-maki danshi (bacon-wrapped asparagus men) who are outwardly carnivores while really being herbivores,  zasshoku-kei danshi (omnivores) for whom anything goes, and zesshoku-kei danshi (fasting men) – what westerners would probably call asexuals. (In most stereotypical seme/uke relationships found in yaoi manga/anime, the seme is almost always nikushoku-kei while the uke is usually a sōshoku-kei since that is considered more "feminine" behaviour.)
END
:eye-twitch:
I'm really starting to agree with Taco; these end of chapter tags are nearly as bad as POV tags.
---