1347: Samurai Jack meets Batman Beyond – Chapters 9 & 10
Posted: March 4, 2016
Filed under: Batman Beyond, Samurai Jack, Samurai Jack meets Batman Beyond, Samurai Jack meets Batman Beyond
| Tags: Adventure, Batman Beyond, Cartoon, Crossover, Ghostcat, Samurai Jack
10 Comments
Title: Samurai Jack meets Batman Beyond
Author: Jigsaw9856
Media: Cartoon
Topic: Samurai Jack/Batman Beyond
Genre: Adventure
URL: Chapter 9
URL: Chapter 10
Critiqued by Syl & Ghostcat
Greetings, Patrons!
I've returned after my unscheduled, and unwanted, break with two more chapters! I've brought Syl along with me because she cannot be trusted when left to her own devices.
"Rude. I get that you're mad, but is the cage really necessary?"
:Ghostie looks up at Syl, who is sitting in a large birdcage dangling from the ceiling:
You hit me over the head, stuffed me in a sack, threw me in a closet, and stole my riff!
"Honestly, I didn't think that would work. I had this whole elaborate plan to keep you away from here; laser grids, magnetic mines in the vents, I really went all out. And you never even tried to get out of the closet! I was so disappointed."
Well … I had my knitting with me, and I'm really close to finishing this cowl I'm making from this super-soft baby alpaca.
"You knit with babies?!? I thought knitting was for spinsters and little pepperpot grannies."
You thought wrong.
So what happened while I was away? I'm not sure, Syl didn't take any notes, so I'll just have to jump on in.
"Hey! I took notes!"
Writing Sephiroth erotica doesn't count as taking notes.
On the morning of one of the days following their arrival in the base Jack and Terry stood on one side of the field that would host the final showdown.
… I'm sorry, what? :looks up at Syl again:  How hard did you hit me?
"No, I see it too."
That has to be one of the vaguest attempts at establishing a scene I've ever seen. One random morning sometime after Terry and Jack arrive at the Secret Desert Base, they decided to stand beside a field where the final showdown will eventually take place?
"Because fields are so easy to find in a desert."
Maybe it's some kind of special field, that's why they know this fight will take place there?
"It would be rude to change venues if they've already sent out the invitations to the guest list."
I think that only applies to weddings.
Behind them their army stood ready for battle. Jack stared intensely at the opposite end of the field and prepared his for when the moment would come when Aku's army would step over the horizon and challenge them.
Hopefully that moment comes soon, or they're going to look like a bunch of idiots for standing out in the sun all day.
"Just bring out a few minstrels and call it a music festival, no one will know the difference."
His hands grasped his sword ever so tightly. Terry stared using his infrared vision.
"Jack shouldn't grasp his sword like that in front of the men, it could send the wrong message. Better to wait until he's alone to do that."
That's not …:sighs: Nevermind. I'm more concerned about Terry rendering himself blind for no reason.
"That's what happens when you grasp you sword too often."
No, the infrared vision! Infrared vision isn't all that useful during the day, due to that giant ball of flaming gas in the sky.
"Crunchy?"
Suddenly his sensors picked up movement. Sure enough in a matter of mere seconds Aku's robots started swarming the overlapping hill. His generals soon followed suit and stood over the opposite end of the field.
"Hold on – he detected movement while the robots were on the other side of this hill? And what the hell is an overlapping hill?"
Maybe Terry has X-ray vision as well. The overlapping hill thing is odd; I'm going to assume that the author is trying to describe the backgrounds in the series as they do at times appear flat with the elements overlapping each other.
Both Terry and Jack knew the time had come.
"To confess their undying love for each other?"
This isn't that kind of fic.
"Damn it all."
"No turning back now", said Terry.
"Who says? You can still bug out back to the Secret Desert Base and bunker down until the robots go away."
That wouldn't be very heroic.
"But it's practical. I'd rather be a living coward than a dead hero."
Jack nodded. He then called for a horse to and got on it.
"They're fighting a robot army from horseback? Jack gonna die."
I think it's just Jack who has the horse, although it does say he called for a horse "to," so it is possible that one other person has a horse.
"Two horses and a bunch of idiots on foot against a robot army. That seems fair."
He rode out in front of their troops and began a speech.
:double groan:
"Friends, I know the time in which I've known most of you is short. I know some of you don't even want to be here.
That would be me.
"I'm in a cage, so I'd have to echo that sentiment."
But believe me when I say that this being is of pure evil and must be destroyed. And while only I can destroy him, I cannot do it without all of you. Will you stand by me this day and fight?"
"As well as dying painful, agonizing deaths!?!"
Now, now; I'm sure some of them will die quickly when the robots start to explode.
"How do you know they'll explode?"
Most of Aku's robots are made of explodium.
The troops all raised their weapons to show yeah.
Much enthusiastic.
"So impassioned."
"That was some speech Jack," said Terry."
"It almost moved the cannon fodder to express emotions!"
Almost.
"Thank you for everything you have done Terry."

They then looked towards to face their enemies.
"Are you certain they aren't going to confess their feelings for each other?"
I'm eighty percent sure.
Kratos was in the middle of the battlefield decimating enemy after enemy.
"Who?"
He's the protagonist from the God of War video games, he starts out as a Spartan but it is eventually revealed to be the son of Zeus and Callisto.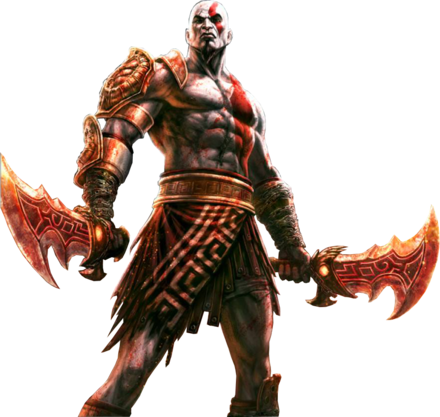 "Not bad, if you like your men meaty and pale. But Kratos is the son of Pallas and Styx, Arcas is the son of Zeus and Callisto."
I don't play, but I doubt the game follows follows Greek mythology all that closely.
"So which side is he fighting on?"
No clue.
Unlike the mythological beasts he was used to fighting back in his home world these beings did not present him with as much of a challenge.
"Is that why he's killing them one-tenth at the time?"
I don't think the author knows what "decimate" means.
When he was done he looked for new opponents. When he saw them he knew something was not right: some of the enemies looked familiar. A few more appeared and he knew they were familiar: they were warriors that he had just bested in combat!
"Clones?"
Since Boba Fett is on Team Evil, I guess that means Kratos is on Jack and Terry's side.
"How can this be? You all just fell to my blades during this battle!"
"Respawn point, bitch!"
You'd think a video game character would consider that possibility. And I'm surprised you haven't killed yourself to make use of the Library's respawn points yet.
"They don't work for me."
Wait, what?
"Allow me to demonstrate."
:Syl produces a knife and plunges it into her chest, directly into her heart:
HOLY SHIT!
"Damn, I forgot how much this hurts."
:very long pause:
Ummm… You're not dying.
"It's rude to point out someone else's faults." :pulls out knife, flicking droplets of blood through the cage bars at Ghostie:
Ugh! :wipes off face:
"Oh but it can be ghost of Sparta," said a cackling voice. Kratos looked around and saw a black figure floating above him. His head looked almost like Aku's.
"Do we know what Aku looks like?"
He's a shapeshifting master of darkness, so – no. No we do not. He hasn't been described in the fic, there's one mention of him stroking his goatee but that was all there was.
"He's a sentient goatee?"
… Sure. Why not?
"You only defeated their essence. When they fall they return to me to be used again and again. Eventually you will succumb to the stress of battle and then they will annihilate you! AHAHAHAHAHAHAHAH!"
This mystery voice certainly twirls a moustache like Aku.
"Damn thing must be spinning faster than the tassels of a one-breasted burlesque dancer."
Very … evocative. I'm assuming this is Demongo from the SJ canon; he's one of Aku's top minions and collects the "essences" of different warriors.
"Ewww."
Not like that. It's kind of like their souls. He can summon the warriors over and over again, no matter how many times they are defeated.
"So he's a living respawn point."
In a way. The warriors are all his slaves, though, and must do as he commands.
"So you use souls is it demon?" A wicked smile came across Kratos's face and he formed a wicked smile.
:alarm makes a single strangled beep:
Damn. That was so blatantly redundant that it almost over-rode the DRD's aversion to Syl.
:Syl pouts in the bottom of her cage:
He then sheated his blades
Ouch.
"He should see a doctor about that."
But not sensei.
"No, never that asshole."
and pulled out two dark purple weapons.
"Are we supposed to know what these are?"
:Ghostie shrugs:
"What are you doing?" said Demongo with a bit of fear in his voice.

"I took these weapons from the lifeless body of Hades himself! They will rob you of your warriors!"
"He looted the corpse of Hades, god of the dead? How do you even kill the god of the dead?"
It's a video game, weird stuff happens in video games.
Kratos then threw his hooks toward Demongo and struck him right in the chest.
"Are the purple weapons hooks?"
I don't know, there is literally no description of them beyond "purple," "weapon," and now "hook." Let's see what Google says it looks like:
"Very intimidating."
He can destroy his enemies and turn them into warm hats for the winter!
When Kratos pulled them out the spirit of the captured warriors came out of Demongo. Kratos repeated this until all of them were free and surrounded Demongo.
"He pulled them all out, and then continued pulling out more?"
Demongo's body is like the magician's trick where they pull an endless stream of scarves out of their pocket, only less entertaining.
"Warriors! Turn on your captor and destroy him!"
"Why would they listen to someone who was trying to kill them? Or someone who successfully killed them at least once?"
I want to know why he would even have to give the order. Jack does something similar in the canon, he manages to free the captured essences and they turn on Demongo, but that required effort. This is almost too easy for Kratos.
"It's as if he was purposely matched up with someone whom he could easily best in a fight."
They did not need convincing and attacked Demongo who let out a loud shriek. Kratos admired the carnage he had unleashed he had and then ran back to re-engage in the battle.
"Shouldn't take him long."
Yeah, he was supposedly right in the middle of the battle just a second ago. Running really isn't necessary.
Unfortunately what he did not witness was a majority of the warriors whom he had just saved being defeated again and absorbed by the sorcerer Shang Tsung.
A different character from a different canon who just so happens to have the ability to absorb souls manages to be in the area when a large number of powerful, and presumably still pissed-off, souls are released and then easily defeats them all so he can absorb them.
"How did he manage that? It's not as if they would line up and take turns fighting him in single combat."
The fic doesn't say, but I think we can assume that is exactly what happens.
"Whyever for?"
Because that's what happens in Mortal Kombat – a long chain of one-on-one fights.
"That's just daft; they should rush him like they did Demongo."
That would make sense, but nothing thus far in this fic has made sense so why should this?
That's it for these chapters, Patrons – only two more left!
---