1340: Samurai Jack meets Batman Beyond – Chapters 7 & 8
Posted: February 26, 2016
Filed under: Batman Beyond, Samurai Jack, Samurai Jack meets Batman Beyond, Samurai Jack meets Batman Beyond
| Tags: Adventure, Batman Beyond, Cartoon, Crossover, Ghostcat, Samurai Jack
35 Comments
Title: Samurai Jack meets Batman Beyond
Author: Jigsaw9856
Media: Cartoon
Topic: Samurai Jack/Batman Beyond
Genre: Adventure
URL: Chapter 7
URL: Chapter 8
Critiqued by Ghostcat Syl
:Syl saunters into the Riffing Chamber, kicks the door shut, and places a bottle of faintly glowing red liquid on the desk before throwing herself down in the chair. She tosses her tricorn hat onto the desk, leaning back in the chair and propping her bare feet up on the edge of the desk:
"Hello, pigeons!"
:Syl toasts the air with her bottle:
"I'm here all by myself today; strangely enough, Ghostie didn't show up in the Library this morning. I'm sure she'll turn up eventually, but until then my humble self will have to do."
:Syl removes a sheaf of badly rumpled notes flecked with what could be dried blood from her vest:
"Luckily, I just happen to have Ghostie's notes on hand."
:flips through papers:
"Let's see; last time, there were a couple of fights that I found incredibly dull so I didn't pay a lot of attention to them, and everyone made their way to the least secret Secret Desert Base ever founded." :continues flipping through papers, tossing a few over her shoulder: "That's really all there was."
:drinks deeply from bottle before coughing out a gout of blue smoke:
"Smooth. Now to find out what happens next in this mess."
"All right listen. You guys go and get some r & r. Jack I need you to come with me."
:waves:
"Goodbye, extraneous characters! Wish I was going with you. Especially you, Snake Eyes." :makes "Call me!" gesture:
Jack began to accompany Terry around the base. Scattered throughout it was warriors from different worlds.
"Sounds like a bar I was in once, this foxy grandpa chopped off my date's arm. Things went downhill after that."
They were able to get a fair distance when suddenly Jack heard

"My little buddy! Is that really you?!"
"Little buddy? Is that the fat blue man and his red-sweatered companion?"
Jack turned around only to find himself lifted into the air and put in a giant bear hug. The giver of the hug was a face Jack was all too familiar with.
"Affectionate, isn't he?"
"It…is….good….to…see…you…too old friend."

Jack tried to say more but the Scotsman still hugged tight. Then at long last he finally put Jack down.
"Tragically, he had expired from lack of air. Hopefully there is a necromancer nearby, although from what I've heard the so-called 'good' characters don't muck about with raising the dead. It's a pity, really; I don't care for the undead my own self, but I understand they are very cost-effective as minions go."
"I hear rumors that you might be joining our resistance. My only question is what took you so long."
"Long? He just found out about your little club a day ago when the bounty hunters set fire to the noodle bar."
"Well after meeting with Terry for the first time I and my new friends got separated on the journey to this base. But thankfully everyone made it here safely."
"Or will make it to the base safely, since according to the timeline Ghostie has doodled in the margins not everyone arrives at the base at the same time that Jack and Terry do."
"Ah-Ha that's great! Listen you'll have to regale me with tale of your fights since last we left."
"Please, God; no. No more."
Jack bowed in respect. "It would be my honor."
"To hell with you, what about me? I have to sit through that shit, you know."
Terry stepped in to break up the conversation. "I don't mean to interrupt Jack, but we're currently keeping people waiting who don't like to be kept waiting."
"If it's that little bitch Neville No-Tongue, tell him he still owes me my cut of the Scarsdale deal."
"Forgive me. I hope to join you in battle soon my friend."

"That you will laddie. That you will."
"Are they going to fight each other later? Sort of a weird friendship ritual, if you ask me."
Jack and Terry continued making their way through the base. They came to a room with a giant computer and three men inside of it.
"More men? Jesus, it's a fucking sausage party in this base. Is there a sign out front that says 'NO GURLS ALOUD'?"
One of the men turned around to greet them. He was very old and needed a cane to walk.
"A cane can also be used to beat some sense into the brains of young idiots."
"Jack I'd like you to meet the man responsible for making all this happen. Long before I put on the cowl this man was Batman. Jack, this is Bruce Wayne."
:wiggles fingers towards Bruce: "Hel-lo, filthy rich silver fox. I hear you have a heart condition, which is something I find very attractive in wealthy and unmarried individuals."
Jack bowed in respect. "It is an honor to meet you at long last, Mr. Wayne."
"This is the first time you've even heard his name, boy; how could you have been looking forward to this? I could understand if you were Ghostie, she'd cream herself if she was in this situation. You should see her dream journal; it's a hoot of a read."
Bruce slowly put a hand up. "Please, Jack, if what I heard about you is all true, then the honor is all mine."

Jack's curiosity was intrigued. "What have you heard about me?"
"Ugh!" :flops backwards in chair and drinks deeply from bottle: "If you're getting the tape measure out, boys, I'm leaving."
"That you possess the only weapon of ridding my time of Aku. Without it the resistance will never stand a chance of winning this fight. So I've had Terry bring you here so I can ask you one question: will you rid my universe of this evil that infests it?"

Jack didn't even hesitate. "Of course."
"Was there ever a doubt? Jack's one of those tragically boring men who always do what's honorable and righteous. More's the pity."
Bruce formed a small smile. He then gestured to one of the other men. Unlike Bruce this man was much younger and a bit bulky.
:groans:
"He's not old? That's the best you can do?"
"Jack these are some of my oldest friends. This here is Dexter. He invented the machine that lets us go to other dimensions and bring warriors to help us.
"Meddling pest." :taps finger on lips: "Hmmm… I wonder if he discovered the ionizing chronaton emissions? If not, he's going to have developed a case of trans-spatial cancer four months ago. Or is it that he will has developed it four months from now? The grammar's a bit slippery."
He was hesitant to help us at first but when Aku's robots killed his sister he swore to make Aku pay."
"Couldn't get the deposit back from the assassin he hired, eh? That's why I prefer a personal touch; fewer receipts to sort through."
"Amazing. Uh tell me Bruce what does this button do?" Jack reached out to touch a button but was slapped on the hand by Dexter.
"Don't do it, honey. I learned the hard way not to touch unlabeled buttons." :shudders: "I still have nightmares about the Level Three scrubdown after the glitter incident."
"Don't touch any of these buttons! It could have untold consequences that could cause this universe to collapse on itself! Or Worse! Ah you're just like my sister, so little in impulse control."
"Hey! I resemble that remark." :rubs chin: "You do sound a bit like my brother, come to think on it, but you look nothing like him. Dine actually has a face."
Jack tried to apologize but Terry stopped him. "Don't worry Jack. Dexter's just gotten a bit angry since his sister died. Luckily for us he also uses that anger in battle."
:snorts: "Fucking rookie. In battle anger is a thief; it steals away reason and turns you reckless and dead. Swallow that shit down, princess, and keep your mind in the moment."
"And what weapon does he use?"

Both Terry and Bruce pointed to the giant wrench that Dexter was using on the machine. "Oh."
"And if he ever faces off with a leaky faucet, he'll be aces. Against hardened assassins he would fare far worse. I assume Jack is humoring the child, since a seasoned warrior would not find such an improvised weapon impressive. Also; that is no way to treat your tools, boy. The day may come when you desperately need that spanner, but it'll be corroded from caving in some idiot's brainpan. Then where will you be?"
Bruce gestured to the other man. "Now Jack this is a man I've wanted you to meet for a very long time. I know how you were sent to us from another time period. I believe this man may be able to help you."

"And who is this man?"

"This Is Dr. Emmett Brown. He has created a way to send one back in time."

Jack couldn't believe the words he was hearing. "Really?"
"Wait just a damned minute…" :digs through notes: "Ah! Here's what I was looking for."
But what Jack didn't know was that the future Aku sent him into was an alternate future.
"That's from the first chapter of this mess – Jack was sent not only to a different time, but to a different dimension. The method of travel developed by Doc Brown would allow Jack to visit a prior version of this timestream, but it would not be his home dimension. Dexter and Doc Brown's devices would have to be combined for Jack to return home. Of course, if Jack doesn't know that he's in a different dimension then he might think this would work. I'd be a touch suspicious, myself, given the trans-dimensional hijinks going on, but then I am overly suspicious by nature."
Before Bruce could respond, Doc Brown spun around with a crazed look on his face.

"Ssssh! Don't say another word! Aku's spies could be anywhere!"
: crosses arms over chest: "I feel like I'm being accused of something."
"So um, tell me Doctor, how does this device of your work?"
"Do tell, dear heart. I could use a giggle."
"How does it work? Oh it's quite simple my dear boy. You see here in this car that I've based the flux capacitor around all the driver has to do is drive up to 88 miles per hour! And the best part is, it's powered by plutonium. That's one advantage of Aku's regime: you can get plutonium from every corner drug store!"

Jack gave Bruce a look like he doubted the Doc's sanity.
"As well he should. Doc Brown didn't explain anything, he just made word sounds with his mouth. I could get a more rational explanation of inter-dimensional time travel by poking Delta with a sharp stick while he sleeps. In fact…" :makes note on schedule:
"Trust me Jack. Not only did he invent this time machine but he also designed all the gadgets that I've used as Batman.
"So far the only 'gadgets' you've used have been a simple smoke bomb and a poorly-hidden access panel leading to the Batcave. A half-drunk yeti could do better. I'd rather get my gear from that cluelessly adorable German girl, and her goods explode more often than not."
He even upgraded the Bat suit when Terry took up the cowl.
"And I'm certain that would mean something if I had the slightest idea what you were talking about."
In return for your help in ridding this world we'll let you this time machine to get back to your time and defeat Aku there."
"Jack's reward for defeating Aku is … going back and defeating Aku a second time? I fail to see what part of that would be a reward. It sounds more in line with a punishment to me."
Jack looked at Bruce intensely. "Bruce, nothing would make me happier."
"Jack's an odd bird, isn't he? Or has he not thought this through? I'd say even a child could spot this flaw, but clearly I'd be wrong."
"Looks like I have time to squeeze in one more chapter before Ghostie escap… I mean, while Ghostie is out of the Library. But first – refreshment!"
:drains last of red liquid from bottle and tosses it over one shoulder before plucking a bottle of smoking violet liquid seemingly from thin air and taking a sip:
"Mmmm… Minty!"
:spits on the floor and then ignores the sizzle of dissolving concrete:
Deep in Aku's hidden lair, the master of all darkness was not happy.
"If his lair is as well-hidden as the secret desert base, there's probably a large neon sign out front."
He had summoned some of his finest soldiers to fear his wrath.
"Honey, do you even know how to villain? Gathering together your finest warriors just to belittle and degrade them is not the way you win their loyalty – that's the way you start a rebellion."
They included Boba Fett, Deathstroke, Dark Danny Phantom, Shang Tsung, Sephiroth, Storm Shadow, Starscream, and the dark witch Maleficent. They all knelt before him.
"I know who the first three are, but after that I'm lost. Luckily, Ghostie tucked away a few images with her notes…"
:digs through papers:
"Alrighty, let's see who we have. First, Shang Tsung:"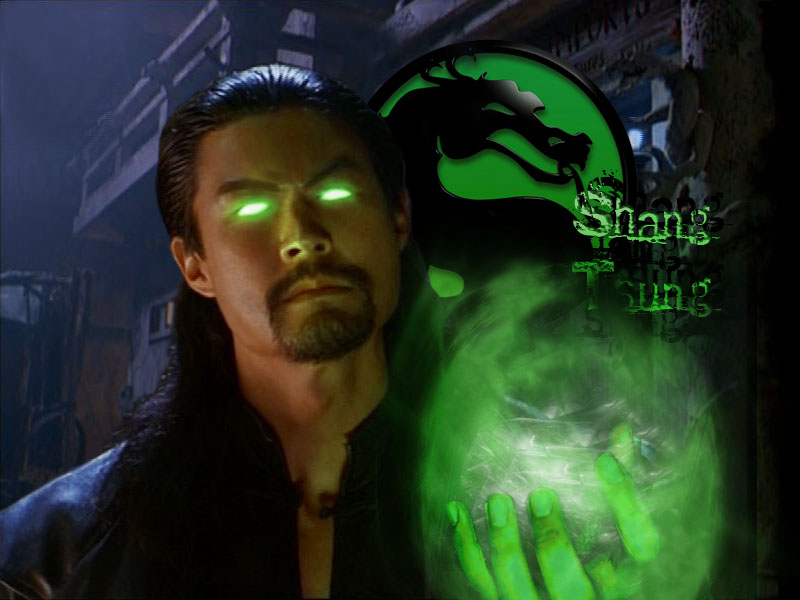 "I have no idea how that worked, but I'm not going to question it. Anyway, Mr. Scary-Eyes here is found in the Mortal Kombat franchise; he's your basic soul-eating shapeshifting sorcerer with a fondness for lavish parties and nice clothes. Next, there's Sephiroth:"
:Syl is struck speechless:
:Koori appears in a swirl of leaves and slaps Sly hard before vanishing with another burst of greenery:
"Wha? Oh. I was going to say something about him being a super soldier Big Boss from the Final Fantasy series, but now I just want to stare at the pretty man."
:Koori reappears, picks up the bottle, and then pours the liquid over Syl's head before disappearing once more:
"God, that burns!" :shakes herself like a dog: "Moving on, then – Storm Shadow, Snake Eyes' double date:"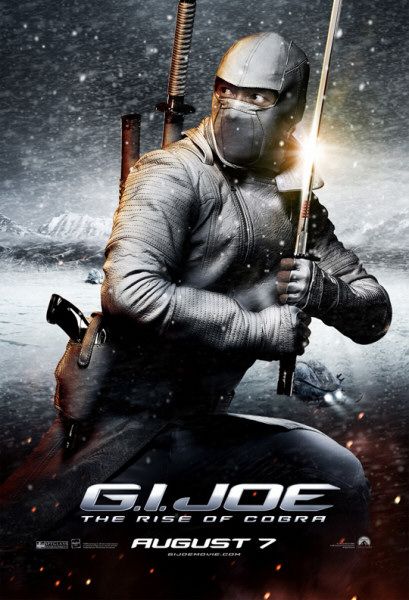 "Another man with an impressive sword. I do love men with impressive … swords. There's a bit of a long-running feud between Snake Eyes and Storm Shadow, from what I've read. Someone killed someone's master, or cousin, or something. I don't really care. After him, there's Starscream:"
"A giant, evil robot from outer space that turns into a jet and makes me wonder how he can even fit in the same room as the others. He's huge! And lastly, the token female Maleficent:"
"She's the evil sorceress from Sleeping Beauty; enspells a princess, transforms into a dragon and then gets gutted like a fish by some upstart prince. So far, the so-called "evil" side has far more to offer than the "good" guys; beautiful men by the fistful and they welcome women into their ranks."
"Fools! Idiots! Because of your incompetence, that foolish samurai is now at the rebel's base. And now he no doubts plans to help them in their quest to eliminate me!"
"Well … Yeah. He's your nemesis. This shouldn't be a surprise to you."
Boba Fett tried to speak. "I am sorry master. This new Batman caught me and Deathstroke off guard and…"
"New Batman? From what I gathered during Ghostie's drool-flecked ramblings, Bruce was the first Batman, and then many years later Terry became Batman. There was a long period of time between the two tenures. If Boba Fett was brought into this timeline during Bruce's term, he would be too old to be an effective mercenary at the current time, and if he was brought in more recently he would have known no other Batman than Terry."
Aku stopped him mid-sentence. "Silence! I am especially disappointed in you, Phantom. Your powers should be stronger than that of the Tennyson boy. And yet you allow yourself to be defeated by his friends in a sneak attack!
"That's unfair of you to say. I've looked over Ghostie and Taco's breakdown of the fight; Evil Danny would have been an equal to Ben, but the addition of Cale and Sora tipped the scales to the good guys' favor even before Sora's unnecessary transformation into his Final Form. Evil Danny wasn't defeated, but he couldn't win against such odds so he was right to make a tactical retreat."
Maleficent then spoke up. "My lord, let me take care of the Keyblade wielder. I am confident that with these new powers you have given me I could finally rid myself of him."
"Is one of these powers to be sword-proof? Because you don't have a very good history with sharp objects."
"You'll get your chance soon enough, this I swear." Aku then leaned back in his throne and began to think, all the while stroking his beard.
"If you're noting going to send them after the heroes, then why did you gather them together? Do you enjoy hearing yourself talk that much?"
Shang Tsung then spoke up. "My lord, if I may, if the samurai is with the rebels, then now would the best chance to assemble our armies. With the powers you have given them and the fact that our numbers are superior we all feel confident in our chances of victory."
"YOU HAVEN'T EVEN ASSEMBLED YOUR ARMIES?!?"
:headdesk:
"You are terrible minions! It's no wonder the rebels have managed to build an extensive secret base out in the desert."
Storm Shadow and Starscream nodded their heads in agreement.
"Thank you for contributing to the conversation, gentlemen."
Sephiroth then spoke up. "I'll take any course of action if it brings me a rematch with that loathsome Cloud."
"I'll let you take any course of action you like, handsome. Repeatedly."
Aku pondered this suggestion. Then he spoke. "Very well. Go all of you assemble my forces. We march in two days."
"Either the armies are already partially assembled and need only be mobilized, or the force isn't very big."
Everyone left the lair to begin rounding up Aku's troops. However later that night they met in a secret location that Aku didn't know about.
"Did they now? That could be interesting."
"I tell you guys I've about had it up to here with this guy," said Deathstroke.

"You're not the only one," said Storm Shadow.
"Oh, look; the minions are getting fed up with their harsh and demanding overlord.  Whatever could that possibly lead to?"
"But what can we do about it? We have no way of getting back to our dimensions by ourselves. And I think I speak for everyone here when I say that we don't want to fall in battle to get back there," said Starscream.
"Is the giant robot under the impression that dying in battle is the only way to return home? That's how you get to Valhalla, dear, not your home dimension."
Maleficent, Sephiroth, and Shang Tsung stood before them with evil smiles on their faces.
:Syl produces a lace fan and begins fanning herself:
"Oh, my. He's just so pretty!"
:Koori appears and tosses a cup of tea in Syl's face before vanishing:
"Thanks, I needed that."
"We have but one option. And I believe that if we work together, we can see that goal accomplished," said Maleficent.

"You don't mean….?" said Boba Fett.

"Let's just say that Samurai Jack's blade won't be the only thing Aku has to fear in the upcoming battle," said Shang Tsung.
"I hate to tell you that I told you so …. That's a lie – I love to tell people I told them so. I live for it. Anyway, I did tell you so. These minions of Aku are all legitimate Evil Overlords in their home dimensions, so they would not bend their necks to another so readily. Ghostie has repeatedly asserted that Aku's only weakness is that sword of Jack's, but such a large number of determined villains with such a variety of skills, both mystical and mundane, could find a way. Once they have disposed of their annoyance and crushed the rebellion, whatever shaky alliance they have created will crumble and dissolve into backstabbing and betrayal. Happens every time."
:flips through notes:
"It looks as if I've reached the end of the chapter! I don't know why Ghostie is always complaining, this wasn't all that hard. Now if you'll excuse me, pigeons…" :stands and walks towards door: "I'm off to see the wizard."
:stops with hand on doorknob, snaps her fingers, and walks back to the desk:
"Silly me! I almost forgot my mace! It's dangerous in these hallways, you never know what sort of weirdos are lurking about."
:bends and removes a short club topped with a spiky iron ball from a lower desk drawer, flipping it into the air and catching it by the handle:
"Safety first!"
---