1306: My Little Unicorn: Magic Is Believing – Chapter 3 & 4
Posted: January 19, 2016
Filed under: My Little Pony, My Little Unicorn: Magic is Beleiving
| Tags: Adventure, Dakari-King Mykan, Erttheking, My Little Pony: Friendship is Magic, My Little Unicorn-Magic is Believing, Romance
105 Comments
Title: My Little Unicorn:  Magic Is Believing
Author: Dakari-King Mykan
Media: Cartoon
Topic: My Little Pony: Friendship is Magic
Genre: Adventure/Romance
URL: Chapter 3, Chapter 4
Critiqued by Erttheking
Nora: PFFFFFFFT! This chapter is called Fearsome Flowers. Ok? It's dead on arrival. I mean I don't even know what happens in it and I'm already making fun of it, it's failed on that many levels.
Ert: *Snort* Yup, no getting around this one. It takes more than an alliteration to make a good chapter title, Mykan. Keep that in mind for next time.
Fearsome Flowers

Author's Notes:

If anyone form ponychan is reading this, it's time you woke up.
Ert: I love how he words this like he's some sort of terrorist making a public announcement. It's like watching a three year old pretending to be the representative of ISIS.
That Dakari King Mykan who joined you isn't me.
Cornelia: Are we really going to insult Dio Brando by comparing him to Mykan?
Ert: Like he cares.
It's someone form Project After who got a whole of my past postings and altered them to frame me. Believe me… I am not part of ponychan and don't wish to be. I would never join the likes of you! "Friendship is NOT magic" The real magic is believing…!
Ert: Keep spouting that, kid. Get back to me when it actually means something. As such it's like me saying "Believing isn't magic! KNOWING is magic."
EPISODE THREE

Lightning had received a gift package from The Grand Ruler…
Nora: Is that what they're calling it now?
Unfortunately, it was wrapped with a special material, not the kind you could just rip off, or open. It could only be opened if something special were to happen. All it came with was a letter from The Grand Ruler…
Cornelia: A package that can't be opened sounds like a package that misses the point of being a package.
Dear Lightning…

As you know, dark times have befallen the kingdom. As much as I have faith in you, I wish to take no chances for your safety.
Ert: Yet the thing that I'm giving you can't be directly accessed. I have a weird definition of not taking chances.
This package I have given you- It has been in my possession for centuries, and kept always ready but never needed until now. It will be very useful to you in the many battles you will fight, but by now you are aware that you cannot open the package.

When the time is right, it shall be made clear to you.
Nora: I gave you "thing." I won't tell you what it is, what it can do, why you might need it or why I think it'll be useful. Truly I am a great and wise ruler.
Learn well and strong, my apprentice, and keep on believing.

Your caring Mentor: The Grand Ruler.
Cornelia: Why is it I get the feeling this is all an elaborate April Fool's joke?
"Huh! I wonder what it is." Lightning said to himself, but he decided to just leave it be for now. He had other things to attend to.
Ert: You know, when setting up a Chekhov's Gun, you really shouldn't make it TOO bleedingly obvious.
…

Now that the entire kingdom was aware of Titan's treachery, everyone was to take extreme measures to be cautious as they went along their daily routines.
Nora: Five bucks says it does jack shit.
As for Lightning, he spent a lot of time in the library or borrowing books to learn more about the Uniforce as he still didn't understand it that well, or where it came from, and how he used it the first time.
Ert: And the Grand Ruler can't just tell him what it is because why?
The Grand simply told him to be patient, and all would eventually become clear.
Ert: Ah. Because "Fuck you." You know, for someone with an apprentice, this Grand Ruler guy seems to be doing zero teaching. Is taking on an apprentice just something he did out of obligation and he has no interest in actually doing a good job on it?
Inquerius was passing by and saw him studying hard again. "Are you frustrated, Lightning?" she asked.
Cornelia: Don't be that guy who asks questions with obvious answers. No one likes that guy.
"I don't think frustrated is the word?" Lightning sighed "Do you have any other books that can help me find what I'm looking for?"

"You are not willing to give up? Even if it means you will not find what you seek here?" asked Inquerius.
Ert: So is that a yes or a no? Because Lightning asked you a yes or a no question, asshole.
"Duh…! That's why I've been stopping here every day." snapped Lightning. He apologized quickly for being rude, "But please… can you just help me out?"
Cornelia: I really hope they're not going to keep insisting on Lightning being kind when he keeps snapping at others so easily. I mean yeah, we all lose our patience at some points, but he does it every three seconds. And there's very little else we see from him.
Inquerius felt confused, "I have not been helping you already?"
Nora: This conversation is actually going backwards.
Lightning was getting so frustrated at why all the questions were being thrown at him, but Artie was passing by with some books he was returning told Lightning, "I don't think you quite get it here. Her name is Inquerius, as in… inquire! She doesn't give answers, she asks questions. It's the way she talks."
Ert: OH MY FUCKING GOD! This really IS a rip off from Power Rangers! That line was lifted word for word from an episode of Power Ranger Turbo! From a character that wasn't very popular either. In fact, Turbo as a whole was one of the less well received Power Ranger series. I mean if you're going to rip something off, rip off something good. And do it well.
(Unoriginality Counter: 6)
Nora:  And the "Only asks questions" thing, can and has been done better.  Wither, an island in Sunless Sea, has people who only ask questions.  Not only is it a more creepy than quirky take on the concept, breaking the trend can actually get you exiled to an island where you're not allowed to speak, period.
Lightning got the drift now. Inquerius helped others by trying to get them to realize the answer for themselves. "Is there not something else you can do instead of pondering over this mystery?" asked Inquerius.
Cornelia: I don't get it, someone asking questions instead of answering them isn't endearing. It's annoying.
Krysta fluttered near her friend and suggested he go get Lunch. "You've been working too hard. You really should relax."
Ert: He made one stop by the library. And by the way it's worded, he read A book. Singular. If that's trying too hard I hate to see how this guy would react if the Grand Ruler asked him to do any coursework of substance.
Lightning felt that was laughable. How could he relax at a time like this when he had so many unanswered questions tormenting him, as well as worrying what Titan was up to now…?
Nora: Good point, but the Grand Ruler himself seems content to sit on his ass and do nothing, so I'm not sure what YOU of all people expect to be able to pull off.
Nobody even knew where his hideout was, or if it was even in the same dimension, and just the very thought of venturing out to search each and everyone one of the countless dimensions and universe once by one was already crazy enough.
Ert: Is manually searching the only option? Why isn't there a spell that can trace him?
All they could do was wait patiently, hope for some signs or clues, and stay alert.
Cornelia: Why can't they go back to the castle that he was at last time and look for clues there? It's because the author isn't ready to advance the plot, isn't it?
…
Titan's castle was located in dark a creepy looking dimension. Winds were howling, thunder and lightning shook the skies.
Ert: Good description.
Dementia was busy styling her mane while Rep-Stallion sharpened his scythe. Dementia look din her mirror. "Do I look fat…?" asked at her reflection "Nah…!" and she playfully kissed at the air.
Nora: Good personality. The female villain is a vain magic user. I've never
Nora: heard
Nora: that
Nora: one
Nora: before.
Nora: Also all of these were better examples. We didn't even watch Tangled or the part of Sailor Moon where Queen Nehelenia was interested in staying beautiful (we caught the part where she wanted revenge though) and we know they're better.
Mysterious whispered to Rep-Stallion. "She's at it again…"

"Poor thing…" Rep chuckled.
Ert: Well, we got her shallow one-dimensional personality. What do we have for you guys?
"MINIONS…!" shouted Titan. Dementia's mirror shattered. "Aah-ugh…!" groaned. "…Seven years bad luck."
Cornelia: …The last time I honestly heard someone talk about that was when we were re-watching an old episode of The New Adventures Winnie the Pooh.
Ert: A show that's proof that a rather silly show about a cartoon bear can make me cry my fucking eyes out just by thinking about it. I'm not joking, I honestly cried writing this line…growing up fucking sucks.
The minions headed to the throne room where Titan was seated on his throne. The minions bowed, "Yes, my lord?" asked Mysterious "Is it time for us to exact our revenge, and crush the unicorns?"
Nora: What revenge? One guy blasted you and you stormed off in a huff. Is that "revenge" material?
Rep licked the blade of his scythe sniggering madly. "Especially, that rhyming one…"
Ert: Ok Rep's personality is that he's psycho. Though to be fair he could just find Rhymey THAT annoying. I won't hold it against him.
"Patience…!" bellowed Titan "Our chance will come in due time, but this is not it."
Cornelia: So the Grand Ruler and Titan are BOTH sitting on their rears doing nothing? This is like a battle where both armies just look at each other, awkwardly shuffling where they're standing because they're not sure if there's going to be a fight today.
Titan hated to admit how he underestimated the power of the Uniforce, twice in fact, and now his main goal above all was to overpower it.
Ert: You only got hit once by it, and it didn't seem to do that much damage. The Uniform is pretty…under…whelming. WAIT A FUCKING MINUTE! Oh Christ how did I not figure this out before. UNIforce? TRIforce? So add Legend of Zelda to the list of plagiarism victims.
(Unoriginality Counter: 7)
Nora:  And like everything else, this is an inferior rip off.  The Triforce was the power of the three Goddesses and with three different parts that symbolized the three iconic characters of Zelda, Link, Zelda and Ganon/Ganondorf.
Then his power would be the greatest throughout the dimensions. "But to do so, I must study it closely while harnessing more magic to increase my power. That's where all of you come in, friends."

"What do you wish for us to do?" asked Dementia.
Cornelia: Well if you didn't interrupt him I imagine he would tell you.
Titan's eyes glowed bright red, "Capture Lightning Dawn." he hissed "With him as my prisoner I could gather the secrets I need with ease."
Ert: Why is just writing down information about something this important apparently socially taboo? It's not like it's some grand secret. What, did the Grand Ruler want to make it so that NO ONE knew anything about it on the off chance that Titan might get something useful out of it?
Each minion was also equipped with a small pouch containing dark magic dust that when used in just the right way would assist them in their plans and battle.
Nora: That little detail didn't feel awkwardly placed at all. And despite how forced it was, it tells us nothing. Mykan seems to have an obsession with introducing things and then not explaining how they work. I mean it'd be one thing if we saw the bad guys getting some dust and it was deliberately kept vague in order to build suspense, but Mykan is still freely giving away information on what it is they have. He's just not telling us what they're going to use it for, which feels cheap.
"Now go on your way." Titan said

The minions bowed and left leaving Titan alone in his throne room. "Hmm, mm, mm…!"
Cornelia: Is that supposed to be a tic or something? Or is Mykan just trying to pad out the chapter?
…

Lightning and Krysta had finished their lunch and thanked Cookie Dough. "Happy to do it for you guys." he replied, and then he left to get back to work.
Ert: Even Mykan's own characters are being reduced to half-assed cameos.
Krysta let out a tiny burp. "Ooh! Excuse me!" she giggled, but Lightning still seemed distracted. "I don't get it…" he said. "How can everyone be so calm when there's an evil force out that that could attack any minute?"
Nora: It's an MLP rip off dude. Everything needs to be quirky slice of life. Except in Friendship is Magic the main characters tended to defeat the villains shortly after they appeared, so them taking it easy made sense. Basically Mykan is copying without understanding. Monkey see, monkey do.
Krysta was just as confused as he was, but then assumed everyone was just trying to be brave. "We can't just let one fact scare us."
Goeth: I keep telling people that but they keep whining and say, "But you trying to blow up the moon isn't just one fact!" Crybabies.
"I don't know…" Lightning said as they left and decided to head to the garden to pick some flowers for their home in White Village.
Ert: First the library, then food then flowers. Let's be honest, Lightning's schedule is a chaotic and nonsensical mess that only exists so that Mykan's OCs can make an appearance. And it's a general rule of writing that you avoid your characters taking actions that only exist so that you can advance the plot. They need to be in character to some degree.
Buddy Rose's flowers were so beautiful and nice to smell. Krysta was careful not to sneeze this time. Even Lighting admired the smell of the flowers, it actually made him forget about Titan for a moment.
Cornelia: I'm still not sure how a flower makes a fairy sneeze. Is she allergic? Doesn't seem that way, it would've been mentioned.
As Krysta was about to pick some flower, Buddy Rose came along and said "You don't want those flowers."

"I don't…?"

"They're too plain- Too ordinary.
Ert: PLAIN! Jesus save us, there are PLAIN flowers! How will we survive! Seriously asshole, if they want the plain flowers pick the plain flowers. And if you urge people away from those flowers, why are you growing them in the first place?
Now I something you'll really love." He motioned for them to follow him to a vacant patch in the flowerbeds with only mere drawings such beautiful flowers on sticks.
Cornelia: A think Mykan a few word here and there. Also remind me to return this joke to Taco.
They were so incredibly beautiful it was almost impossible to describe them…

(Even I can't)
Nora: That's because you can't write.
Buddy Rose explained that's why they were called, the Beauti-Flors, and they only grew in his hometown, Redwood Meadows. "So why don't you have any here?" asked Lightning.
Ert: So he turns them away from an ordinary flower that's right in front of them and towards a flower that only grows in his hometown? This sounds like a hassle already. I'd just take the peasant flowers if the high-and-mighty Buddy Rose will permit it.
"I ordered a new supply of seeds from there, but my shipment's way overdue." said Buddy "I've written letters back, but I haven't gotten any replies."
Cornelia: But how long have you been living in this town? Surely if you think people would want these flowers you would've gotten seeds for them a long time ago. Flowers release seeds towards the end of their life cycle and don't tell me Mr. Flower Necromancer couldn't get them to grow in the second cycle.
Lightning didn't like the sound of this…!
Ert: Some things just don't go together. Fire and houses, winter and plant life, Donald Trump and humanity, ellipses and exclamation points don't go together. At all. This isn't the first time this has happened in this story.
"Can't you just go there and pick it up?" he asked.

Buddy Rose shook his head. "I can't abandon my garden, even on my breaks I'd never be able to fly over there and back in time, and I don't get off until sundown. I'd be too tired to go by then."

Then he gave Lightning and Krysta a peculiar look. "I don't suppose you want us to…" Lightning teased. "Well, it would be an excuse for me to visit Redwood anyway." So it was settled.
Nora: So let me sum up this scene. "I have a flower you'll love! But I don't have it with me and I'm not going to go get it myself. So get going, chop chop." Lightning just wanted some flowers to make his place look better, now he's being shanghaied into going to the next town over?
This was also Lightning's new job in Unicornicopa; the town helper. It was his job to volunteer and help people with their daily tasks if needed, or to do them simple errands of favors.
Ert: That doesn't make any sense. First of all, it's the most half-assed job I've ever heard of, second of all it's not really much of a job if he just needs to volunteer to help people. What does he do if they say no? Sit around with his weird abomination hand/hoof thing up his ass? And what's the pay on a job like this?
Lightning and Krysta took off and promised to be back by sundown. Along the way, they met up with Rhymey, who had just come from Redwood, but he looked a little. "Rhymey…?" called Krysta
Nora: Rhymey looked a little…what? Rhymey?
"Hi! Bye!" called rhyme as he zoomed right past. He looked as if he had seen a ghost. "Rhymey, wait!" called Lightning as he dashed to catch up with him. "Rhymey, hold it! What's going on?"

"A monster…! A monster I've seen…
It's big and tall, and very mean!"
Ert: No, it doesn't work like that. Your weird ass ellipses, exclamation point combination indicated the end of a sentence. Your next sentence should have ended with a word that rhymed with monster.
"A monster…?" asked Krysta.

"I knew something didn't feel right." snapped Lightning.
Nora: So who is he snapping at? Or is "snapped" the only word Mykan knows that can convey emotion?
Rhymey nodded, and that was why he was in a rush. He was on his way back into town to call for help. He was glad that Lightning had come. "Where did you see it?" asked Lightning.

"Follow me…
You will see?"
Cornelia: What's with the question mark? Is Rhymey not sure if they'll actually see the monster?
Following Rhymey, they made it to Redwood, but nothing seemed out of the ordinary. Redwood seemed. It seemed a nice little village.
Ert: I think the record skipped.
Most of it was meadows with red roses and other flowers. There even some tall redwood trees. Little white cottages with red fetched roofs were all scattered along either sides of a red-brick road leading into the flower fields.
Nora: So it's blue right?
"Wow…! This is a nice place." Exclaimed Lightning "But where is everyone…?" He couldn't see any other unicorns down below at all. Rhymey explained…
Ert: You know, I had a problem with ellipses when I first started writing but Jesus fucking Christ, Mykan. He inserts them EVERYWHERE! Even in the narration where it makes no bloody sense! I'd start a counter but then I'd have to stop the review every three seconds to ding it.
"This is what the monster has done…
Everyone was scared and had to run.
Their poor village, I fear for it so.
We must find that monster and make it go!"
Cornelia: This coming from the guy who was running in the other direction until he ran into a guy who can only use magic sometimes. Let's be honest, Rhymey is a character that exists in this scene only to point Lightning in the direction of the important things.
"Yeah, but where do we even start to look for it…?" asked Lightning.

Suddenly, Krysta spotted something, and the boys followed her down to the near the road where there was a second road. Lightning recognized immediately "It's not a road. It's a trail."
Ert: And this was a clarification that we needed why? It's a trail, not a road? Why should I care? I mean you treat Lightning pointing this out like it's some sort of revelation.
Krysta and Rhymey agreed, someone or something had left that trail there, and recently too. "Wait…!" snapped Lightning "Do you feel that?"
Nora: Seriously! This guy is snapping every three seconds. For no reason. He's an asshole.
The ground was starting to quiver, and it grew stronger with every passing second.

"Oh… I fear…
It's coming near!" cried Rhymey.
Ert: Oh, you think Rhymey? I thought the growing tremors meant it was going somewhere else.
The rumbling continued to get worse, and then it stopped. The gang felt really nervous and slowly turned round. There, standing behind them was a flower exactly like the Beauti-Flors in Rose Buddy's garden; only it was at least twenty feet tall, with dark eyes, sharp, prickly vines, teeth… and it roared!
Nora: Oh how ironic. The thing that Lightning came here for has been corrupted. Titan is basically a discount Rita Repulsa from Power Rangers, isn't he? Because this is the kind of plan she would pull off. Except it makes even less sense here, because Titan would've had to have seen into the fucking future to know that this flower and this town would have anything to do with Lightning.
(Unoriginality Counter: 8)
The gang screamed and began to run for it,
Ert: Let's go get that monster!
Nora: There it is!
Ert: RUN! Seriously, does Lightning ever have a plan? He always charges in blindly but when he gets there he says, "Oh I just remembered, I SUCK!"
but the monster gave chase, making more trails as it traveled,
Nora:…OH NO! Trails! How will we go on!?
Nora: Look at this! This is the face of terror!
slashing its vines, smashing the ground. It even fired deadly barbs form its mouth. "Spread out!" shouted Lightning, and he and Rhymey ran in opposite directions, but the monster seemed to chase after Lightning. "Not you!" he cried as he continued to canter as fast as he could, only to run into Dementia. "Hi, there…" she teased.
Cornelia: Apparently Lightning can see into the future too, because he said "not you" before Dementia even appeared.
"So! This is Titan's doing!" Lightning snarled,
Ert: As opposed to all the other evil wizards that are flying around. Oh, gold star for you. Dumbass.
and that's when the monster stopped right behind him, and was about to attack, but Dementia stopped him. "Now, now, now, Floralbite…!" Dementia said"We should give him a chance to come willingly."
Nora: Is there a rule that villains need to be idiots in badly written fanfiction? You think people who love to jerk off their precious OCs so much would be willing to put them in situations where they fight someone that isn't a complete joke. Otherwise it's not saying how awesome your hero is, it's pointing out how pathetic the villain is. Or am I being too logical here?
"What…?" snapped Lightning.

"Titan wishes to have a few words with you." said Dementia "You come willingly, or my pet can escort you!"

The Floralbite snapped its teeth twice.
Ert: So what, one chomp for no, two for yes?
"Wow! Nice choice options." grumbled Lightning. He sure wished he could use the uniforce right about now, but he didn't know how. He couldn't remember how he did it the last time. "I'm growing impatient!" snapped Dementia, and she ordered her monster. "Take him!"
Nora: We should give him a chance to come willingly – OK I'M BORED!
The monster extended its vines ready to ensnare the helpless Lightning, until Rhymey leapt into action with his "WARD SWORD…!" and slashed right though those vines.
Cornelia: I thought you were running away. If you could slash through this thing at any time, why did you wait until more enemies showed up? Was it because Mykan wasn't ready for the plot to advance? Of course it was.
The monster roared in pain, and the air form his roar messed up Dementia's mane "Ugh! I just had it sprayed!" she whined. Lightning saw this as his chance to run. "Oh, no you don't!"
snapped Dementia as she prepared to warp him back using her powers to warp the field around her, until sparkling dust began to sprinkle down from above, blinding her. "AAH…! My eye liner's ruined!"
Ert: … Hey. Did we mention that Dementia was vain? We did? Well lets hammer it in a few more times anyway. Otherwise you might forget. I'm not kidding, we would, because none of the characters in this story have any staying power.
It was Krysta who was sprinkling her fairy dust from above, "And I thought you liked looking sparkly." she mocked and flew off. "You little firefly…!" Dementia roared
Nora: Uh. That's our word? Also glad to see Krysta can help in the most useless ways possible.
While she was distracted, Lighting could help Rhymey with the monster. Rhymey continuously tried cutting the vines with his sword, but the vines just magically grew back, and the monster just got angrier.

Rhymey was staring to get tired.
Ert: He's been fighting for thirty seconds!
"I've… tried my best,
But I need… rest." he groaned.
Nora: Even when faced with death I refuse to drop my gimmick!
"No! Don't give up!" snapped Lightning "We can do this!"

The Floralbite growled and fired more barbs at them both which they barely dodged. Lightning had to do something and fast. "There has to be a way to stop this thing."
Ert: Those barbs might as well not be there, seeing as this thing has stormtrooper level aim.
"Lightning, we've tried. It's no good." said Krysta, but Lightning was not willing to give up. He wasn't going to stand around a let some oversized flower tear up everything.
Cornelia: You tried? You tried a grand total of one thing. If you're willing to give up after that I don't know how anything gets done around here. Also it turns out our earlier prediction was true. Those precautions taken now that Titan has returned did nothing.
Dementia was losing patience and she was really upset about her looks being spoiled again. "I think I've waited long enough! Good looks or not!" and she ordered her monster "Get him!"
Nora: She's just trying to crowbar that one trait she has into every sentence now, isn't she?
The monsters opened its huge mouth ready to devour Lightning and bring him back to Titan,
when suddenly…
Nora: Eat him and take him back to Titan. Yeah sure. That's how it works. When Titan said "Capture" him, he meant capture his chewed-up and partially digested corpse.
"VINE SNARE…!" shouted a voice as powerful vines emerges from the ground and wrapped around the monster's mouth, shutting it tight. "What…?" snapped Dementia.

That's when Buddy Rose dropped in from the sky. "Buddy Rose…!" cried Lightning, Rhymey smiled…
Ert: I can't leave my garden. OH WAIT YES I CAN! I don't even know why Mykan bothers to establish things about his characters if he's going to have them drop it in the very same chapter.
"You're here now…
But why and how?"
Nora: Dues Ex Machina that's why.
Buddy explained that the villagers of Redwood ran into Rainbow City, crying out for help. "No one messes with my home and gets away with it! Even if it means leaving my garden…"
Nora: So let me get this straight. He said he couldn't leave his garden unattended for long, but he also said that his shipments hadn't been coming in for awhile. That means that Redwood had been disrupted for a long time and people were just now trickling in. Despite this, he managed to get over to Redwood not far behind Lightning, seeing as how Lighting was still alive when he got here. So how long as the trip to Redwood? Because it seems to be anywhere from weeks to an hour.
Dementia growled and used her magic to free her monster.
Cornelia: Somehow
"Get them all!" she ordered, and the monster charged. "Run!" shouted Lightning, and the gang dashed away only to have the monster start chasing them.

"Lightning, can't you try what you didn't before and believe?" asked Buddy.
Ert: When you get down to it "Believing" is just the characters saying that they believe. I believe. Did all my problems go away yet?
"I have… but it's not working. I can't summon the uniforce."
Nora: So it turns out that believing actually makes for shitty magic. Or at the very least, unreliable magic.
Buddy Rose then realized they were running from a flower that was running through the ground. "Of course…!"
Cornelia: They were? I don't see anything about this being established.
"What…" asked Krysta.

"VINE SNARE…!" Buddy wrapped his newly summoned vines behind and under the monster, "Help me pull!" he said to the others.
Ert: Uh. It was just established that the flower was at least partially underground. And there are vines underneath it? Are these vines strong enough to tunnel through the ground?
"What are you doing…?" asked Lightning.

"Don't talk, just pull!"

Still not understanding, the others grabbed the vines and pulled with all their might, even Krysta. They pulled and pulled and yanked the monster right out by its roots, causing it to fall flat on its back, and unable to move. "Hey!" snarled Dementia.
Nora: Well that was disgustingly easy. The thing that was apparently underground just had to be pulled up. This thing has a healing factor doesn't it? What's stopping it from just replanting its roots into the ground?
"Good thing I know plants." smirked Buddy.
Ert: First, *GONG*. Second of all, smirking has nothing to do with talking.
"But now what do we do?
Our task isn't through." Rhymey pointed out.
Cornelia: And he just leaves that sentence hanging without a rhyme. Yes we will keep picking on Rhymey because he's annoying and this is fun.
That's when a soft glow of light appeared in front of Lightning. "Now what's going on?" asked Krysta.

"Hey…!" Lightning said as he recognized what was appearing before him. "It's that package I got from the Grand Ruler." Indeed it was, and the wrapping around it magically vanished revealing a small wand with a spectrum glowing ball with a small crown in its head.
Nora: If "when the time was right" ended up being in the very same chapter then really what was the point of keeping it a secret? Also lets just ding this right now.
(Gary Stu Counter: 15)
"Lightning…!" echoed a voice.

"Grand Ruler…?" Lighting asked as he gazed around, but his mentor was nowhere to be seen.

"I have used my golden horns to channel this message to you."
Nora: I didn't use this when Titan first appeared because fuck you.
"You may be able to tap into the uniforce, but you have much to learn before you truly can master it. This is the Rainbow Rod. I present this to you to assist you in battle as you in battle further. When the time is right, simply aim it at the enemy and enunciate the phrase the magic phrase. Just have faith, and believe in the rod's power."
Ert: I don't think the author understands what it means to "believe" in something. When you believe in something, you're having faith in something that isn't necessarily backed up by facts or logical reasoning. I can believe that tomorrow will work out for the best, something that might happen but I don't know for sure. I can't believe in gravity because gravity is real and indisputable. If the rod works reliably then you can't really believe in it, in the same way a soldier can't just "believe" in their firearm.
Lightning took hold of the rod, and held it tightly. He did believe in his master's words, and that he would do this.
Nora: Now, believing in the Grand Ruler would work. The Grand Ruler is constantly being very vague and it would take a certain amount of trust to follow him, requiring Lighting to believe in him. Except the Grander Ruler didn't say "Believe in me" he said "Believe in the wand" and the wand is a piece of equipment. Either it works, or it doesn't.
He held the rod up high as it began to glow, and he recited the phrase engraved on the rod…

"Magic of the Rainbow,
My faith burns bright
To vanquish the evil,
…in rainbow's light!"
Ert: What, are YOU Rhymey now?
"RAINBOW FORCE…!" and the shout of his command, a magical rainbow stream fired from the tip of the wand and struck the Floralbite hard. The monsters roared loud, and Dementia braced herself from the upcoming shockwaves.
Nora: Yeah you said a magical command and then something happened. That's good "believing" there champ.
Two colorful waves burst from the monster…

WHAAAOM!

WHAAAOM!
Cornelia: Colorful waves? What is this a beach with messed up water now?
Then POOF! It burst into a rain of ordinary flowers, and was all gone. Buddy, Rhymey and Krysta watched in awe, but then cheered for joy, and Lightning joined them, "I did it!" he cried.
Ert: I'm awesome! Forget the fact that I basically shot something that was crippled and that Buddy was the one who got him in that position, I'M AWESOME!
(Gary Stu Counter: 16)
Dementia couldn't believe what has just happened, both her monster being defeated, and she was in a mess. "You'll pay for this, you little clip-clops!" she snarled as she vanished and was gone.
Cornelia: *Snort* You little what now? Also how come Titan only sent one of his minions instead of all three? He really is a rejected Power Rangers villain.  I say this because Power Rangers villains could actually be smart when the time called for it.  For example, the main villain from Power Rangers RPM did the typical attack the city with one monster at a time, but while everyone was distracted he was slipping disguised half-human hybrids in.  By the end of the series, those hybrids made up HALF of the city's population.  They didn't even know they were hybrids, and he could take direct control of them whenever he wanted.  AND HE DID!
Buddy Rose was happy that his hometown would be safe, and he could cancel his order for the seeds because now he had enough Beauti-Flors to fill a whole basket. "I'll take them back to my garden and get them replanted."
Ert: I guess he's not concerned about those flowers still being corrupted and growing into an army of monsters. Personally, I'd burn them all.
Still, what none of them could understand was how the flowers became a monster in the first place. Dementia's magic was only used for defense and capture.
Nora: Yeah! We saw her ONCE before this! We know that that's the extent of her abilities! Her having any magic she wouldn't use in that one direct combat scenario is impossible!
"Hey… what's this?" Krysta asked as she picked a flower that had traces of colored dust on it. The colors matched that of when the magic faded in those large waves when the monster was defeated.
Ert: The vague looks like the other vague? DEAR GOD!
"We need to see Brain. Now." said Lightning.
Nora: Brain, make this story make sense!
…
Once back in Rainbow City, Buddy Rose went straight back to his garden,
Ert: He's growing pot isn't he? That's why he doesn't want to be gone for long. He's afraid someone will find it.
and Rhymey accompanied Lightning and Krysta to Brain's laboratory. He used his powers of wit and analysis to examine the dust. "Ah-ha…! Satisfactory! Most Satisfactory." he said.
Nora: Did I mention that's my catchphrase?
"What is it, Brain…?
Please explain." said Rhymey.

Brain explained that the dust was, in fact, the essence of defeated evil forces, and infused with the magical life-force of monsters. "So basically it just turns whatever it touches into a monster?" asked Krysta.
Ert: Where did he say that? He explained what its components were, not what it did.  And if it turns whatever it touches into a monster, how come the bag it's in hasn't turned into a monster?
"Correct." Said Brain, "And it may have other qualities as well now that our enemy has it in his possession and obviously plans to use it as his method of attack."
Cornelia: It can just do whatever, in other words. Ugh. Open-ended powers CAN be done well, but here it feels like Mykan is just making stuff up as he goes along and the vagueness is him using a lazy cop out to avoid writing himself into a corner.
This was good to know. The gang had learned a lot more about Titan and his plan of attack, and now they would be more prepared for him than ever.
Nora: Except that they're not. They know that they can transform things into monsters. Unless you're whipping up some kind of spell that can reverse that, you're just informed and little else. Hell, they were "prepared" before, and that damn flower was still allowed to go on a rampage.
In the meantime… it had been a long day, and Krysta and Lightning decided to head home. As they left Brain's lab, they could see Buddy Rose's Garden ahead and it was swarming with customers. No doubt they were there to buy or just one whiff of his new Beauti-Flors.
Ert: Just in case you forget this entire chapter happened because Lightning wanted to buy some fucking flowers. The point of Titan's plan was to capture Lightning, so what would he have done if Lightning hadn't shown up?
Buddy was so crowded, "I think I took in a little more than I could handle." he laughed.

Krysta and Lightning couldn't help but giggle.
Cornelia: Uh. What's the joke?
…

(In the Grand Ruler's Palace)

Grand Ruler: "Well, we certainly learned a lot today."

"Buddy Rose learned that it's okay to leave your post sometimes, especially if the situation calls for it, and Lightning is coming along nicely too. Things come with time and you should just take it slow and simple. The more time you take, the more you may discover."
Ert: Yeah except Buddy's "Post" was his fucking garden. Unless you're telling me he's growing some kind of special flower that dies if you don't water it every hour while the sun is up, I think it could've been left alone for a few hours. Also this is an incredibly lazy way to ape Twilight's letters from Friendship is Magic. At least that had a framing device. This is just the Grand Ruler saying "And this was the point of the chapter."
"See you all next time, and keep on believing."
Cornelia: Who is he talking to?
Strong as a Rock

The Rainbow Rod was indeed a mystical weapon, and was powered to respond to Lightning's command, and only his command. All he had to do was call for it in battle and it would come.
Ert: Was there an instruction manual that came with it that told all of him that? Or did he just magically know?
The Grand Ruler had also dispatched a good number of his guards to set up lookout towers all over the kingdom and be on the lookout for any signs of evil activity. The minute anything seemed wrong, they would sound the alarms, alerting everyone to head for the nearest shelter. The only exceptions would be the armed forces, and or Lightning and any allies accompanying him into battle.
Nora: Normally this would be a decent set up, but considering how "prepared" they were for Titan last time, my hopes aren't high.
Magical force fields would also surround the buildings and homes to avoid collateral damage and keep the monsters outside.
Ert: Ok, this is sounding almost foolproof at this point, meaning I'm counting down the minutes until it fails.
Cornelia: Not to mention all of this sounds like it's being set up over a very short period of time. Emergency response systems like this would take time to integrate, making me wonder if this is all rather slapdash.
Practice drills were held and everyone seemed to get the hang of it.
Nora: What kind? Evacuation drills? I can see why you'd want to do that but you gotta explain?
Emergency supplies of food and water were passed all over the kingdom in case of long waiting periods. Lightning, of course, spent the whole week helping to deliver supplies, as was his job as town helper,
Ert: No, his job was to offer help to whoever needed it. This makes it sound like he's a government employee of some kind that works with emergency services. Also it's not like people need food and water right away. Wouldn't it just be easier to tell people to store up a few weeks of water and non-perishables?
but he was glad when the last of the supplies were dropped off. "Well, that should be all of it, Kyrsta."
Ert: We need a term for when the narration says something and then a character says it in a way that doesn't convey an emotional response or the like. Plain old "redundant" just doesn't cut it.
Krysta checked her clip board, which was larger than she was. "Yep!" she chirped "And about time too. I'm exhausted."
Nora: Oh what did you do to contribute? You're three inches tall.
Lightning's eyes widened at that statement. "You're exhausted? Look at my wings!" Lightning Wings were all tired out from flying back and forth between towns and villages so much. "Not to mention carrying all these heavy crates and boxes."
Ert: Carrying heavy crates while flying seems impractical. What if his hand slips? OH WAIT!
Ert: You're ponies (unicorns, whatever) and we invented the carriage for a reason. Take a hint.
He was really looking forward to going home for a nice long rest, only he ran into Artie along the way. He was carrying a towel with him. "Hi, Lightning. Hi Krysta…"

His friends returned his greeting. "What's with the towel?" asked Krysta. Lightning also noticed that Artie didn't have his armor on
Cornelia: He wore armor? Why? He's a freaking artist. If he did in previous chapters, the description was so lack luster we forgot.
and was merely wearing his exercising clothes, sweatband and he wore shoes instead of his boots on his hind legs. "Oh, no…! Please don't tell me…?" he groaned.

It was fitness-day- The day when all unicorns were to go through exercise workouts. It wasn't just all believing and having good skill to use magic, they also had to be in good shape and keep fit for normal everyday lives, as well as combat without magic.

Participation was mandatory,
Ert: ……………. WELL WHY NOT! I know of a great and glorious country that has mandatory exercise! While we're at it, how about another excellent custom of theirs?
Nora: I'm having a hard time telling if Mykan wants to be dark and edgy to show how cool he is, or if he wants his country to be superior to Equestria. You can't really have it both ways, they contradict each other.
with the exception of Krysta, of course. She wasn't a unicorn, and seemed fit and fiddles for her type.
Ert: You have to exercise to stay in shape you know.
Before Lightning knew it, he too was in his exercise clothes, and ready to get moving along with everyone else. Penny was the coach. As a doctor she knew fit unicorns when she saw them and how to make them stay that way.
Nora: Not a horrible explanation, but she still sounds like she's horribly overqualified.
"Okay unicorns! Are we ready…?" she called out. The crowd shouted loudly "YEAH…!"

"Yeah." groaned Lightning.
Ert: Wait, where did the crowd come from?
Penny put them through all kinds of exercises, aerobics, even a little bit of track and field. Many of the unicorns did superb, but some didn't do so well. Lightning was doing the worst. He could hardly do so many push-ups; he couldn't leap over the jump pole, and during a period of timed jogging he finally collapsed. "Ugh…!"

When he awoke, he was in the hospital,
Cornelia: And Penny didn't notice how Lighting was on the verge of collapse? You don't even need a medical degree to notice that, how did she miss it!?
and Penny was wearing her uniform and looking after him. Krysta was there too. "Where am I?" he asked groggily. "Shh…! Take it easy, Lightning…" whispered Penny.

Krysta explained what happened, and Penny confirmed why. "You're overworked, Lightning. Oh, I should've known better than to put you put there. I'm sorry."
Nora: I'm just apparently the worst doctor in the world.
Lightning smiled sleepily, "Well… at least now I can get some rest."

Penny nodded, and said she check up on him later.

Krysta decided to get some rest too.
Ert: Ok, we're reverting to one sentence bare bones paragraphs here, with Mykan summarizing everything because he's afraid that if he doesn't spell out the obvious people might miss aspects of his incredibly subtle writing.
When Lighting woke up again, he felt much, much better. "I feel like I could lift up the moon." he joked. "Bad idea, that." Krysta said. "I don't think you could lift up anything that big."

Lightning laughed with her.
Nora: Man, this is the second time we've had a scene that ended on laughing. Now if only we could get an example that included something that was actually funny.
…

Meanwhile, Titan had observed the conversation, then he turned to face Rep-Stallion, "And you say you have an idea over this…?" he asked.

"Yes, my lord." answered Rep "What finer way to capture those unicorns that by using something strong and sturdy, something immovable… solid as a rock maybe."
Ert: GET IT!? It was the name of the chapter…except the name of the chapter was STRONG as a rock. Wow. Just wow.
Nora: Also, capture the unicorns with something sturdy and solid. No, wait I want something weak and fragile.
Titan gave his minion an impatient glare. "Get to the point!"

Rep-Stallion continued to explain, that against such a hard and heavy object, "The unicorns won't know what hit them. I will capture Lightning easily, and all his secrets will be yours, might Titan."

"Rep-Stallion… you may proceed." said Titan "And do not fail me."
Cornelia: A real evil minion would explain his plans to his master. Instead this guy just says he's going to use something big and heavy.
Nora: Genius.
…
As Rep-Stallion prepared for his mission, he suffered the ridicule of his teammates. "Even I know this plan of yours won't work, Rep-Stallion." mocked Mysterious.
Ert: Maybe if he ironed it out a bit so that we could actually get some details, THEN we could judge it. Also what's up with the "Even I" comment? Is Mysterious calling himself stupid?
"Huh! Just you wait…" snapped Rep "I'll be delivering unicorn pancakes to the front door by the end of the day."

"Oh, sure you will…" Dementia said with sarcasm as she gazed at herself in her mirror from many angles.

Rep to no further notice and went on his way.
Nora: Well that scene added a lot. The five paragraph scene of barely paragraphs of Rep-Stallion being called an idiot is what held this chapter together.
…

Lightning and Krysta were passing through though the fields, when they noticed Starla, in her exercise clothes, sitting on a bench and panting heavily. She looked as if she had been cantering a-hundred miles. "Starla…?" called Lightning.
Ert: Shouldn't Lightning be resting? I mean he overworked himself to the point where he passed out. That should warrant the rest of the day in bed at the very least.
Starla was so pooped she could barely raise her hove. "H… H… Hi…" she said, but her voice sounded very dry. Luckily there was a water fountain nearby. Starla felt much better. "Starla, what's going on?" asked Krysta.
Cornelia: "Pooped." Well I don't think we'll ever be able to take Mykan seriously after this. Though to be fair, we had a real hard time doing it before. Also, the story never said if she drank from the fountain. I guess its presence caused her to recover.
Starla explained that the other night while she was star-gazing in her observatory. Then she was on her way down to the library to get a book when she could hear other unicorns down below talking about the exercise period, and they began to tease Starla a bit, not knowing that she could hear them…
Nora: In case you didn't notice, this is the point where you're supposed to feel sad for Starla because the narration says so. Ignore the fact that you barely know her.
"That Starla… she's hardly ever seen outside."

"Yeah… and the way she sometimes trips and stumbles, you'd think she was losing her shape more and more."
Ert: Are the people who mocked her in the area using the exact same insults all over again?
So Krysta decided to excesses constantly to get into shape and prove that she wasn't all those things those unicorns had said. "Starla… exercising this much isn't good for anyone." said Krysta "Look at you! You're so worn out."
Cornelia: Yeah, but it's kinda freaking mandatory. If you've got a problem with it you gotta take it up with the Grand Ruler. Not that you'd ever do that.
"Besides, you don't look out of shape to me." said Lightning

Starla turned her pretty face towards Lightning, "I don't…?"

Lightning felt a little shy and blushed softly. "N-N-No… you'll look fine to me. Ahem!"
Nora: This little conflict is so vague and bare bones, that I honestly don't know what's going on. Is Starla out of shape? I don't know, we don't know anything about her. In fact, is she doing this because she wants to be physically fit or just to not be fat? Hell if I know, the story doesn't care enough to elaborate.
Starla and Krysta giggled by how cute Lightning looked when he was shy, and they walked back to town Starla still wished she looked at least a little stronger. "Who says you have to look stronger, or even be that?" Lightning said to her.
Ert: No one, so why bring it up?
Starla was about to answer when someone shouted, "I do… for one."
Cornelia: So Rep-Stallion can establish his one dimensional personality trait.  Apparently.
The gang looked up a tree. "Rep-Stallion!" they all snarled.

That's when the alarms abounded, and all the unicorns were dashing towards the nearest building before the force fields appeared.
Nora: So there's a tower in the area? And the force fields can go up prematurely and trap people outside. Go figure. This is what happens when you try and get a national defense grid up overnight.
"Looks like we're on our own out here." said Lightning "What do you want?" he snapped at Rep-Stallion.
Ert: Oh nice going Grand Ruler. You got everything shielded except the one thing that the bad guys are actually after.
Rep was running the tip of his hove over the blade of his scythe. "I couldn't help but overhear your little talk about… what was it…? Not having to be strong and I was wondering if you'd like to… prove it!" His eyes twinkled with a sinister and serious gaze.
Nora: *Tilts head* The commentary in this chapter is so fucking confusing.
Starla thought that a joke. "There's three of us and only one of you. We don't have to be strong there."
Cornelia: Yeah, you don't need physical prowess. You just need bullshit magical artifacts that your master keeps sending you.
Lightning and Krysta nodded.

Rep leapt down from the tree and sniggered at them all. "Who ever said you were going to fight against me?"

"Huh…?"

"What…?"

Rep reached behind him and held out a single ordinary rock he had found,
Ert: I was JOKING with the Killer Croc video you know.
and before the others could react, he reached into a pouch he was carrying, and dusted the rock once with yellow dust and again with blue. "That dust…!" yelped Lightning.
Nora: So if he can transform freaking rocks, what's stopping him from sprinkling this stuff all over a quarry and creating an army of them?
The rock began to glow magically as it grew in size and sprouted legs and arms, and an ugly face. Rep-Stallion laughed maliciously as the monster became complete.
Goeth: Oh yes, you need to laugh, because people like you laugh at every second. We laugh when we use our incredibly dark sense of humor goddamnit!
Nora: Speaking of which, water balloons are not supposed to be filled with baboon blood.
Goeth: That's what makes it fun!
The gang blinked their eyes once each. "I think we're in trouble…" Krysta peeped.

Rep snickered again and held his scythe forward. "Strong Stone, Seize them!"
Cornelia: A name isn't clever just because you use an alliteration.
The monster pounded its huge feet which actually caused tremors which nearly knocked Lightning and Starla down. "Whoa…!" Lightning feared for Starla, since she wasn't in armor, but there was no place for her to go with the buildings all sealed off.
Nora: Is everyone supposed to be in armor in this story?
"Can't you just use the rainbow rod?" she asked.
"Not yet I can't… the time isn't right."
Ert: … You know, Lightning keeps getting these stupidly powerful tools and abilities he can never use.
Lightning had been studying and found out the best time to use the rainbow force was after the monster's weakness had been exposed. Using it now would do absolutely nothing.
Ert: Oh. So it's basically useless. If it's anything like the flower incident, you will be able to use it only after the enemy has basically been defeated already.
"That doesn't mean I can't try something else." And he got down on all fours and charged forward… but Strong Stone, lived up to his name by simply raising his huge stone fist to block Lightning from going any further and simply nudging him…
Nora: Lightning, has that EVER worked? Even once? No it hasn't. Stop being stupid.
"WHAAA…!" Just that simple nudge sent him far. "LIGHTNING…!" cried the girls.

Lightning could see stars and birds before his dizzy eyes.
Cornelia: Yeah, there's a reason that tends to be a visual gag. When you see someone hurt with birds flying around their head, its funny. When it's just written down, its awkward.
Starla features hardened. "My turn now…! STAR SHOWER…!"

Sadly, all that bombardment didn't even tickle the monster. "It's like hitting a solid rock."
Ert: How stupid are these people? And what even is "Star shower"?
"Uh, Starla…?" said Krysta, "It is a rock, and it's heading this way!"

The monster was stomping towards them, and they began to run as the monster gave chase. Rep-Stallion laughed hard and wickedly. "I'm enjoying this…! Heh, heh, ah, ah, ah…!"
Nora: I suppose I could do something to help, but NAH!
Lightning finally got upright again and was charged right at the tree knocking Rep off of it and down to the ground. "Whoa..! Ah…!"

"Are you afraid to fight us yourself?" Lightning snarled. "Bring it on!" snapped Rep-Stallion.
Nora: Seriously Lightning. Try mixing up your approach a little bit. You've used this quite a few times and this is the only one that got results. Not very impressive results either.
Despite that Lightning didn't have a weapon or any other magic on him; he managed to dodge all of Rep's scythe attacks. "Being strong isn't everything, you know."
Ert: That's our bullshit moral for the chapter! Being strong isn't everything! EVEN THOUGH EXERCISE IS REQUIRED BY LAW!
Rep growled and continued to swing his scythe at him, "Tell that to Lord Titan when I bring you to him all tuckered out!"
Cornelia: Or unconscious. Or paralyzed. Or anything really.
As their fight continued, Starla and Krysta were still on the run from Strong Stone, he wasn't very fast, being so heavy, but he sure was able to keep the girls in his sights, so the girls decided to fly up high. "We'll be safer up here." said Starla.
Cornelia: Wait. Everyone can fly in this story. Why didn't they use this last chapter to get away from the flower monster? In addition to that, why is it when Mykan writes a scene where they fight a monster, half of it is dedicated to the "heroes" running away?
"Uh… I don't think so…" cried Krysta "Look!"

Strong Stone looked way up, and opened his huge mouth firing blazing meteor stones straight up at them, which they barely dodged. "Lightning…! We could use some help…!" shouted Krysta.
Ert: I honestly don't even know why Mykan gives his monsters ranged attacks, they never freaking hit.
Down below, Lightning was engaged in a battle lock, his horn against Rep-Stallion's scythe. "I'm a little busy right now…" he shouted back to them. "Try to find the monster's weakness!"
Nora: THANKS FOR NOTHING ASSHOLE!
"That is not going to happen!" growled Rep. "SCYTHE SHOCK!" and Lightning was jolted away from him.
Nora: He jolted Lightning away from him just by shouting? That's actually impressive.
Strong Stone continued to fire his meteors at the girls. The girls just continued to swerve and evade the shots, but they couldn't keep it up. Somehow they just had to find out the monster's weakness.
Cornelia: What makes you think he has one? It's a rock. Not everything operates on video game logic.
Then suddenly, as Krysta gazed into Strong Stone's huge mouth, "I have an idea…!" she said as she flew downward. "Krysta, No! What are you doing?" cried Starla.
Ert: Well this is already stupid. Flying closer into the thing's attack range. But it'll work out for her because it always does.
Kyrsta had flown closer towards the monster and began teasing him to chasing her. Flying one way, then another- up and down, every way around…

She was pretty fast, and her small size made her hard to see and follow. Strong Stone was getting dizzy.
Nora: Yes. Because rocks can get dizzy. And why isn't it actually doing anything? Like spamming its ranged attack, or trying to crush her if it gets close enough?
Starla was beginning to see, but she already knew the monster wasn't fast. Where was its weakness?
Cornelia: Beginning to see? What was she temporarily blinded earlier?
Suddenly Krysta flew way, way up. "Follow me…!" she called to Starla. Resisting the urge to question, Starla followed her until they were both directly above the monster and he was gazing straight up at them. "What are we…?"

"Just trust me." said Krysta.
Ert: How about you take ten seconds to explain your plan on the off chance it turns out to be painfully stupid and suicidal.
The monster opened his mouth, "Okay, get ready…!"

Starla was getting nervous, which turned into fear as the meteor began to come right at them.
Nora: Also meteors are rocks that enter the Earth's atmosphere. So Mykan is just throwing around a term that he thought sounded cool.
"Now!" shouted Krysta and they split apart from each other letting the rock go just past them, it when up, and up, and up… and would soon come down again in a prefect straight line.
Cornelia: How does she know what "now" means? Nothing was explained to her.
The girls went back to where they last were and at Krysta's word, began to fly downward slowly. "Krysta…!" whimpered Starla "KRYSTA…!"

Lightning caught a glimpse of them. "Girls…!"
Nora: DONKEY!
Rep-Stallion was overjoyed, "Get them, my monster…!"
Ert: He was overjoyed. At thing. Remember thing?
Strong Stone opened his mouth to shoot again. The girls waited until the last moment, "Now!" shouted Krysta as she and Starla sprinted away just as the next meteor was launched, and while it shot straight up, the first meteor was crashing straight down.

The two meteors collided and smashed into many small fragments,
Nora: Ok, I thought that they were going for the cliche but logical approach of having the first rock fall down and smash into the monster's face. Instead they go for the much dumber approach of having two rocks smash into the air and have pieces of rubble land in his mouth. Because that's his weakness?
some of which landed in the monster's open mouth. The monster groaned and roared as it didn't seem to like being hit there.

"What…?" snarled Rep-Stallion. "It can't be…!"
Cornelia: What can't be? A couple of pebbles landed in its mouth. The way it's acting it seems more mildly annoyed than anything.
Lightning pushed him off, and ran off to join the girls. "Krsyta…! Way to go…!"

Krysta winked at him. "My turn now…!" said Starla "QUASAR BEAM…!" From her horn, she shot a beam of energy straight into Strong Stone's mouth, weakening him even more.
Ert: She can do that? And it was weakened? How is it weakened? It's weakened because you said it's weakened, isn't it?
Now was Lightning's chance and he called out, "Rainbow Rod…Come to me!" and his magical wand, responding to his voice, came flying over the fields and into his grasp.
Nora: *Snort* You know. I just realized what this reminds me of.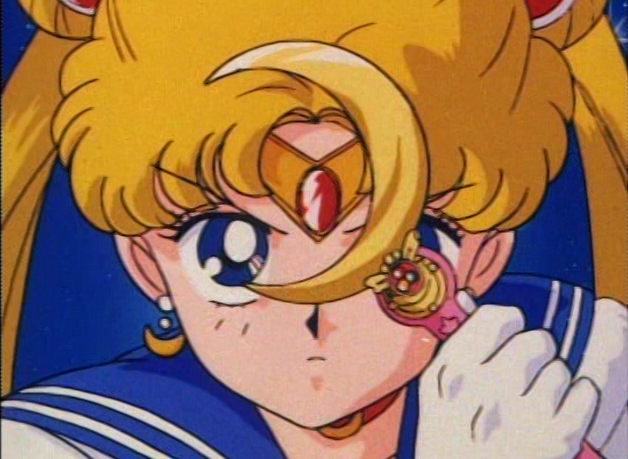 Ert: That is not something I was expecting from a guy who says "My power comes from hatred." Still, it counts.
(Unoriginality Counter: 9)
He began to concentrate really hard as he held the rod up high as it began to glow…

"Magic of the Rainbow,

My faith burns bright

To vanquish the evil,

…in rainbow's light!"

"RAINBOW FORCE…!"
Cornelia: You know, when Sailor Moon recycled the same animation and attack calling, its because animation is expensive and corners are cut wherever possible. Here it's just lazy.
The magic flew straight down Strong Stone's throat, crushing him into ordinary rocks, and dissolving the evil magic within.

WHAAAOM!

WHAAAOM!
Ert: Seriously, what is that even supposed to be?
The girls cheered for joy and then Lightning turned to face Rep-Stallion, "Your turn now…!" but before he could act, Rep-Stallion promised him, "I'll be back! Just you wait!" then he vanished and was gone.
Nora: So can all of Titan's minions teleport? You think this would be a useful tool for everyone else to know. Also, yes, people tend to be gone when they vanish.
Lightning growled in frustration that Rep had escaped. The important thing was that everything was okay now. No serious damage had been done to the park. The force fields were lowered and everyone was allowed back outside again.
Cornelia: No waiting for the all clear? What if he was just sprinkling more dust on a tree or something?
…

"And extraordinary performance, Rep-Stallion." sneered Titan "And all you return with is a tangled tail, and no Lightning? I am displeased."

"Yes, My Lord." said Rep-Stallion "The fault is mine."
Ert: No kidding. The second the rock monster died he pretty much threw a tantrum and gave up. You're allowed to keep going you know.
Mysterious and Dementia could hear the whole thing, and couldn't help but feel sorry for Rep, in a mocking manner. "We told him it wouldn't work." They whispered to one another.
Cornelia: As opposed to your brilliant plan of using a flower, Dementia? At least Rep picked something that couldn't be foiled by grabbing its stem and pulling very hard. I mean, when is a flower in fiction EVER threatening?
Cornelia: … Except for that.
Titan clenched his fists furiously. "You've won the battle today, Unicorns, but the war is not over yet!"
Nora: What, you think they can hear you?
…

Lightning walked Starla home to the observatory. Starla thanked Lightning and Krysta for all they did. "You should thank yourself, Starla." said Krysta.
Ert: Who talks like that?
Lightning nodded "You helped me take out that big brute and you weren't even wearing your armor. You see…? You already are strong and fit. So you really don't have to worry about what others think."
Cornelia: Well this moral is confused more than ever now. "Being strong isn't everything," but she's apparently already strong and being strong saved the day, so being strong is clearly very freaking important!
Starla smiled and felt much better "Thanks…" she said and she pecked Lightning on his cheek before she headed inside. Lightning's face turned bright red.

Krysta giggled "What's the matter, Lightning?" she teased. Lightning could barely speak and just stuttered and slurred words all the way home.
Ert: Also relationship start now.
…

(In Grand Ruler's palace)

*Grand Ruler is working out*
Grand Ruler: "Turn, and turn… and stree-ee-etch…! Ahh…!"
Nora: Ok. It just shifted into movie script format out of nowhere.
"Everyone has their own special shape and size, and while exercise is good for you sometimes, it's never a good idea to do too much. Having big muscles doesn't mean you are in good shape either,
Ert: Yes. It does. There aren't many unfit people with muscles.
but there are other ways to get into better shape or stay in shape. Eat healthy foods, drink plenty of water, get plenty of rest, and even doing regular chores can be a good workout."
Cornelia: While that's not a bad lesson to teach kids, the way they go about it in this story is so bloody confusing and contradictory it comes out as a tangled mess.
"Starla has learned well today, and I am very proud of Lightning for helping her see that being strong is not everything, but being strong-minded and swift can be just as effective."
Ert: You know, being fast requires just as much effort as being strong. Just as much exercise too. I think Mykan thinks strength training is the only kind of muscle building exercise there is.
"See you all next time, and keep on believing!"
Nora: Whatever the FUCK that means.
---