1054: Yes, But It's a Female Zombie – Prologue/ Author's Intro
Posted: May 22, 2015
Filed under: But it's a Female Zombie, Kore wa Zonbi Desu ka?/Is this a Zombie?, Yes
| Tags: Anime, Ghostcat, Humor, Is This a Zombie?/Kore wa Zonbi Desu ka?, Manga, Romance
40 Comments
Title: Yes, But It's a Female Zombie
Author: Cyberweasel89
Media: Anime/Manga
Topic: Is This a Zombie?/Kore wa Zonbi Desu ka?
Genre: Romance/Humor
URL: Prologue/Author's Intro
Critiqued by Ghostcat
Hello, dear Patrons!
I'm here with a brand spanking new fic that contains significantly less spanking than that moniker would imply. But there is gratuitous partial nudity! And occasional full nudity, which is also gratuitous. Also violence!
This fic comes from one of my very favorite anime series; Kore wa Zonbi Desu Ka?, A.K.A "Is This A Zombie?" The series follows the male protagonist, Aikawa Ayumu, a high school boy who was brutally murdered by a serial killer and then brought back as a zombie by the necromancer Eulicwood Hellscythe. They are joined by a Magical Garment Girl, Haruna, after Ayumu accidentally steals her powers, and then later by a vampire ninja, Serephim, who is seeking the necromancer's help. Together they fight various Big Bads and Monsters of the Week, who are known as Megalos and resemble different animals (like a blue whale, a bear, a school of jellyfish) who are usually out to steal Haruna's (and then Ayumu's) magic for themselves in an allegory for rape. Y'know, just your basic anime shenanigans.
The series plays with many of the standard tropes found in anime, but is very fun to watch. The fic … Not so much. Let me show you the summary;
Ever wished you could watch a curvy female zombie fight monsters with the aid of a prettyboy necromantic wizard, jerkass vampire ninja, and naked loli girl?
Well … Yeah. That's why I watch anime. Duh.
Introducing: Kore wa Zombi Desu ka?/Is This a Zombie?: The partial genderswap version!
Partially genderswapped? That sounds bad. Really bad. A partial genderswap usually means that the author wants to hijack the protagonist, typically by switching the character's gender to match their own and then piling on the Sue/Stu traits. The author's preferred love interest usually gets the Jurassic Park treatment as well, if they are not already the author's preferred gender.
Rated T for nudity, violence, and language.
I don't think so. According to the rating system used by ff.net, T would mean the fic is "Suitable for teens, 13 years and older, with some violence, minor coarse language, and minor suggestive adult themes." Full nudity and the sort of blood-soaked violence found in the source materials should be given an M rating, which some authors seem hesitant to use regardless of the content of their fics.
Skip the prologue if you don't want to hear the author explain herself.
:eye-twitch:
Awesome, a full chapter Author's Note. Those are always fun. And in violation of ff.net's guidelines.
Mixes anime and manga.
:sigh:
Combining source materials is rarely a good idea, especially if they differ on key points. I've only read a little of the manga and the anime does follow it pretty closely, but it does differ from it as well.
On to the fic itself!
Or whatever this first chapter is. There's a standard "I own nothing" disclaimer that isn't very interesting, so I'm going to skip over it and get to the main event.
XXXXXXXXXX

Kore wa Zombi Desu ka?/Is This a Zombie?

Yes, But It's a Female Zombie

By Cyberweasel89

Prologue: Author's Intro

XXXXXXXXXX
:eye-twitch:
A Prologue/Author's Note. Oh, goody.
I do not like this thing where the authors feel the need to add the fic's title (and their name, and the chapter's title) to the beginning of each chapter. FF.net's formatting allows you to title the fic and the individual chapters, so this is completely unnecessary.
That said, this does follow the series' titles; since the name of the show is a question, the titles are usually answers of some kind.
Hello, hello! This is Cyberweasel89.
:waves:
Greetings, sentient fic! You may call me Maurice. I also answer to "The Gangster of Love".
Normally, I try to remain a silent author, only speaking through PMs sent to people who review my fanfics.
And that's something that you should have kept doing. Chatty Author's Notes have no place in fics; if you want to discuss your motivations and ideas, start a blog.
However, I felt this fanfic deserves some… explaining.
:eye-twitch: That's never a good sign. If your concept isn't strong enough to stand up on its own merits, then no amount of explaining beforehand is going to help. All this is going to do is make me reach for that Reciprocating Mace I borrowed from Bifocals.
This is a genderswap of Kore wa Zombi Desu ka?/Is This a Zombie?. But it is only a partial genderswap. Specifically, only a few characters will actually be getting their genders changed.
Hence the "partial" part of "partial genderswap".
Here are the main players, and how the changes affect them:
:headdesk:
And you felt the need to list them here rather than using the fic itself, because … Why?
Aikawa Ayumu
Who normally looks like this;
A sixteen-year old high school girl, Ayumu was killed by a serial killer, but lives on as a zombie resurrected by Eucliwood Hellscythe. She is currently living with him, along with Haruna and Seraphim. She is the main protagonist of the series.
Other than the gender change, I don't see any differences that would require an in-depth explanation. The character's physical appearance should be revealed through the narration, not in this long-ass Author's Note.
Appearance: Largely unchanged, though feminized. Notably, long hair often tied in a ponytail and a curvy, buxom body very similar to Seraphim pre-genderswap.
:spit-take:
A curvy, buxom body?!? With a long ponytail. Not only is Ayumu like Seraphim, he is her.
This is Sera; please feel free to compare and contrast with the above image of Ayumu.
And this is what the author considers "largely unchanged"?
She usually wears her school uniform, but will often wear camisoles and boyshorts when at home.
So instead of what Ayumu would usually wear, typically t-shirts and long pants, she's going to go around in an outfit strangely similar to what Sera usually wears.
She retains the original Ayumu's "zombie eyes" and hair color.
That's pretty much the only thing that hasn't changed, then. Instead of the typical anime eyes, Ayumu's are very lifeless and dull.
Personality: Again, largely unchanged,
:snorts:
though some of the original Ayumu's lazy state of mind and perverted thoughts are more female-oriented,
That would be a nice change – if the author could pull it off.
such as daydreaming of herself as Eu's housewife
:headdesk:
Well, it looks as if we're in for more casual sexism.
instead of an imouto relationship.
"Imouto" means "little sister" in Japanese; I think the author meant to use the phrase "aniki/imouto", which is "big brother/little sister", instead of just little sister. This kind of relationship can mean nothing more than a close friendship between an older boy and a younger girl, but it could also be a romantic relationship – or one of them REALLY wants a romantic relationship but the other one sees them as a brother or sister. I don't think Ayumu wants just a platonic friendship with Eu, not with the sexy fantasies he has about her.
That is not a brotherly reaction. (The chick with the ice is Haruna.)
Notes: To keep some of the humor that would be lost in genderswapping the main character of this series,
Which would be a fair amount of the humor since Ayumu being forced into the role of a Magical Garment Girl and living with beautiful women who are either indifferent to him or openly dislike him is where the bulk of the humor comes from.
Fem!Ayumu is heterosexual. Since not all the girls of the series have been genderswapped, some of their yuri feelings for her make her very uncomfortable (and sexually confused at times).
:headdesk:
I'm going to assume that this means that the tsundere Haruna isn't going to be genderswapped since she develops a crush on Ayumu and tries desperately to deny her feelings for him.
Rather than crossdressing, the humor of being a Masou-Shoujo comes from the uniform not fitting due to Ayumu being much taller and curvier than Haruna, and being nude upon transforming back.
Which is not so much humor as it is fan service. Seriously, have you not seen some of the "regular" clothes anime girls wear? Especially if they're magical or mystical in nature. And if she already prefers wearing tiny/tight clothing, why would a tiny dress be any different? And the nudity thing makes no sense, Magical Garment Girls get back the clothing they were wearing when they transformed.
Ayumu might complain about being forced into drag, but along with that dress comes a suite of magical powers and a mystical chainsaw so it isn't as bad an ordeal as he makes it out to be. In the end he just rolls with it.
So instead of being a "crossdressing pervert," Fem!Ayumu is an "exhibitionist pervert."
Because she's wearing tight, revealing clothing like just about every other female in the anime world. Right.
Finally, Fem!Ayumu retains the original's hidden talent of break dancing, though is prone to wardrobe malfunctions during these dances… which does not help the exhibitionist label.
I'm starting to have some concerns about the author's propensity to strip her protagonist. That seems like an odd thing to do.
Eucliwood Hellscythe
Yay, it's Eu! (Or Yu, or Yuu. The spelling differs.)
She's a powerful magician, but why use magic when you've got access to a big-ass scythe?
More commonly known as Eu, he is a necromancer who was first seen in the streets of Tokyo. In an unexpected turn of events, he met a girl named Ayumu and rose her from the dead after being killed by a serial killer. He is currently living with her as her first companion at her home.
This follows closely what happens in the source materials, although that should be "raised" and not "rose". Ayumu met Eu outside a konbini (convenience store) and tried to impress her by breakdancing but wound up hurting himself. It did amuse her, though, which is a dangerous thing.
Appearance: Showing some distinct changes from the original, but less than the others, M!Eu is intended to look more the part of the "dashing wizard."
Oh, dear.
Though he retains the original's medieval-style armor, it is made to look more masculine.
Her armor's already fairly masculine, with the exception of the boob-bumps. It's at odds with her otherwise frail appearance.
He wears reading glasses for a more subtly wizard-like appearance, is quite tall and thin, and largely retains the original Eu's long hair for a more bishounen-style look.
So he looks like Booky-dono? That's unexpected.
:distant sound of glasses being adjusted:
… How does he do that? And what does that even mean?
:flips through Book Specs to English dictionary:
You don't see the resemblance? He's a bishie wizard with reading glasses!
:distant sound of glasses being adjusted:
Well, Glasses thinks you are and I agree with her.
Personality: Eu probably shows the least changes in personality out of the genderswapped characters, though this is mostly due to plot reasons.
That sounds ominous.
Eu is a deceptively simple character; she doesn't speak, show emotions, or react to events around her. It would be easy to push her into the background and turn her – or in this case, him – into a decorative pet/love interest for Ayumu. But she can't do any of those things, for reasons revealed during the series. Her true character is very slowly revealed during the course of the plot line, which is something most fic authors have trouble doing.
M!Eu, however, is slightly more gentle with Ayumu due to male-on-female abuse not being nearly as funny as female-on-male abuse.
:jaw drops:
Sweet mercy. Did you honestly create this sentence in your mind and not find anything wrong with it, author?
Instead, these gags are replaced with the more subtle humor of Ayumu being the female zombie servant to a male necromantic wizard.
:headdesk:
That's part of the humor in the original! Ayumu has a massive crush on Eu to the point of having full-blown hallucinations/fantasies and Eu typically treats him like a servant. She does feel some affection for him, but has to repress it due to her inherent abilities.
Notes: For pure author flavoring, this Eu tends to occasionally opt for tracing characters in Ayumu's hand with his finger should his notepad not be around or he not have time to utilize it, and is also fluent in sign language.
I was wondering if the author was going to mention Eu's inability to speak or if that was going to be an "improvement" to the character.
Eu is an incredibly powerful magician; she wears her armor in an effort to contain the magic that her body constantly produces. Even after she dies, her body and bones will continue producing magic; it's almost like she emits a unique form of mystical radiation. She doesn't speak because her very words contain power, she raised Ayumu from the dead with a single word and can kill just as easily. She also remains silent out of a sense of self-preservation since using these powers is incredibly painful for Eu. Because of this she communicates via notes written on a notepad rather than speaking. In the source materials these notes are written in Japanese; I can tell you from experience that there are Japanese characters that are very similar to other characters. Just tracing these characters onto someone's hand without using paper or some other medium could easily lead to a misunderstanding.
Seraphim
In case you forgot, Sera looks like this;
Explain to me again how putting Fem!Ayumu in a tight dress turns her into a exhibitionist?
A vampire ninja, he is now living with Aikawa Ayumu due to wanting to be Eucliwood Hellscythe's servant. Since Ayumu has taken the position, though, he is now surprisingly Ayumu's servant, but doesn't act or like being called her servant at all.
Again, that is similar to the source materials. Sera comes to see Eu to request the necromancer's aid for her village and pledges herself as Eu's servant. Eu declines, since she already has Ayumu, and then Sera challenges Ayumu to a battle – the winner gets to be Eu's servant. Ayumu wins by throwing his own severed arm at Sera, who quietly accepts defeat and promises to return home. "Home" in this instance is Ayumu's house, where she sets herself up as Ayumu's servant (although she doesn't do anything he tells her to) and takes up residence in the ceiling.
Appearance: As the resident curvy bombshell of the series, M!Sera is instead the local man-among-men.
I don't see why being a slender yet buxom female (who is very aggressive and out-spoken) would translate into a buff stud of a man, but bring on the man-candy!
He is more masculine and muscled than the dashing prettyboy that M!Eu is,
Hey, those pretty boys can be masculine, too. Masculinity isn't solely defined by appearance.
being broad-shouldered and with an incredibly toned swimmer's build, tending to walk around without a shirt due to the original Sera's tendency to wear curve-accentuating clothing.
:headdesk:
Tight or revealing clothing is one thing, but walking around half-naked is another. Grey from Fairy Tail can pull it off, but there's a logical reason for him to constantly misplace his clothing and this male version of Seraphim doesn't have that.
While M!Eu has long hair, M!Sera's hair is more similar to the original male Ayumu's hair style.
Another instance of stealing traits from one of the original characters and giving them to someone else. Not as extreme as Fem!Ayumu, but it still counts.
Personality: Of the four main members of the Aikawa residence, Sera probably shows the most difference in personality. This is because the original Sera's tsundere personality really only works as a girl.
I beg to differ; while they do tend to be female, there are male tsundere characters out in the anime world. Kyo from Fruits Basket comes to mind.
Due to the genderswap, M!Sera's tsundere personality comes across as more of a jerkass.
Dude, did you even watch the show or read the manga? Sera openly refers to Ayumu, who is nominally her master, as a filthy, disgusting maggot. (In the original Japanese she frequently calls him kusomushi, dung beetle.) She is also quick to injure Ayumu if she thinks he's doing something perverted, like throwing ninja stars into his eyes when he's looking where he shouldn't. How is that behaviour not being a jerkass?
He tends to largely treat Ayumu the same as in the original, though a lot of the violence translates as more of an… MDom thing, if not misogyny.
As opposed to the dominating, misandronistic way Sera treats Ayumu in the original source materials?
Notes: This Sera, of note, does not like being balled
:giggles:
Sera due to its feminine connotations.
Sera doesn't really have "feminine connotations" in Japanese; it's an English name so it has more of an "exotic" appeal.
He would prefer being called "Phim" from the other half of his full name.
Fun fact – "Phim" is the Vietnamese word for "movie".
Haruna
It's the resident super-genius!
 Here she is explaining square roots to Ayumu.
A Masou-Shoujo in training from the world of Villiers, she is a student of Ariel.
I don't think Dai-Sensei/Head Teacher's name is given until much later; some time in the second season, if I'm remembering right.
In one of her training sessions, her magic was taken by Aikawa Ayumu, forcing her to stay with her.
Her magic was accidentally absorbed by Ayumu, not taken, and it wasn't really a training session – Head Teacher sent Haruna to Earth to get some Kyoto-style tofu but Haruna forgot what it was she was supposed to get and wound up battling a bear Megalo instead.
Appearance: Unchanged. Due to the very nature of Masou-Shoujo and their Mahou Shoujo parody nature, Haruna is the only one of the four members of the Aikawa household to not be genderswapped.
"Mahou Shoujo" is "Magical Girl" while "Masou Shoujo" is more along the lines of "Magically Ornamented Girl", it's a subtle bit of humor that gets lost in the translation.
Keeping Haruna female just because she's a Masou Shoujo doesn't make sense to me; it would be more in keeping with the source materials brand of humor to make her a male Masou Shounen and keep the frilly outfit. Since Haruna's magical abilities are tied to her wardrobe then her male version would want to wear the thing, which would be a nice contrast to Ayumu in the source materials.
Personality: Unchanged. However, her sexuality is unchanged as well. This makes her feelings for Ayumu just as confusing for her as they are for the zombie, perhaps even more so.
:headdesk:
I hate to break it to you, author, but if Haruna has the same romantic feelings for this female Ayumu as she does for the male version then you've changed her sexuality. I'd actually prefer it that way, since giving her these conflicting emotions and then trying to sweep her sexual identity under the rug is a cop-out.
Notes: In general, instead of calling Ayumu a pervert like in the original, Haruna instead slings insults at her for being much taller, curvier, and bustier than her.
Which is what she typically does to Sera, so another trait has been hijacked. It might have been easier to just swap Sera and Ayumu's names instead of going through all this.
Orito Tulio
Wait, Orito gets his own entry? Why?
A friend of Ayumu, he is in the same class as her in school. Orito is known for being a pervert and a bit of a creeper, thus making him a bit unpopular among girls. He is quite a lively character and stands out in class.
He's unpopular with girls, because he's a well-known pervert who fancies himself a ladies' man, but is somehow best friends with the buxom and scantily clad Fem!Ayumu? That seems of all things unlikely.
Appearance: Unchanged.

Personality: Unchanged.
Why is he even in this Note-whatever, then?
Notes: Though only a side-character, Orito is noteworthy for not being genderswapped.
Since you're only genderswapping specific characters and Orito is going to be completely unchanged, he's not really noteworthy at all.
Him and Ayumu are, in fact, opposite-sex best friends.
Yeah, I noticed that.
This is explained as, due to Ayumu's personality being largely unchanged despite the genderswap, she is a bit of a tomboy, and her relationship with Orito is entirely platonic from both ends.
Despite her smokin' hot new body, propensity for wearing very few clothes, and Orito's obsession with all things female. I'm sure it's possible, but I just don't think Orito has the fortitude not to have sexy-time thoughts about Fem!Ayumu.
It is, however, partly due to her association with him that Ayumu is unpopular at school despite being one of the curviest girls in school
Again – smokin' hot. Tight, revealing clothing. How do?
(though this, also, is partly why Ayumu is unpopular. More on that in the fanfic proper).
:THWACK!:
You put a frickin' Author's Note inside your chapter-long Author's Note?!? And what the hell does that even mean? Fem!Ayumu isn't popular because she's a hot chick, or because she hangs out with Orito?
Oh, shit. She's going to be a Pretty Ugly Girl, isn't she? Dammit!
Hiramatsu Taeko
Really? That girl in Ayumu's class who has a crush on him? She rates an entry in this thing?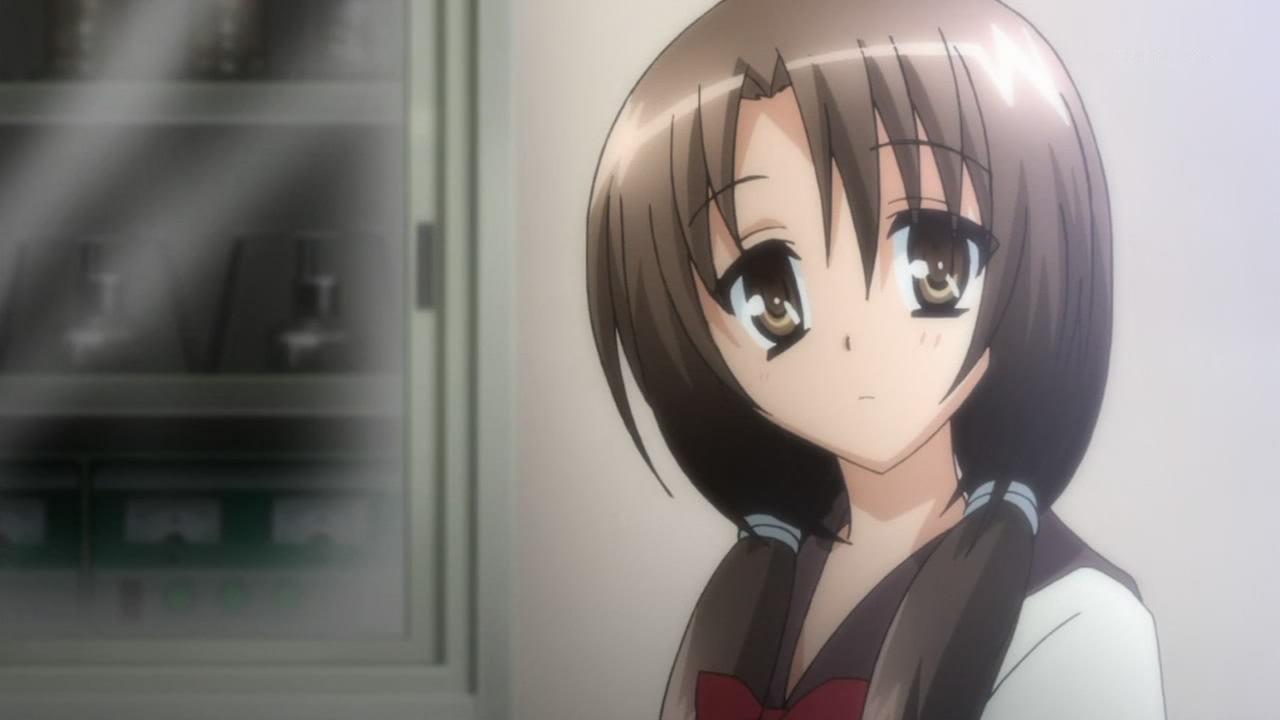 She's here, but Tomonori isn't? That's completely unfair! Maelstrom is Ayumu's accidental wife! (It's complicated.)
Ayumu's classmate and a new friend of Yuki, Taeko is a boy with long hair and one of the few people who will talk with the zombie. He secretly has a huge crush on her.
I guess that's close to the original; she isn't featured very heavily so I don't really know much about her.
Appearance: Largely unchanged even with the genderswap, being a rather short, small boy with medium-brown hair tied into a low-set, masculine ponytail reaching down to his shoulder blades and amber-colored eyes.
Essentially a female version of the canon character. I guess with all of these genderswaps one was bound to be right.
Personality: Again, largely unchanged even with the genderswap.
You keep using that phrase – largely unchanged. I don't think it means what you think it means.
He is kind, friendly, caring, and somewhat shy, with strong feelings for Ayumu, but doesn't act on them.
So it's okay to make Haruna question her sexuality with conflicting feelings about Ayumu, but Taeko gets a courtesy gender-flip to spare him that? And he has a girl's name! The character for "ko",子, means "child" and names containing this character are typically only given to girls. It's another one of those bits of casual sexism that Japan is so infamous for.
I'm curious as to why he, or any of the genderswapped characters, still have their original names. Many Japanese names might look gender neutral, but they aren't.
He is, however, quick to rush to her defense when her classmates accuse her of being the chainsaw-wielding exhibitionist pervert girl running around their school's graveyard.
… The school doesn't have a graveyard. That's a separate location that's near Ayumu's house.
Notes: Despite being only a minor character, Taeko is one of the few characters not on the main cast to be genderswapped, which was necessary due to Fem!Ayumu's heterosexual nature.
I think you have things backwards, dear. If you want M!Taeko to be attracted to Fem!Ayumu but not the other way around, then Fem!Ayumu's sexual identity doesn't enter into the picture. Taeko could still be female and attracted to Fem!Ayumu.
You see, instead of wearing her hair in twintails to attract Ayumu, M!Taeko has been growing his hair out and lifting weights due to finding out that Ayumu likes guys with long hair (Eu) and muscles (Sera).
The new Taeko is a lot more committed to his crush on a girl who is indifferent to him than the Taeko in the source materials is. Changing your hairstyle is one thing, but going all out and lifting weights is something else.
General Changes
I don't know a character by that name. :flips though notes: Is this an OC?
This fanfic is largely a mix between the canons of the anime and the manga.
Oh, it's general as in … :clears throat: Carry on.
In general, when it comes to two different scenes between the two mediums, I will be using the one that had more detail, was more awesome, funny, etc. or I will be mixing the two scenes rather evenly.
This will end in tears.
In theory, the author's idea might sound good; crossing two versions of the same source materials would eliminate many of the problems inherent with reconciling two or more disparate source materials. In practice … I have doubts. The author states that she will use the more interesting version whenever there's an overlap, which could easily lead to an over-crowded fic and seriously skewered pacing.
The latter case will become quite apparent in the Chapter 1 scene where Ayumu meets Haruna in the graveyard.
The two versions of that scene are very similar but do diverge on several points. If that scene is going to make an appearance, it will be a good indication of how the fic is going to read.
In terms of day-to-day living at the Aikawa household, Ayumu will largely be performing household duties like cooking, laundry, cleaning, and even some sewing, barring Haruna making the occasional fried eggs.
Ayumu already does most of that; none of the girls can cook, with the exception of Haruna and she can only make orgasmically delicious eggs. Sera's cooking is downright dangerous.
This will be explained that, having lived alone prior to Eu moving in, she had to do all these things anyway, though these skills do prompt Sera to comment she would make a good wife.
Yeah, let's continue reinforcing those stereotypes!
Seraphim himself, however, to translate his female self's skills with laundry and cleaning, will prove quite handy with tools and tends to be relegated to fixing pipes, plunging the toilet, and non-critical electric.
And he can't also be good at cleaning and laundry as well because … penis? Guys can know how to vacuum and work a washing machine, too.
Sadly, as much as I find the original Ayumu's small breast, flat chest, and imouto perverted complex hilarious (the former is more apparent in the manga),
:THWACK!:
Stop that!
Ayumu does remark upon the "perfection" of small breasts in the manga, but it's not like he doesn't like the big ones, too. He's a teenaged boy, after all.
I think the "imouto perverted complex" comes from his fantasies of Eu calling him onii-chan, an affectionate term that literally means big brother but is sometimes used as a kind of cutesy baby-talk by young girls (or girls wanting to be perceived as young). It's kind of like calling your boyfriend "stud" or "big boy"; you're implying that he's older, wiser, stronger, etc. than you are. In the Japanese version of the anime, Ayumu wants Sera to called him "onii-chan" (it's changed to "Master" in the English dub) when she makes herself his servant, but she refuses and finds the very idea abhorrent.
I could not make Fem!Ayumu bisexual without sacrificing some of the humor this series is known for and making the genderswap largely superficial.
:headdesk:
You think making Fem!Ayumu would sacrifice some of the humor? Honey, from what I've seen, you have managed to neuter most of the humor found in the original. Making her bisexual would probably be an improvement.
Kore wa Zonbi Desu Ka? is funny because it doesn't follow the "rules"; the Magical Garment Girl is a male zombie, his harem of women don't fawn over him but treat him like a slave, the all-powerful necromancer spends most of her time sitting quietly in the background sipping tea and The Monsters of the Week are all talking animals who are perverts. Hell, the Big Bad from the early part of the series, the ominously named King of The Night, requests that Eu turn him into a penguin when she finally kills him because he's always liked penguins. And you've taken that and turned it into a story about an undead Magical Garment Girl in tight clothes who dreams about being a good little wife for a silent wizard while she hangs out with a shirtless man who treats her badly and a straight/bisexual girl who is conflicted about her feelings.
And finally, as a minor note, except for characters with Western-style names, like Eu, any characters with Japanese names will be written in the traditional order of surname first, given name second.
I'm used to seeing names both ways so it really doesn't bother me – as long as you remain consistent. You don't even need to mention it, since it should be apparent in the fic.
I also will be using Japanese honorifics when they are relevant.
Okay, now I have a problem. You can't half-ass it with honorifics; either use them consistently or omit them entirely.
Aside from this, though, I will largely be avoiding gratuitous Japanese
:pouts:
unless the translation is difficult or unappealing, such as Masou-Shoujo being much catchier than "magically ornamented girl."
That's a matter of opinion, I kind of like Magical Garment Girl, but if you are going to keep the Japanese term you have to make sure that it's meaning is clear through the context of the narration. Just calling Haruna or Fem!Ayumu a Masou Shoujo without explaining what it means could lead to the audience assuming you've misspelled Mahou Shoujo.
Final Notes
Sweet mercy, there's more?
A quick interesting thing to note about the genderswaps:
Oh, good; I was beginning to wonder when I'd see something interesting.
With the primary residents of the Aikawa household now evenly gendered, they actually even themselves out in terms of aesthetic appeal:
:tilts head sideways:
What?
Ayumu is the curvy girl…

Haruna is the loli…

Eu is the prettyboy…

While Sera is the manly muscled one.
I'll admit that they pair up nicely; there's two physically mature specimens, one male and one female, and two less physically mature specimens, also one male and one female, but that's hardly a reason to restructure an established cast. And this is a written work, not a visual one; their disparate personalities are far more important than superficial physical traits.
With the genders the way they are now, Sera (I'm not calling him Phim) isn't going to be able to feed when he needs blood. Vampire ninjas anesthetize their blood donors with a kiss before drinking, but according to vampire ninja law to kiss someone of the opposite sex is equivalent to marrying them thus Sera can't drink from Haruna or Fem!Ayumu without making them his wife, and Eu's blood is chock full of magic.
Funny how I didn't even intend that. XD
:headdesk:
Anyway, that's it. Like I said, I try to remain a silent author and only speak privately through PMs to reviewers.
All evidence to the contrary. I have taken a peek at a few of her other fics, there are some with Author's Notes, but none of the ones in my sample had anything this lengthy.
And I resond to any and all PMs provided you are logged in when making them. So don't hisitate to send me your questions or suggestions, I'll respond to them no matter what!
That's reasonable, I don't think you can respond to an anonymously given review, but the part when she mentions suggestions troubles me. I've seen more "tell me what to do!" Author's Note than I'd care to admit.
without further ado… Here's Kore wa Zombi Desu ka?/Is This a Zombie?: Yes, But It's a Female Zombie!
Sorry, no. The actual fic will have to wait for next week – and a few weeks to come. The only posted chapter for this fic is far too long to handle in one riff; it clocks in at a little over eleven thousand words.
:picks up Reciprocating Mace:
Now if you'll excuse me, I have a lecture on the difference between a Prologue, an Author's Note, and a first chapter to deliver.
---