902: From Another World – Chapter 38 Part 2 & Chapter 39
Posted: December 9, 2014
Filed under: From Another World, Mass Effect
| Tags: AU, Erttheking, Mass Effect, Parallel Realities, Romance, Supernatural, Video Game
160 Comments
Title: From Another World
Author: EclipsePheniox
Media: Video Game
Topic:  Mass Effect / Parallel Realities
Genre: Supernatural/Romance/AU
URL: Chapter 38 & Chapter 39
Critiqued by Erttheking
E: So we're doing it?
N: He's a walking disaster. Add onto it he's guilty of war crimes and unlike Goeth there's no way to control him. I've got a dose of a drug Goeth made right here. He'll fall into a calm sleep and die peacefully. Figures that Goeth would name this "The Boring Drug"
E: I feel really shitty about this, but I guess there really isn't any other way.
C: Nora and I will take care of this Ert. Until then let's just focus on the review.
E: So when we left off, Shepard had been captured and Ashley had a dramatic fainting fit that told her he was in trouble.
Consciousness started returning to Shepard. He heard a scientist making notes. She was pacing back and forth while making notes.

"…like Shepard was waking up a moment ago. But it could be a glitch in the system."

Shepard sat up and groaned after feeling how stiff his body was.

'How long was I out?' he thought.

Shepard glared at the scientist. The scientist made a run for it.

"No glitch!" she said. "The sedatives aren't working! Security!"
N: We've got a Stu on the lose! Code twelve! Code twelve! Nuke the facility!
The scientist ran passed the two guards keeping watch. Shepard hopped to the ground which got the guards' attention. They raised their weapons, but Shepard used a biotic blast to knock them into the wall. Once they fell, a force field appeared in the doorway. Shepard looked to his left and saw the scientist. She crossed her arms and smiled smugly.

"Keep smiling when your in hell," Tikus chimed in over the speaker.
C: She has her own personal Hell? Huh. She must play Dwarf Fortress.
"Who's there?" she demanded.

One of the LOKI mechs nearby activated and moved towards her location. She tried fighting back, but the mech was too fast for her and pushed onto the console.

"You are terminated." it said before blowing her brains out.
E: Hey, that's a pretty good Terminator quote. Here's another.
The mech the moved and fired fired at the power supply for the door, blowing it up. The force field went down.

"I'm glad to hear from you," Shepard said as he approached where his armour and weapons was held. He slid his arms into their perspective holes to activate the armour.

"Yeah we'll sorry about not waking you up sooner, but this base has some top notch security. I had to be careful not to be detected while trying to wake you up. To be honest I thought that you would burn through the sedatives but… we don't have much time so I shut off the sedatives."
N: One thing that's pretty indicative of bad writing is when you keep seeing the same words repeated over and over again. There are some places were you're gonna have to make exceptions, for example if you're writing about people playing dungeons and dragons "Dice" is inevitably gonna be popping up every three seconds, but there was nothing stopping Tikus from saying "I thought you were going to burn through the sedatives…so I shut THEM off."
"How long was I out?"

"You were out for two days."

"What?" Shepard yelled.

"We have two hours before arrival."

"Then we need to hurry. Get back into the omni-tool."

"Yes, Commander."

Shepard retrieved his gear from a nearby locker and got geared up While Tikus changed for another mech.
C: I thought he was supposed to be in the omni-tool, why is he jumping towards another mech? Is this another case of EP copying and pasting and not bothering to re-read his work to make sure his plagiarism made sense?
Once they where ready they started running. killing any soldier that got in his way with a mix of biotic, tech and bullets. Shepard and Tikus went through the corridor, then through the living quarters, leaving bodies in their wake. They had no time to waste. Along the way he was able to listen to a few reports from Kenson and other Project scientists which made evident of their slow indoctrination process.
E: Oh goody. SUMMARIZING! Why actually show what's happening when you can just vaugly describe it. That'd make my job a lot easier.
E: Ert, Cornelia and Nora read the bad fanfic that was bad and swore a lot as they said why it was bad.
Eventually, he made it to Project Control. The soldiers attacked more aggressively in the room, but posed no more of a threat than what Shepard and Tikus had faced throughout the base. Once the soldiers were dispatched, Shepard approached the main console.

"Welcome to Project Control," the VI greeted.

"I want to activate the Project," Shepard ordered.
N: This story really has gotten to the point where him wiping dozens of people out is nothing worth mentioning is it? It's just Stupard being Stupard.
A number appeared on the screen. 304942. "Warning. Activating the Project will result in an estimate three hundred and five thousand casualties. Do you wish to continue?"
C: And here we are. The most memorable moment of Arrival. In order to stop the Reapers, 300,000 lives need to be sacrificed. You have to do it, if you let the Reapers through you get a non-standard game over and they win. So it'll be interesting to see Shepard's mindset as he grapples with having to sentence 300,000 people to-
Shepard pressed the button, activating the Project. The thrusters in the distance activated and roared to life. The entire facility shook violently from the acceleration.

"Project activation in progress," the VI announced. "Warning: Collision with mass relay is imminent. Begin evacuation procedures."
E: Or he could just press the button without a second thought…ok. Man. I suspected that Shepard was a sociopath before, but this is a whole new level.
(Our Hero Counter: 29)
Shepard noticed that the comm just opened up. He still has a chance to warn the Batarians save some of them.

"Alert: All colonists living in the Bahak system. This is-"

The comm cut off and Kenson's image appeared on the screen before him. She was angry. "Shepard! No! Do you have any idea what you've done?
C: I honestly think he doesn't. He pushed that button way too quickly to have known that it would wipe out an inhabited planet. Maybe he wasn't paying attention.
You leave me no choice. If we can't stop this asteroid, it must be destroyed!" The video link cut out and the comm remained closed.

"Tell me where to find Doctor Amanda Kenson," Shepard ordered the VI. "Doctor Kenson is traveling to the reactor core module."
N: Shepard, talking to yourself will solve nothing.
Kenson came back on. "An eezo core meltdown should do it. Because of you, everyone on this rock will be obliterated!"

"Not if I get to you first," Shepard quipped.
E: Ok, new plan, anyone who misuses words like how EP misused quip here gets Alma to the face. Starting now. *BAM*
"Tikus get into the system and warn the Batarians."

"On it." Tikus said before blue electricity dived into the comm system.

Aldon sat at his desk drinking some coffee.
C:…WHO THE FUCK IS ALDON!? Where are we and why did we magically jump here?
He hated humans due to their free will and hate to slavery.
N: You want to know the sad thing? That is the most pathetic characterization I have ever seen in my life…and it's more than half the characters in this story have gotten. This guy hates free will (Because people totally do that) and he has more personality than most of the character in this story. THINK ABOUT THAT!
But they did have some good stuff. At that moment he noticed something on the terminal. An asteroid was heading for the mass relay. Thinking it was a glitch in the system he ignored it but just then sirens activated.

"Alert alert an asteroid is heading for the mass relay on a coalition course. Everyone please head to evacuation stations. This is not a drill I repeat this is not a drill."
E:…No. No no no no no. EP I swear to god if you do this you are officially just wanking onto a piece of paper and putting it up for everyone to see.
Aldon curse and moved fast if this was the humans doing he would have them slaughter.
N: I think you mess up tense there. Now, back with our douche of a main character.
The doors next to him opened and two soldiers came out. Shepard used a throw field to launch the soldier away. He entered in through the corridor and made his way towards the eezo core. Shepard entered the room and saw Kenson on the other side of the glass wall.
C: Apparently there's a glass wall in this room. Guess it would've been too hard to establish that before hand.
E: The next section is 700 words of boring underdeveloped action scenes, so we're going to be cutting out. Basically Shepard stops Kenson from overloading the core and makes it so that the asteroid continues on course towards the Mass Relay
"You've taken them away from me. I will never see the Reapers' arrival." Kenson turned around and pulled out a detonator. "All you had to do was stay asleep-" She stopped her arms fell limb and her eyes turned into a strange shade of white. She spoke but not with Harbinger's voice.

"Brother it is cute how you try and defend these people. But their time for extinction has come. No matter what you do you will not save them." it said in a familiar voice.
N:…What?
E: Oh you've got to be fucking kidding me.
"I will stop you."

Shepard fired a round in her head, putting her down. He thought he stopped her from using the detonator… He was wrong. Kenson's thumb landed on the button as she fell to the ground.

"Shit," Shepard cursed.

The detonator went off and the explosion launched Shepard into the wall knocking him out.
C: This story is so badly written and so underdeveloped we aren't even told what just exploded. So we'll assume that it was a monkey bomb.
"Warning: Collision imminent," a voice warned.

Shepard's vision began to return as a metal hand slapped him across the face.

"Wake up!" Tikus yelled. "Creator damn it, wake up you stubborn git!"
E: Oh hey Tikus. You added a lot to this mission and you did a lot to make it so that we didn't regurgitate plot. (Editor's Note: This is sarcasm as Tikus might as well have not been there)
"Wh-What?" Shepard mumbled.

"Thank god. You need to hurry. Get to your feet."

"How long…?"

"You were out for over an hour."
N: I just kinda stood here the whole time.
Adrenaline surged through Shepard at that point. Shepard rushed to the terminal and tried opening a comm.

"Joker, this is Shepard," he said. "I need a pick up. Now!"

"Communications system damaged," the VI said.

"Damnit!"

"Evacuation protocols in effect. All personal to escape shuttles."

"Where can I find an escape shuttle?"

"Take the lift from this room to the external access. From there, proceed to the communications tower. The remaining escape shuttles will be located on the tower's landing pad."

"We have to get to that comm tower and take a shuttle. It's my only chance."
C: Ok can someone please tell me who the fuck is talking to who here? You can only get away with not identifying speakers when there are only two people in the room.
"Couldn't agree more. By the way I have no idea of the Batarians have escaped through the relay." Tikus said.
E: And I have no idea what sentence mean.
"Damn well it's to be expected. Let's get out of here."

Shepard and Tikus ran through the base's corridors with all the energy they could muster.
E: I'm going to assume it's the same amount of energy the author put into that sentence. In other words they're just casually strolling, stopping for a break every ten steps.
N: There's more boring fighting as Shepard manages to contact the Normandy, but after that, a hologram of Harbinger appears.
Shepard saw something in the corner of his eye. He looked and saw an enormous hologram of Harbinger appear over the landing pad. Shepard walked towards the Reaper.

"SHEPARD. YOU HAVE BECOME AN ANNOYANCE. YOU FIGHT AGAINST INEVITABILITY. DUST STRUGGLING AGAINST COSMIC WINDS. THIS SEEMS A VICTORY TO YOU. A STAR SYSTEM SACRIFICED. BUT EVEN NOW, YOUR GREATEST CIVILIZATIONS ARE DOOMED TO FALL. YOUR LEADERS WILL BEG TO SERVE US."

"Says the person who will get his ass handed to him. Because we will fight, we will sacrifice, and we will be victorious. Because that's what we do."

"KNOW THIS AS YOU DIE IN VAIN: YOUR TIME WILL COME. YOUR SPECIES WILL FALL. PREPARE YOURSELVES FOR THE ARRIVAL." Harbinger's hologram faded away.
C: Anyone else feel like that epic confrontation between Shepard and the head of all the Reapers was way too fucking short? Honestly, that's one of the main problems with this story. It's so freaking bare bones. Bare essentials, nothing more, sometimes a whole lot less. It doesn't have a fucking soul.
A voice called in over the comm as the Normandy flew in. "Commander Shepard, the Normandy inbound for pick up."

"Roger that," he replied.

Shepard ran over to the Normandy and jumped inside. The ship flew towards the relay with the asteroid close behind. Shepard ran to the cockpit. Joker was focused on flying the ship.

"Get us out of here, Joker!"

"Right."

The Normandy approached the relay and launched off to another galaxy. The asteroid closed in on the relay. Electricity sparked from the relay to the asteroid. The asteroid collided with the relay, shattering it to pieces. The dark energy of the relay exploded and a shockwave spread from the impact point.

In the Normandy, Shepard watched the galaxy map record the explosion take place. The wave spread through the system. The wave reached the size of two solar systems before it dissipated. Everything was gone.
N: Three hundred thousand thinking feeling lives get wiped out and all we get are two bare bones paragraphs that don't even manage to break a hundred words. Honestly.
The star system… and the lives of the Batarians who where left behind.
E: Little late to be thinking about that now. Should've done that BEFORE you blew them all to Hell.
Shepard sat on the med-bay bed and saw Chakwas briefly chatting with Admiral Hackett. Hackett approached Shepard.

"Hm. Looks like you've recovered," he said.

"Admiral Hackett," Shepard said.

"Sounds like you went through hell down there. How are you feeling?"
C: Uh, when the fuck did he get on board?
"Fine," he answered, not really sure if that was truthful. "No more visions, if that's what you mean. I wasn't expecting to see you here."

"You went out there as a favour to me. I decided to debrief you in person." His stance became rigid. "That was before the mass relay exploded and destroyed an entire Batarian system. What the hell happened out there, Commander?"

"Have you received any Intel about what happened?"

"All I know is that I sent you out there to break Amanda Kenson out of prison, and now an entire system is destroyed. I hope you could fill in the leap of logic between those two events."
N: Why is it I get the feeling that Shepard could've saved all those people but let them die so that he could feel even more sorry for himself?
Shepard hopped from the bed and got to his feet. He handed Hackett the report on the mission. "I confirmed Doctor Kenson's proof. The Reapers were coming, and destroying that relay was the only way to stop them. At least temporarily. Kenson was indoctrinated by the Reaper device she had in her possession and sedated me for nearly two days. I started the engines with little more than an hour left before the Reapers arrived in the system. I warned the Batarian colony, but from what I've heard most didn't make it."

"The Batarians report 3465 survivors from Arathot. At least you tried." Hackett turned and took a few steps away. "And you believe the Reapers invasion really was a threat?"
E: Well, at least that's not as bad as the entire colony surviving, but still, three thousand Batarians escaping just because is STILL a massive cheap move. Wish fulfillment, not wish fulfillment at its finest, but you can still go fuck yourself.
"No doubt about it. We literally had minutes to spare."

Hackett turned around.

"I'm sure all the details are in your report. I won't lie to you Shepard. The Batarians will want blood, and there's just enough evidence for a witch hunt. And we don't want war with the Batarians. Not with the Reaper's at the galaxy's edge."

Shepard slowly fell against the desk behind him. "What are you saying?"

"You did what you did for the best of reasons, but… There were more than three hundred thousand Batarians in that system. Most died."

"They died to save trillions of lives.
C: You know you could at least PRETEND that it was a hard choice to make, instead of pulling "I did what I had to do" like your freaking Messiah Complex will make any responsibilities for your actions go away.
(Our Hero Counter: 30)
If I could have saved them, you bet your ass I would have."
N: Yet he said that they died for a good cause first, which kind of makes me question this. Let's be frank, Shepard's knowledge of military strategy is more or less on par with this guy's.
N: With less awesome.
"You're preaching to the choir, Commander. If it were up to me, I'd give you a damn medal. Unfortunately, not everyone will see it that way."

Shepard stood up. "So what do you suggest?"

"Evidence against you is shoddy at best.
E: So they can't prove you did the things that you actually did. YAY! MAIN CHARACTER PRIVILEGES! IT'S OK WHEN I DO IT!
C: Blah blah blah, copy paste plot, bashing Cerberus, Hackett knows that Shepard is loyal, and then this.
"You've done a hell of a thing, Commander." Hackett then turned to leave before he stopped and looked at Shepard. "By the way Anderson told me Tiberian."
N: EP just doesn't give a shit about making his stories grammatically sound in any way shape or form.
Shepard gave a stifled laugh. "He shouldn't have."
N: Wait, don't you mean "He no should done that"?
"I understand Commander. I'm not angry I just knew that you where never truly human. I never said anything because I knew you where hiding it for a reason. Ill keep it a secret for as long as I can."

"Tank you sir."
C: OH COME ON!
E: The typo or Hackett taking everything unrealistically well?
C: BOTH!
Ash entered Shepard's cabin. She knew as soon as he entered the ship something was wrong. It was strange. She knew she had a connection to him but she always thought the connection was one way. How she knew what he was feeling but EDI and Jane could not explain it, she needed to talk to Shepard about it.
N: EP if you have to resort to explaining things in short paragraphs long after they have stopped being relevant, don't bother.
As she entered she saw John at his desk head in his hands.

"John you ok?" she asked.

"Yeah I'm f…" he tried to say but she interrupted her.

"Don't lie to me, I know you too well. Something's wrong."

"It's just… I can't get over the fact I didn't save all of them. I mean Tiberians are taught that in war we cannot save everyone but it never helps." he said in a sad tone.
E: They are? It just occurred to me that aside from how Sueful they are, we know zilch about the Tiberians. We just get vague descriptions of them, and since half of them come from Shepard that automatically throws those descriptions into question. What's life like on a Tiberian world? Peaceful? Brutal? Hard? WE DON'T KNOW!
"You maybe a different race but your more human than you know."

"Yeah." he said giving a small smile.

"That reminds me. John you know how you and I are connected?" Shepard turned to her and nodded. "Well when I was looking at my mail I fell unconscious for a few moments. Any idea why?"
C:…You clearly have a cursed extra net account.
Shepard fell silent as he thought. "Well if memory surveys me right there have been cases when the spirit's chosen and lover have been more connected due to how dire the situation was. So it means that…"

"The war is coming faster the we would like."

Shepard only answered with a nod.
N:…Sure let's go with that. Honestly reading this story is like jumping right into the middle of Game of Thrones without any prep work. All you can think of is "The who now? The what now? What just happened? What was the point of that?" Except EP had nearly forty fucking chapters to build up and explain this shit and he fucking failed miserably.
Chapter 39 The war party.

The Normandy was more or less calm. The crew where just relaxing after the Arrival incident. There was nothing else to do now except wait for the call to the trial.
E: Hunting down Cerberus.
C: Searching for more Prothean artifacts that might have histories on the Prothean Reaper war and might give you an edge in the coming battle.
N: Gathering allies.
E: Building your case.
C: Gathering evidence that the Reapers are real
N: Following up any leads the Shadow Broker's information network could give you.
E; Pull your head out of your fucking ass and tell people that you're an alien instead of just DOING NOTHING!
(Our Hero Counter: 31)
Despite what happened everyone knew that John did the right thing but he was still suffering from the guilt of it. Ash new it was best to leave him alone at the moment.
N: Massive emotional turmoil summed up in one turn and forgotten about. I IZ RITER!
Still he was sat at his desk looking over JFU reports. While he maybe doing other things he was still responsible to look over the military reports. Ash and a few of the other female crew members where having a game of poker. Jane, Kelly, Tali and Chackwas where playing as well due to the fact there was nothing better to do.
E: NO! *Whips out flamethrower* FUCK NO!
Garrus and Jacob where checking out the weapons making sure all where in working order. The past few times they had been taken out the operator had a few problems with them. They needed to sort it out. In case of another mission. Kenneth and Gabby however where working on the engine as EDI reported a few glitches in the main system.
C: False alarm. EP is just doing the "Actually showing the crew members is RLY RLY HARD, so I'll just summarize them" thing.
E: Hanging onto this thing just in case.
Jack was laying on her bunk thinking about her life. The Galaxy's most powerful biotic, she liked the sound of it but nearly all her life she was hunted. Her future seemed empty, what could she do to help? Grunt had been in the cargo bay for a few hours punching and kicking at a make-shit dummy he made. A good way to keep himself occupied until something happens.
N Intriguing. You know you could dedicate an entire chapter to something like the inner workings of Jack's mind. Here? Three sentences. And one was about her lying on her bed.
Samara was meditating on a few matters along with Thane. Both of them had found a new lease of life when Shepard showed them his people and what they could bring.
C: Have either of them gotten a single word of dialogue this story?
N: Don't think so.
Legion was just doing some possessing of information. Joker and EDI however were talking about how they could make the Normandy better.
E: That could mean anything from better engines to a mini-bar.
As they talked about the shields EDI stopped as she received message. Looking it over she then contacted John.

"Commander?" she said over the comm.

"Yeah." John answered as he finished reading the final report.

"Tiberian command just contacted me.
C: They said, and I quote "Three hundred thousand corpses, what the fuck man?"
They are requesting your presence at Tirus base for war preparations."
N: And Shepard wasn't there until now because I guess he's one of those royals who has everyone do things for him. He probably has servants on call to scratch his ass and move his jaw up and down while chewing food for him.
Hearing this John smiled and relaxed before standing up.

"EDI set course for Tirus base and inform the crew that they may want to find windows. The sight of Tirus maybe interesting."

"Understood." EDI said as she plotted course for Tirus.

After a few hours the Normandy jumped through the final relay and proceeded to use FTL to get to the system in question. The ride in FTL was longer due to the fact that the system they where travelling to could only be reached by dreadnoughts.
E: You have three seconds to explain how that makes any sense. Because that sounds like a lot of bullshit to me.
As they reached the system the entire crew excluding John, Jane, Ash, Tali, Garrus, Chakwas and EDI had their jaws literally drop
N: Considering Legion doesn't have a jaw, I kinda doubt it.
as they watched from the observation decks. The sight of the wormhole came into view and it amazed them.

As they approached they could then see a mass of orbital construction yards building various types of space ships of different classes and sizes. The crew's eyes then drifted to the orbital lift's. They where just simply amazed at the tech. Even Miranda had her eyes wide. Just then the largest ship they had ever saw appeared. It was easily three times the size of the Destiny ascension.
C: Classic Stu descriptions. "Like canon element, but better and bigger. SHUT UP I DON'T HAVE A SMALL PENIS!"
(My Galaxy Is Better Counter: 8)
The front of the massive dreadnought was long and angular with around one large hole at the front and several smaller holes around it. A second one then emerged. Unlike the first one this one was smooth and resembled a large aquatic mammal that the crew had never seen. Like the first one it was three times larger than the Ascension.
E: So ship #1 is long with a lot of holes and ship #2 looks like the animal ? yeah I can see these in my head really clear.
A third one came out this time. However this one was a mix of angular and smooth designs and like the other two it was three times larger than the Ascension. A voice then came over the comm.
N: Now EP isn't even preventing to try.
"SSV Normandy this is the TKMSV Capitol ship Alk'drn requesting docking clearance." a female voice said.
C:…What?
Alk'drn.
E: I beg your pardon?
Alk'drn.
N: It's official. EP is just randomly mashing his keyboard and putting whatever half baked results come up on screen. Watch I can come up with plenty of names like that jes'puq odh'qpch owh'dow jqod'nbq iwqn'cow. TRY! FUCKING TRY~
"This High Commander Prince Jol'an Shardan authentication code Slu fovma ona."

There was a moment's silence before the voice came back.

"Authentication cleared and granted. Land in hanger bay 17."

The Normandy approached the angular ship and docked in one of the cargo bays. The crew then left the Normandy and walked out onto the hanger bay. The sight inside was amazing as hover tanks, mechs and robots three times the size of the experimental Atlas mech stood in neat rows as they prepare for war. Above them where a mass amount of aircraft ranging from interceptors to bombers.
C: More military masturbation. Get used to this guys, we're gonna be seeing a lot of it. Also I thought Tiberian civilization was hanging on by a thread, where the hell are they getting all the industry and manpower to make these kinds of things? We never heard anything about them using mechanized labor, so I can only assume they do this shit by hand. Remember, the combined population of the alternate galaxy is less than the current population of Earth, and a good chunk of them must be children. I just can't see them pulling this off with those numbers.
(God Mode Counter: 25)
Mostly looking at the mechs Miranda approached one of the large robots bays and looked at it with interest. It looked similar to old Japanese mecha comics.
E: THAT ISN't HELPFUL! Japan has kind of come up with a lot of mechs designs. That could mean anything from this
E: To this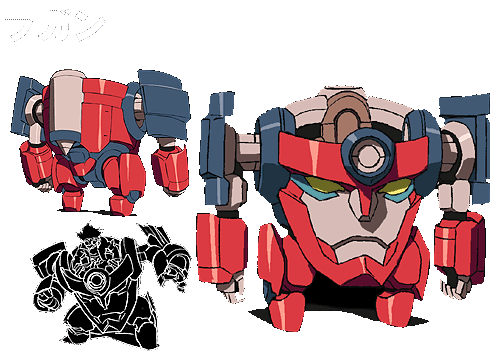 It looked human with a face and hands but it's chest was open and the body itself looked quite angular.
C: Oh well that changes everything, now I can totally see it.
Just the she saw a man in his late thirty with no legs being wheeled towards the mech. Another man behind the no leg man also approached with a pad in his hand. The no legged man then looked at the man with a pad in his hand.

"Ok nerve receivers are ready." the man said. "Please connect when ready."

The no legged man nodded and grabbed onto handle bars and climbed up the robot. He then placed himself in the empty part of it's chest and locked himself in it. Just then a helmet came over his head and a metal harness fastened itself around his torso.

"Ok ready." he then said.

"Good engaging neural link." the man with the pad said as he tapped the pad a few times.
N: Hey question. Why the fuck doesn't this guy get either fresh legs grown or the weird ass liquid cybernetic thing that John did?
The man in the mech then yelled a bit as something pressed into him.
C: For the fifteenth fucking time, DESCRIBE SHIT! For all I know an ice cube got pressed into the small of his back.
At that moment the chest then closed and locked the man inside. As it locked the face of the mech then moved amazing Miranda. The mech itself then began to move from it's bay and walk around. She was so transfixed by the scene that she did not notice he crew behind her.

"It's called a Valmach." John said almost making her jump.

"Why does it have a cripple pilot?" she asked.

"Tiberian pride is a stubborn one. Old, young, cripples it does not matter. But the ones who pilot the Valmach's are people who cannot have implants due to rejection but still want to fight. The Valmach's are the only way they can do that."
E: Ah. So they can't get implants due to magical bullshit. (EP forgot that Tiberians can grow limbs, I am certain) And if this is common enough that you have a way for non-implanted soldiers to fight, I think you might want to untuck your cybernetics. And here's a question, if they can't interface with cybernetics, HOW COME THEY CAN USE THE NEURAL INTERFACE THAT IT WAS MADE CLEAR THESE MECHS USE! Don't let logic get in the way of EP ripping off XCOM's MECs or 40k's Dreadnoughts.
"Very interesting but how?" Mordan chirped.

"Neural interface. Basicly wires go into the nervous system and tricks the nerves to think that the Valmach's body is his own."
N: We can't get cybernetics to work with them because reasons though.
"Fascinating would like to see them in action."

"I'll make sure that you get clearance."

At that moment he stopped and took something out of his pocket. "Before I forget these are for all of you. They are passes to the different area's of the ship. Just make sure not to touch anything without permission."
C: Go wherever you want, just don't blow the ship up. CAN'T SEE THIS GOING WRONG!
The crew nodded as they took them. "Thanks. Now if Ash, Jane, Garrus and Tali will follow me please. The rest of you can explore the ship just make sure to come when I call you. That reminds me, Joker, Thane, Miranda you three have an appointment with the ship's doctor. Go see him as soon as you can please."
E: People important to the plot come with me, everyone else bugger off. All sick people report to the med-bay for your Dues Ex Machina medicine. Oh. Jane. I just remembered. YOU EXIST!
The three nodded before the crew walked off.

John, Ash, Jane Garrus and Tali arrived at the bridge of the Alk'drn.
N: Yeah, the bridge of the six consonants.
It was twice the size of the Normandy's CIC with a holographic table in the centre and various people around on consoles working the ship's systems. A man stood at behind the pilots looking at the planet below. As Shepard and the others approached him the man turned to show an old scared face.

Shepard smiled and held out his arm.

"Admiral good to see you." John said.

"And you High Co…" the Admiral drifted his eyes to the new guests.

His eyes widened and his had away immediately. He looked at the commander with fire in his eyes.

"Err Commander why have you brought Milky way dwellers here?"

"Do you have a problem with that?" John asked as if he was insulted.

"Well sir…"

"Do you have a problem with my crew?" John asked in a more angered tone.
C: HOW DARE YOU QUESTION MY JUDGEMENT IN ANYWAY! I AM LETTING THESE PEOPLE WITH NO EXPERIENCE OF OUR GALAXY OR OUR WAY OF LIFE ONTO THIS SHIP BECAUSE OF PURE AND UTTER NEPOTISM! GOT A PROBLEM WITH THAT!?
(Our Hero Counter: 32)
E: Just like with the random guard in Subject 23, the only thing we know about this guy is that he's racist and yet he's more developed than half the cast.
The Admiral shook his head and bowed slightly. "No my prince."

"Good now lets get down to business."
N: To defeat the Huns.
Joker, Thane and Miranda walked into the medical bay for their appointment. It wasn't as large as the rest of the ship but still impressive. As they entered a young woman dressed in a blue and cyan nurse uniform approached them. She was around the age of 18 making the three wonder how bad the Infection was.
C: I guess it's to show that young people have to step up because of the low population, but that was a really fucking clumsy line of thought.
"May I help you?" she asked.

"Yeah we where told by the Prince to be here for appointments." Miri said.

The nurse looked at a pad in her hand before nodding. "Yes, we have appointments for Thane Krios, Miranda Lawson and the Pilot Joker."

At the mention of his nickname Joker's brow raised. "Excuse me but why didn't you use my full name?" he asked.

"Ho sorry, it is common for pilots within our culture to have nicknames and to have them used most of their military life instead of their real names."
E: EP really is just spewing out random bullshit about Tiberian society that he made up on the spot before forgetting it and never bringing it up again, isn't he?
"Cool."

At that moment a man in a blue doctors coat came from one of the doors and approached the group.

"Almi who are these people?" he asked with a jolly voice.

"They are part of the Normandy crew doctor." Almi answered.

"Ho. Well I must say it's an honour to meet you." he said as he shook the trio's hands.

"Now who would like to go first."

"Well I would like to go see the Valmach's practice." Miranda spoke up.

"I would like to have a look round." Thane said.

"I need to watch as the fit the Normandy with upgrades." Joker said.

The doctor gave a moment's thought to it before coming to a decision.

"Ok. How bout Miranda then Thane and Joker."
C: Dear GOD! EP's writing was always fairly horrible before, but when he runs out of shit to plagiarize, he gets so damn stiff. Everyone talks like they're damn robots, the narration is practically nonexistent, and there really is fuck all going on.
The three seemed ok with that and nodded. Miranda then followed the doctor into one of the medical room. It seemed to be like any other operation room. In the centre was a bed and some kind of cylinder above it.
N: To steal a phrase from Taco: "AHA! A thing!"
"Please lay on the bed." the doctor ordered.

Miranda nodded and layed on the bed as the doctor worked at a terminal. The bed was kind of comfortable and she relaxed almost immediately.

"So what's going to happen?"

"Well your one is a genetic de-function.
E: EP, I realize that the six consonants show just how little you care, but can you at least try to make your terms, names and phrases sounds a LITTLE real?
Easy to sort because all I have to do is to repair the eggs them selves which is an easy task. The pilot's brittle bones however are tricky as his bones could brake from the procedure. Thane however will be slightly harder because I have to fix the part of his body that adds the oxygen to his body."

"Ok."
C: I love how there's absolutely nothing scientific about this. "What are you going to do?"
N: "Fix you."
(God Mode Counter: 26)
At that moment the cylinder began to emit a green light that became smaller and focused around the lower part of her belly. It was warm and felt nice. She steadily relaxed as she knew she was going to be there for a while.
E: I CAN HAZ BABIEZ!
"Fascinating." Mordan exclaimed as he watched on of the hover tanks in action.

The tank had a body similar to the Kodiak
C: Translation, EP couldn't be arsed to come up with his own tank design.
but much larger and the nose was more slanted. It also had a large turret with two barrels and was coloured black with red lines. The tank drifted from side to side avoided some kind of laser fire.
N: Wait are they drilling with live rounds? Do I even need to go into how fucking stupid it is to do that? Especially with what seems to be ANTI-TANK WEAPONS!?
The size of the tank made Mordan think that it would be slow. But it was fast, it moved from side to side like a Hammerhead. He was amazed at the tech the Tiberians have. As he watched he began to think about the Genophage. It was the wrong decision and he knew it. Sighing he walked away his head bowed in personal shame. Thinking about what to do.
E: Basically (New Tiberian jerk off tech = Hammerhead + Mako + EP's bullshit)
Jack unintentionally wondered down to the training area. As she walked she watched as the new kids trained in firearms, delta energy attacks and close combat. He hand drifted over her head feeling hair stubbles on her head. Her hair was starting to grow back. As she watched the trainees she realised the differences between them. Some had glowing pain on their faces while others where bald.
N: Ok. Mind telling us where you were going with that? Or what "Glowing pain" means?
Jack even saw a few who seemed to be criminals.
C: And you can tell this how?
She walked a little further until she saw a group of cadets training in delta energy attacks. Two cadets where attacking each other while the others watched from behind glass. She stopped as she watched. The training was no working.
E: It wasn't working because the narration said so.
As one of the cadets fell and went behind the glass she walked in and faced the cadet. Confusing the class but not the instructor who was interested to see what would happen.

"Show me what you got. Pussy." she taunted.
C: And at this point the instructor would pull her out of the arena and tell Shepard to stop letting his band of freaks run amuck. Wait what was that?
Confusing the class but not the instructor who was interested to see what would happen.
N: Guess he's ok with a random stranger butting into his training session.
The cadet the threw a warp at her. Jack moved fast out of the way fast and launched a singularity at the cadet who saw it too late to move. He was thrown back into a wall. She stood with a cocky smile. Just then a clap sounded and the instructor came out.

"Well done. Both of you." he then turned to the rest of the class. "Take this into account."
E: "Take this into account. When hit in the chest by a blast of energy, you go into the wall." Seriously, what were they supposed to learn from this? The only thing this indicates is that Jack is more experienced fighter.
"Hey you." Jack called as the cadet stood and took his seat.

The instructor turned to face her.

"Get them to fight each other in a free for all that will hone their skills." she said before leaving.
C: Good idea, everyone start beating the shit out of each other.
N: But we still haven't learned the basics-
C: BEAT! THE! SHIT! OUT! OF! EACH OTHER!
That felt kind of good. She taught a kid to be fast and gave a teaching suggestion. Her mind buzzed abut what she could do. Then an idea came to her. She could teach kids how to use their biotic powers effectively. She smiled at the idea, she could do it and with the Reapers on the way teaching biotics in useful tactics will give them a slight advantage.
E: This is EP's idea of a character arc. In case you didn't notice, HE KINDA SUCKS AT THIS!
Jacob and Grunt stood in the armoury looking at the weapons and sometimes even testing them out. Jacob was just trying to get a feel for these new weapons while grunt just wanted to see what they did. Both where impressed about what the weapons did as Zaeed came in to see what was happening.

"Nice gear." he said grabbing a large pistol and fired a round at one of the holo targets.

As soon as the projectile hit the target it exploded taking the target out.

"This will be useful when the reapers come."
N: So Zaeed grabbed a gun that he had no idea what the fuck it did, the safety was clearly off, it was loaded, and it turned out to shoot explosive rounds. It's a miracle he didn't KILL anyone.
Samara wondered the ship in fascination. The crew where extremely polite to her and helped her when she got lost. When she first heard that they where militaristic she expected them to be violent but she turned out to be wrong. They where an interesting race, they had the fury of Krogans but the idea of duty and honour of the Turrians. It was an interesting mix.
C: That's how they work honestly.
They also seemed to have an aversion to mass destruction which was strange. Samara however heard about their main religion. She headed to a meditation area where she would find out more. It wasn't long before she found an almost bare room. There where a couple of teens inside who seemed to be praying to someone. As she walked in a man in black and white robes came up to her.

"Greetings. How may I help you?" he asked.

"Your religion interest's me." Samara answered.

"Well your going to have to be specific. There are two major religions."

"The one about the spirits of war."

"Are well it's quite long shall I start from the beginning?"

"Please."
E: Well at the very least we'll be able to get a bit of a look at the structure of their religion. With that maybe we can-
Kelly walked around in fascination.
E: Why am I not surprised.
Her energy was just unstoppable as she asked questions and talked to people learning about the culture. The crew was more than willing to answer her questions. But every now and then she found people still sulking about the infection.

Being the person she was she comforted them and help them overcome their grief.
C: Because you can totally help someone overcome decades of pain in a matter of minutes.
As she did so she felt proud about what she was doing and soon found herself sitting in front of a long line of people asking for her help that she was more than willing to give.

Miranda walked into a large area as she found herself watching the Valmach's fight. There was two ways of doing it as she found out. The first was testing the targeting systems of the mech by using larger versions of Tiberian energy weapons. She also realised that the mech's themselves had inbuilt weapon systems.
N: Ok. How does testing weapon systems constitute as mechs fighting?
These weapons included missile launchers, arm blades and focused lasers. To say she was impressed was an understatement. She had never thought that the Tiberians had this kind of tech. Just then two Valmach's walked into the area with close combat weapons. One had a long metal bow with electric capacitors at each end. The other however held an energy sword similar to a Japanese katana but with the blunt end being metal and the blade being energy.
E: EP, this isn't a fucking anime. You can cut the horseshit now. I mean seriously, I can buy a mech with a sword but a bow? A FUCKING BOW!? WE HAVE THESE NEAT LITTLE THINGS CALLED GUNS NOW!
The two combatants moved to the side in a circular fashion waiting for the other to attack. After a few moments the one with the bow made a swing.
C: The man with the bow swung? Like he was using a club? Ok EP answer me this. Be honest with me. Did you type this using your ass checks?
But the other one moved out of the way but the electric capacitor hit his leg and killed it. The kitana user then pounced on the bow user making him stumble back but the bow user managed to take out his opponents combat arm with ease.

Miranda just watched in fascination as the fight continued.
N: I assume it's more interesting for her than it is us.
"Kilona I'm sorry but we've tried." the doctor said in defence.

"But it happened before." EDI defended.

"Yes but that was lost during the Falmas conflict."

EDI's hologram hung her head in sadness. She wanted a proper human body so that she could go out with Jeff.
E: Oh yeah, BTW EDI and Jeff love each other. That established? Good, moving onto more totally foreshadowed stuff that isn't being pulled out of EP's rectum.
But the problem was that the technique for doing it was lost in a Kingdom vs Resistance conflict. But she knew not to get her hopes up.

"Kilona I'm sorry."

"Don't be it was worth asking though."
C: Also when the war with the Resistance happened some technology was lost. This wasn't mentioned when they were first brought up, because EP hadn't realized he needed a bullshit excuse to keep copying and pasting plot from the games.
"And that's that." John said as he finished his report to the JFU Admirals. "We don't know how the reapers are going to attack. All we know is that they are going for the major population centres."

"I see." the Aqult Admiral said.

"We should position ourselves as soon as possible." the Tolashner Admiral said.
N: Well it's about fucking time.
"I wouldn't recommend that. Plenty of people will thing your planing to start a war with Citadel Races." Tali said.
N: Tali, do you have experience leading galactic civilizations? No? Then please limit yourself to giving your opinion on fields you actually know something about.
"Agreed but not only that but Tiberians look human so people will think that the Alliance are trying to take over." Garrus said.
E: I suppose you couldn't stop and explain things for five seconds?  No?  I hate everything related to this story.
"Damn. Looks like we're going to have to stay here until the reapers come." the Tiberian Admiral said.

"Unfortunately."
C: Let's help people!
N: No! We need to let the natural plot run its course!
E: I have never seen a story so adamant about including so many new stuff yet making sure it doesn't affect the majority of the plot, outside of assassinating character arcs.
(Our Hero Counter: 33)
They then stood there in silence for a moment before Jane said something.

"Yeah yeah so sad when is the party starting?" Jane moaned.
N: *Punches Jane* ARE YOU FOR FUCKING REAl!? There is a war council going on right now and you're asking how long it is until you can get shit faced?
Hearing this both John and the Admiral looked at the clock with wide eyes.

"Shit it starts soon." the Admiral exclaimed.

"Admiral's I'm sorry but we are going to have to wrap this up." John said.

The Admirals nodded in response and their holograms disappeared. The Tiberian Admiral then moved over to the intercom and called the rest of the ship.
C: And the Admirals and John wrap things up so that they can go partying?
E: Welp, time to go get my "I love the Reapers" t-shirt.
"All crew please report to the war party. I repeat all crew please report to the war party." he said before allowing John to use it.
N: You know, we see the Tiberians partying more than we see them working. It's a miracle they get anything done.
"Normandy crew please head to the mess hall." he said.

He then turned to the others as the Bridge crew locked their terminals down and leaving. John and his team did the same.

Miranda walked into a large decorated hall with tables full of food and drinks. The hall wasn't large enough to hold everyone on the ship but she assumed that they had another place to go to.
C: A mess hall that can't hold a good chunk of the ship's crew sounds like a design flaw. Then again I admit I could be wrong here.
She walked around for a few moments before she saw Jacob and the rest of the crew. She walked over to them who looked equally as confused as she was.

"Jacob what's happening?" she asked.

"I have no idea." he replied.

A few moments later John walked onto a podium.
E: I guess these people like to have speeches while they're eating.
"My people I'm not one for speeches.
N: That's because you suck at them.
But I can promise you that the Reapers are on their way. We don't know their battle plan but that won't stop us. We will show them our power and face them with our power and make them pay for what they did." saying there was loud cheering.
C: OK, what's next?
"But let us celebrate for those who cannot be here today." John then raised a tankard. "For the lost."
C: Fucking really?
N: I told you he sucked as speeches.
The others raised their tankards. "For the lost." they said before they drunk.
E: TO KAIDEN!
C: Still alive!
E: TO MY FATHER!
C: Still alive as a ghost thing!
E: TO MY SISTERS!
N: One of them is still alive.
E: TO KIM…actually now that I think about it, ever since John got done whining about how hard Kim's death was FOR HIM he forgot about her pretty quickly. I mean this would be the perfect time to bring her up and he doesn't. Pretty fucking disgusting if you ask me.
"Let the war party commence." John then yelled.

At that moment there was cheering and loud music came one. The Normandy crew just stared as they witnessed the Tiberian crew eating drinking and dancing. No wanting to be left out they joined in. Jack was especially happy as she tore into the food. As they joined in the Normandy crew where helped by the other crew in what was safe for them to drink.
C: You know a good writer might use the chance to get some down time, with some calm moments or at the very least get some character interaction. Here? HA HA NOPE!
Miranda and Samara didn't really want to join in so they just took some drinkable liquid and rested at the tables. As they watched they realised something. The party wasn't to celebrate the upcoming war but to celebrate their lives. The Tiberians showed it through their dance and their eyes betrayed their true feelings. They where scared and it seemed this was the only way to let of their steam.
N: Sure, whatever floats your boat. Really the Tiberians just come off as a race of drunkards.
John stood on the sidelines watching them dance and drink. He gave a slight smile before it dropped and walked away.

Ash was drinking and dancing with Jane. But Ash stopped when she saw John walk way. Just then Jane pushed he way gently. As looked at the red haired princess who just nodded. Ash put her tankard down and moved after John. The corridor she when down in only had one open door. She walked towards it and looked inside. John stood there just looking at the planet below. Ash walked up next to him and took his hand.

"Something on your mind?" she asked.

"Just wondering if we have enough to win this war." he replied.
C: Mary Sues and Gary Stus wondering if they're really sueiful enough to win will never cease to be the most FUCKING ANNOYING THING EVER!
"We will win. John no matter what happens I'll always love you."

"Same here."

The party lasted three days
E: Well it's an improvement from their two week party last time, but I still can't help but feel like people are going to be wondering why Shepard isn't answering any messages.
and the Normandy took off two days after their upgrades where finished. John just recently got the call. And now he was heading towards Earth. One final mission before the Reapers arrive.
N: Well that was it. Fucking stupid, pointless, and just jerking off the Tiberians more.
Ok guys that the ME2 arc down. The next arc will come soon. Like I said this next arc will follow mass effect 3 just with a few changes.
C: Oh. Glad to know that you're refusing to do anything original.
E: And I very much doubt it. Your story is going to suck 110% all the way through. Mass Effect 3 waited until the very end to fuck everything it had ever accomplished up.
C: Well. We gonna do it?
N: We've put it off for way too long.
E: All right. Let's just see if he has any last requests for a meal or something. It's the least we can-*SMASH*
C: What was that?
N: Is he on the loose?
E: He can't be. I still have his ring on me, and Goeth's brig should be able to handle him without it. But there's no one else here, and the only other person that knows about this place is…oh God. He found us.
---